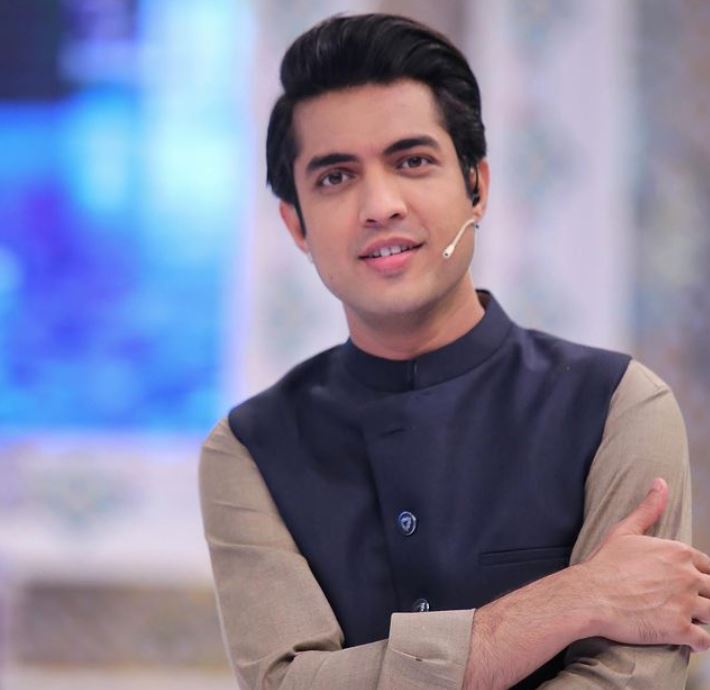 Syed Iqrar Ul Hassan, [1]Pakistan Herald better known as Iqrar Ul Hassan, is a Pakistani television journalist and presenter. He is the head of Product Developement and the host of the Pakistani Urdu-language live investigative crime television show "Sar-e-Aam" at ARY News (as of 2021).
Wiki/Biography
Iqrar Ul Hassan was born on Tuesday, 29 May 1984 (age 37 years; as of 2021) in Faisalabad, Pakistan. His zodiac sign is Gemini. He attained a degree in Communication and Media Studies from Lahore's Government College University. [2]LinkedIn- Iqrar Ul Hassan
Physical Appearance
Height (approx.): 5′ 11″
Hair Colour: Black
Eye Colour: Black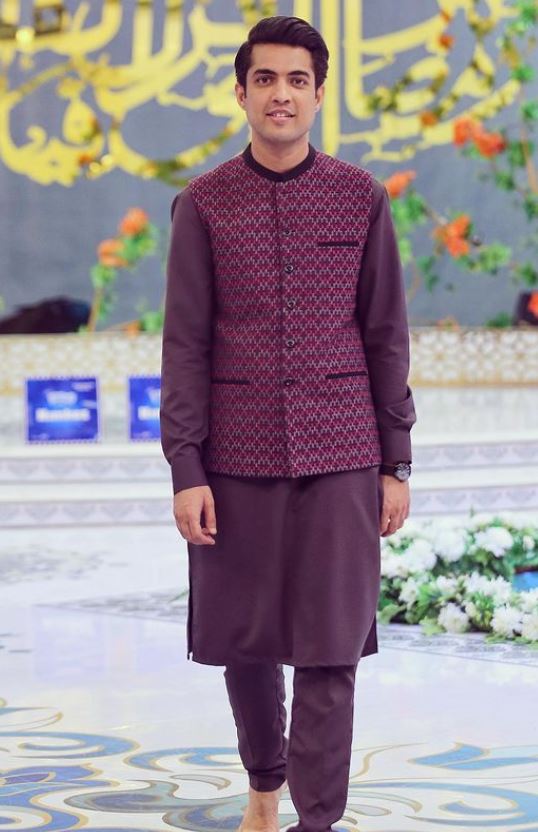 Family
Parents & Siblings
Not much is known about his parents and siblings.
Wife & Children
Iqrar Ul Hassan got married to Qurat-ul-Ain Hassan now called Qurat-ul-Ain Iqrar (first wife) in 2012. Qurat-ul-Ain is a journalist. The couple has a son named Pahlaaj Hassan. In 2018, he again tied the knot with another TV journalist named Farah Yousuf (second wife).
Religion
Iqrar Ul Hassan follows Islam. [3]Parhlo
Career
Iqrar Ul Hassan began his career as a newscaster and reporter in 2006 with ARY News. Later, he was made the head of product development at ARY News. He is also the host of the Pakistani Urdu-language live investigative crime television show "Sar-e-Aam."
As a part of his job, Hassan has conducted a number of sting operations in several factories, restaurants, and police stations. He proved with his stings that many of those places were indulged in bribery, corruption, and adulteration.
Controversies
The Sindh Assembly Controversy
Iqrar, along with his Sar-e-Aam team members, carried out a sting operation and highlighted the poor security in the Sindh Assembly, and on 29 April 2016, they were wrongfully arrested on the orders of the Home Minister of Sindh. However, they were released on bail the very next day. [4]Daily Pakistan
The Viral Video Controversy
In May 2017, a video of Iqrar went viral on the social media in which he could be seen walking around in a hotel room in an open bathrobe. Apparently, the video was shot by his girlfriend in a hotel room in Dubai. The video attracted the wrath of the public. However, later, Hassan clarified the situation and said that the video was shot by his friend as a joke. He also revealed that he received a threat to leave 'Sar-e-Aam' or the video would go viral. [5]Parhlo
The Second-Marriage Controversy
In 2018, Iqrar landed into a controversy when he took to the Twitter to reveal the details of his second marriage. In his Tweet he wrote that he married Farah Hassan round 5 years back and everyone in his life, be it family, people from his work or surroundings were aware of it. Iqrar also mentioned that the marriage was done in difficult circumstances and with the consent of his first wife. He further revealed that both his wives share a good bond and often go out on lunch together. [6]Parhlo
The Slap Controversy
In May 2021, a video went viral in which Iqrar was seen slapping a man whom he was interviewing. After Iqrar slapped that man the people gathered around them also started trashing that person and Hassan did nothing to stop them. Initially, he was criticized on the social media for his act, but people's opinions changed after Iqrar presented his clarification on the matter. He uploaded a video on his social media accounts saying that the man he slapped was accused of sexually assaulting a minor girl (12-year-old), tying her hands, and ripping her clothes. He added that the man had blackmailed her for several years. Further, he said,
When we managed to find this blackmailer. He blamed that girl saying that she stole 1.5 lakh Rs. from his car. As a human, not as an anchor, I ended up slapping him. I have not done this in hiding or in any torture room. I knew there were a lot of cameras, people were recording it on their phones but I couldn't control myself." [7]Daily Pakistan
Faced Criticism For Praising India
In January 2021, Iqrar while sharing a tweet that declared India as the 'Vaccine hub' of the world, addressed the comparisons made by Pakistanis in reference to India and wrote,
India vs Pakistan. We are not even sure that we ordered the vaccine or not, banana to door ki baat (making it is another story)."
He further wrote,
Muqabla kerna hai to taleem main kerain, science main kerain, khail main kerain, infrastructure main kerain, economy main kerain, technology main kerain … aur such ka samna kerain."
He then shared the pictures of the Indian and Pakistani transport, with the latter being in shambles.
In another tweet he indicated how the passport and currency of Pakistan lack in value than its South Asian counterparts. His tweets irked many Pakistanis who criticised Iqrar and called him 'anti-national.' They even demanded an apology from him for his tweets. [8]The Express Tribune
Minar-e-Pakistan Incident
In August 2021, Hassan attracted a controversy for interviewing Ayesha Akram, the TikTok star who was allegedly harassed near Minar-e-Pakistan in Lahore on Pakistan's Independence Day. The people on social media bashed him as the incident was believed to be a publicity stunt. [9]M M News
Awards
Agahi Award for "Anchor of the Year" (2013)
10th Pakistan Achievement Award for the "Best Tv Show of the Year" for his show Sar-e-Aam (2019)
Favourites
Travel Destination: Las Vegas
Facts/Trivia
Iqrar loves swimming in his leisure time.
He is fond of sweets and loves to eat a choco lava cake.
He is fluent in the languages English, Sindhi, and Urdu.