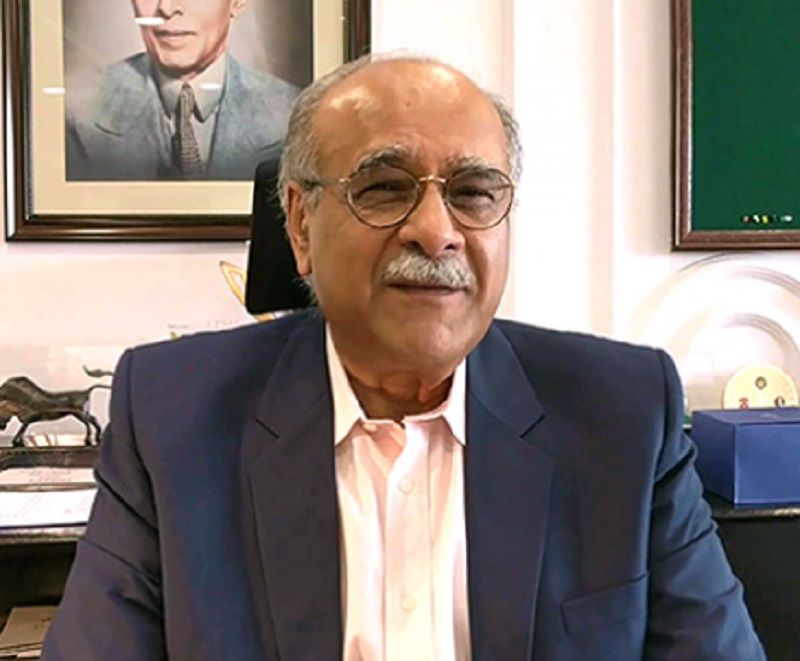 Najam Sethi is a Pakistani journalist and businessman who serves as the chairman of the Pakistan Cricket Board. He is the founder of The Friday Times and Vanguard Books.
Wiki/Biography
Najam Aziz Sethi [1]The News was born on Thursday, 20 May 1948 (age 74 years; as of 2022) in Kasur, Punjab, Pakistan. His zodiac sign is Taurus. He did his schooling at St. Anthony High School, Lahore. He pursued a master's degree in economics at Cambridge University and PhD at Government College University, Lahore. [2]DAWN
Physical Appearance
Height (approx.): 5′ 8″
Hair Colour: Semi-Bald (Grey)
Eye Colour: Black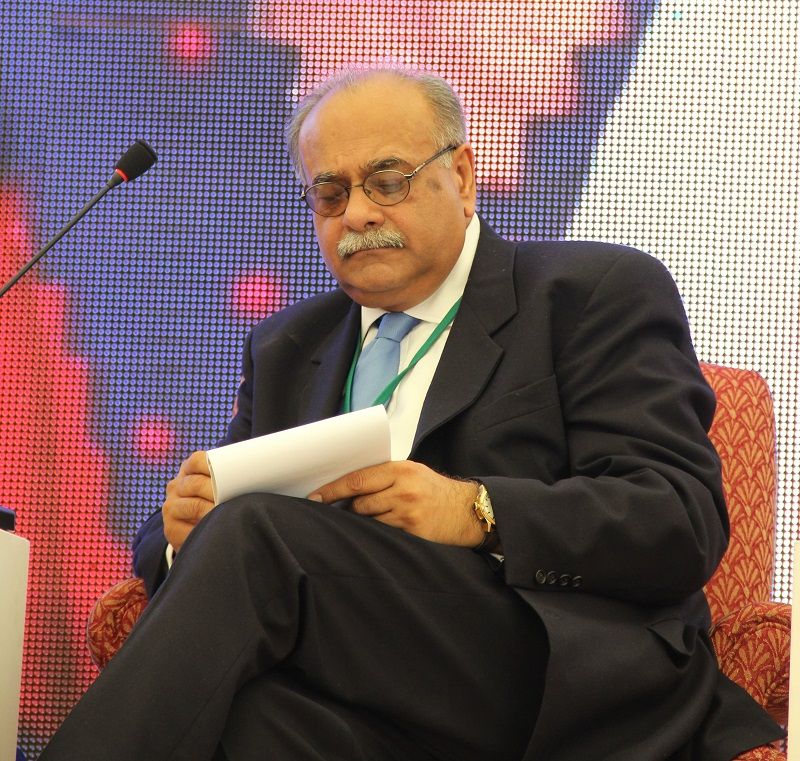 Family
Parents & Siblings
Najam's father's name is Abdul Aziz Sethi.
Wife & Children
Najam got married to Jugnu Mohsin, a Pakistani journalist in 1983.
They have two children together, one son, Ali Sethi, who is a singer, and one daughter, Mira Sethi, who is an actress.
Signature
Journalism
Najam started his own publishing company Vanguard Books in 1978. In 1989, he launched an English weekly, The Friday Times along with his wife. He started an independent newspaper because he was very sad with the fact that no newspaper reported his arrest in 1984 on charges of copyright. The license of the newspaper was taken under his wife's name because Najam was considered an offender by the government. They received the license in 1987 and his wife also worked with him in the agency. He released the first issue in 1989. In 2002, he founded the Daily Times of Pakistan and worked as the editor till 2009. From 1990 to 2008, he worked as the Pakistan correspondent of The Economist. In 2014, he hosted the primetime current affairs show 'Aapas ki Baat' on Geo News.
He was the President of AAP Media Media Network/Indus News till 2018.
Politics
In the 2013 General Elections, he was elected as the caretaker Chief Minister (CM) of Punjab by both PPP (Pakistan Peoples Party) and the opposition PML-N (Pakistan Muslim League – Nawaz). He left the post after two months when Shehbaz Sharif was appointed the new Chief Minister.
Cricket
In 2013, he was appointed as the interim chairman of the Pakistan Cricket Board by Prime Minister of Pakistan Nawaz Sharif on orders from the Islamabad High Court. In 2015, his name was shortlisted for the position of ICC president. On 21 December 2022, he was elected as the chairman of the Pakistan Cricket Board by Prime Minister Shehbaz Sharif. The statement made by Prime Minister's office was,
The Prime Minister has seen and is pleased to approve the proposal at para 7, of the summary with the stipulation that names of the Management Committee, to be placed before the Federal Cabinet."
Controversies
Arrested during the protest
In 1975, Najam attracted controversy when he actively participated in the socialist movement for Baluchistan. He came back from London to Pakistan in 1973, leaving his studies to support the Baloch nationalists' side. The Baluchistan fight started in 1971 when the Pakistan People's Party (PPP) accused the National Awami Party of holding a separatist movement in Balochistan and dismissed it as it was in power in the centre. The people of Baloch started a war with the Pakistan Army in which Najam participated and got arrested. [3]LUBP
Arrested under charges of sedition
In 1999, Najam's arrest under Nawaz Sharif's government created a lot of controversies and gained international attention. According to various reports, he was planning to appear on the BBC television show 'Correspondent' and talk about corruption in the country. In May 1999, many of his sources told him that the government was planning to arrest him because they thought that his interview with BBC was to destabilize the government. After his arrest in May, his wife said that he was forcefully taken to jail by eight Punjab police officials who came into their house and beat their security guards. When she asked them for the arrest warrant, they threatened to kill Najam on the spot. They even locked her in a different room and took away Najam. He was put in jail for a month, but no charges against him were registered. He was kept at a detention centre in Lahore where no one could visit him. After a month of his arrest, when the government started receiving criticism internationally, they took him into custody on charges of 'Condemnation of the Creation of the State and Advocacy of Abolition of its Sovereignty' and 'Promoting Enmity Between Different Groups' on 1 June. Amnesty International came forward to support him and claimed that he was arrested for giving an interview to BBC. The US-based Committee to Protect Journalists sent a letter to Prime Minister Nawaz Sharif saying that Najam should be presented in court as soon as possible. The World Bank president James Wolfensohn asked Nawaz Sharif to release Najam. However, after his hearing, due to less evidence, he was released by the Supreme Court of Pakistan. [4]The Washington Post
Tug with Tehmina Durrani
In 1999, Najam attracted controversy when he was accused by Tehmina Durrani of mental torture and stealing all her earnings from a book written by her. In June 1991, Tehmina wrote the book My Feudal Lord which was published by Vanguard Books. The book was based on her bitter experience of her marriage to a Pakistani politician named Mustafa Khar. It became popular and earned well, after which Durrani signed a contract with Najam's wife Mohsin and gave 50% of foreign royalties to her. But in 1999, when Durrani was not able to get in touch with Najam because he was in jail, she called a press conference and accused him of fraud. After Najam came back from jail, he accused her of defamation. [5]INDEPENDENT
Awards, Honours, Achievements
1999: International Press Freedom Award of the US-based Committee to Protect Journalists
2009: World Association of Newspapers' Golden Pen of Freedom Award
2011: Hilal-i-Imtiaz Award by the President of Pakistan
Facts/Trivia
In 2008, because of his editorials on religious fundamentalism, he used to receive death threats because of which he used to live under high security. Later in 2008, he made an editorial where he drew Umme Hassaan, the principal of a girls' school telling young girls to kidnap Chinese women. He received death threats for the editorial because people compared it to the incident that took place in Lal Masjid where her husband Abdul Aziz Ghazi was a cleric and was arrested in connection to kidnapping six Chinese women who were accused of prostitution.
He wanted Pakistani players to play other cricket formats and not only Pakistan Super League. In an interview, he said that PCB wants Indian plays to participate in PSL and Pakistani players to be allowed to participate in IPL. In the interview, he further added,


We are going to try to persuade the Indians to play us in December. If that happens, we will also be talking about a reciprocal arrangement – and I have had preliminary talks with people in Delhi on this – about Pakistani players being allowed to play in IPL and Indian players being allowed to play in PSL."
In 2017, he alleged that he was manhandled by a group of PTI supporters during the India v/s Pakistan match in the ICC Champions Trophy final.
In the 2018 Pakistan General Elections, when Imran Khan became the Prime Minister of Pakistan, Najam submitted his resignation from the post of Chairman of the Pakistan Cricket Board. He took to Twitter to share his resignation and wrote,


I was waiting for the new Prime Minister to take oath before submitting my resignation as PCB Chairman, which I have done today. I wish PCB all the best and hope our cricket team goes from strength to strength. Eid Mubarak. Pakistan Zindabad."