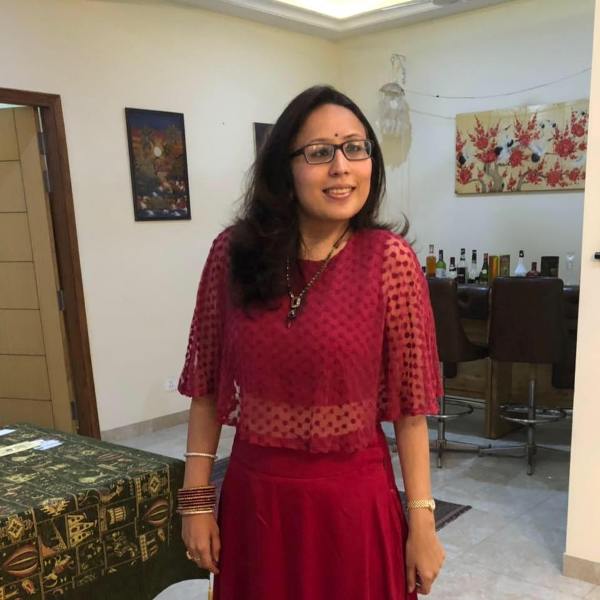 Radhika Gupta is an Indian business executive. She is the Managing Director and Chief Executive Officer (MD & CEO) of the capital investment company, Edelweiss Group.
Wiki/Biography
Radhika Gupta was born on Wednesday, 14 September 1983 (age 39 years; as of 2022) in the Indian Consulate, Islamabad, Pakistan. Her zodiac sign is Virgo. Since Radhika Gupta's father was in a transferrable job, she completed her schooling at different schools, in different countries. She is an alumnus of Delhi Public School (India), American International School of Abuja (Nigeria), and Marymount International School Rome (Italy).
After completing her schooling in 2001, Radhika Gupta got enrolled in the Wharton School, University of Pennsylvania. There, from 2001 to 2005, she pursued her graduation in BSE (Computer Science Engineering) and B.Sc. (Economics) under Jerome Fisher Program in Management and Technology. [1]LinkedIn
Family
Parents & Siblings
Her father, Yogesh Gupta, was a Diplomat serving in the Indian Foreign Services (IFS).
Her mother, Arti Gupta, is a teacher.
She has a younger brother, Anubhav Gupta, who is an IT Professional.
Husband
Her husband, Nalin Moniz, is the Chief Investment Officer of Alternative Equity at Edelweiss. The couple got married on 15 January 2008.
Relationships/Affairs
Before getting married to Nalin Moniz, Radhika Gupta was in a relationship with him.
Career
Working while studying
While studying at the University of Pennsylvania, Radhika Gupta decided to find a part-time job, to make her ends meet. In an interview, Radhika told,
Back then it was very costly to survive without having an income. A book on economics costed roughly around $300. It was a relief that I was studying on educational grant, given to me by the US government."
During the first year of her graduation, she worked at the university as a computer lab assistant. In her second year of graduation, she was appointed by the university as a teaching assistant because she was a topper in her class. From 2004 to 2005, Radhika Gupta took up an internship with Microsoft.
Corporate Career
After completing her graduation from the University of Pennsylvania, Radhika Gupta was hired by an American firm called McKinsey and Company. There, from 2005 to 2006, she worked as a business analyst and made market strategies for the clients of the company, dealing in the technology, pharmacy and retail sectors. In 2006, Radhika Gupta began working as a portfolio manager with AQR Capital Management. She worked with the company till 2009. In 2009, during the global recession, Radhika Gupta, Nalin Moniz, and a friend from AQR Capital Management decided to leave their jobs in the United States of America and move back to India to establish their financial firm named Forefront Capital Management in Mumbai, Maharashtra. During an interview, while explaining the reasons for leaving the US and coming back to India, Radhika said,
I love change, in fact, I thrive in chaos. Becoming an entrepreneur, and being on my own, has been the biggest shift. Entrepreneurship not only helps your perspectives change but also teaches you to be more resourceful. It teaches you grit. Also, India for me is a far more exciting market because the degree of impact you can make here is large."
In 2014, after running Forefront Capital Management for four years, Radhika Gupta and her partners decided to sell the company to the Edelweiss Group. After the merger of the two companies, Radhika Gupta was employed in the Edelweiss Group as its business head. From 2014 to 2017, she held the post of business head of Edelweiss Multi-Strategy Funds Management Pvt. Ltd. In 2017, succeeding Vikaas Sachdeva, she was promoted and made the Managing Director and CEO of Edelweiss. During an interview, after becoming the CEO, Radhika Gupta claimed that she was not sure about applying for the post, but it was her husband who encouraged and motivated her to apply for the post of CEO. In an interview, she stated,
When the post of CEO got vacated, I was in a dilemma, whether I should apply for the post or not. I was running very low on morale as I thought that out of all the applications, that too from those who were far more experienced than me, why would they even select me? It was Nalin who asked me to apply for it, as he believed that I ceartainly was the best person, suitable for this job. I began climbing the corporate ladder. I became a saree in a room full of suits, but I didn't want to let that stop me from raising my hand for opportunities."
In 2019, Eidelweiss, under the leadership of Radhika Gupta, was selected by the Government of India to aid the government in managing its Corporate Debt ETF accounts. The government chose Eidelweiss over bigger banking sector players such as HDFC Asset Management Co. and ICICI Prudential Asset Management Co. [2]The Print
Awards
In 2022, Radhika Gupta was awarded the Young Global Leader Award which was given to her by the World Economic Forum.
In 2021, her name was mentioned in India Today's list of Most Powerful Women in Indian Business.
In the same year, she was given the Impact Creator Award, which was given to her by the Maharashtra government.
In 2021, her name was mentioned in India Today's list of The Next 100 Indians of India Tomorrow.
In 2021, her name was mentioned in the Economic Times' list of 40 Under 40 Business Leaders.
In 2020, her name was mentioned in Fortune India's list of 50 Most Powerful Women in Business.
In 2020, LinkedIn mentioned her name in the Top Voices (Finance and Economy, Global).
In 2019, Business Today mentioned her name in the list of 30 Most Powerful Women in Indian Business.
In the same year, AIWM India mentioned her name in the list of Top 100 Women in Finance – Leading.
In 2005, the University of Pennsylvania gave her a Faculty Appreciation Award for Outstanding Achievement.
In the same year, the School of Engineering and Applied Sciences, University of Pennsylvania gave her a Senior Design Thesis Award – Winner, Computer Science.
In 2005, the University of Pennsylvania gave her Alice Paul Award for Outstanding Contribution as a Female Leader.
Favourites
Facts/Trivia
According to Radhika Gupta, after being rejected by more than seven companies, in 2006, she developed suicidal thoughts, and she had even told her friend about committing suicide by jumping from the 19th floor of the girls' dormitory in which she used to live in. Narrating the incident, she claimed,


I was rejected, one by one, by seven companies. This shattered me mentally. I began to have severe doubts about my capabilities as I had no idea where was I going wrong. Sitting in my room on the 19th floor, I said to my friend, that enough is enough, I will commit suicide by jumping right out of the window. My friend immediately rushed to the authorities and I was admitted to the psychiatric ward. I was only released when I pleaded them to let me go as I had an interview with McKinsey, the company in which I was finally hired."
In 2019, at the age of 36, Radhika Gupta became the youngest CEO of India. [3]

Hindustan Times
In 2021, Business Today Magazine published an article on Radhika Gupta.
In the same year, the Indian Navy invited Radhika Gupta to give a presentation to the Naval officers at the Naval War College in Goa.
In 2021, Radhika Gupta was invited to give a speech at the Influencer Program organised by LinkedIn.
The State Bank of India (SBI), in 2021, invited Radhika Gupta to hold an educational session for more than 60,000 women employees of the SBI regarding the measures through which they can increase their savings by investing.
In 2022, India Today published an article on Radhika Gupta.
Radhika Gupta is the author of the book titled Limitless: The Power of Unlocking Your True Potential. The book was published in 2022.
According to Radhika Gupta, she was bullied a lot by her classmates because of her disability. She also claimed that she was bullied for her heavy Indian accent which led to her losing confidence. She further said that her classmates used to call her "the girl with a crooked neck," and that in childhood, she was constantly compared with her mother for her looks. In an interview, she said,


I was born with a twisted neck, and If that was not enough, I was constantly the new kid, shifting nations in every three years. In seventh grade, I was the awkward new kid, surrounded by peers who mocked my heavy Indian accent. They called me 'Apu,' after the Simpsons character. They even gave me derogatory names such as Torticollis, or crooked neck. I shared my childhood insecurities about my looks, my struggles with rejection, and my subsequent attempt to commit suicide. I let go of all the baggage I'd held on to. And my talk travelled far and wide – I became known as 'the girl with the broken neck. They compared me to my mom, who worked as a teacher in my school. She's a stunning woman, and people always told me how ugly I looked in comparison; my confidence plummeted."
While giving an interview once Radhika Gupta said that when she was in her mother's womb, she was very overweight; therefore, the weight of her body exerted intense pressure on her neck which resulted in her neck becoming crooked. She said,


I was grossly overweight. My excessive weight put a lot of pressure on my neck when I was in my mother's womb. So, I was born with a crooked neck. Till the time I was a chubby little kid, my neck's tilt was barely visible, but as I began losing the excess baby fat while growing up, it became more and more prominent to me and everyone else. So, yeah, you can say that I am one of those people, who actually regretted losing weight."
Radhika Gupta is a polyglot and speaks three languages. She is fluent in Hindi, English, and Italian.
Radhika appeared as a jury in the business reality television series 'Shark Tank India' (Season 3) in November 2023; the series was aired on Sony Entertainment Television and streamed on SonyLIV.