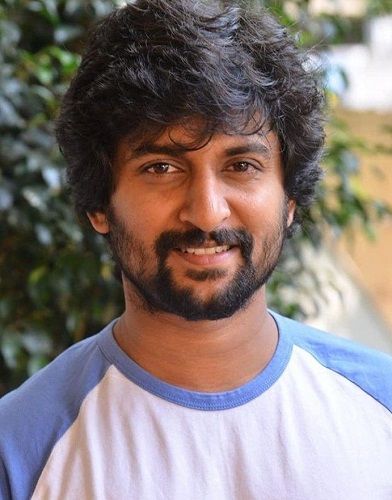 Nani is an Indian actor, film producer, film director, and TV presenter, who mainly works in Telugu and Tamil films. He gained immense popularity for playing the role of Arjun in the Telugu film 'Jersey' (2019). In 2020, his performance in the film was listed among the "100 Greatest Performances of the Decade" by the entertainment journalism platform 'Film Companion' [1]Film Companion
Wiki/Biography
Nani aka Ghanta Naveen Babu [2]The Hindu was born on Friday, 24 February 1984 (age 39 years; as of 2023) in Hyderabad, Andhra Pradesh (now Telangana). His zodiac sign is Pisces.
He did his schooling at St. Alphonsa's High School, Hyderabad. He then did his intermediate schooling at Narayana Junior College in Sanjeeva Reddy Nagar, Hyderabad. Nani pursued his graduation from Wesley Degree College, Secunderabad, Telangana. [3]Idle Brain
Physical Appearance
Height (approx.): 5′ 10″
Hair Colour: Black
Eye Colour: Dark Brown
Family
Parents & Siblings
His father, Rambabu Ghanta, is a businessman, and his mother, Vijayalakshmi Ghanta, is a pharmacist. His elder sister, Deepthi Ghanta, is a film producer.
Wife & Children
While Nani was working as an RJ, he met a girl named Anjana Yelavarthy, who is a software engineer and blogger. Initially, they became friends and soon, fell in love with each other. After dating for almost five years, the couple tied the knot on 27 October 2012 at Rushikonda Resorts in Vishakapatnam. In 2017, the couple was blessed with a baby boy named Arjun Ghanta.
Autograph
Career
Assistant Director
While he was pursuing graduation, he developed an interest in films, and he then started working as a clap director with the film producer Anil, who is Nani's relative. He then worked as an assistant director in the Telugu films 'Allari Bullodu' (2005), 'Asthram' (2006), and 'Dhee' (2007). Later, he took a break from films to work on a script for a film. In an interview, while talking about working as an assistant director, Nani said,
I feel that creativity and talent have to be in you in order to become a good director. Working as an assistant director only helps in understanding technical departments. This technical knowledge will help you to transport the content in your mind onto the celluloid. I learnt about clarity of thinking and storyboarding from Bapu. I learnt how to be cool even in tense situations from K Raghavendra Rao. I want to try my hand at acting now and direction can wait."
Radio Jockey
Later, the Indian film director B. V. Nandini Reddy asked him to work as an RJ for a week. Nani accepted the offer and started working at the radio station 'World Space Satellite' in Visakhapatnam. He liked the work and continued working there for almost a year. He used to host a radio show named 'Nonstop Nani.' He gained immense popularity as an RJ, and later, he won the RJ of the year award.
Actor
The Indian director Mohan Krishna Indraganti noticed Nani in his first TV commercial and asked Nani to make his debut as an actor with the Telugu film 'Ashta Chamma' (2008). This marked the debut of Nani in the Telugu film industry, and his role as Rambabu/Mahesh in the film was appreciated by the audience.
He then appeared in a few more Telugu films such as 'Ride' (2009), 'Snehituda…' (2009), and 'Bheemili Kabaddi Jattu' (2010).
In 2011, he made his Tamil debut with the film 'Veppam' in which he played the role of Karthik.
In 2012, he appeared in the Telugu-Tamil film 'Eega' directed by the famous Indian director S. S. Rajamouli. Later, the film was dubbed in Hindi as 'Makkhi' and in Malayalam as 'Eecha.'
Nani then appeared in various Telugu and Tamil films including 'Yeto Vellipoyindhi Manasu' (2012), 'Bhale Bhale Magadivoy' (2015), 'Gentleman' (2016), 'Ninnu Kori' (2017), and 'Middle Class Abbayi' (2017).
The year 2019 turned out to be one of the best years for his career. He worked in the Telugu film 'Jersey' (2019) as Arjun, and his performance in the film was appreciated by the audience and critics. Later, the Hindi remake of the film was released with the same title in 2022. The role of Nani was played by the Indian actor Shahid Kapoor in the remake.
He has acted in some more Telugu films like 'V' (2020), 'Truck Jagadish' (2021), and 'Ante Sundaraniki' (2022).
Producer
Nani debuted as a co-producer with the Telugu film 'D for Dopidi' in 2013.
Some of his other films as a co-producer and producer are 'Awe' (co-producer; 2018), 'HIT: The First Case' (producer; 2020), 'HIT: The Second Case' (producer; 2022), and 'Meet Cute' (2022).
Television
Nani has appeared as a guest contestant in a few Telugu TV shows such as 'Meelo Evaru Koteeswarudu Season 2' (2015) and 'Meelo Evaru Koteeswarudu Season 4' (2018). He has also hosted 2nd IIFA Utsavam in 2017 and Bigg Boss Telugu Season 2 in 2018.
Other Work
Nani dubbed the Telugu version of the popular animated film 'The Lion King' as Simba in 2019.
Once, the Indian film director B. V. Nandini Reddy asked Nani to work in a TV commercial. It was Nani's first TV commercial. He has also featured in various regional TV commercials such as Minister White and Sprite.
Controversies
Alleged of Harassment
In 2018, when the South Indian actress Sri Reddy was not selected for the TV reality show 'Bigg Boss Telugu 2,' she got angry over it and slammed Nani for it, who was the host of the show. During an interview, while talking about Nani she said that Nani was a womaniser and a drunkard. She further said,
He does everything from smoking, drinking and drugs. One day, Nani also brought drugs for me but i warned him and asked him to leave the house because it could ruin my career. During this period he made S*xual relationship with me. Nani said to me that he would cast me in his movies. I thought that it would help my career. He was not married that time."
In the interview, she was then asked about taking legal action against Nani. She replied,
I did not take legal action against Nani because my fight was against casting couch in the film industry and to revive my career, but it was not meant to harass the family of any celebrity. I came in the contact of Nani when he was struggling to get the movies."
Later, Nani took legal action against her for defaming him. He even talked about it in one of his tweets and asked Sri Reddy to provide solid proof for the allegations she made. [4]International Business Times Nani's wife Anjana aka Anju Yelavarthy then retweeted Nani's tweet, she wrote,
This industry has been kind but it troubles me to see that once in a while there comes along someone who puts their publicity ahead of other people's lives. No1 believes those ridiculous statements anyway. It is abt how little they think before degrading themselves to such levels."
In reply to Anjana's tweet, Sri Reddy wrote,
Hi Misses ..I just found ur post..u r not there in my bed room when ur hus fucked me.. so stop commenting..ur hus is an attention seeker not me..what ever I hv name that's enough..if my husband is very wealthy nd if he has name n fame and If he did wrong,still i wl not take his side..might be I wl not leave him, but compulsory i wl not blame opposite girl..ha ha..i am not a money minded like any other money minded house wives. .i wl try to find how it got happened..just maintain your silence till the end.. My side truth is there..karma is there,your husband has to take the punishment.."
In an interview, when Nani was asked to comment about the whole incident, he said,
Going by her track record, the whole world has stopped reacting to all the absolute baseless nonsense she comes up with."
Income Tax Department's Raid
In November 2019, Nani's residence was raided by income tax officials for evading taxes. The Income Tax Department seized the documents and hard disks related to the IT returns of Nani. [5]GreatAndhra.com
Controversial Remark
In January 2022, he gave the clarification for the controversial remark made by him earlier. He had said that there was major trouble in the Telugu industry as they lacked unity among themselves. [6]Zoom TV Entertainment In an interview, when he was asked about the statement, he said,
It came out of pain. It came from a place where I wanted all of them to come together on one stage and express it the way it should be expressed. Even people on the side will understand the real problem here. I wanted them to come together not us. We are all happy but there are thousands of families who are wishing something good to happen. I made that statement as I wanted everyone to come together as one voice against the ticket pricing issue in Andhra Pradesh."
Awards
Vijay Awards
2011: Best Debut Actor for Tamil film Veppam
South Indian International Movie Awards
2012: Rising Male Hero for Telugu-Tamil film Eega
2015: Best Actor for Telugu film Bhale Bhale Magadivoy
Toronto After Dark
2012: Best Hero for Telugu-Tamil film Eega
Nandi Awards
2013: Best Actor for Telugu film Yeto Vellipoyindhi Manasu
2016: Special Jury Award for Telugu film Gentleman
Zee Cinemalu Awards
2017: Boy Next Door for Telugu film Krishna Gaadi Veera Prema Gaadha
2017: Golden Star of the Year for Telugu film Krishna Gaadi Veera Prema Gaadha
Filmfare Awards South
2016: Critics Award for Best Actor for Telugu film Bhale Bhale Magadivoy
TSR-TV9 National Film Awards
2017: Special Jury Award for Telugu film Gentleman
Zee Cine Awards Telugu
2020: Favorite Actor of the Year– Male for Telugu film Jersey
Critics Choice Film Awards
2020: Best Actor- Male for Telugu film Jersey
South Indian International Movie Awards
2021: Best Actor (Critics) for Telugu film Jersey
2021: Entertainer of the Year for Telugu films Jersey & Gang Leader
Favourites
Food: Idli Sambar, Khichdi
Actor(s): Chiranjeevi, Prabhas, Ravi Teja
Film(s): The Hangover (2009), Life of Pi (2012), Galipatam (2014)
Song: "Bhale Bhale Magadivoy" from the film 'Maro Charitra' (1978)
Music Director: Ilaiyaraaja
Travel Destination(s): Tirumala in India, Australia
Salary/Income
As of 2021, he charges Rs 14 crore per film. [7]The Hans India
Facts/Trivia
Nani is an avid animal lover and has a pet dog named Subbu.
He is a spiritual person and has a deep faith in god.
He is a die-hard fan of the legendary Indian actor Kamal Haasan.
He has been featured on the cover page of various magazines such as You & I, Filmfare, ChAnNel 6, and Wow!
In 2018, his SUV car met with an accident when it rammed into an electric pole on Jubilee Hills Road No. 45, Hyderabad, at 4:30 am. [10]

Hindustan Times While talking to the reporters, the local police said,


Fortunately, the airbags installed in the car saved their lives and the impact of the crash was reduced. A case has been booked under the Section 3 of the Prevention of Damage to Public Property Act."