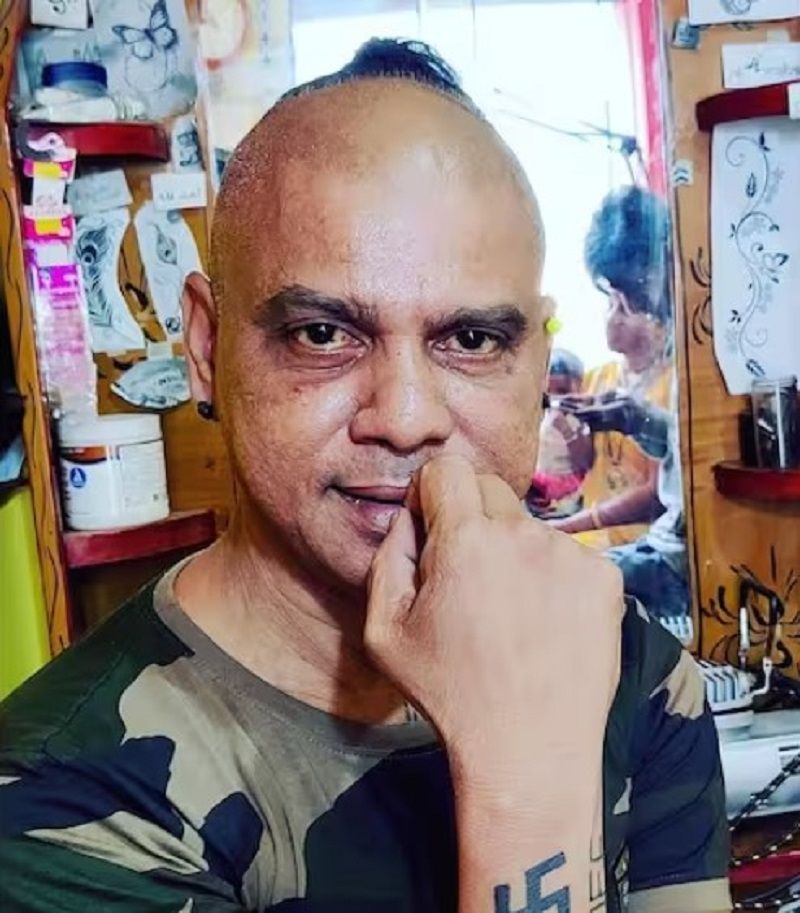 Rakesh Master (1968-2023) was an Indian film choreographer who is known for mainly working in the Telugu film industry.
Wiki

/Biography

Rakesh Master was born as S. Rama Rao [1]The Hindu in 1968 (age 55 years; at the time of death) in Tirupati, Andhra Pradesh. In several interviews, Rakesh shared that when he was a child, he had a dream of becoming a dancer. He was inspired by the popular movie Disco Dancer, which he watched and found fascinating when he was ten years old. Rakesh was born in Nellore, but his family moved to Tirupati when his father found a job at a market yard there. While living in Tirupati, he opened a dance school called Master Dance School. He later moved to Madras (now Chennai) and became a member of the Union of Dance Masters. He began his career by working as an assistant to experienced choreographers, which allowed him to learn and gain practical knowledge in the field of dance. He spent several years working under the guidance of Nookaraju Master in Hyderabad. During his career, he also received training from renowned choreographers Shekhar Master and Johnny Master. He used to train film actors like Venu, Manichandana, Prabhas, and Pratyusha.
Physical Appearance
Height (approx.): 5′ 7″
Hair Colour: Bald
Eye Colour: Black
Family
Parents & Siblings
His father's name is Balireddy, who was a communist ideologue. He has two brothers and four sisters.
Wife & Children
He was married to Lakshmi before his death.
He was married two times before he married Lakshmi. His son's name is Charan Tej.
Career
Film
He made his debut in 2011 with the film Avva. He choreographed songs in movies like Ammo Polisollu (1999), Chirunavtu (2000), Lahiri Lahiri Lahirilo (2002), Devdasu (2002), and Seethaiya (2003).
He choreographed some popular hits in films like Hum Kahan Ja Rahe Hain (1966), Shor (1972), Akka Thangi (2008), and many more.
He gained recognition for his choreography in the songs "Neshtama o Priya Nesthama" and "Kallaloki Kallu Petti" from the movie "Lahiri Lahiri Lahirilo." The songs received praise from popular actors like Prabhas and Mahesh Babu. He showcased his choreography skills in the song "Vendi theraku Maa Vandanalu" from the movie Manasichanu, which starred Ravi Teja and Mani Chandana.
He also delivered impressive dance performances in various songs from the film "Devadasu," such as "Bangaram Banagaram," "Nijama Cheppanante," "Nuvvantene Ishtam," and "Pulupante Nakishtam."
Television
Rakesh served as a mentor to a young boy named Basheer on the Telugu show called Dhee.
He appeared in numerous episodes of the Telugu comedy show Jabardasth.
Controversies
Negative Remarks on lord Krishna
In 2021, he was involved in a controversy when he made statements about Lord Krishna during an interview with a YouTube channel. These remarks offended the Yadava community leaders, who filed a complaint against him, his wife, and the YouTube channel at the Banjara Hills Police Station. The complaint was filed under IPC sections 295A and 298. Following the incident, Rakesh stated that some individuals entered his house without permission and threatened him. In response, he filed a complaint with the Banjara Hills Police, stating that these individuals questioned him about his interview, used abusive language, and issued threats. The case against them was registered under sections 448, 427, 504, and 506 of the Indian Penal Code. [2]Indian Herald
Cheating on various women in the name of marrying them
In 2023, Gare Venkatesh Madiga, the Founder President of TMPS, called for action against Rakesh, accusing him of harassing a woman he had left 22 years ago and making disrespectful remarks about her. During a press conference held in Jubilee Hills, victims Chinta Kasturi, Lakshmi, and YouTuber Charan Guruvani from Sanvi Media joined him. Chinta Kasturi shared that Rakesh had promised to marry her but abandoned her in 2000. She filed a complaint against him, stating that Rakesh was targeting her because she was a Dalit woman. Lakshmi, another woman who separated from Rakesh, also claimed to have faced harassment. YouTuber Charan Guruvani alleged that she was targeted by Rakesh for providing employment to these women. Venkatesh Madiga announced his intention to file a complaint against Rakesh with City Police Commissioner CV Anand. Despite a previous case registered at Banjara Hills Police Station, Rakesh was accused of inappropriate behaviour, leading to demands for an SC and ST atrocity case to be registered against him and for the PD Act to be applied. [3]ABN
Death
On 18 June 2023, he passed away after being unwell for a week upon his return to Hyderabad from an outdoor shoot in Visakhapatnam. He was admitted to Gandhi Hospital in Hyderabad, where doctors determined that he had experienced multiple organ failure. Rakesh had diabetes and was diagnosed with severe metabolic acidosis. The doctors also noted that he was dehydrated due to sunstroke. [4]Jagran In an official statement, the doctor added,
He was a chronic alcoholic and his diabetes was not under control. His blood pressure was 60/40 when he was admitted and his health deteriorated through the day. We kept him on ventilator but he could not make it for more than two hours on it and breathed his last around 5 p.m."
In an interview, Ganesh Master, one of the most successful dance masters in Tollywood spoke about his sudden demise and said,
Rakesh Master is our Guru. There are so many students of his who are now earning a good name and recognition for their work. Rakesh Master had a good heart and he always encouraged his students. All of us, his students, and Choreographers will speak about what to do and how to support Rakesh Master's family. He is liked by all of us in the industry and everybody will pitch in to do whatever they can."
Tattoos
He had tattoos on his hands, legs, chest and head.
Facts/Trivia
In many interviews, Rakesh frequently criticized and voiced his opinions about famous personalities such as Ram Gopal Varma, Sri Reddy, NTR, Balakrishna, Mohan Babu, Chiranjeevi, and Manchu Lakshmi.
He used to teach dance to young people and charged a nominal fee of 5 rupees per student. He was highly impressed by Sekhar Master's talent and dedication to dancing. Rakesh played a significant role in supporting Sekhar's career and helped him establish himself in the industry. However, their relationship eventually soured, and Rakesh openly criticized Sekhar, accusing him of betrayal. Rakesh considered Sekhar like a family member and supported him financially and professionally to the extent that it caused problems in his personal life, leading to his first wife leaving him. Suddenly, Sekhar's behaviour changed, and he started ignoring and hiding things from Rakesh. Sekhar's mother also accused Rakesh of attempting to manipulate Sekhar. In an interview, he talked about Sekhar and said,


He bought a flat, he didn't invite me, he invited all my students and others to his daughter's birthday but didn't invite me. I begged him to come see my father who is on his death bed but Sekhar didn't pay any heed. I decided to isolate myself from everybody including my son, daughter, and wife."
In 2020, he was honoured by the Global Human Peace University and was awarded a doctorate in the service sector as a testament to his contributions and achievements in his field.