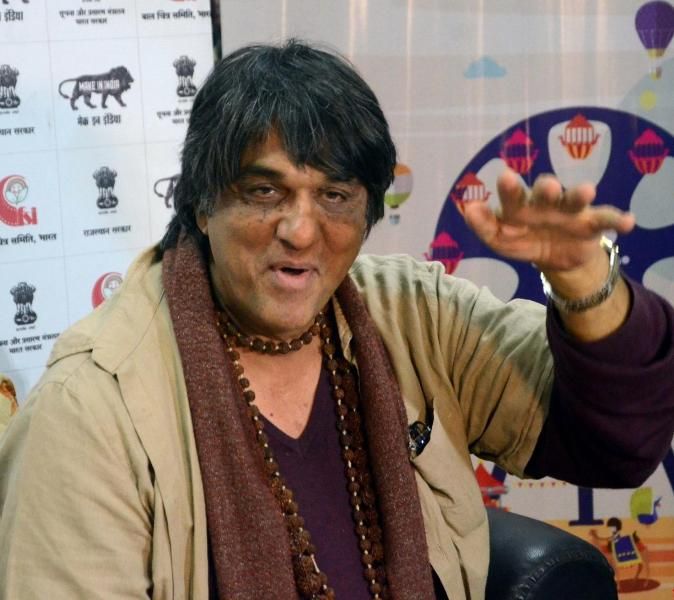 Mukesh Khanna is an Indian film and television actor who is best known for portraying "Bhishma Pitamah" in B. R. Chopra's epic television serial "Mahabharat" and giving India its first small screen superhero "Shaktiman."
Wiki/Biography
Mukesh Khanna was born on Thursday, 19 June 1958 (age 64 years; as of 2022) in Mumbai. His zodiac sign is Gemini. He did his schooling at the same school where the noted Indian actors Naseeruddin Shah and Shakti Kapoor studied. He graduated from Mumbai's St. Xavier's College. [1]Dainik Bhaskar He holds a B.Sc. degree and a degree in Master of Laws. [2]The Democratic Buzzer Before doing the Master of Laws, he wanted to do Plastic Engineering. [3]Dainik Bhaskar Thereafter, he graduated from the Film and Television Institute of India (FTII) in Pune.
Physical Appearance
Height (approx.): 6′ 1″
Eye Colour: Black
Hair Colour: Salt & Pepper
Family & Caste
Mukesh Khanna belongs to a Hindu Khatri family. [4]Wikipedia
Parents & Siblings
There is not much information about his parents. He had an elder brother Ved Khanna (died in 2018) who was also an actor and producer.
His elder sister Kamal Kapoor died of lung disease on 12 May 2021 after she had recovered from COVID-19 a few days earlier.
Relationships, Wife & Children
Mukesh Khanna is unmarried. He has never been in any relations with a woman. [5]The Democratic Buzzer
Career
Film
After making his debut in the 1981 Hindi film Roohi, he appeared in more than 60 Bollywood films.
Reportedly, before Roohi, it was the theatre director Narinder Bedi who had given Mukesh his first break in the film Khooni, but the film could never be get released due to Bedi's sudden demise. [6]Dainik Bhaskar Although most of his films were not successful at the box office, there are a few commercially successful films to his name, such as Saudagar (1991) in which he played the role of 'Gagan,' Main Khiladi Tu Anari (1994) in which he played the role of 'Arjun Joglekar,' Barsaat (1995) in which he played the role of Baba (Badal's father), Raja (1995) in which he played the role of 'Rana Mahendra Pratap Garhwal,' and Hera Pheri (2000) in which he played the role of 'Police Inspector Prakash.'
In 2005, he made his Telugu debut with the film "Dhana 51." In 2014, he made his Marathi film debut with the film 'Ardha Gangu Ardha Gondya.' In the same year, he made his Malayalam debut with the film 'Rajadhi Raja' in which he played the role of 'Sikhander.'
Television
Mukesh Khanna gained his identity through television where he did many successful projects, especially Mahabharat and Shaktimaan. After making his debut with B. R.Chopra's Mahabharat (1988), he went on to become one of the most popular television actors in India. Initially, he was approached to play the role of "Duryodhana" in Mahabharat, but he refused it; as he didn't want to play a negative role. Later, he was offered the role of "Dronacharya" and eventually, he landed the role of "Bhishma Pitamah." While talking about how he got the role of Bhishma Pitamah, he says,
When they were looking for people for the series all they wanted were tall people so I got noticed for that. They offered me the role of "Duryodhana" but it was a negative role and I refused it. So I got landed with Bhishma Pitamah."
His portrayal of the mighty warrior Bhishma Pitamah went on to become the second most iconic character from B. R. Chopra's Mahabharat after Lord Krishna (portrayed by Nitish Bharadwaj).
His next phenomenal performance came in "Shaktimaan," which gave India its first true superhero. Shaktimaan aired from 27 September 1997 to 27 March 2005 on Doordarshan, and its running days had become sacred for children who sat glued to their television sets to watch the heroic antics of their favourite superhero. Shaktimaan wasn't just a superhero but a moral guide to the children in India; a superhero who would not just amaze the children with his heroic antics but with his baritone voice, he would also advise them to go to school regularly or drink milk every day. He says,
Shaktimaan had a charisma and wanted to make a difference to the society. I remember many parents telling me that their kids had started drinking milk or going to school regularly after watching the show."

Shaktimaan's popularity led him to make a telefilm titled "Hamara Hero Shaktimaan" for the children's channel Pogo, which aired on 30 June 2013.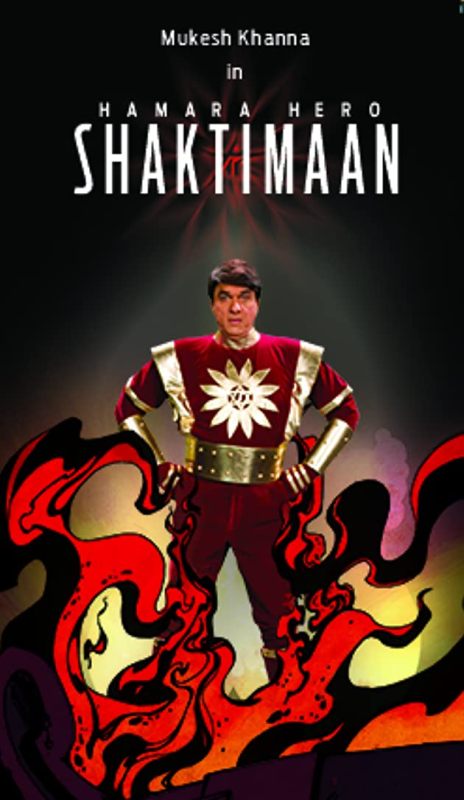 The Shaktimaan franchise also includes an animated action series titled "Shaktimaan: The Animated Series," which was created by Reliance Animation and was aired on Sonic on 20 December 2011; finally, Discovery Kids acquired its rights from Reliance Entertainment in 2017.
Apart from Shaktimaan, Mukesh Khanna has also appeared in many other popular television projects, such as "Chandrakanta" (1994-1997) in which he played the role of Janbaaz/Meghawat and "Aryamaan – Brahmaand Ka Yodha" (2002-2003) in which he played the role of Aryamaan/Ojwan.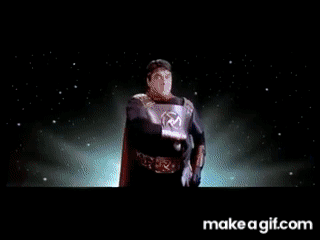 Apart from acting, he has also produced a few television projects, including Mahayodha, Shaktimaan, Aryamaan – Brahmaand Ka Yodha, Sautela, and Hamara Hero Shaktimaan.
Politics
After joining the Bharatiya Janata Party (BJP) in 1998 [7]Business Standard, he campaigned for the party in various elections across the country.
Signature/Autograph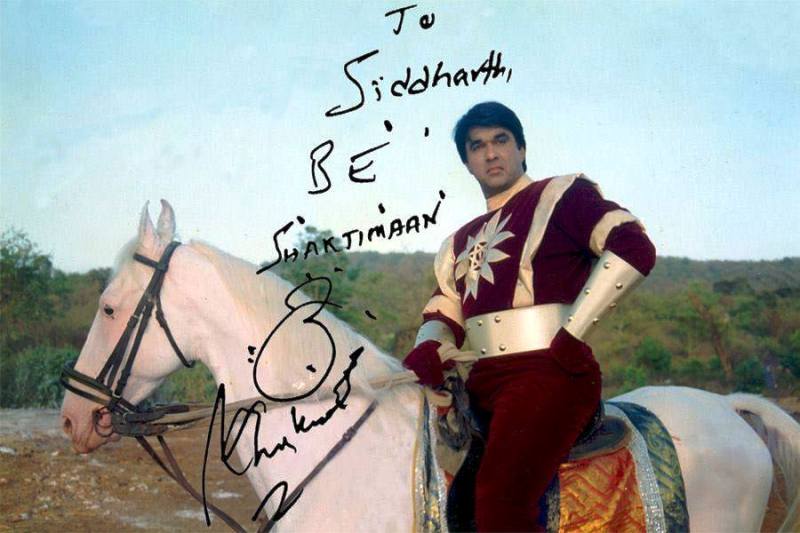 Controversies
Shaktiman and Children's Fatalities
After Shaktimaan was aired on Doordarshan in the late '90s, several reports of children emulating the heroic antics of Shaktimaan started surfacing on various media platforms; due to which many children had injured themselves and even died. Mukesh Khanna, in one of the episodes of Shaktimaan, had to clarify the things about Shaktimaan. In an interview, he said,
I feel very strongly about the well-being of children. So, in one of the episodes, we show how Shaktimaan is made, how everything's done on the computer, how he can't fly. He dangles from a rope." [8]Outlook
Derogatory Remarks Against Women
In August 2022, he attracted controversy after he uploaded a video on his YouTube channel 'Bheeshm International' in which he reportedly made derogatory remarks against women. Reportedly, in the video titled 'Kya aapko bhi "aisi ladkiyan" lubhati hai???' (Do such women attract you?), he said that if a woman tells a man she wants to have sex with him, she is not a woman but a sex worker (dhandha kar rahi hai). Later, Chairperson of the Delhi Commission for Women Swati Malliwal condemned his remarks and field an FIR against him. [9]The Indian Express
Favourite Things
Facts & Trivia
Mukesh Khanna was just 30 years old when he portrayed Bhishma Pitamah in B. R. Chopra's Mahabharat. [10]

Dainik Bhaskar
He wasn't interested in Bhishma Pitamah roles, rather he wanted to either play the role of Arjuna or Karna. [11]

Dainik Bhaskar
Apart from being his favourite politician, in February 2015, he criticized Prime Minister Narendra Modi for not including him in his Ganga cleaning campaign. [12]

India Today
Although he is a staunch supporter of the BJP, the National Conference (NC) brought Mukesh Khanna to counter the NaMo effect in Jammu and campaign for the party in Vijaypur during the 2014 Lok Sabha Elections. [13]

Hindustan Times
In an interview, when asked about his views over the ongoing television serials based on history, he termed them "ridiculous" and said,


Such dirty tricks with the history of India in order to gain TRP must be stopped, either through the Censor board, or an independent authority that oversees the television programming." [14]India Today
Within the first 15 episodes of Shaktimaan, it had become the first Indian superhero, and every week, Mukesh Khanna used to get more than 50,000 letters from the audience. It had become an instant hit, and wherever he went, children would gather and request him to fly as he did on screen.

Shaktimaan was so popular that it was even featured in many international tabloids, including The Wall Street Journal.
Throughout his acting career, he has never accepted negative roles. When asked why he is so skeptical about negative roles, he says,


I will never do negative and weak roles because I feel I am responsible towards my audience. Morals are very important to me and I take my roles very seriously and the image I project even more so. If I do a negative role I believe I am sending out a clear message to a guy living in a chawl or 'Rae Bareily' that even he can be bad. I strongly feel that heroes should not do negative roles as people think that if a hero like xyz can do it why can't he. They can deny their responsibilities towards moral obligations but I feel that's wrong because 'showbizz or no biz' we all are answerable for the message we give out as they have strong impact. See even Manmohan Desai offered me a negative role right after 'Pitamaha' but I just didn't want to do it, as negativism is not in me. I can't do something which I don't have the capacity to do, and I anyway want to come on screen as a strong person."
Such was the dedication of Mukesh Khanna towards the role of "Bhishma Pitamah" that when Bhishma Pitamah made the vow of celibacy on-screen, Mukesh actually vowed not to marry and have any relations with a woman whatsoever.
What Mukesh Khanna plays on-screen, he advocates the same in his real-life too, and he has never been spotted smoking or consuming alcohol. On the release of Ra.One, when Shah Rukh Khan said that it was going to be India's first superhero, Mukesh Khanna bashed him for his smoking habit and said,


How can one play a superhero for children if he smokes in real life?" [15]Hindustan Times
In April 2015, the Ministry of Information and Broadcasting appointed him the Chairman of the Children's Film Society, India (CFSI). However, he resigned from the post in February 2018. [16]

Times of India.
Mukesh Khanna owns a production company "Bheeshma Productions" and runs acting schools in Mumbai, Jaipur, Agra, and Chandigarh. [17]

Hindustan Times
After the re-telecast of Ramanand Sagar's Ramayan and B. R. Chopra's Mahabharat on television in March 2020, Mukesh Khanna took a dig at Sonakshi Sinha and said,


I think the reruns will be useful to many who haven't watched the show earlier. It will also help people like Sonakshi Sinha who have no knowledge about our mythological sagas. People like her don't know who did lord Hunuman get Sanjivani for. There is a video doing the rounds where few boys are asked whose Mama (uncle) was Kans and they got scared to answer. Some said Duryodhan, others said something else, so they are not aware of the mythology." [18]Hindustan Times