Aparna Mulberry is an American Indian content creator. She is a well-known social media influencer with over 1 million followers on various social media platforms. In March 2022, she hit the headlines when she participated in the Indian reality show Bigg Boss Malayalam Season 4 and became one of its contestants.
Wiki/Biography
Aparna Mulberry was born on Saturday, 16 November 1991 (age 31 years; as of 2022) in Portland, Oregon, United States. Her zodiac sign is Scorpio. She was brought up in Kerala, India. From UKG to grade, she studied at Vivekananda Central School, Kerala. Then, from 2nd to 10th grade, she attended Amrita Vidyalayam, Kerala. [1]Aparna's Facebook Account In 2017, she attained a Bachelor of Business Administration and Marketing degree from the School of Business, Portland State University. [2]Aparna's Facebook Account Aparna Mulberry's mother belonged to Chile. Her family immigrated to Argentina soon after the dictatorship governance of Pinochet started ruling in Chile in 1973. Later, the family of Aparna's mother moved to Germany. When her mother grew up, she visited India and fell in love with the culture of India. In Kerala, at Amritapuri Ashram, Aparna's parents met each other, and soon, they got married. Her father belongs to the USA. Soon after the marriage, Aparns's parents shifted to the USA, where Aparna was born in 1991. At the age of two, Aparna Mulberry was travelling to the countries of Europe with her parents as his father was a Psychic reader, and he often travelled to different parts of the world for his work. Later, Aparna's parents decided to move to India. When she was three years old, her parents shifted to India in Amritapuri Ashram in Kerala. Later, her father returned to the US, and her mother, along with Aparna, stayed in India forever. Her father often visited them in Kerala, where she lived from the age of three to fifteen. When she was sixteen, she moved to the USA and lived there for ten years. She shifted to Spain in 2017. In 2022, she started living in France, where she earned a resident visa.
Physical Appearance
Height (approx.): 5′ 7″
Weight (approx.): 55 kg
Hair Colour: Blonde
Eye Colour: Azure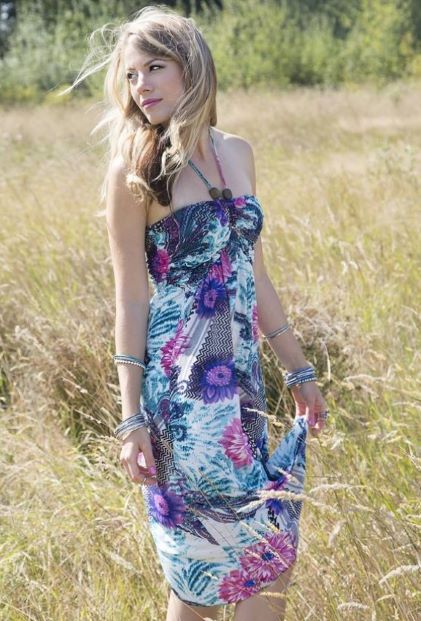 Family
Parents & Siblings
The names of her parents are not known.
Wife
On 12 May 2018, Aparna Mulberry got married to Amrita Sri.
Relationships/Affairs
Aparna Mulberry was in a relationship with Amrita Sri before getting married to her in 2018.
Career
Aparna Mulberry began working at Matrack Inc. in the United States as a Sales Manager and Online Content Moderator soon after completing her college studies in 2017. She then started working on contract basis as a Social Media Manager at Sacred Source Botanicals LLC in 2019. Aparna Mulberry was a part time Social Media Marketing Consultant at Nathan Garnett Consulting from August 2015 to February 2022. From April 2017 to February 2022, Aparna Mulberry remotely served the Sequoia Mortgage Capital, Inc. as a Loan Servicing Agent. From September 2019 to February 2022, she part-time worked at Woman UnRuled as a Social Media Manager. Aparna Mulberry is the founder of an app named 'Āve Digital,' a full-service marketing agency, which she founded in December 2019. In May 2021, she joined an online educational app entri.app where she started teaching the English language.
Licenses and certifications
Aparna Mulberry has three licenses and certifications – TESOL Certification issued by International Open Academy with no expiration date, Presidency Award for Service issued by AmeriCorps NCCC, and Social Media Marketing Skills Test issued by Upwork.
Facts/Trivia
Aparna Mulberry follows a non-vegetarian diet.
Aparna Mulberry likes to eat Idli in her breakfast daily.
She often shares Malayalam comedy skits on various social media platforms.
Aparna Mulberry fluently speaks English, Spanish, Malayalam, and Pig Latin languages.
Various newspapers and magazines often feature Aparna Mulberry in their articles.
Aparna Mulberry regularly shares her pictures and videos on Instagram, and over 858k people follow her Instagram handle titled "inverted coconut." More than 223k people follow her Facebook page.
Aparna is an avid animal lover. She often shares pictures of her pet dog named Yogi on various social media platforms.
A tattoo in the Sanskrit language titled "Be still and realize I am Sakshi" is inked on her right wrist.
In her leisure time, Aparna Mulberry likes to meditate. She adores travelling to distant countries for relaxation.
According to Aparna Mulberry, when she was a student at a Kerala school, she was often bullied by her classmates and peers because she belonged to a different culture and race. In an interview with a media house, she stated that soon she learnt the Malayalam language, which helped her in establishing better relationships with her classmates. She narrated,


Actually, after learning Malayalam, that sort of bullying stopped. It was like the language was a barrier between me and other students in the school. So after learning Malayalam the barrier just vanished. I became one of them, we shared food, went to their houses, played together and we had a great time."