Nitish Bharadwaj is one of the most successful and recognizable faces on Indian television who became the poster boy of Indian mythology after portraying Lord Krishna in B. R. Chopra's epic television drama Mahabharat in the late '80s.
Wiki/Biography
Nitish Bharadwaj was born on Sunday, 2 June 1963 (age 60 years; as of 2023) in Mumbai. His zodiac sign is Gemini. He did his schooling from Mumbai's Gokhle Education Society's DGT High School and Robert Money School, Proctor Road. Thereafter, he pursued his B.Sc. from Wilson College in Mumbai (1977 – 1979). He also holds a bachelor's degree in Veterinary Science & Animal Husbandry from Bombay Veterinary College (1979 – 1983). [1]Linkedin He had a middle-class upbringing in Mumbai, which was enriched by the knowledge of scriptures; as his mother was an educationist and had her own library at home, which gave Nitish an opportunity to access several books and he read a lot of literature on Krishna; before getting the role of Krishna in Mahabharat. After doing many Marathi plays and films, he rocketed to fame by portraying Lord Krishna in B. R. Chopra's Mahabharat.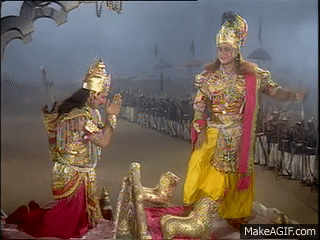 After Mahabharat, he didn't get much success in the Indian film and television industry, then he moved to London where he did many plays and radio shows.
Physical Appearance
Height (approx.): 6′
Eye Colour: Hazel Brown
Hair Colour: Black
Family & Caste
Nitish Bharadwaj comes from a Hindu Brahmin family. [2]Filmfare
Parents & Siblings
His late father, Janardan C. Upadhyay, belonged to a priestly family and was an eminent lawyer in Mumbai. His father was a close aide of George Fernandes in the labour movement in the '60s and '70s. His late mother, Sadhana Upadhyay, was the Head of Marathi Literature department in Wilson College, Mumbai. She was very close to classical music and Marathi literature. His mother's death had a traumatic effect on Nitish. While talking about his mother in an interview, he said,
My mother was trained in classical music.  She was also a professor of Marathi literature. She had acquired a PhD in Dnyaneshwari (a commentary on the Bhagavad Gita). On her death bed, she said, I've fulfilled all my duties as a wife, mother and person. Don't waste your time, energy, money on rituals after I am gone."
Relationships, Wife & Children
He has married twice. He first got married on 27 December 1991 to Monisha Patil (daughter of Vimla Patil, then editor of Femina), and his second marriage took place in 2009 with Smita Gate (an IAS officer). [3]Mumbai Mirror Nitish and Monisha got divorced in 2005, and since then, the estranged couple has kept their separation a closely guarded secret. Nitish found love a second time when he met Smita Gate first in Pune; followed by a meeting in Madhya Pradesh. While talking about his meeting with Smita, in an interview, that he gave just before his marriage, he said,
Initially, we knew each other as friends. We have a common family friend who asked to consider marrying each other. We thought about it and met a couple of times after that. We found that we were very compatible and hence we are going ahead with the marriage."
Nitish has a son, Arrush Bharadwaj, and a daughter, India Bharadwaj, with his first wife Monisha Patil; both his children live with Monisha in London. [4]Mumbai Mirror He has twin daughters with Smita Gate – Devyani (name of a queen in the Mahabharata) and Shivranjani (named after a raag). [5]Filmfare In January 2022, Nitish and Smita ended their 12-year-long marriage. [6]The Times of India
Career
Veterinary Surgeon
Nitish Bharadwaj is a professional veterinary surgeon and before making his debut as an actor in films and television, he had worked as an assistant veterinarian at a racecourse in Mumbai; however, he didn't find it interesting and left the job; considering it a monotonous one. While talking about it, he says,
Everyone in my family wanted me to become a doctor. I did not want to become a human doctor so I became a veterinary surgeon because I love horses and tigers."
Acting
Since his college days, he was passionate about acting and had acted and directed many plays. During his college days, he also trained in a Mumbai-based children's theatre organisation called Little Theatre. In an interview, while talking about his passion for acting, he said,
In the acting sphere, every new play gave me something to do and you find yourself after every new project. I decided one day that this is my passion and want to live this for the rest of my life."
Nitish started his acting career in Marathi theatre, and it was there that he met the popular Indian actor Ravi Baswani who introduced him to Hindi theatre and took him to Dinesh Thakur who inducted Nitish into his group, 'Ankh.' Before Mahabharat happened, he had already debuted in Hindi and Marathi films. He made his Marathi debut with the film "Khatyal Sasu Nathal Sun" in 1987 alongside Varsha Usgaonkar.
His Hindi debut was in 1988 with the film "Trishagni."
He also appeared in a Malayalam film 'Njan Gandharvan' (1991).
Nitish made his television debut in 1988 with B. R. Chopra's Mahabharat.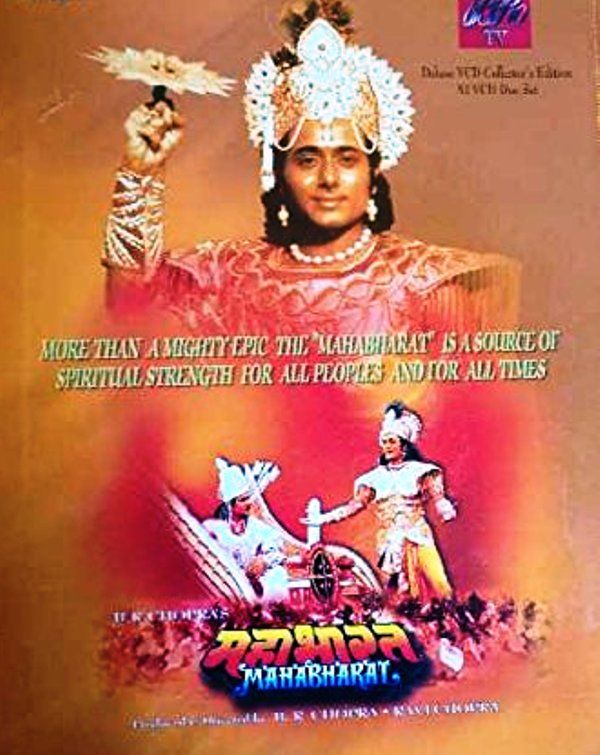 He had initially auditioned for the role of Vidhur in Mahabharat, but he was a misfit for the role; as he was just 23 at the time and the character demanded an old person in most of the episodes. Later, he was offered the roles of Nakul and Sahdev, but he refused them. Finally, when he was offered the role of Lord Krishna, he declined that too. Recollecting the memory about how he landed the role of Krishna, he says,
B R Chopra, Ravi Chopra, (screenplay writer) Pandit Narendra Sharma and (dialogue writer) Rahi Masoom Raza were not happy with whoever they had chosen to play Krishna. Raviji had already done two or three ads with me, like the Philips transistor and Allwyn watches, along with Govinda and he knew me as an actor. Even Gufi (Gufi Paintal who played Shakuni mama in Mahabharat) knew me as an actor, so they called me for another audition for Krishna." [7]Rediff
When asked about his reservations to accept the role of Krishna, he says,
I had reservations about myself as I was too young to play Krishna, who was the fulcrum of the whole story."
When Nitish finally accepted the role of Lord Krishna, B. R. Chopra called him and said,
You are the fulcrum of the serial. If you fail, I fail."
His performance in the first eight episodes didn't get much appreciation. When the first episode was aired, B. R. Chopra again called him and said,
Beta, bahut phone aaye hain aur negative bol rahe hain. Yeh Krishna to fail hogaya."
After the 'Subhadra Haran' episode (the episode where Krishna helps Arjun kidnap his lady love Subhadra), the role of Lord Krishna was started getting noticed by the viewers, and the rest is history.
After Mahabharat, he appeared in a few more projects of B. R. Chopra, such as Vishnu Puran (2003) and Ramayan (2003). Thereafter, he also did a couple of films, but they all failed at the box office. After these failures, he decided to move to London, which was contrary to his parent's views; a decision that he still regrets for. He says,
I blame only myself for whatever happened in my life. I was too young and didn't listen to my parents. I got married and went to London."
During his four years of stay in London, he did many French theatres in English. There, he also did many programmes on Bhagwad Gita and Ramayan for Radio 4. In 2013, he made his debut as a writer and director with the Marathi film "Pitru Roon."
He has also appeared in a few popular Bollywood films, such as Mohenjo Daro (2016) in which worked alongside Hrithik Roshan and Kedarnath (2018) in which he played the role of the father of Mukku (Sara Ali Khan).
Politics
After returning to India from London in 1995, he joined the Bharatiya Janata Party (BJP) and came into active politics. Riding high as Lord Krishna in B. R. Chopra's Mahabharat, Nitish Bharadwaj clinched a Lok Sabha seat in the 1996 Lok Sabha Elections from Jamshedpur in Bihar (now in Jharkhand); a state where he had never visited before in his life. And like Arvind Trivedi (portrayed Ravan in Ramayan) and Deepika Chikhalia (portrayed Sita in Ramayan), he became yet another mythological trump card for the BJP. Although he also contested from the Rajgarh seat, he lost that. In the 1999 Lok Sabha elections, he lost to Laxman Singh (brother of the then Chief Minister of Madhya Pradesh Digvijaya Singh).
In 2007, he quit politics; as he didn't consider himself suitable for the profession, He says,
Politics is a power game. All parties are the same. They use ideologies to woo voters. I withdrew because of the things one has to do to remain in politics. You've got to sell your soul. I wasn't willing to do that. That way you only accumulate bad karma."
Awards
For his Marathi film Pitru Roon (2013)
Screen Awards for Best Director in 2014
Sahyadri Film Awards for Best Screenplay Writer for Marathi feature film in 2014
Maharashtra State Film Awards for 2nd Best Director in 2014
Maharashtra State Film Awards for 2nd Best Film in 2014
Facts & Trivia
In his leisure time, he loves doing yoga and meditation, reading, travelling, and listening to music.
Initially, his father didn't approve of his decision to make a career in acting; as he thought that such professions needed a godfather in the industry.
Even before playing the role of Lord Krishna in Mahabharat, he had been following the teachings of Bhagwad Gita, which is also his favourite scripture. [10]

News Bharti
The character of Lord Krishna in B. R. Chopra rocketed him to fame, and people had started touching his feet wherever he would go.
When Nitish was studying in school, he got a chance to visit several film sets; one of his neighbours was from the FTII, and along with him, he often visited Filmistan, Filmalaya, and RK Studio.
During his initial days in theatre acting, he also worked as an announcer and newsreader for Bombay Doordarshan.
The Lord Krishna's character portrayed by Nitish had become so phenomenal that it had a ripple effect everywhere, be it megacities, towns, or villages. He received similar treatment from people who had started touching hist feet wherever he went; just like they had been doing with Sudhir Dalvi from the film 'Shirdi Ke Sai Baba' and Arun Govil from Ramanand Sagar's Ramayan. After Mahabharat, Nitish got many marriage proposals from girls. On this phenomenon, he says,


I was not sure how to deal with it. I knew I had to have humility and faith. I had to respect the person who was touching my feet. I never let that go to my head."
Even the corporate sector tried to capitalize on his Krishna avatar and many people from the corporate sector had even started offering him money to don the costume of Lord Krishna and bless the people at their corporate functions. However, he mostly declined such offers, he says,


I found this funny and declined all those monetary offers as it would degrade Krishna's character."
For his Mahabharat success, Nitish gives credit to all the crew of this epic serial. He says, I constantly tell myself that the lasting impact of my work is 75% due to Dr. Rahi Masoom Raza's dialogues, Chopra Ji's vision & Raviji's execution of that vision. My credit as an actor is just about 25%."
Apart from portraying Lord Krishna, he has also portrayed Lord Ram alongside Smriti Irani (who played Sita) in B. R. Chopra's other mythological serial Ramayan in 2003.
In 2002, he co-authored a book titled "In Quest of God – a journey to Kailash Mansarovar."
In April 2020, he made his debut on Instagram. He also remains very active on other social media accounts, such as Facebook and Twitter. He also runs a YouTube channel.
Nitish is very close to nature and owns a small organic farm in Khadakwasla, on the outskirts of Pune. While talking about it, he says,


It is fully organic, and not even a spoon of inorganic chemical fertilizers would go into that area. I want to eat and breathe healthy. It's a beautiful location overlooking the backwaters of a dam. I want to meditate over there, want to spend some time there writing my scripts. It's like actually going to my childhood. Haath mitti mein daalna chahta hun (I want to put my hands in the soil). I want to create my own heaven there. I want to see those plants growing."
In March 2020, it was a time for Nitish to re-live the sheer nostalgia when B. R. Chopra's Mahabharat was re-telecast on Doordarshan amidst the nationwide lockdown in the wake of the Corona pandemic.