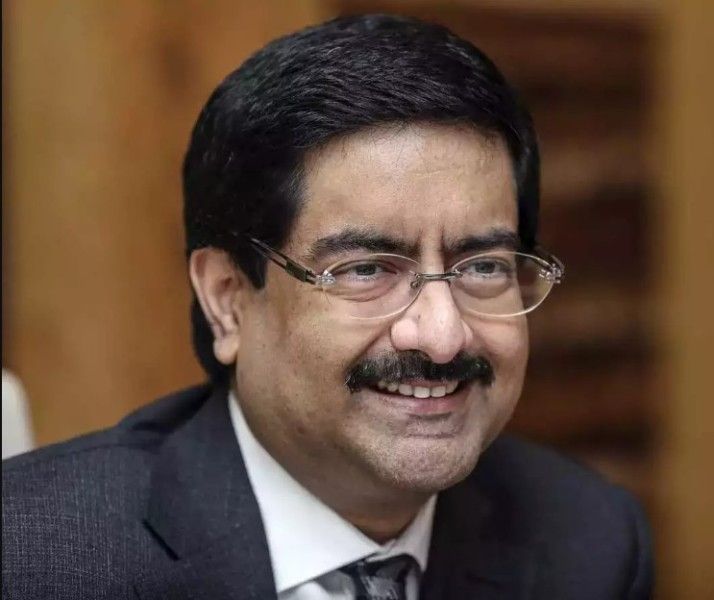 Kumar Mangalam Birla is an Indian industrialist, philanthropist, and chartered accountant. He is the chairman of the Indian multinational conglomerate Aditya Birla Group. Kumar Mangalam received the Padma Bhushan, India's third-highest civilian award, in 2023.
Wiki

/Biography

Kumar Mangalam Birla was born on Wednesday, 14 June 1967 (age 56 years; as of 2023) in Calcutta (Now Kolkata), West Bengal. His zodiac sign is Gemini. One of the scions of the Birla family, Kumar Mangalam, grew up in Bombay (now Mumbai) with his family.

He did his higher secondary education at Sydenham College of Commerce and Economics, Mumbai. After completing his schooling, he pursued a Bachelor of Commerce at the H.R. College of Commerce and Economics of the University of Mumbai, Mumbai. Later he pursued Chartered Accountancy from The Institute of Chartered Accountants of India. Mangalam earned an MBA from the University of London, London in 1992.
Physical Appearance
Height (approx.): 5′ 6″
Hair Colour: Black
Eye Colour: Black
Family
Parents & Siblings
Kumar Mangalam's father, Aditya Vikram Birla, was a famous industrialist. On 1 October 1995, Aditya Vikram Birla died at 51 after being diagnosed with prostate cancer in 1993. His mother, Rajashree Birla, is a philanthropist.
Mangalam's sister, Vasavadatta Bajaj, is a director at Bajaj Consumer Private Limited.
Wife & Children
On 17 May 1989, at the age of 22, Kumar Mangalam Birla got married to Neerja Birla, a philanthropist, in an arranged marriage. Reportedly, Neerja was eighteen when she got married to Kumar Mangalam. In an interview, Kumar Mangalam talks about his experience of marrying Neera Birla at a young age and said,
Neerja is in many ways a perfect foil for me and though we have different personalities, we share a common sense of values and sensitivities. She has almost grown up with me. We got engaged and married very young and therefore we have a very close understanding of each other and are also best friends besides being a couple. The one thing I really like about Neerja is that she really a supermom – absolutely caring, devoted and committed. When she takes up a job, she will see to it through its fruition. She will go that extra mile to make sure that whatever it is that she has taken up is completed with lot of panach."
Kumar Mangalam's eldest daughter, Ananyashree Birla, is a musician and entrepreneur. His son, Aryaman Birla, is a cricketer and entrepreneur. Mangalam's third child, Advaitesha Birla, founded her non-profit organisation, Ujaas, under the Aditya Birla Education Trust (Abet) in December 2021. Ujaas is a non-profit organisation that aims to spread awareness about menstrual health and hygiene through school workshops, distributing sanitary pads in schools, and training girls in manufacturing pads.
In 2023, Ananya Birla and Aryaman Vikram Birla were inducted as directors of Aditya Birla Fashion and Retail, an Indian fashion retail company headquartered in Mumbai.
Other Relatives
Mangalam's great-grandfather, G. D. Birla, was a businessman. G. D. Birla was known to be a close associate of Mahatma Gandhi and used to advise him on economic policies.
His grandfather, Basant Kumar Birla, was a businessman and the chairman of the Basant Kumar Birla Institute of Engineering & Technology (BKBIET). Mangalam's grandmother, Sarla Birla, was a businesswoman. Sarla Birla and her husband, Basant Kumar Birla, are known to establish more than forty educational institutions in India.
Religion
He follows Hinduism. [1]India Today
Caste
He belongs to the Baniya Vaishya family of the Maheshwari caste.
Career
Aditya Birla Group
At the age of 28, Kumar Mangalam Birla took over the position of chairman of the conglomerate Aditya Birla Group, following the death of his father. In 1995, soon after he took the family business, he united all the ventures initiated by his father under the brand Aditya Birla Group. Kumar Birla, in an interview, recalled his father's death and talked about his experience of taking over from his father. He said,
It left me with no choice but to grow up fast. It was a huge learning by itself. It taught me about the impermanence of life, to be resilient and to also appreciate the value of family and close friends that saw us through this very difficult phase."
Ranked in the Fortune Globe 500 list, Aditya Birla Group was set up in 1857 by Seth Shiv Narayan as a small venture firm trading commodities, especially cotton, grains, and silver. Under Kumar Mangalam Birla, the group's turnover increased from US $2 billion in 1995, to US $60 billion (as of 2022). Headquarters in Mumbai, Aditya Birla Group is named among one of India's largest companies. It has branches in 26 countries, India, Germany, the United Kingdom, Brazil, Italy, Hungary, the United States, Canada, France, Australia, Egypt, Luxembourg, Philippines, United Arab Emirates, Switzerland, Singapore, Myanmar, China, Thailand, Laos, Bangladesh, Indonesia, Malaysia, Bahrain, Vietnam, and South Korea. It has businesses including, non-ferrous metals, viscose filament yarn, viscose staple fibre, cement, fertilizers, chemicals, branded apparel, carbon black, sponge iron, telecom, IT services, financial services, insulators, and BPO.
Educationist
Kumar Birla is the chancellor of the Birla Institute of Technology & Science (BITS) with campuses in Pilani, Goa, Hyderabad and Dubai. He is the chairman and governing council of the BITS School of Management (BITSoM). He is also the chairman of the Indian Institute of Management in Ahmedabad, Gujarat. Mangalam is a member of the Asia Pacific Advisory Board at the London Business School (LBS). He is the chairman of the Rhodes India Scholarship Committee for Oxford University, England. A director of G. D. Birla Medical Research and Education Foundation, he also served as Chairman of IIT Delhi. In an interview, he talked about his career as an educationist.
Through education. ABWA, our international school in Mumbai focuses on holistic growth through experiential learning. I believe that education is not only about academic excellence. It is about character building, emotional growth and spiritual growth. Every year, children from our school go into the hinterland and work with the people there. That exposes them to the ground realities of our country."
Member of Board
Besides educational institutions, he served in several important positions on various regulatory and professional Boards. In 2006, Kumar was nominated as a member of the directors of the Central Board of the RBI. Later, he resigned from the RBI board to avoid any conflict of interest in 2013; conflict of interest exists when an individual or organization's private and professional interests clash. He was the Former Chairman of the Advisory Committee of the Ministry of Company Affairs. He also served as the Chairman of the Securities and Exchange Board of India (SEBI) Committee on Corporate Governance. He was the chairman of the Board of Trade, Ministry of Commerce & Industry. He served as the Chairman of SEBI's Committee on Insider Trading and was the former convener of PM's Task Force on Administrative and Legal Simplifications. He was also a member of the Prime Minister of India's Advisory Council on Trade and Industry.
Philanthropy
Counted among the top 5 philanthropists in India, Kumar Birla donates to education-related causes. In 1999, Aditya Birla groups under K. M. Birla launched the Aditya Birla Scholarships; this scholarship is awarded to students with academic excellence. He also actively supports various charitable organizations and causes. In 2017, Kumar Birla was named the youngest philanthropist in India and spent Rs 21 crore on various charitable activities. [2]Business Insider
Controversies
FIR against Kumar Mangalam Birla
In 2013, The Central Bureau of Investigation (CBI) filed a first information report (FIR) against Kumar Mangalam Birla and Hindalco Industries Ltd in the case related to the allotment of captive coal blocks between 1993 and 2010. The lawsuit was filed after the Comptroller and Auditor General of India (CAG) in a 2012 report estimated a notional loss of Rs 1.86 trillion to the finances due to a flawed coal allocation process to the private sector and state-owned companies. In an interview, a CBI officer talked about the case and explained the complaint. He said,
They have been booked for criminal conspiracy. The FIR states that in the year 2005, these people colluded in criminal conspiracy with one another and the public servants then abused their official position to show favours to one private company."
However, in 2014, The Central Bureau of Investigation (CBI) decided to close the coal scam case against billionaire Kumar Mangalam Birla. In an interview, a senior CBI officer talked about it and said,
The evidence collected during investigation did not substantiate the allegations levelled against the persons named in the FIR (first information report filed in the case)." [3]Business Today
Kumar Mangalam Birla Steps down as the chairman of Vodafone Idea (Vi)
On 4 August 2021, Vodafone Idea Limited informed that Kumar Mangalam has decided to step down as the company's non-executive director and non-executive chairman; the board of directors of Vodafone Idea in its meeting accepted billionaire Kumar Mangalam Birla's request. On 4 August, Vodafone Idea issued a notification that said,
The Board of Directors of Vodafone Idea Limited, at its meeting held today, have accepted the request of Mr. Kumar Mangalam Birla to step down as Non-Executive Director and Non-Executive Chairman of the Board with effect from close of business hours on 4th August, 2021
According to official data released by the company in 2021, the total liability of Adjusted Gross Revenue (AGR) over VIL is Rs 58,254 crore. The company paid Rs 7,854.37 crore and it had an outstanding of Rs 50,399.63 crore. VIL and Bharti Airtel had appealed to the Supreme Court to improve the government's calculations regarding AGR but their appeals were rejected. Birla holds a 27 per cent stake in VI. Later, in a letter, Kumar Mangalam offered his 27 per cent stake to any government or domestic financial entity to keep the telecom company afloat. Birla wrote in the letter,
It is with a sense of duty towards the 27 crore Indians connected by VIL, I am more than willing to hand over my stake in the company to any entity- public sector/government/domestic financial entity or any other that the Government may consider worthy of keeping the company as a going concern."
Awards, Honours, Achievements
 In 1998, the Business World listed Mangalam among the top 10 of India's most admired and respected CEOs and the top CEO of the coming millennium.
In 2001, he was awarded The Businessman of the Year Award by the Hindustan Times.
In 2001, he won the Golden Peacock National Award for Business Leadership from The Institute of Directors.
In 2001, he won The Outstanding Businessman of the Year Award from The National HRD Network.
In 2001, he was awarded The Outstanding Businessman of the Year Award at the National HRD Network Awards.
In 2002, he was awarded The Business Leader of the Year Award for corporate excellence at The Economic Times Awards.
In 2003, he won the Businessman of the Year Award at the Business India Awards.
In 2004, the Banaras Hindu University conferred a Doctor of Laws (LLD) (honoris causa) on Kumar Birla.
In 2005, Kumar won Young Super Performer in the CEO Category at the Business Today Awards.
Kumar Mamngalam was named by the World Economic Forum in its 2005 list of Young Global Leaders.
In 2005, he was awarded The Ernst & Young Entrepreneur at the EY World Entrepreneur of the Year Award (WEOY).
In 2006, he was awarded the National Leadership Award in the business category at the Lakshimat Singhania – IIM Lucknow National Leadership Awards ceremony.
In 2007, he was awarded The Global Indian Leader of the Year Award at the NDTV Profit Business Leadership Awards.
In 2007, he was awarded The Exemplary Leader Award at the Asia Pacific Global HR Excellence Awards.
In 2008, the SRM University, Chennai, conferred an honorary degree of doctor of literature for the development of technology and the involvement in the field of Industries in bringing the country to par with other countries in the field of industries on Kumar Mangalam Birla.
In 2008, he was bestowed with the Honorary Degree of Doctor of Science (Honoris causa) in 'recognition of his invaluable contribution to the field of business administration by G. D. Pant University of Agriculture & Technology.
In 2010, he was awarded the Managing India Awards 2010 'Business Leader of the Year at the All India Management Association Awards.
In 2010, he was awarded the Indian of the Year – Business Award for being the most outstanding business person and making a success out of most businesses at the CNN-IBN Awards.
In 2011, he was awarded the GQ Business Leader of the Year at the Condé Nast Awards.
In 2012, he was awarded India Business Leader Award for Taking India Abroad at CNBC-TV18 Awards.
In 2012, he was awarded the Global Business Leader Award at the National Association of Software and Service Companies Awards (NASSCOM).
In 2012, he was conferred with The Degree of Doctor of Science (Honoris Causa) in recognition of his role in 'Pioneering great engineering products involving multi-disciplinary engineering thought processes in the country by the Visvesvaraya Technological University, Karnataka.
In 2012, he was awarded the Most Inspiring Leader Award at the NDTV Profit Business Leadership Awards.
In 2012, he was awarded the Flagship Award-Entrepreneur of the Year at the Forbes India Leadership Awards.
In 2013, he was ranked third in the Economic Times-Corporate Dossier ranking of India Inc's Most Powerful CEOs.
In 2012, he received the Business Leader of the year award at The Economic Times Awards for Corporate Excellence.
In 2014, he was awarded Global Leadership Award at US India Business Council (USIBC) Awards.
In 2014, he was awarded the Business Leader of the Year 2014 at Hello! Hall of Fame Awards.
In 2016, the International Advertising Association awarded Mangalam the CEO of the Year Award.
In 2017, Frost & Sullivan felicitated Mangalam Birla with the GIL Visionary Leadership Award.
In 2017, Kumar Mangalam Birla was awarded the 2017 Outstanding Business Leader Award at the CNBC Awards.
In 2019, Kumar Mangalam was bestowed with Honorary Doctorate by Dr Ashok K Chauhan, Founder and President of Amity Group of education, during the fifth convocation ceremony of Amity University, Haryana.
In 2021, The Indus Entrepreneurs (TiE) conferred the Global Entrepreneur of the Year Award- Business Transformation on Kumar Mangalam Birla.
Car Collection
Kumar Mangalam Birla's car collection includes Rolls Royce Ghost, Mercedes Maybach s500, BMW 760LI, Jaguar XF, and BMW 5 series.
Jet Collection
Kumar Mangalam Birla Jet collection includes The Cessna Citation & Gulf Stream.
Net Worth
As of February 2023, Kumar Mangalam's net worth is $14.6 billion. [4]Forbes
Property/Assets
In 2015, Kumar Mangalam purchased the Jatia house worth Rs 425 crores, located in the Malabar Hills, South Mumbai; MP Jatia initially owned the house. According to sources, the house has a built-up area of at least 28,000 square feet and was valued at nearly Rs 1.5 lakh per square foot. Kumar Mangalam's owned Jatia house is ranked among the top 10 expensive houses in India. [5]GQ India
Facts/Trivia
According to Mangalam, he was never interested in pursuing Chartered Accountancy; however, his father, Aditya Vikram Birla, insisted to pursue a career in it. He cleared the exams of CA in his first attempt and was ranked among the toppers.
In an interview in 2015, Kumar Mangalam Birla said that he lost his temper only three times in his twenty years of work. Birla said,


In 20 years of being at work, I have lost my cool three times and each time for a good reason. For him this is an achievement considering outside of office, he loses his cool five times a day."

Kumar Mangalam follows a vegetarian diet.
Kumar Mangalam is a Marwari, a community where vegetarianism is strongly followed. Initially, no meat or alcoholic beverages were served at the cafeterias of the Aditya Birla Group. However, in 2003, when the group bought a business in Australia, they decided to change the old traditions and started serving non-veg items in the cafeterias. In an interview, Birla recalled the first time he saw Butter Chicken being served in a Birla canteen and said,


When I took over the company in 1996 at age 29, after the sudden death of my father, no meat was cooked in Birla cafeterias; no wine or whiskey was served at company functions. Our newest (Australian) employees were understandably worried about how life might change under Indian ownership. Would they have to give up their Foster and barbecues at company events? Of course not, we reassured them, Fortunately, my grandparents merely laughed when I approached them with the dilemma: they understood better than I did that our company had to change with the times. If we wanted to make our mark on the world, we had to be prepared for the world to leave its mark on us."

Brij Mohan Birla, a member of the Birla family, established Hindustan Motors in 1942; the company is known to manufacture Ambassador cars in 1957.
 In 2022, Kumar Mangalam Birla, while he was delivering the convocation speech at the Indian Institute of Technology (IIT) Bombay, he shared his favourite IIT Bombay joke. He said,


How can I forget the famous campus jokes that I hear from my IIT-Bombay alumni friends. My favourite, is the one that I heard, goes like this – Late at night a seemingly lost auto driver on the campus here asks a PhD student, 'Bahar jaane ka raasta? (What is the way out of this campus?)' Pat comes a reply, 'Chaar saal se main bhi yahi dhundh raha hu (I am also looking for it for the last four years)."

Kumar Mangalam enjoys shooting in his leisure time. In an interview, Birla talked about his hobby and said,


I keep my gun ready in office also." [6]Business Today

Despite Mangalam's busy schedule, he manages to go on a mini vacation with his family every year. His favourite destination includes London or St Moritz in Switzerland.
Reportedly, in 2018, when Kumar Mangalam went on a holiday in Spain with his family, they were accompanied by 150 kg of home-cooked food. The food carried by the Birlas underwent a self-innovated process of dehydrating food at room temperature.
In March 2023, President Droupadi Murmu awarded him Padma Bhushan, India's third highest civilian honour.