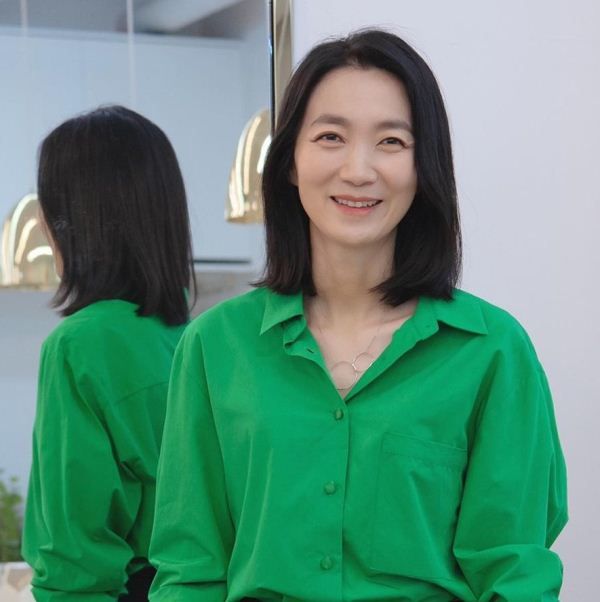 Kim Joo-ryoung is a South Korean actress. She gained international fame after portraying ' Han Mi-nyeo' in the Netflix original web series 'Squid Game.'
Wiki/Biography
Kim Joo-ryoung was born on Thursday, July 15, 1976 (age 45 years; as of 2021), in Gapyeong-gu, Gyeonggi Province, South Korea. Her zodiac sign is Cancer. She did graduation in theater and film from Dongguk University, Seoul, South Korea. [1]Just Entertainment — Kim Joo-ryoung
Physical Appearance
[2]Daum — Kim Joo-ryoung  Height: 5′ 6″ (167 cm)
[3]Daum — Kim Joo-ryoung Weight: 49 kg
Eye Color: Black
Hair Color: Black
Family
In 2010, she got married to a man two years younger than her. Her husband is a professor who teaches direction at Texas State University, San Marcos. She met her husband while she was acting in a theater play, which was directed by her husband. She has a daughter named Katherine.
Career
Agency: Just Entertainment (joined in September 2019)
Theater
She made her acting debut on a theater stage. She has acted in plays like Amhaeng-eosa Joldoya (2001), Waiting For Specters (2005), Detective Hong Yoon-sik (2007), Checkmate (2009), Oneul-ui Jeonlyag-eun? (2010), and Scent of Love (2012). She is a part of a theater troupe 'Dream Play.'
Films
In 2000, she made her film debut with 'Plum Blossom' as 'Werther.'
She only played minor or supporting roles in the South Korean feature films Sorum (2001), Memories of Murder (2003), You Are My Sunshine (2005), No Mercy for the Rude (2006), and Paradise Murdered (2007). In 2007, she was cast in her first lead role as 'Jae-hee' in the South Korean feature film 'Texture of Skin.' The film follows the story of a journalist named Min-woo, who is indulged in a sexual relationship with his now-married former girlfriend, Jae-hee. However, he is distracted by the soul of a woman who died in his arms in an accident and whose apartment he was living in.
She continued to play supporting roles in the South Korean films Handphone (2009), Silenced (2011), Sleepless Night (2013), Bluebeard (2017), Land of Happiness (2018), and Spring, Again (2019). In 2017, she made her short film debut with 'Girl at the Door' (South Korean) as 'Hye-ri's mother.' The short is about a girl named Hye-ri who, unlike her submissive mother and little brother, learns armbar maneuver to get the upper hand in the fight with her father who turns abusive when inebriated.
In 2020, she appeared in the TV movie 'SF8: Joan's Galaxy' as 'Kim Jung-won.' The film was broadcast on MBC.
Kdramas
In 2017, she made her television debut with the KBS2 drama 'Ms. Perfect.'
She then only played minor roles in the Kdramas Criminal Minds (2017), Andante (2017), Ms. Hammurabi (2018), The Rich Son (2018), The Ghost Detective (2018), Mr.Sunshine (2018), Kingmaker: The Change of Destiny (2020), The School Nurse Files (2020). She also gave cameo appearances in the Kdramas Queen of Mystery 2 (2018), Sky Castle (2018), Babel (2019), Welcome to Waikiki 2 (2019), Voice 3 (2019), and Doctor John (2019). In 2019, she appeared in the one-act drama television series 'Drama Stage' in the story 'Woman with a Bleeding Ear' as 'Im Song-hee.' The story is about a woman office worker set to marry her boyfriend, whose ear bleeds whenever she hears something she doesn't wish to hear.
In 2021, she appeared in the Netflix survival drama TV series 'Squid Game,' which was streamed on and distributed by Netflix. Written and directed by South Korean filmmaker Hwang Dong-hyuk, the series is based on a contest, consisting of children's games, in which 456 players participate to win prize money of ₩45.6 billion; the losers face the death penalty. She played the lead role of 'Han Mi-nyeo' (numbered 212), a loud and manipulative woman who boasts that she is a con-woman having been charged five times for fraud. Her reasons to enter the game are never made clear in the series. Other main roles in the series were played by Lee Jung-jae, Park Hae-soo, Jung Ho-yeon, Wi Ha-joon, O Yeong-su, Anupam Tripathi, and Heo Sung-tae. The series was a huge hit globally as it become Netflix's most-watched series at its launch. The series is also the first South Korean drama to top Netflix's top ten weekly most-watched TV show charts globally.
Awards
Incheon Theater Festival Best Actress Award in 2005
National Chunhyang Selection Competition in 1999
Favorites
Painter: Constance Marie Charpentier
Work of Art: Melancholy by Constance Marie Charpentier
Facts/Trivia
In her spare time, Joo-reong likes to go to art exhibitions and watch films.
Apart from acting, she visits various hospitals to play with patients. She once went to Bo Bath Memorial Hospital in Seongnam to do a puppet show for children and patients with down syndrome.
She works as a part-time Dantian medical trainer and English textbook voice actor when she is not acting.
She resides in Chungjeong-ro in Chunghyeon-dong, Seodaemun-gu, Seoul, South Korea.
She was offered the role in Squid Game without an audition because the director Hwang Dong-hyuk wanted her in his series as he had earlier worked with her in his films Silenced (2011) and Collectors (2020). Hwang Dong-hyuk had offered her to act in his series when the script wasn't even finished. In 2020, she received the script for Squid Game.
Before Squid Game happened, she wanted to quit acting due to a lack of opportunities. However, when the script of the series reached her, she was moved and decided to act in the series.
She is considered to be a look-alike of the famous South Korean comedian Kim Sook. She referred to the comedian as her look-alike.
She is an avid dog lover and owns a dog named Tuya.