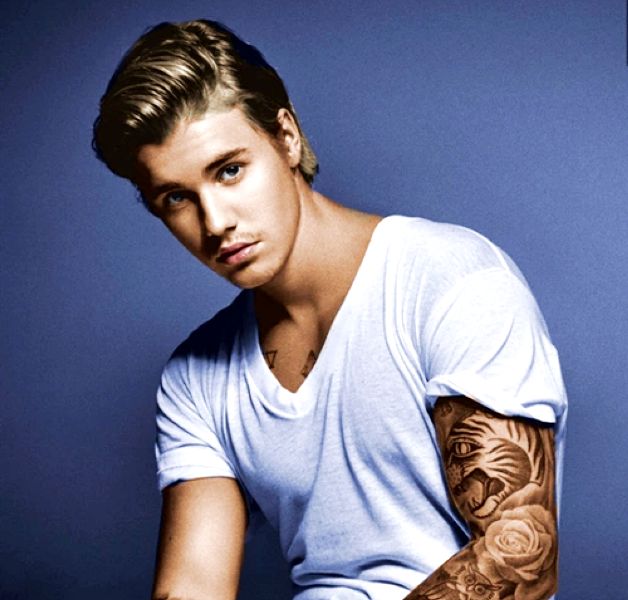 Justin Bieber is a Canadian singer and songwriter. He is often addressed as JB, J-Beebs, The Beebs, Douche-Pouche, and Kidraul. He is regarded as one of the most powerful celebrities in the world. He had sold an estimated 150 million records, which makes him one of the world's best-selling music artists.
Wiki/Biography
Justin Bieber was born as 'Justin Drew Bieber ' on Tuesday, March 1, 1994 (age 28 years; as of 2022) in the London city of Canada. Justin was raised in Stratford, Ontario. His zodiac sign is Pisces.
He did his schooling from Jeanne Sauvé Catholic School, Stratford, Canada. He did his high school from St. Michael Catholic Secondary School with a 4.0 GPA. Growing up, he learned to play various instruments like guitar, drums, piano, and trumpet.
Physical Appearance
Height (approx.): 5′ 9″
Weight (approx.): 70 kg
Body Measurement (approx.): Chest 40″, Waist 32″, Biceps 14″
Eye Color: Blond
Hair Color: Light Brown
Family & Ethnicity
Justin Bieber was born to Patricia "Pattie" Mallette (Canadian author and film producer) and Jeremy Jack Bieber (carpenter and pro-am martial artist). His parents never got married to each other. His mother is a French-Canadian; his paternal great-grandfather is a German. Justin's other roots are English, Scottish, and Irish. He once even claimed that he had some undetermined Aboriginal Canadian ancestry.
Being underage at the time of Justin's birth, Patricia's mother, Diane and her stepfather Bruce helped her raise Justin. He has four half-siblings; two sisters Jazmyn (from his father Jeremy and his ex-girlfriend Erin Wagner), Bay (from his father Jeremy and his wife Chelsey) and Allie (from his father Jeremy and his wife Chelsey), and a brother Jaxon (from his father Jeremy and his ex-girlfriend Erin Wagner).
Affairs/Girlfriends
Justin Bieber has dated many girls. The list includes-
Caitlin Beadles (2007-2009)
Jessica Jarrell (American singer; 2009-2010)
Mandy Rain (American actress; 2009)
Kristen Rodeheaver (American Model; 2009)
Jasmine V (Singer; 2010),
Selena Gomez (Singer-actor; 2010-13)
Barbara Palvin (American model; rumored, 2012)
Miranda Kerr (American model; rumored, 2012)
Milyn Jenson (American model; 2012)
Jacque Pyles (actress; 2013)
Cailin Russo (American model; 2013)
Tati Neves (Brazilian model; 2013)
Chantel Jeffries (Actor; 2014)
Yovanna Ventura (American Model; 2014-15)
Kayla Phillips (model; 2014)
Alyssa Arce (American model; 2014)
Scarlett Leithold (American Model; 2014)
Hailey Balwin (American Model; 2015-2016)
Lira Galore (American Model; 2015)
Nicola Peltz (Actress; 2015)
Ashley Moore (American Model; 2016)
Sofia Richie (daughter of American singer-actor Lionel Richie; 2016)
Michelle Cardona (Puerto Rican Volleyball player; 2017)
Gabriella Lenzi (Model; 2017)
Audreyana Michelle (American Model; 2017)
Paola Poulin (Mexican actress; 2017)
Fiona Barren (Mexican Model; 2017)
Baskin Champion (American Model; 2018).
Marriage & Wife
Justin Bieber had always been a talk of the town whether it comes to his relationships or marriage until he got hitched to the model and TV presenter Hailey Balwin. Hailey and Justin were in a relationship from 2015 to 2016. Justin started dating Hailey Baldwin again in May 2018. The couple got engaged on July 7, 2018, and their marriage was confirmed on November 23, 2018.
Career
When searching for the videos of different singers, Scooter Braun, a former marketing executive of 'So So Def Recordings' found one of the videos of Justin on YouTube.
He was impressed by Justin and tracked him down. Scooter and Justin went to Georgia and recorded demo tapes. Justin started his career by singing for Usher.
He was soon signed to Raymond Braun Media Group (RBMG), a joint venture between Scooter and Usher. Usher then started seeking assistance to find a label home for the Justin from then manager Chris Hicks, who helped plan an audition with his contact L.A. Reid of The Island Def Jam Music Group. Reid signed Bieber to Island Records in October 2008 (resulting in a joint venture between RBMG and Island Records) and appointed Hicks as executive Vice-President of Def Jam, where he could manage Bieber's career at the label.
Justin's first single 'One Time,' was released on radio on 27 April 2009, when Justin was still recording for his debut album. The song reached number 12 on the Canadian Hot 100 and then later peaked number 17 on Billboard Hot 100.
His debut extended play, "My World" was released on 17 November 2009.
The album's second track, "One Less Lonely Girl" was released with two promo songs, "Love Me" and "Favorite Girl" and had charted Top 40 on Billboard Hot 100.
His single "Baby;" featuring Ludacris was released from his first album, "My World 2.0" in January 2010 and became an international hit. The song charted to number 5 on Billboard Hot 100.
Controversies
In 2012, Justin was accused of driving recklessly in his neighborhood.
In 2013, Justin was charged for vandalism in Brazil.
In 2014, Justin Bieber was accused of throwing eggs at one of his neighbors in Calabasas, California. In July 2014, the Los Angeles Country Superior court sentenced him to pay $80,900 in restitution, serve two years probation, complete 12 weeks of anger management and complete five days of community service.
On January 23, 2014, he was arrested in Florida along with the singer Khalil on the speculation for driving under the influence (DUI). After his arrest, more than 270,000 people petitioned the white house to have him deport the United States. However, the Barack Obama administration declined the substantive comment on the petition.
On September 1, 2014, he was arrested and charged of dangerous driving near his hometown of Stratford, Ontario after his vehicle collided with a minivan on 24 August 2014.
On November 9, 2014, the Buenos Aires Court ordered Justin to give his testimony on his alleged assault on a photographer. The incident happened back in 2013 when Beiber had asked his security men to hit a photographer and also snatch his camera outside a nightclub in Buenos Aires. Following the incident, he was banned in Argentina from performing.
In 2017, the Chinese Government banned Justin to perform in China. The Beijing Municipal Bureau of Culture released a statement as a reason, "To maintain order in the Chinese market and to purify the Chinese performance environment, it is not suitable to bring-in badly behaved entertainers."
Awards
Grammy Awards 
Justin Bieber won Best Dance Recording Award for the song "Where Are Ü Now" (with Jack Ü) in 2016.
Billboard Music Awards (BMA's)
Justin Bieber has won 20 BMA's (as of 2016); the first one being in 2011.
American Music Awards (AMA's)
Justin Bieber has won 15 AMA's (as of 2017); the first one being in 2010.
MTV Europe Music Awards (EMA's)
Justin Bieber has won 21 EMA's (as of  2017); the first one being in 2010.
MTV Video Music Awards (VMA's)
Justin Bieber has won 2 VMA's (as of 2017); the first one being in category of Best New Artist for the song "Baby" (with Ludacris) in 2010.
In September 2021, he took home Moon Person statuettes for artist of the year and best pop for his single "Peaches."
Teen Choice Awards
Justin Bieber has won 23 Teen Choice Awards (as of 2017); the first one being in 2010.
Achievements
As of 2016, he has received 14 titles in the Guinness Book Of World Records.
In 2015, Justin became the first artist after Elvis Prestley to replace his own song as the number one on the UK Single Chart.
In 2013, the Recording Industry Association of America (RIAA) honored him with a Diamond Award to recognize his single "Baby" as the highest-certified digital song of all time.
On 23 November 2012, the then Prime Minister of Canada, Stephen Harper, presented Justin, Queen Elizabeth II Diamond Jubilee Medal.
Justin has sold an estimated 140 million records (as in 2017).
Favorite Things
Food: Grilled Salmon, Mashed Potato, Spaghetti Bolognese, Berry Captain Crunch
Singer: Michael Jackson, Justin Timberlake, Beyonce
Book: Jason steed (Fledgling) by Mark A. Cooper
Cars/Bike Collection
Cars
Cadillac CTS-V (Batmobile)
Mercedes-Benz Sprinter Van
Bikes
Assets & Properties
a 101 acres house in Cambridge
Calabasas House, which he sold to Kardashians
Ed Nile's famous 'Salad Spinner House' (rented)
an English estate (rented)
a glassy bachelor pad in Beverly Hills (rented)
Net Worth
His net worth is roughly $265 million as of 2019.
Facts
Justin grew up listening to "Boyz II Men" as her mother used to play a lot of R&B.
His mother gave him a right-hand guitar. Unfortunately, Justin was left-handed, so it became a problem for him. His mother gifted him a left-handed guitar on his birthday later.
Growing up, Justin Bieber mostly loved playing outdoor games including hockey, basketball, and soccer.
Seven songs from his very first album charted on Billboard Hot 100. He was the first one to achieve that.
His album "Under The Mistletoe," which is also his first Christmas album and second studio album, debuted at number one on Billboard 200.
With an estimated sale of his singles at $100 million, he is considered as one of the best-selling artists in the world.
His fandom is known as "Beliebers.'
Forbes magazine listed him as one of the most influential celebrities of the world in 2011, 2011, and 2013.
He is the first artist to achieve the 10 million views on YouTube (Vevo).
When Justin Bieber won a singing competition in Stratford, where he sang Ne-Yo's "So Sick," and was placed second, his mother uploaded his video on YouTube for friends and family to watch, and she kept doing this for his every performance.
Justin's mother was reluctant to send him with Scooter Braun because of Scooter's Jewish ethnicity. She had prayed to God,


God, I gave him to you. You could send me a Christian man, a Christian label!, and, God, you don't want this Jewish kid to be Justin's man, do you?"
Justin Timberlake was also bidding for Bieber but lost the bid to Usher.
He was invited to sing the opening line of the song, "We Are The World" written by Michael Jackson and initially sung by Lionel Richie.
In June 2010, Justin became the most searched artist on the internet. The same month, his music video of the song "Baby" surpassed the Lady Gaga's "Bad Romance" record. It became the most viewed and also the most disliked music video.
Justin's 3D-part biopic, part-concert movie, "Justin Bieber: Never Say Never" grossed $30.3 million, nearly matching "Hannah Montana and Miley Cyrus: Best of Both Worlds Concert" at $31.1 million.
Justin's song "What Do You Mean" became his first song to chart number one on Billboard Hot 100. It also earned him a Guinness Record of becoming the youngest person to do so.
His voice is a light-lyric tenor vocal style voice that ranges at 2 octaves, four notes, and a semitone.
In 2018, Justin Bieber launched his clothing line, "Drew House" after his middle name 'Drew.'
He has actively been the part of Pencils of Promise (PoP), a non-profit organization that works to build schools for needy children in backward areas. The organization is run by his manager's brother.
He appears in PETA events that promote the adoption of the animals rather than buying them.
In an interview, he revealed that had he not been a singer, he would be an architect.
Justin can solve Rubik's Cube in less than 2 minutes.
In June 2022, Justin Bieber had to cancel a series of shows after he was diagnosed with Ramsay Hunt syndrome due to which one side of his face became paralyzed, and he became unable to move his facial muscles. Beiber revealed this through a video that he posted on social media. [1]

The Guardian