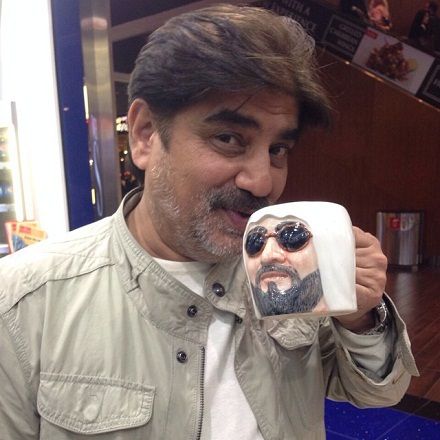 Iqbal Ratnasi is an Indian businessman. He is known for being the father of the Bollywood actor Zaheer Iqbal Ratnasi who appeared as the main lead in the 2019 Bollywood film "Notebook."
Wiki/Biography
Iqbal Ratnasi lives in Mumbai. He owns several businesses in Mumbai.
Physical Appearance
Height (approx.): 5′ 5″
Hair Colour: Salt and pepper
Eye Colour: Black
Family
Parents & Siblings
Not much information is available about his parents or siblings.
Wife & Children
His wife's name and profession are not known.
Sanam Ratnasi is his eldest daughter. She is a renowned Bollywood stylist.
His eldest son, Zaheer Iqbal Ratnasi, is an actor.
His youngest son's name is Mohammad Ladha. He is a Computer and Information Sciences graduate from Auckland University of Technology (AUT).
Religion
Iqbal Ratnasi follows Islam. [1]News World Express
Career
On 25 October 2005, Iqbal Ratnasi founded and became the Director of a construction company named Stelmac Developers Private Limited. He remained the Managing Director of the company till 2011. Iqbal Ratnasi jointly owns a construction company, Blackstone Housing and Infrastructure Private Limited, with his son, Zaheer Iqbal Ratnasi. He presides over the company as a Joint Director. On 26 February 2016, he founded another company in partnership with Zaheer. The company Films Tools Lights And Grip LLP specialises in making lighting equipment used on the sets of films. On 10 February 2020, he was appointed as a Joint Director in Zaheer's company named Zahero Media And Entertainment Private Limited.
Facts/Trivia
Iqbal Ratnasi is closely affiliated with Bollywood as he is a close friend of the Bollywood superstar Salman Khan.
Salman Khan owes Rs 2,011 to Iqbal Ratnasi as a debt that he had taken from him in the early 1980s. Salman Khan promised to return the money with complete interest by making Iqbal's son, Zaheer Iqbal Ratnasi, a Bollywood star who would value Rs 200 crore. While giving an interview, Iqbal's son, Zaheer said,


I remember Salman Bhai saying, that he still owes 2011 Rupees to my father, a sum he had taken to take out his girlfriend. He once told me that he will repay the money to my father with interest by making me a 200 Crore star in Bollywood. That would be his interest in the Rs 2011, which he borrowed."