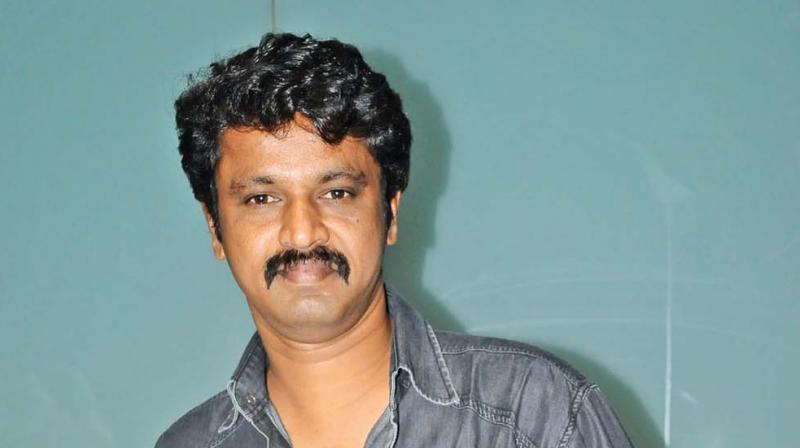 Cheran Pandiyan is an Indian actor, director, writer, and producer.
Wiki/Biography
Cheran was born on 12 December 1965 (53 years old; age in 2018) in Pazhayoorpatti near Madurai in Tamil Nadu. Entering the glamour world was a childhood dream for him. He started acting in dramas and play while he was still in school. He shot to fame with his role of Senthil Kumar in the 2004 Tamil Movie "Autograph."
During the initial phase of his career, Cheran worked as a Production Manager and Assistant Director. He debuted as a director with the movie "Bharathi Kannamma" which released in 1997. Cheran ventured into the arena of acting with the movie "Porkkaalam."
Physical Appearance
Family & Caste
Cheran was in a Hindu Family. He belongs to the Scheduled Caste Community. His father, Pandian, was a Projector Operator in Vellalur touring theatre whereas his mother, Kamala, was a primary school teacher. Cheran has two sisters.
Cheran is married to Selvarani and the couple has two daughters, Dhamini and Nivedha Priyadarshini (film producer).
Career
Cheran Pandiyan began his career as a production manager. He worked as an assistant director for the film "Puriyaadha Pudhir" for Director K. S. Ravikumar. He also worked as an Associate Director for the film "Mahanadi" which starred Kamal Haasan. He was an assistant/associate director for nearly 11 films. Cheran marked his debut as a director with 1997-release "Bharathi Kannamma." His directorial debut was remade in the Kannada Language as "Usire" (2001).
Cheran turned actor-cum-director with the Tamil movie "Porkkaalam." In 2004, he appeared in the lead role of "Senthil Kumar" in the Tamil Film "Autograph." Cheran not only played the lead role in "Autograph" but was also the director, writer, and producer of the film. The movie went on to become a superhit and was screened four times in Canada at the Montreal World Film Festival.
Cheran has produced "Autograph" (2004), "Azhagai Irukkirai Bayamai Irukkirathu" (2006), "Aadum Koothu" (2007), "Muran" (2011), and "JK Enum Nanbanin Vaazhkai" (2015).
In 2014, Cheran founded "C2H" (Cinema2Home) to curb the issue of copyright infringement which prevailed in the Tamil Film Industry.
In 2019, he appeared as a contestant in the season 3 of the reality show Bigg Boss (Tamil).
Controversy
In 2013, Cheran's daughter Dhamini accused him of threatening the boy with whom she was in a relationship. Dhamini filed a complaint against him and claimed that her father had an objection to her relationship with a person named "'Chandrasekhar" (Chandru). In the Madras High Court, Dhamini said that she wanted to go and live with Chandru's mother, but later, she decided to stay with her parents.
In 2016, during the audio launch of the Tamil Film "Kanna Pinna," Cheran lashed out against Sri Lankan Tamils of being responsible for making unauthorised copies of Tamil Films. He was quoted saying, "I came to know that it was Sri Lankan Tamils who indulge in online leaks by releasing new films in an illegal manner. The film fraternity as such has raised its voice in favour of Sri Lankan Tamils on several occasions. Coming to think of it, I feel ashamed to have supported those who eat away our money and push us to penury."
In 2017, Cheran wrote a seven-page letter whereby he accused Vishal, General Secretary of the Nadigar Sangam, of being "selfish, power hungry and insensitive."
He had also accused South Indian Actor Karthi and Vishal, General Secretary of the Nadigar Sangam, of being disrespectful to him when Cheran approached them for films.
Awards
National Film Award for Best Film on Other Social Issues for film 'Vetri Kodi Kattu' (2000)
National Film Award for Best Popular Film Providing Wholesome Entertainment for film 'Autograph' (2004)
National Film Award for Best Film on Family Welfare for film 'Thavamai Thavamirundhu' (2005)
Tamil Nadu Progressive Writers Association Award for Best Writer and Director for film 'Thavamai Thavamirundhu' (2005)
National Film Award for Best Feature Film in Tamil for film 'Aadum Koothu' (2007)
Filmfare Award for Best Director- Tamil for Bharathi Kannamma (1997), Desiya Geetham (1998), Pandavar Bhoomi (2001), Autograph (2004)
Filmfare Award for Best Film- Tamil for Autograph (2004)
Facts
Cheran's hobbies include writing and listening to music.
His favourite singers include Sathyan and G. V. Prakash Kumar.
Participation in the Montreal World Film Festival was a dream come true for him.
Cheran prefers Hogenakkal Waterfalls, India over Niagra Fall, Canada.
He has also delivered a speech at the Washington Tamil Sangam.
In order to prepare himself as an actor, Cheran used to stand in front of the mirror and rehearse film dialogues of Sivaji Ganesan