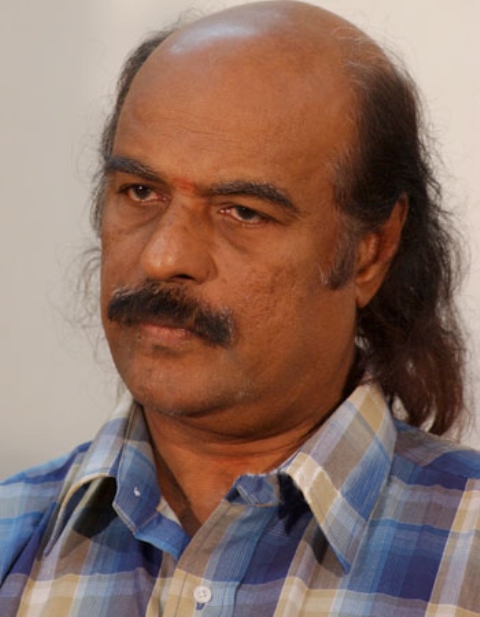 Bharat Gopy (1937-2008) is an Indian actor, producer, director, author, and litterateur, with the majority of his films in the Malayalam film industry. He is known for his films Kodiyettam (1978), Yavanika (1982), Kattathe Kilikkoodu (1983), Adaminte Vaariyellu (1983), and Chidambaram (1985). He passed away at the age of 71 after suffering a heart attack.
Wiki/Biography
Gopynathan Velayudhan Nair, who is popular by the name Bharat Gopy, was born on 2 November 1937 (age 70 years, at the time of death) in Chirayinkeezhu, Travancore, British India (now Thiruvananthapuram, Kerala, India). His zodiac sign is Scorpio.
After his school education, he joined the University College in Thiruvananthapuram and completed his graduation in Science. It was during his school days that he first acted in Jagathy N. K. Achari's production Karakku Company in 1952. For a brief period, he worked as a Lower Division Clerk in the Kerala State Electricity Board in 1957. His interest in theatre and acting motivated him to learn about it in depth.
Family & Caste
Bharat Gopy was from a Keralite Hindu Nair family.
Parents & Siblings
Bharat Gopy's father, Kochuveettil Velayudhan Pillai was a teacher. He was also a theatre enthusiast, who acted in amateur dramas in his time. His mother, Parvathyamma, was a homemaker. Gopy was the youngest of their four children. In one of his articles, he mentioned that his eldest brother served in the Indian Army.
Wife & Children
Bharat Gopy was married to Jayalakshmi S. V., who is a retired A. E. O from the government services.
They have a son, Murali Gopy, and a daughter, Dr. Minu Gopy. Murali Gopy is an actor, filmmaker, writer, and journalist. Some of the films written by him are Rasikan (2004), Left Right Left (2013), and Lucifer (2019). [1]Webdunia
Religion/Religious Views
In an interview published in 2007 in Kilippattu, he talked about his religious and political views. He mentioned that even when his ideologies were communist, he confirmed he was never an atheist. Praying was part of his discipline.
Address
Thrikkarthika, No.27, Skyline Park Villa, Peyad, Thiruvananthapuram.
Signature/Autograph
Career
Theatre
Bharat Gopy was an all-rounder when it came to theatre. He was an actor (100 stage productions), a playwright (5 plays), and a director (5 stage productions). He started his stage-acting career under the mentorship of G. Sankara Pillai, a playwright and literary critic. In 1960, they founded the Prasadhana Little Theatre Group, promoting their ideas of modern dramas. He played a one-minute duration role in his first drama, Abhayarthikal (1962). The role, named Raghavan, didn't have any dialogues but had to express a shocking trauma through his expressions. Gopy's acting received much acclaim.
The other major productions of Prasadhana were Mrugathrishna (1963), Pey Pidicha Lokam, and Puja Muri. The last production in 1973 was Beckett's Waiting for Godot, directed by Adoor Gopalakrishnan. Bharat Gopy played the role of Estragon in this production. Out of the five plays he wrote, Muthukal and Shiksha was for the children's theatre in 1974. He wrote and directed Rajavu, Rajyam and Rajakkanmar (1974).
He collaborated with other theatre groups such as Karamana Janardhanan Nair and C. N. Sreekantan's productions. His creative explorations led him to Kavalam Narayana Panicker's indigenous theatre group, Thiruvarangu. He became part of its productions such as Daivathar, Avanavan Katamba (1976), and Bhagavadujjakam. He directed the dramas, Thirumudi and Apraikkan, both written by Kavalam Narayana Panicker.
Film
The debut film of Bharat Gopy is Adoor Gopalakrishnan's Swayamvaram (1972) in which the length of his role is only 48 seconds. It was well-noted by the critics and audience.
He appeared in Adoor's Kodiyettam (1977), in which he played a simpleton character named Shankarankutty. He received the National Award for Best Actor, then known as the Bharat Award, for this role, thus getting the moniker Bharat Gopy.
In the film Thampu (1978) directed by G. Aravindan, he played the role of a circus manager. The tea shop owner in Peruvazhiyambalam (1979). In 1980, he played the character of Ramesh in Mani Kaul's Satah Se Uthata Admi. The film was featured at the 1981 Cannes Film Festival in the Un Certain Regard section.
In 1981, he played various characters such as Dr Thomas in the film Vida Parayum Munpe, Vasu Menon in Palangal, and Mammachan in Kallan Pavithram. Some of the notable characters and the films till 1986 are Tabalist Ayyapan in Yavanika (1982), the deaf sculptor Nandu in Ormakkayi (1982), Shakespeare Krishna Pillai in Kattathe Kilikkoodu (1983), Mohandas in Chidambaram (1985), and Balan Menon in Revathikkoru Pavakutty (1986). He played the character with a negative undertone, a trade union leader, Krishnan Raju in Govind Nihalini's Aghaat in 1985. It won a lot of acclaim.
He suffered a paralytic stroke in 1986, which caused a temporary break in his acting career. The characters he played in Susanna (2000), Rasathanthram (2006), and Nasrani (2007) were well-received by the audience and critics.
Gopy's directorial debut was the film Njattadi in 1979. It was the debut film of actor Murali as well. The film was not released as the Censor Board banned this film for the reason that it promoted naxal ideas.
He directed three more films later- Ulsavapittennu (1989), Yamanam (1991), and Ente Hridayathinte Udama (2002). Yamanam won the National Film Award for Best Film on Social Issues. He became a producer with the film Patheyam (1993).
Writing
He authored two books. The first one was published in 1994 – Abhinayam Anubhavam. His syndicated columns titled Vichara Kouthukam in Chitrabhoomi in the early 90s became the fundament for this book. It is now considered the treatise on Indian Cinema. The book received the National Award for the Best Book on Indian Cinema and the jury mentioned,
For his introspective and self-analytical first-person account. Abhinayam Anubhavam is serious and wistful at times, as the actor weaves an interesting picture of his interaction with cinema and his colleagues in the medium. The book is as unusual as it is revealing."
The second book, Nataka Niyogam, was published in 2002. It is an autobiography and insights into his years in theatre. This book is a collection of syndicated columns that was published in Mathrubhumi. It won the Kerala State Award for Best Book on Drama and Theatre. The introduction given by Dr Ayyappa Paniker for this book provides a good insight into this book.
പക്ഷേ,'നാടകനിയോഗ'ത്തിന്റെ പ്രസിദ്ധീകരണത്തോടെ ഗോപി ഒരു നാടകവിമർശകനും ആത്മകഥാരചയിതാവുമായി ശ്രദ്ധ നേടുന്നു. ഈ ഗ്രന്ഥം, ഇപ്പോൾ സൂചിപ്പിച്ചതുപോലെ, ഒരേസമയം ഒരു നടന്റെ ആത്മകഥയും നാടകവിമർശനവും ഉൾക്കൊള്ളുന്നു."
He was writing his third book, considered a sequel to Nataka Niyogam at the time of his death. The tentative title given for the book was The Philosophy of Acting.
Awards & Honours
In 1977, Gopy received the Best Actor Award at the National Film Awards for the film Kodiyettam.
He won the Best Actor Award four times from the Kerala State Film Awards. It was for Kodiyettam in 1977, Ormakkayi in 1982, Ente Mamattikuttiyammakku, Eenam, Ettilam, and Kattathe Kilikkodu in 1983, and Chidambaram in 1985.
In 1981, he received the Best Supporting Actor Award from the Kerala Film Critics Association for the film Kallan Pavithran.
Bharat Gopy received the Best Actor Award from the Kerala Film Critics Association in 1982 for the films Ormakkayi and Yavanika, in 1983 for Sandhya Mayangum Neram, and in 1984 for the films Kattathe Kilikkodu and Rachana.
In 1985, he won the Special Jury Award at the Asia Pacific International Film Festival (APFF), in Tokyo for the film Kattathe Kilikkooodu.
He received the Best Actor Award twice at the Filmfare Awards South in 1982 for the film Ormakkayi and in 1985 for the film Kattathe Kilikkoodu.
The Government of France honoured Bharat Gopy with a five-film retrospective at the Georges Pompidou Centre in Paris in 1985.
In 1991, he was honoured with India's fourth-highest Civilian Award, Padma Shri.
In 1991, the film Yamanam directed by Bharat Gopy won the Best Film on Social Issues at the National Film Awards.
In 1991, he received the V. Shantaram Award for Best Film as a producer of the film Padheyam.
In 1993, he received the Senior Fellowship of the Cultural Ministry.
In 1994, he received the Kerala Sangeetha Nataka Akademi Fellowship.
In 1995, his book Abhinayam Anubhavam won the National Award for Best Book on Cinema.
In 2002, his book Nataka Niyogam won the Best Book on Drama and Theatre Award from the Kerala State Awards on Professional Theatre.
In 2002, the Kerala Film Critics Association honoured him with the Chalachitra Ratnam Award for his overall Contributions.
Death
Bharat Gopy suffered a heart attack while shooting for the film De Ingottu Nokkiye in 2008. He was hospitalised for almost a week before he passed away. He had suffered a fatal paralytic stroke in 1986, from which he never fully recovered. The variations in blood pressure had troubled him from the start of the 1980s.
Favourites
Actor: Sivaji Ganesan, Nedumudi Venu
Facts/Trivia
The cover of Bharat Gopy's book Nataka Niyogam is designed by his son, Murali Gopy.
Bharat Gopy is the only Malayalam Actor to receive the Honour of the five-film retrospective by the French Government. The other Indian Actors who received this honour are Smita Patil, Nasserudin Shah, Om Puri, and Amitabh Bachchan.
During a college summer camp, he played a lead role in Ponkunnam Varkey's Njanoradhikapattanu, alongside his close friend Karamana Janardhanan Nair, which was his debut play. Years later in 2005, his son Sudheer Karamana debuted through Bharat Gopy's directorial telefilm Maraviyude Manam (2005).