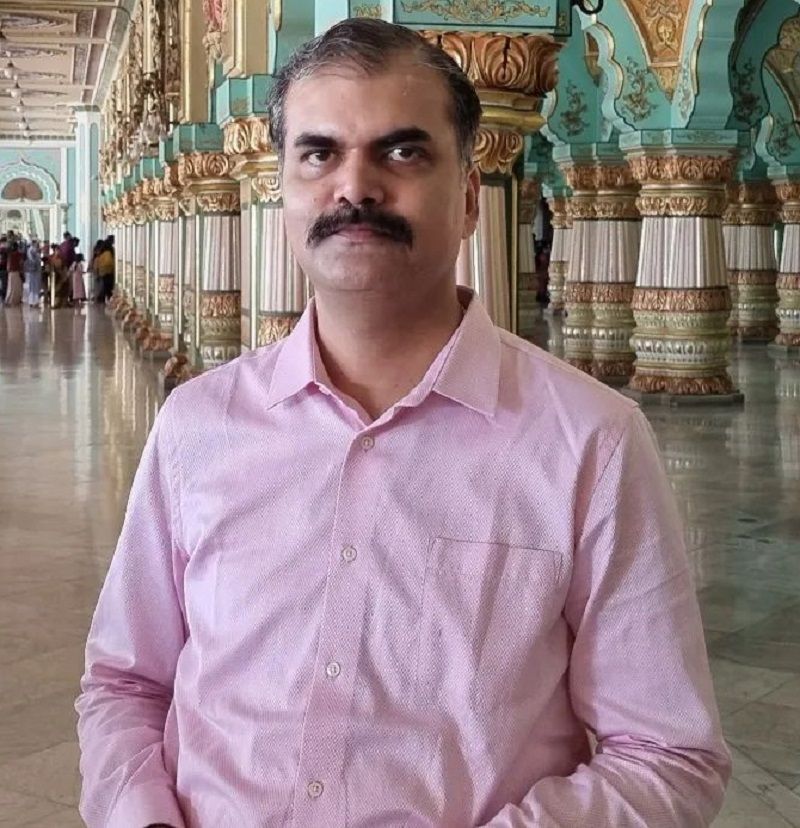 Vikas Vaibhav is an Indian civil servant who is known for being the IPS officer of Bihar.
Wiki

/Biography

Vikas Vaibhav was born on Wednesday, 21 November 1979 (age 43 years; as of 2022) in Barauni, Bihar. His zodiac sign is Scorpio. He did his schooling at different schools including Kendriya Vidyalaya, Guwahati (1985-1986), St. Paul's School, Barauni Refinery Township, Bihar (1986-1993), Kendriya Vidyalaya, Bairagarh, Bhopal (1993-1994), Kendriya Vidyalaya, Noida (1994-1995), and Sardar Patel Vidyalaya, New Delhi (1995-1997). He pursued a bachelor's degree in technology (BTech), Mechanical Engineering (1997 – 2001) at the Indian Institute of Technology, Kanpur. [1]Vikas Vaibhav – Linkedin  Since he was a child, he always wanted to become a civil servant. When he was in class seventh, an incident in his village made his dream of joining the service more strong. He was impressed by the power of a district collector who took strict action against people who were speaking badly about a place called Panḍav Asthan in Samastipur. Vaibhav tried to stop them, but nobody listened to him because he was very young. He felt good to see the power of the District collector and decided that one day he would join the services.

When he was in the last year of his college, he started preparing for the Civil Services exam and cleared it in one attempt. In an interview, he said that he decided to join the bureaucracy because the condition of law and order and education was very bad at that time.
Physical Appearance
Height (approx.): 5′ 9″
Hair Colour: Salt and Pepper
Eye Colour: Black

Family
Parents & Siblings
The name of his parents is not known. His father was an engineer at the Centre for High Technology.
His sister's name is Jayatri.
Wife & Children
Vaibhav got married to Rupangi Vaibhav on 17 February 2005.
They have two children together. His son's name is Yagyavalkya and his daughter's name is Pratyaksha.
Address
He resides at A-13, Police Colony, Anisabad, Patna.
Signature
Career
Vaibhav started his career in December 2003 as an Assistant Superintendent of Police (Probationer), at SVPNPA in Hyderabad. In January 2005, he became the Assistant Superintendent of Police (Probationer), in Bhagalpur. He also worked as an Assistant Superintendent of Police in Aurangabad (September 2005), Danapur (December 2005), Patna (March 2006), Bagaha (December 2006), Rohtas (August 2008), Darbhanga (February 2011), and Purnea (September 2015). In December 2011, he joined the National Investigation Agency as Superintendent of Police. In June 2015, he became the Senior Superintendent of Police in Patna. In December 2015, he started training as Assistant to the Inspector General of Police, Patna. From May 2017 to January 2020, he was the Deputy Inspector General of Police in Eastern Range, Bhagalpur, and Bihar. In January 2020, he was appointed as the Deputy Inspector General of Police at Anti Terrorist Squad, Bihar. In January 2021, he became the Special Secretary of the Home Department, Government of Bihar. In October 2022, he was appointed as the Inspector General of Homeguards and Fire Services, Bihar. In 2006, when he was the SP of Bagaha, he used to listen to the problems faced by the people and won the trust that helped him convince them to take part in the 2009 Lok Sabha elections that were held for the first time in the state. In 2008, Vaibhav played a crucial role in helping the Rohtas fort to be free from Maoists. When the fort was under Maoists, it was called a liberated zone and on national occasions, black flags were hoisted on the fort. Vaibhav became the first person to hoist the national flag on Independence day that year. In 2013, he actively participated in arresting the accused in the Bodhgaya Bomb blast case. In 2018, when he was the Deputy Inspector General of Police in Bhagalpur, he wanted to work on finishing the gap between police and the public for which he started 'Lok Samvad.'
Controversy
On 10 February 2023, a screenshot of Vaibhav's tweet about "listening to abuse from DG madam every day" went viral on social media. In the video, it was seen that he had recorded the official meeting between him and DG Shobha Ohatkar and shared it on social media. After the video went viral, he was sent a show-cause notice by DG Shobha Ohatkar. He was alleged of violating provisions of Rule 3 of the All India Service Conduct Rules, 1968 and was alleged of violating confidentiality. In the notice, it was mentioned,
The matter of recording by you in the viral message has been brought into the public domain. It is clear from this that the discussions held in the office meetings are recorded by you. This shows your wrong intention. It is also in violation of the relevant provisions of the Official Secrets Act. IPS Vikas Vaibhav has tried to tarnish the image of his senior official by making baseless allegations through social media. His conduct is completely contrary to the conduct of a senior police officer and is indicative of his indiscipline, lack of duty and acts against the law."
Chief Minister Nitish Kumar criticized Vaibhav's behaviour and said,
You should know this very well, anyone working in a job, an officer, their job is not to tweet. This is the worst thing. If they have a problem, they should inform their department or seniors. They should convey it personally, not declare it publicly. This is the law."
On 13 February 2023, he demanded a transfer and sanction of a 60-day leave he had earlier applied for, but he was not given permission. On 16 February 2023, the home department also issued him a notice for his behaviour with a senior officer. [2]The Print
Awards, Honours, Achievements
In 2019, he was awarded Satyendra K Dubey Memorial Award by IIT Kanpur.
Facts/Trivia
His hobbies include travelling, photography, reading, and writing.
He was the Hall President when he was pursuing his graduation.
In an interview, he said that his favourite activity during his training days at SVP National Police Academy, Hyderabad in 2003-2004 was Cross Country Running.
In an interview, he said that he was privileged to investigate Indian Mujahidin in 2011 when he joined the NIA.
In 2015, when he was the SSP of Bihar, he took strict action against some members of the Congress student wing leaders who were backed by Congress President Ashok Chaudhary. Even after receiving a call from him for not arresting the members, Vaibhav ordered the Patna police to file an FIR for influencing the police investigation.
He often holds meetings where common people come and share their problems with him. Vaibhav is known for his friendly and helpful behaviour towards the people of his state as a result of which the people of Bagaha built a crossroads after his name in a village named Samarkola in 2007 when he was the SP there. In an interview, he talked about this and said,


When I heard the people have named a 'Chowk' after my name in 2017, I was touched. It has been nine years since I left Bagha but people still remember me, which is something I still cherish."
In 2021, he started the campaign 'Let's Inspire Bihar' where he helps the youth to get rid of the employment tensions in the state. In 2022, in a Twitter post, he announced that students who were unable to afford the fee of coaching centres for the IIT and NEET examinations would be provided free coaching. The coaching would be given in different places in Patna and Bhagalpur by experienced teachers after the student passed a test.
In November 2022, he lost his official pistol and reported a police case against the son of his watchman who was taken into custody. During the investigation, he denied all the accusations and later, in the CCTV footage, the police found the pistol lying near a tree in Vaibhav's own house.
Vaibhav likes to spread awareness among youth about the history of India including its cultural, social, educational, scientific and democratic grandeur. He often visits heritage archaeological sites with his family and posts about them on his social media accounts. On his Twitter account, he often writes about inspiring verses from the Vedas.
He also writes blogs about the historical lands of India. In 2013, he started a blog page named 'Silent pages' where he started sharing interesting facts about Indian history. In an interview, he shared that because of his hobby, he had visited more than 200 ancient sites throughout the country and foreign destinations.
He also runs a YouTube channel 'Vikas Vaibhav, IPS' that has more than 2 lakh subscribers. In the videos, he covers topics for Civil Service aspirants. He was given the name "Guru Cop" i.e. Guruji by his students. In an interview, Vaibhav talked about inspiring the youth and said,


So, the way India is going to be in the next millennium would depend on India's youth and only the youth who have solid foundation and understanding of India's deep cultural heritage would be able to take it forward. So, the only hope is for the youth because the other people have already done whatever they could have done. But, India in the new millennium depends on what the youth of India thinks fit."
According to him, he got a lot of inspiration from Sir Edwin Arnold's magnum opus 'The Light of Asia' and Rashtrakavi Ramdhari Singh Dinkar's poems which gained his confidence and hope.
According to him, technology has helped him a lot while investigating cases and patrolling. In an interview, he shared an instance and said that when he was serving as the SP of Patna, he improved the car theft cases in the area. When a car was stolen, only 5% of them were recovered. People who could not find their car had to visit the police station again and again to redeem the insurance benefit, so to improve this situation, he asked the officers to submit a report if the car was not recovered within 45 days and if the officer was unable to submit the report, they were not given the salary. So, he started using excel and kept a record of the officers who were unable to submit the report.
In an interview, he said that he never fails to learn new things. He often visited CNLU and other educational institutions to listen to lectures on terrorism and heritage.