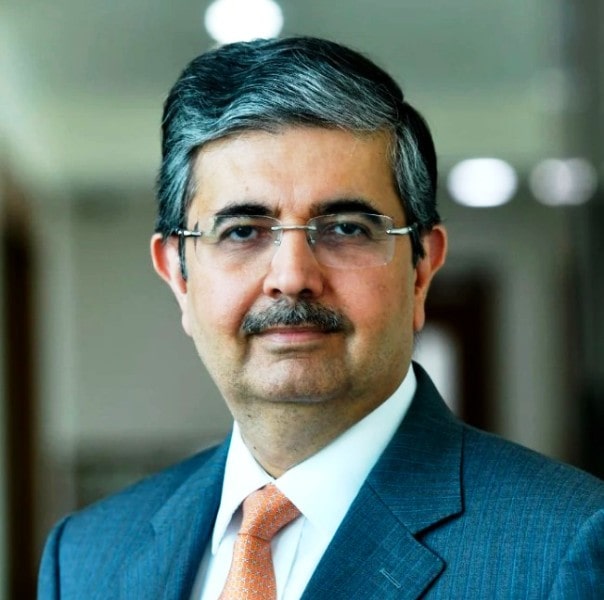 Uday Kotak is an Indian philanthropist, banker, and businessman who is the owner of the banking and financial services company Kotak Mahindra Bank. In 2023, he was ranked as the third-richest banker in the world and the richest banker in India.
Wiki/Biography
Uday Suresh Kotak was born on Sunday, 15 March 1959 (age 64 years; as of 2023) in Bombay, Bombay State (now Mumbai, Maharashtra), India. His zodiac sign is Pisces. In an interview, Uday revealed that he used to live in a joint family of sixty people in Mumbai. Talking about it, he said,
I was born in Mumbai in a family where 60 people lived together. It was one huge floor in a large house. My father had come back to India from Karachi after the Partition. He was from a large family; my grandfather had five brothers. When my father came to India, we joined the main branch of the family who were already living here."
After completing his schooling at Hindi Vidya Bhavan in Mumbai, he enrolled at Sydenham College in Mumbai, where he pursued a bachelor's degree in commerce; he was the topper of his class. He later joined the Jamnalal Bajaj Institute of Management Studies (JBIMS) in Mumbai, where he earned a master's degree in business administration. In an interview, Uday revealed that he had to drop his MBA studies for a year as he had to undergo emergency surgery after injuring his forehead in a cricket match.
Physical Appearance
Height (approx.): 5′ 9″
Hair Colour: Salt and Pepper
Eye Colour: Dark Brown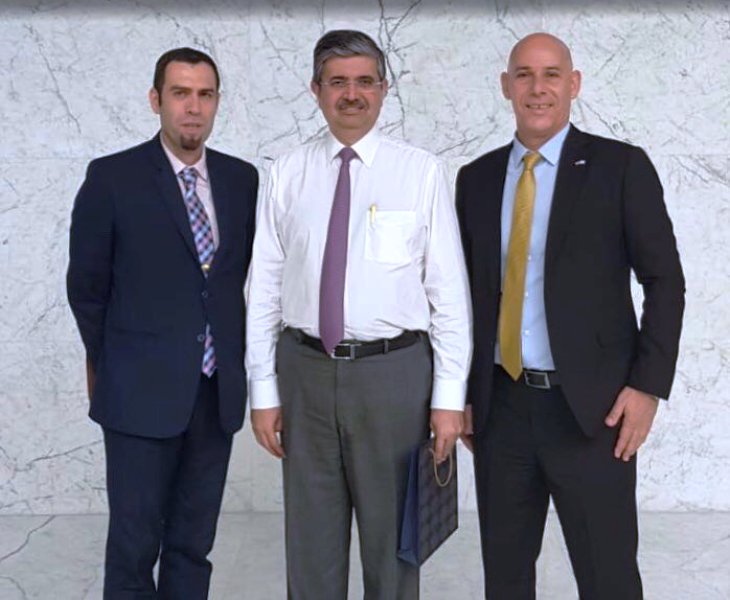 Family
Uday Kotak belongs to a middle-class Gujarati family in Mumbai. [1]Business Today
Parents & Siblings
His father, Suresh Kotak, is a businessman, who used to trade cotton and agricultural products with countries like China and Poland. His mother's name is Indira Kotak. His sister, Aarti Suresh Kotak, is an entrepreneur.
Wife & Children
His wife, Pallavi Kotak, is a businesswoman and a mountaineer, who trekked to the Everest base camp in 2014. He got married to her in 1985.
The couple has two sons. The elder son, Jay Kotak, is a businessman, who works at the Kotak Mahindra Bank. The younger son, Dhawal Kotak, is a Columbia Business School graduate.
Career
Family Business
After Uday underwent surgery and temporarily dropped his studies, he joined his family business of trading in Mumbai; however, he later left the family business and established a finance firm. In an interview, Uday revealed that he got aversed to work in the family business due to a difference of opinion with other family members on how to run the business.
Starting A Business in Finance
After completing his MBA, Uday received a job offer to work with Hindustan Unilever; however, he declined the offer and established a finance firm in Navsari, Mumbai. He talked about it, in an interview, and said,
I applied for a job at Hindustan Lever, was selected and had made up my mind to join. At that stage, my father and I had a serious talk. He asked, Uday, what do you want to do in life?" I said, I don't know; but I will not join the family business. I don't want to have this problem of working with 14 family members and being one of them. He then said, What if I convince the family to give you a small office space to work? What would you want to do then? I said I would like to do financial consultancy. He asked the family and I took the bait. I was given a small office space to figure out what to do."
Following the establishment of the finance firm, his father, Suresh, introduced him to Shivanand Mankekar, a finance guru, who taught Uday about the functioning of the stock markets and finance.
Kotak Mahindra Bank
In 1985, he established a finance firm called Kotak Capital Management with Sidney Pinto, a banker. He began the company with an initial investment of under US $80,000 (Rs. 30 lakhs approx.) borrowed from his family and friends. The company indulged in bill discounting business with Tata Group and Mahindra. While working with Mahindra, he came in contact with Anand Mahindra, who was the general manager at Mahindra & Mahindra back then. Uday Kotak asked Anand to invest Rs. 1 lac in his company and proposed changing the name from Kotak Capital Management to Kotak Mahindra Finance. In 1989, as the profits of the company increased, Kotak expanded the business from just bill discounts to giving car loans. In 1990, he acquired H.L. Financial Consultants & Management Services Pvt. Ltd. On 8 April 1992, Uday purchased 10% stakes in the Bank of Madura. According to Uday Kotak, back then, private entities were not allowed to purchase more than 1% of stakes in banks as a result of which he had to purchase the stakes through different companies registered under different names; he sold the stakes in 2001. In 1994, he assumed the directorship of Kotak Mahindra Asset Management Company Limited (KMAMCL).
In 1995, he entered into an agreement with Goldman Sachs for investment banking and broking. On 27 July 1995, he founded Kotak Mahindra Capital Company Limited (KMCCL). In 1997, Uday purchased the national newspaper Business Times (now Business Standard) for Rs 1 crore; the deal was signed at a time when Kotak Mahindra Finance was in debt of Rs. 1000 crore. He talked about it, in an interview, and said,
It came to a stage when the Sarkars would have taken a tougher call. But before that, I said, add up whatever is the book value of your plant and machinery and we will make a financial investment, but we don't want to run it. They were delighted. That's how we got into Business Standard."
On 13 December 1996, he established Kotak Mahindra Prime Limited and assumed its directorship. Kotak Mahindra Finance got involved with mutual funds in 1998 and life insurance in 2001. In the 1990s, Kotak Mahindra and Ford Credit entered into a joint venture after Ford acquired 40% stakes at Kotak Mahindra Primus; however, the partnership collapsed in 2005 after Kotak Mahindra purchased Ford Credit's stakes. Thereafter, Kotak Mahindra Primus was renamed Kotak Mahindra Prime.
On 31 August 2000, he became the director of Kotak Mahindra Life Insurance Company Limited (KMLICL). Kotak Mahindra Finance got a banking license from the Reserve Bank of India in February 2003. This made it the first finance company in India to become a bank. After that, Kotak Mahindra Finance changed its name to Kotak Mahindra Bank.

In 2006, Kotak Mahindra Bank and Goldman Sachs broke their partnership after the latter sold its shares for US $72 million. Kotak Mahindra Bank finalised a $2.4 billion deal in November 2014 to acquire its competitor, ING Vysya Bank, which was partially owned by a Dutch financial services group called ING. In the same year, Kotak Mahindra Bank bought 15% shares in Multi Commodity Exchange (MCX) from Financial Technologies Group for Rs. 459 crores (equivalent to US$75.21 million). This made Kotak Mahindra Bank the biggest shareholder of the company. Kotak Mahindra General Insurance began operating in 2015 with the approval of IRDAI; it is a subsidiary of Kotak Mahindra Bank.
Uday Kotak became the Managing Director (MD) of Kotak Mahindra Bank Limited on 1 January 2021. In 2023, Kotak Mahindra Bank bought Sonata Finance, a small loan provider, for Rs. 537 crore (US$67 million). Uday Kotak stepped down as the Managing Director and Chief Executive Officer of Kotak Mahindra Bank on 1 September 2023. [2]Deccan Herald
Awards, Honours, Achievements
In June 2014, he received the Ernst & Young World Entrepreneur Of The Year Award.
He won the Economic Times Business Leader of the Year Award in 2015.
In May 2016, he was the sole Indian financier to be featured in Forbes Magzine's Money Masters: The Most Powerful People in The Financial World.
In the same year, he received the Lifetime Achievement Award at Best Banks' Awards organised by the Financial Express.
He received the Businessman of the Year Award from Business India in 2016.
In 2017, he was ranked 7th out of 50 in India's 50 most powerful people list by India Today.
At the 2018 India Ideas Summit, he received the USIBC Global Leadership Award.
In 2019, he won the Lifetime Achievement Award at Magna Awards organised by Businessworld.
In 2021, he received the India Business Leader of the Year by CNBC-TV18.
Car Collection
Salary/Income
In 2023, Uday Kotak's annual income was estimated to be 3.24 crore. [3]DNA
Net Worth
On 15 June 2023, Uday Kotak's net worth was estimated to be $13.7 billion.
Facts/Trivia
In an interview, Uday revealed that he liked to play cricket and wanted to pursue a career in professional cricket; however, he had to give up on his dreams of becoming a cricketer after getting grievously wounded in a cricket match in the Kanga League in Mumbai in September 1979.
In 2014, he served as the chairperson of the panel on corporate governance of the Securities and Exchange Board of India (SEBI).
His favourite holiday destinations are Japan (during the cherry blossom season in April), Spain, and Brazil.
In October 2018, the Government of India appointed Uday as the non-executive chairman of the IL&FS board.
He has served on the Monetary Authority of Singapore's International Advisory Panel as a member as well as the president-designate of the Confederation of Indian Industry (CII).
In April 2020, he was ranked as the third-richest billionaire in India.
In April 2023, during a panel discussion for the ET Awards for Corporate Excellence, Uday Kotak mentioned that the US dollar is the most powerful and influential currency in the world, and its power had made it the biggest financial terrorist. He, however, later clarified his remarks and said,


In a recent discussion on US$ I had inadvertently used the words "financial terrorist" which I would like to correct. What I meant was that a reserve currency has disproportionate power, and whether it is a nostro account, 500 bps rate increase, or emerging countries holding $ for liquidity."
In his leisure time, Uday loves to play the sitar.