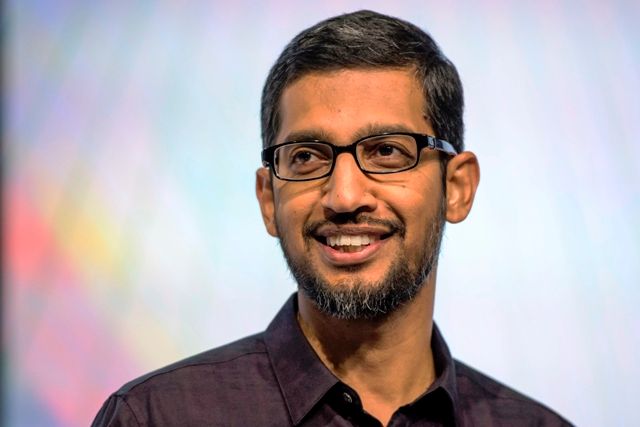 Sundar Pichai is a business executive and has been the Chief Executive officer (CEO) of Google. After joining Google in 2004, Pichai rose to prominence as the CEO of the company in 2015 and as the CEO of parent Alphabet Inc.; replacing Larry Page and Sergey Brin as the head of Google on December 3, 2019.
Wiki/Biography
Pichai was born on July 12, 1972 (age: 48 years, as of 2022) in Madurai, Tamil Nadu, India. Since childhood, he was a brilliant student. His father, Regunatha Pichai was an electrical engineer at GEC (A British Conglomerate) and his mother, Lakshmi was a stenographer. He grew up in a two-room apartment in Ashok Nagar, Chennai.
Physical Appearance
Family
He was born to Regunatha Pichai and Lakshmi Pichai.
He has one brother, Srinivasan Pichai, who is younger to him.
Pichai is married to his college girlfriend, Anjali Pichai, and the couple is blessed with a son, Kiran and a daughter, Kavya.
Career
Pichai completed his High School from Jawahar Vidyalaya, a CBSE school in Chennai and class 12th from Vana Vani school in the Indian Institute of Technology Madras, Chennai, India. He earned his Bachelor's degree from the Indian Institute of Technology, Kharagpur, India and received a degree in metallurgical engineering. For higher education, he enrolled at Stanford University in California and completed his M.S. in Material Science and Engineering. Pichai completed his MBA from the Wharton School of the University of Pennsylvania where he was named a Siebel Scholar (One of the most talented students) and a Palmer Scholar, respectively. After education, he worked at Applied Materials, Inc. and in management consulting at McKinsey & Company. In 2004, Pichai joined Google and led the management of the product; he was instrumental in the development of Google's web browser, Chrome, as well as the Android mobile operating system.
Pichai has also been instrumental for the other Google search products, like Google Toolbar, Google Pack, Desktop Search, Gadgets, Firefox extensions, Google Gears, apps such as Gmail and Google Maps and Mac products. From April 2011 to July 2013, Pichai was the director of Jive Software. In 2014, he was a contender to be the CEO of Microsoft. However, Satya Nadella held the position later. On August 10, 2015, he was selected to be the next CEO of Google and on October 24, 2015, he took the charge as the CEO of Google.
Awards
On 3 December 2022, he received the Padma Bhushan award, India's third-highest civilian honour, from India's ambassador to the US Taranjit Singh Sandhu.
Favorites
Sports: Football, Cricket
Football Player: Lionel Messi
Football Club: FC Barcelona
Newspaper: The Wall Street Journal
Style/Quotient
In his car collection, he has Range Rover, BMW, Mercedes Benz, Porsche, etc.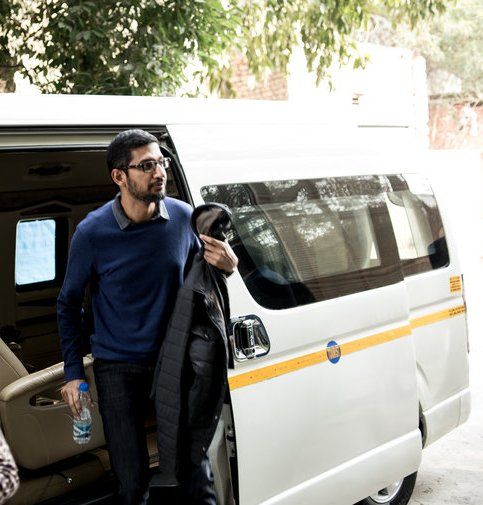 He owns a $6.8 million house in Los Altos Hills, California.
Salary/Net Worth
As of 2016, he receives $199.7 million in salaries per year [1]Bloomberg. In September 2022, his net worth was estimated to be around Rs. 5,300 crores. [2]Mint
Facts
When he was in school, he was good at playing cricket as well. He had notable leadership skills; as he was selected as the captain of his high school cricket team.
After being graduated in India, Pichai managed to secure a scholarship to study in the United States.
His father was not so rich that he could send his son abroad to study. However, his father somehow managed to spend $1000 from the family savings to cover Pichai's traveling and additional expenses.
Interestingly, Pichai joined Google on the day when Gmail was launched; that is on April 1, 2004.
His wife, Anjali, was his classmate at IIT Kharagpur. They fell in love with each other during college days and married later.
In 2011, Pichai wanted to leave Google to join the leadership team at Twitter. Fearing loss, Google offered him a whopping package of $50 million in stocks and retained him.
It was Pichai, who proposed the idea of launching a Google web browser to the then CEO of Google, Eric Schmidt. Notably, Google Chrome is now the most popular web browser in the world.
He is the third and the first non-white CEO of Google after Larry Page and Eric Schmidt.
The flood in November 2015 in Chennai was almost very tragic for Pichai's grandmother who was stuck in a building for 4 days without food, water, and cellular connectivity. As the water level rose, his grandmother had to be moved to the second floor of the building.
Pichai is an avid fan of the football club, FC Barcelona and watches every single match of the club.
His hobbies are Reading, Watching and Playing Football (Soccer) and Cricket, Sketching, Playing Chess, etc.
On 8 June 2020, while addressing a virtual graduation ceremony amid the COVID-19 pandemic, he revealed that his father spent a year's salary to buy a plane ticket to the U.S. when Pichai left India to study at Stanford University. He said,


My father spent the equivalent of a year's salary on my plane ticket to the U.S.  so I could attend Stanford. It was my first time ever on a plane." [3]Ahmedabad Mirror