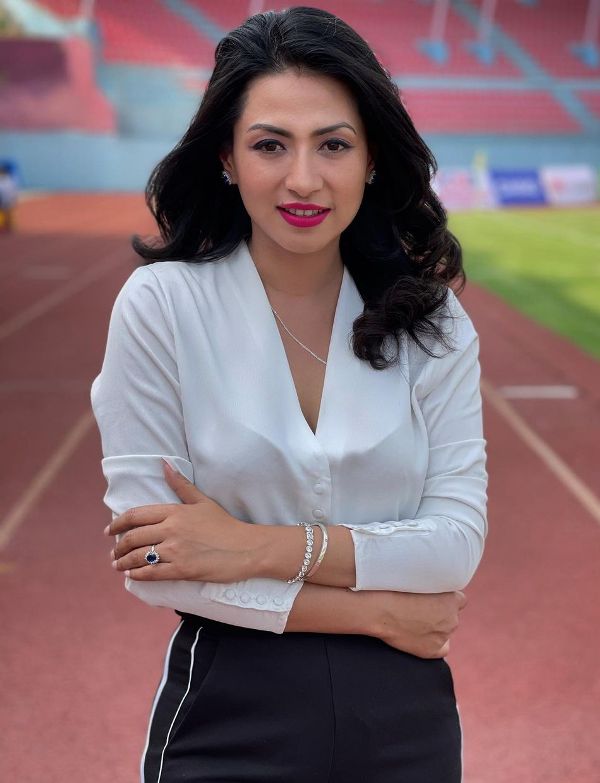 Sahana Bajracharya, also known as Sahana Vajracharya, is a Nepalese model, VJ, producer, and TV presenter. She became the first runner-up at Miss Nepal 2010 beauty pageant and represented Nepal at Miss Earth 2010 held in Vietnam. Sahana was the first woman to be featured on the cover page of TNM (The Nepali Man) magazine, which is the first complete men's magazine in Nepal.
Wiki/Biography
Sahana Bajracharya was born on Tuesday, 15 August 1989 (age 33 years; as of 2022) in Kathmandu, Bagmati Pradesh, Nepal. She did her schooling at St. Mary's School, Jawalakhel, Lalitpur. After completing her schooling, she went on to study Media Studies at Kathmandu University, Nepal (KU) but dropped out after the first semester because she could not manage her studies along with modelling. She holds a bachelor's degree in Broadcast Media from Wigan & Leigh College.
Physical Appearance
Height (approx.): 5′ 6″
Weight (approx.): 60 kg
Hair Colour: Black (dyed dark brown)
Eye Colour: Black
Figure Measurements (approx.): 34-24-36
Family
Parents & Siblings
Sahana has an elder sister.
Relationships/Affairs
Sahana Bajracharya has been in a relationship with his friend and co-host at Kantipur Television Network, Suraj Giri.
Signature/Autograph
Career
Model
She began her career in modelling by participating in Miss Nepal 2008, but after the protests by female Maoists against the pageant, it was cancelled. After her participation in Miss Nepal 2008, she was signed by Dabur Special-Lite Hair Oil. She has appeared in many advertisements for brands including Sprite, Pashupati Paints, Ganapati Jewellers, and more. In 2011, Sahana appeared as a contestant to represent Nepal in the Miss Asia Pacific World beauty contest, and she was amongst the top 15. She was also chosen to represent Nepal in Miss Supertalent of the World 2011, which was held in South Korea in October. Sahana has been a show-stopper for many shows of Tenzin Tseten Bhutia and has been featured on the covers of many magazines.
Host/VJ
In 2009, she was approached by National Democratic Institute to host an interview-based talk show that focused on women's issues. Her first job as a presenter in media was "Yugantaar." In 2010, she became the host of the show Mega Model Season 2, which was similar to 'America's Next Top Model.' Later, she started working as a video jockey (VJ) for Kantipur Television Network's show Frame by Frame, which included movie news and gossip. She was fired from Kantipur Television Network, which made her switch to Nepal Television Network. She started hosting the Namaste TV show for Nepal Television Network (NTV).
Social Activist
Sahan is also a social activist, and she explores rural areas of Nepal to listen to the stories of people living in these areas and help them. There is a type of menstrual taboo in western Nepal known as 'Chaupadi' in which girls on their periods are not allowed to participate in any ordinary household chores because they are considered impure. Women are prohibited to enter the house and are forced to live in a cattle shed or a small hut called a menstruation hut. Sahana has contributed to the fight against the Chaupadi cult to protect women from living in harsh and dangerous conditions, which are very unhygienic and unsafe and sometimes cause death. She was praised for this act of bravery and kindness.
Controversies
Making Out in the Car!
On 28 July 2014, Sahana and Suraj Giri, the VJ duo for Kantipur Television Network, were found getting intimate in a car belonging to Suraj in Chitwan, Nepal. This incident happened at around 3:00 AM when police saw a car shaking on its own. After peeking inside the car, they found Sahana and Suraj nearly undressed. Sahana posted the official press statement on social media and wrote,
This is my and friend Suraj Giri's official press statement. I am agitated and very hurt about the baseless reports that went viral yesterday! Most media went on to over-publicize it without following even the basics of media ethics. If the police caught us, couldn't anyone at least ask the police about what happened?"
In her defence, Sahana said that they were returning from Chitwan after some business work. The police caught them when they were changing the tires of their car. Suraj was a little under the influence of alcohol, so police fined him 1,000 Nepalese rupees for driving in a drunk condition and was released later. After this incident, both of them had to leave Kantipur TV. About her resignation from Kantipur TV, she stated,
I hereby announce that my self- resignation has been withdrawn and I'm looking forward to being back on Kantipur Tv soon!"
Faced Criticism on Facebook
In Euro Cup 2016, when the final match was going on between Portugal and France, Cristiano Ronaldo got injured and had to leave the field. Sahana took to Facebook and posted,
Ronaldo should consider acting as a career change! #SoMuchDrama"
After reading her post, Cristiano's fans started cursing and abusing her. Later, she removed the hashtag and added two new ones, which read:
Ronaldo should consider acting as a career change! #NoOffenseFans #CalmDown" [1]NEO  STUFFS
This strategy of Sahana didn't work, instead, netizens began trolling her on social media.
Favourites
Food: Gwaramari (Nepali Dish)
IPL Team: Chennai Super Kings (CSK)
Facts/Trivia
In an interview, when she was asked what three things/people have contributed to her success in the media. She answered,


Captains don't win matches, teams do. I am extremely grateful to my family for being supportive of my choices. My maternal grandfather nurtured me to make me the person I am today. He taught me about "life" and how to deal with it. Last, but not the least, Mr.Subarna Chhetri (former Chairperson of the Hidden Treasure) is my mentor, especially in the field of media."
She likes to do photography, especially street photography. She also likes travelling, and she often shares photos of her travels on social media.
In an interview, when she was asked which one thing she would like to take with her if she was stranded on a desert island, she replied that she would take nothing along with her except her life partner.
In an interview, on being asked about why she chose a career in media, she replied,


I have always been a vocal person and media, especially television, was my only focus from the very beginning. Media is the only medium which can make a voice heard by millions in minutes. It's the most powerful weapon to instill change in a large mass. Also it gives a meaning to your name!"
In an interview, when she was asked to share her views on women's empowerment in Nepal, she said,


Women are already self-empowering and are proactive towards making a difference. Be it the cities where girls have a strong upper hand in their career choices, or the villages where women lead projects of various scales on their own. Things are definitely looking up. However, the government security bodies should be friendly to women as time and again we hear of harassment cases in which the victims are always women." [2]TNM
She likes listening to music, doing glass painting, exploring the rural areas of Nepal, and communicating with local people and listening to their stories.
She has worked as a model in Ruslan Vodka's advertisement.
She loves to read 'Bhagavad Gita' quite often.