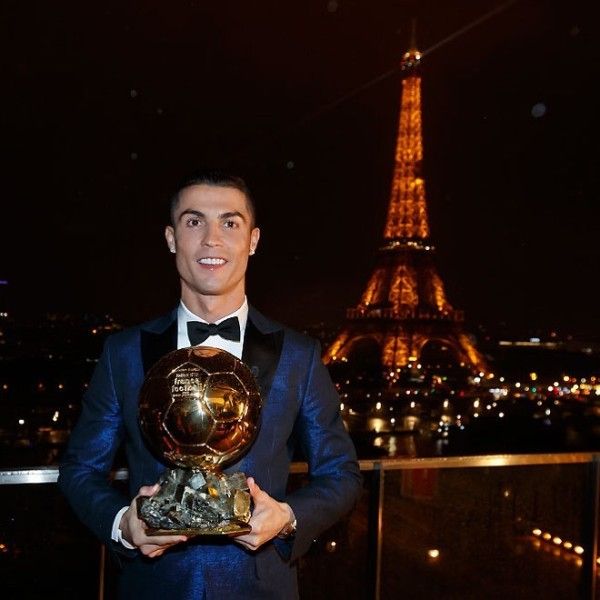 Cristiano Ronaldo is a world-famous Portuguese footballer. Amassing countless trophy wins for the teams he has played, he has won several individual prizes as well, which has made him one of the greatest players of all time. He has won many trophies for Portugal and the clubs such as Manchester United, Real Madrid, and Juventus. He is one of the most followed sportspersons on social media worldwide with more than 350 million followers. [1]Sports Brief
Wiki/Biography
Cristiano Ronaldo dos Santos Aveiro was born on Tuesday, 5 February 1985 (age 37 years; as of 2022) in Funchal, which is the capital of the Madeira archipelago of Portugal.
The term 'dos Santos' from his full name has been taken from his maternal family, and the term 'Aveiro' has been taken from his paternal family. His zodiac sign is Aquarius. He did not complete formal schooling as his interest was in football, and he was expelled from the school when he threw a chair at the teacher who made fun of his native accent and his poor economic condition. [2]The Daily Mirror However, this incident made him quit school altogether and propelled him towards football and made him one of the biggest prodigies of sports. He cites his mother as his pillar of support for his decision to quit school to play football professionally. His mother, however, once said that she wanted to abort him as the family was already struggling financially. [3]The Daily Mirror
Physical Appearance
Height (approx.): 6′ 2″
Weight (approx.): 85 kg
Hair Colour: Black
Eye Colour: Hazel Brown
Body Measurements (approx.): Chest: 43 inches, Waist: 33 inches, Biceps: 14 inches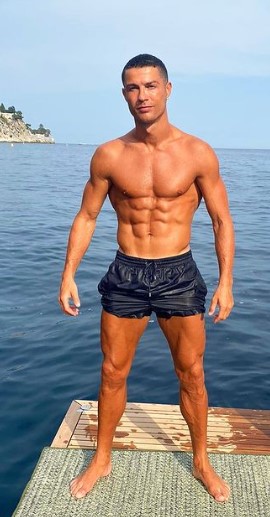 Family
Parents & Siblings
His father's name is José Dinis Aveiro, who was an army veteran. After retiring from the army, he also worked as a part-time kitman for CF Andorinha and municipal gardener. His mother's name is Maria Dolores dos Santos Viveiros da Aveiro, a homemaker who occasionally worked as a cook. He is the fourth and youngest child of his parents.
Elma is the eldest sister of his siblings, followed by his brother, Hugo, and another sister, Katia.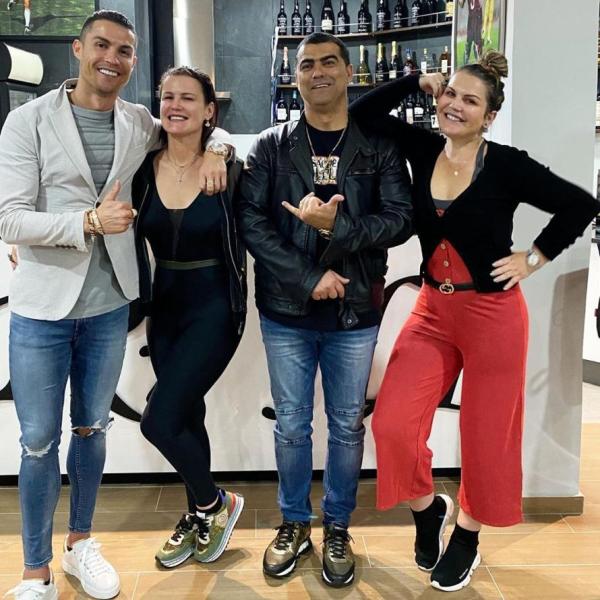 Katia, Hugo, Elma, and Cristiano (moving right to left)
His father passed away in 2005 in London due to liver failure, caused by excessive consumption of alcohol. In an interview with Piers Morgan, an English broadcaster, Ronaldo broke down while talking about his father and said,
"I really don't know my father 100 per cent. He was a drunk person. I never spoke with him, like a normal conversation. It was hard. To be the number one and he don't see nothing, and he don't see to receive awards, to see what I became." [4]Fox Sports
Marriage & Children
He is not married and has 5 children. His oldest child, Cristiano Jr. was born in June 2010; however, his mother's identity remains unknown. In June 2017, he announced the birth of 2 more children (twins), daughter Eva and son Matteo, via surrogacy in the USA. In November 2017, he announced the birth of his fourth daughter, Alana, from his longtime girlfriend Georgina Rodriguez. In April 2022, he announced the birth of his fifth daughter (second child from Georgina), Bella, along with a twin son; however, the son could not survive after the birth. [5]Instagram- Cristiano Ronaldo
Relationships/Affairs
Jordana Jardel
Reportedly, he dated a Brazilian model named Jordana Jardel in 2003; Jordana is the sister of his teammate Mario Jardel in Sporting Lisbon.
Merche Romero
From January 2005 to September 2006, he dated Merche Romero, a TV presenter and Portuguese model.
Gemma Atkinson
In early 2007, he started dating Gemma Atkinson, a glamourous model, radio, and TV presenter and actress; she is the only British girl he has ever been linked with.
Bipasha Basu
In 2007, Ronaldo kissing Bipasha Basu was highly covered by the media following which both were reported to be dating each other.
Nereida Gallardo
In 2008, it was reported that Ronaldo was dating a Spanish model named Nereida Gallardo.
Paris Hilton
The couple dated each other in 2009; however, Paris, reportedly, said that she did not find him hot enough. There were even reports about she hired a witch doctor to put some sort of curse on him. [6]Bleacher Report
Kim Kardashian 
In 2010, Ronaldo was spotted with Kim Kardashian, an American socialite, media personality and businesswoman, in Madrid.
Irina Shayk
From 2010 to 2015, he dated Irina Shayk, a Russian model and TV personality. They reportedly broke up after she did not get along with his mother. Another reason cited for the couple splitting up was the infidelity of Ronaldo; however, these reasons were quashed by both.
Georgina Rodriguez
Since 2016, Ronaldo has been dating Georgina Rodriguez, a Spanish model, sales assistant, and businesswoman. She is the mother of two of his children. In a Netflix documentary titled 'I Am Georgina', the football superstar talked about his marriage plan with Georgina and said,
"I always tell Georgina that when we get that click, like everything with our life and she knows what I'm talking about. It could be in a year, or it could be in six months or in a month. I'm 1000 per cent sure it will happen." [7]The Daily Mirror
Religion
Ronaldo is a Catholic Christian. [8]Heavy
Career
Club Career
Playing as a child in Portugal
From 1992 to 1995, he played for the Portuguese club CF Andorinha when he was a child. From 1995 to 1997, he played for another Portuguese club named C.D. Nacional.
Sporting Lisbon
When he turned 12 years old in 1997, he participated in trials for Sporting Lisbon, and he was signed for a fee of £1,500. He had to move to Lisbon from Madiera to join their youth academy. At the age of 16, with his superb dribbling skills, he made his debut for Under-16, Under-17, Under-18, B-Team, and A-Team, all in one season. It was then that he caught the attention of all big clubs in the world, and the race to sign him started.
Manchester United
He was the first Portuguese player to play for the club when he was signed by the club to play in 2003 and also the most expensive player in English Premier League at that time due to his transfer fee (£12.25M). United's coach Alex Ferguson was determined to sign him up after his electrifying performance in the United's friendly match against his former club Sporting Lisbon. He won his first title, FA Cup, in 2004, and reputed BBC sports analyst Alex Hansen commented,
"We still have to remember, of course, that the lad is only 19 years of age. Considering that, you have to say he has got massive talent. His feet are mesmerising at times, and if he can couple that with some consistently good crossing, the future looks frightening." [9]BBC
He helped United win the UEFA Champions League in the 2007-2008 season, the FIFA Club World Cup in 2008, a hattrick of English Premier League season wins in 2006-07, 2007-08, and 2008-09. Ronaldo enjoyed a great bond with Manchester United Coach Alex Ferguson. In an interview, He talked about Alex and said,
"Probably he doesn't remember, but I will say it because it's a beautiful story. One day, my father was in hospital, and I was so emotional, very low. And I spoke with him and he said: 'Cristiano, go there for two or three days.' [10]Manchester United
Coach Alex was also in awe of his phenomenal talent and commented about his debut game,
"You always play your best players and the opening game of the season [against Bolton – United would go on to win 4-0], he was a substitute, he came on and he was absolutely bloody fantastic." [11]Goal
He returned to Manchester United in 2021 with a transfer fee of £12.85 million. However, he failed to win any trophy for the club.
Real Madrid
He moved to the famous Spanish club Real Madrid in 2009 at a world record transfer fee of £80 million at that time. It is widely believed that he wanted to leave Manchester United, and thus, started playing in La Liga. He scored a goal in the 103rd minute to help Madrid win the 2011 Copa Del Rey Cup, the League title for 2012-13 La Liga, and the 2012 Supercopa De Espana Cup. He also helped Madrid win the 2014 FIFA Club World Cup and UEFA Champions League in 2014, 2016, 2017, and 2018.
In an interview, Real Madrid coach, Zinedine Zidane praised Ronaldo's skills and said,
"Cristiano Ronaldo is the best. You can say a lot of things about Ronaldo, but in his heart, he's a good person." [12]Bleacher Report
Juventus
He signed with the Italian club, Juventus in 2018 for a record transfer fee of £100 million, the highest for any Italian club and for any player above 30 years of age at that time. He helped them win the 2018 Supercoppa Italiana cup and back-to-back Serie A league seasons in 2018-2019 and 2019-2020. He was also their star player in winning the 2020 Supercoppa Italiana cup and the 2021 Coppa Italia final.
Al Nassr
On 30 December 2022, the Saudi club Al Nassr and Ronaldo reached an agreement according to which Ronaldo was inducted into the club for an annual salary of £177m (Rs. 17.5 billion) until 2025. [13]BBC
International Career
In 2001, he started playing for Under-15, Under-17, Under-19, Under-21, and Under-23 teams for Portugal. He started playing in the national team at the age of 18 and became a captain in 2007 and won the first major tournament for his country, Euro 2016. After the win, Ronaldo said,
"No one believed in Portugal, but the truth is we made it. All of us, we did it. I am very happy, this is one of the happiest days of my life. This is the trophy that was missing. Thanks to all of you players, all the staff and you again coach. All the faith you had, honestly, it touched me. From the bottom of my heart I am truly happy. We deserved this. We are now in the history of Portugal. We are the first team to achieve this." [14]GiveMeSport
Stats
Overall (Club + International Career)
Double Yellow cards/ Yellow Red card – 4
Club Career Stats
Double Yellow cards/ Yellow Red card – 4
Sporting Lisbon
Double Yellow cards/ Yellow Red card – 0
Manchester United
Double Yellow cards/ Yellow Red card – 2
Real Madrid
Double Yellow cards/ Yellow Red card – 2
Juventus
Double Yellow cards/ Yellow Red card – 0
International career stats for Portugal
Double Yellow cards/ Yellow Red card – 0
Injuries
During his career, Ronaldo received multiple injuries and had to undergo ankle surgery in 2008, which kept him out of the sport for nearly 70 days. Then, he had a major injury again in 2016 when his collateral ligament was ruptured. In one match for his country against the Czech Republic, he got a bleeding nose after colliding with the opponent's goalkeeper. He received a cut just above his left eye while playing for Real Madrid against Deportivo La Coruna in 2018; he received the injury by a defender's boot.
Controversies
Choosing water and removing Coca-Cola
Before the Euro Cup 2020, while attending a press conference, he replaced the bottles of Coca-Cola from the table with a bottle of water, signalling that he preferred mineral water over aerated drinks. This caused the company a loss of around $4 billion and a 1.6% drop in its share price. Later, some other football players also enacted the same thing during their press conferences, and some even played it like a joke. Following this, the company issued a statement,
"Players are offered water, alongside Coca-Cola and Coca-Cola Zero Sugar, on arrival at our press conferences. Everyone is entitled to their drink preferences" as people have different "tastes and needs." [15]Hindustan Times
Rape Allegations
In 2009, a former American model named Kathryn Mayorga accused Ronaldo of raping her; however, in 2010, both reached an out-of-court settlement; she was paid $375,000 to remain silent. In 2018, the case was reopened following which Ronaldo filed a defamation case against her. In a statement, Ronaldo said,
"I firmly deny the accusations being issued against me. Rape is an abominable crime that goes against everything that I am and believe in. Keen as I may be to clear my name, I refuse to feed the media spectacle created by people seeking to promote themselves at my expense. My clear conscious [sic] will thereby allow me to await with tranquillity the results of any and all investigations." [16]BBC
In 2019, the Clark County District Attorney's office in Las Vegas acquitted him of any crimes and issued a statement,
"Based upon a review of the information presented at this time, the allegations of sexual assault against Cristiano Ronaldo cannot be proven beyond a reasonable doubt." [17]Twitter- Clark County DA
First Son, Cristiano Jr.
In 2010, Ronaldo announced that he was blessed with a son named Cristiano Jr. (nickname – Cristianinho, or little Cristiano); however, he did not reveal the identity of the woman. He said,
"It is with great joy and emotion that I inform I have recently become father to a baby boy. As agreed with the baby's mother, who prefers to have her identity kept confidential, my son will be under my exclusive guardianship" [18]nowtolove
When asked about his son's mother on a popular talk show with Jonathan Ross, he said,
"People speculate I was with this girl or another, or there was a surrogate mother," he told chat show host Jonathan Ross. I have never told anyone and never will. When Cristiano [Junior] is going to grow up, I am always going to say the truth to him because he deserves it, because he is my son, but I am not going to say because people want me to say." [19]jonathanrossshow – youtube
Following the announcement, many media sources doubted whether the boy was born through surrogacy, and many media houses reported this as a piece of controversy. Reportedly, he gave $15.28 million for exclusive rights over his son and his mother helped him to get his son. Sources close to him said he will disclose the identity of his mother to Cristiano Jr on his 18th birthday. [20]Hindustan Times
Fights with Media
During Euro 2016, Ronaldo once threw the mic of a journalist from the Portuguese news channel CMTV when the journalist questioned him about his preparedness for a match. [21]BeanymanSports – YouTube In 2021, Pascal Ferré, France Football editor-in-chief, reported that Ronaldo wanted to win more Ballon d'Or titles than his rival Messi before retirement following which Ronaldo took to Instagram where he wrote,
"Today's ending explains why Pascal Ferré's statements last week, stating that I confided in him that I had as my sole ambition to finish my career with more Ballon d'Or than Lionel Messi. Pascal Ferré lied, used my name to promote himself and to promote the publication he works for. It is unacceptable that the person responsible for awarding such a prestigious award can lie in this manner, in absolute disrespect for someone who has always respected France Football and the Ballon d'Or." [22]

Instagram
Fight with Wayne Rooney at FIFA World Cup 2006
During the world cup quarterfinal match in 2006, Ronaldo received criticism for his aggressive appeal to the referee to give a red card to England's star player Rooney who played alongside him at his club Manchester United. This caused England to lose the match, and Ronaldo was seen winking after getting his fellow player out of the game. [23]Ronaldo vs Rooney – YouTube
"There was heavy backlash from press however Rooney said, After I was sent off in the World Cup quarter-final against Portugal and we lost on penalties, I got Ronaldo out into the tunnel. I said: 'Listen, you're going to get a lot of stick from the press, I'm going to get a lot of stick from the press, my focus now is on Man United. There is no issue with me whatsoever, I would have done exactly the same trying to get England a win against Portugal and this is a big year for us and we have every chance of winning the league. My attention, once we were out, completely flipped back to Manchester United." [24]Manchester Evening News
Tax Evasion Fiasco
He pleaded guilty to charges of tax evasion from 2009-2018; however, his lawyers argued that it happened since he did not understand Spanish laws clearly. He had to pay $21.6 million, and he narrowly escaped jail term as he was sentenced to 23 months in prison; however, he served his sentence under probation as Spanish law allows first-time offenders to serve a sentence under probation if he/she receives a sentence of less than 2 years. [25]The Economic Times
Controversy over Israel and Palestine
When he was at Juventus in 2019, he was snapped alongside Israeli Foreign Minister Israel Katz. His fans from Palestine lambasted him for posing alongside the Israeli Foreign Minister and gifting him his T-Shirt as earlier, he had expressed his solidarity with Palestine and, reportedly, donated money for children of that region. [26]Middle East Monitor
Meeting with Jordan Peterson
In September 2021, there was a huge uproar when he posted a photo with psychologist Jordan Peterson on his Instagram account. [27]Instagram – Cristiano Ronaldo There were mixed reactions from his fans and critics with some saying he is seeking help for the challenges he faced in his personal and professional life while some criticized him for his meeting with the very controversial psychologist. Jordan appeared on Piers Morgan show on Sky News Australia and said,
"He invited me to come and see him. He had some trouble in his life last few months ago and a friend of his sent him some of my videos and he said he had watched them and then he read one of my books and found them very helpful and he wanted to talk so I went to his house and we talked for about 2 hours and he showed me all of his equipment for keeping him in tip-top condition and we talked a bit about his companies and but mostly we talked about what he wanted in the future and some of the obstacles he's facing while pursuing that and so we had a strategic conversation about those topics for about 90 minutes." [28]Skynews – jordan
Awards, Honours, Achievements
Ballon d'Or – 2008, 2013, 2014, 2016, 2017 (5 times)
UEFA Best Player In Europe – 2008, 2014, 2016, 2017 (4 times)
Footballer of the Year (Portugal) – 2007, 2008, 2009, 2011, 2012, 2013, 2015, 2016, 2017, 2018 (10 times)
FIFA Puskas Award – 2009 (1 time)
Maximum appearances and goals in UEFA Champion League – 136 goals in 183 games
Maximum goals in a single season of UEFA Champion League – 17 goals in the 2013-2014 season
Most international hattricks – 10 hattricks
Most goals scored for Real Madrid in single season – 61 goals [30]

Realmadrid
Car Collection
He owns a stupendous car collection of more than 19 cars worth more than a whopping $25 million. [34]Insider [35]Insider-car
He owns 5 Ferraris, Ferrari 599 GTO (price – $385,000), Ferrari 599 GTB Fiorano (price – $310,000), Ferrari F430 (price – $300,000), Ferrari F12 TDF (price – $480,000), and Ferrari Monza SP1 (price – $1.95 million). He is the owner of 3 Bugattis, Bugatti Centodieci (price – $12 million), Veyron Grand Sport Vitesse (price – $2.4 million), and Chiron (price – $3.1 million)
He owns the limited edition McLaren Senna (price – $1.06 million), which was designed to honour the legendary racer Ayrton Senna. His collection also comprises of Lamborghini Aventador, Maserati GranCabrio, Bentley Continental, Mercedes AMG GLE 63, Rolls Royce Phantom, Porsche 911 Turbo S, Audi RS7, Chevrolet Camaro, and Rolls Royce Cullinan.
He was also gifted a Mercedes G-Wagon Brabus (price – $850,000) and Cadillac Escalade by his long-time girlfriend Georgina on two separate occasions.
In 2022, his partner Georgina Rodriguez gifted him a Rolls Royce Dawn convertible as a Christmas gift. [36]News 18
Salary
Contract Earnings
He earns approx $25 million per annum as per his contract with Manchester United. [37]Forbes
Earning from Social Media and Endorsements
As per Forbes, he earned around $55 million from his social media accounts and endorsements which include deals with big brands like Nike, Herbalife, and Unilever in 2021. [38]Forbes
Net Worth
As of 2021, his net worth was $500 million. [39]Forbes
Favourites
Football shoes: Nike Mercurial
Film: Silence of the Lambs
Song: I believe I can fly by R Kelly
Perfume: 212 Sexy Men by Carolina Herrera
Goal: Overheadkick against Juventus
Stadium: Santiago Bernabeu
Facts/Trivia
At the age of 15, Ronaldo was diagnosed with Tachycardia, which means his heart beat faster than normal even when resting. He underwent surgery and started training after a few days. In an interview, while talking about this, his mother said,


"Before we knew exactly what he had, I was worried because there was the possibility of him giving up playing football. But the treatment went well and after some days he was back at training again."
In an interview with Piers Morgan, Ronaldo shared some insights of his childhood and said,


"We were a little hungry. We have a McDonald's next to the stadium, we knocked on the door and asked if they had any burgers. There was always Edna and two other girls. I never found them again. I asked people in Portugal, they closed the McDonalds, but if this interview can help find them, I would be so happy. I want to invite them to Turin or Lisbon to come have dinner with me because I want to give something back."
According to Ronaldo, Ashley Cole is the toughest defender that he faced in his career.
He once sold his golden boot to help children in the controversial city of Gaza. He is also the ambassador for Indonesia's 'Save the Children' and 'The Mangrove Care Forum'.
His father chose the name Ronaldo from Ronald Reagan, his father's favourite actor and the 40th President of the United States.
He is a regular blood donor and has not got his body inked ever for the same reason.
He never smokes and consumes alcoholic beverages. According to Ronaldo, he decided to keep himself away from alcohol after his father's death who was an alcoholic. [40]

Daily Star
He was mocked by the name 'Crybaby' by his teammates in his childhood days and also called 'Little Bee' as he was the fastest among them. [41]

The Indian Express [42]

Goal
He has a museum named Museo CR7 at his birthplace, Funchal, Portugal, displaying his medals, trophies, photos, and balls from the matches he has played.
Professor Luis LM Aguiar of British Columbia Okanagan University has made a course about him, and he teaches his impact on the culture of Portugal.
A team once conducted scientific tests and reported that he has 3% less fat than a supermodel. A running speed of 25m in 3.61 seconds (only 0.3 seconds less than professional sprinters) and a jump height better than NBA player, 78 cms compared to 71 cms, respectively. [43]

PartyLab Industries
After donating his bone marrow to help the son of his Portuguese teammate Carlos Martins, he became a regular donor. In an interview, he talked about this and said,


"(Donating bone marrow) is something a lot of people think is a difficult thing to do but it's nothing more than drawing blood and doesn't hurt." [45]Insideworld
In 2021, he became the first person in the world to have a following of more than 500 million on social media including Twitter, Instagram, and Facebook.
He has a lifetime deal with sports giant brand Nike of $1 billion, and the company launched many merchandises after his name including special edition shoes, Mercurial.
His favourite sport after football is MMA, and he is friends with several famous fight game players including Conor McGregor, Khabib Nurmagomedov, and Badr Hari.
His iconic goal celebration is famously known as 'Siu' in which he runs towards the fan with arms flowing outwards.
Although his jersey number 7 is associated with him now as many fans call him by the name CR7, he asked for jersey number 28 when he moved to Manchester United from Sporting CP, which was his jersey number previously.
The Madeira Airport at his birthplace has now been named after him. It is now known as Madeira Cristiano Ronaldo Airport.
In 2014, he was also given Knighthood and named Grand Officer of the Order of Prince Henry, the third highest civilian honour of Portugal.