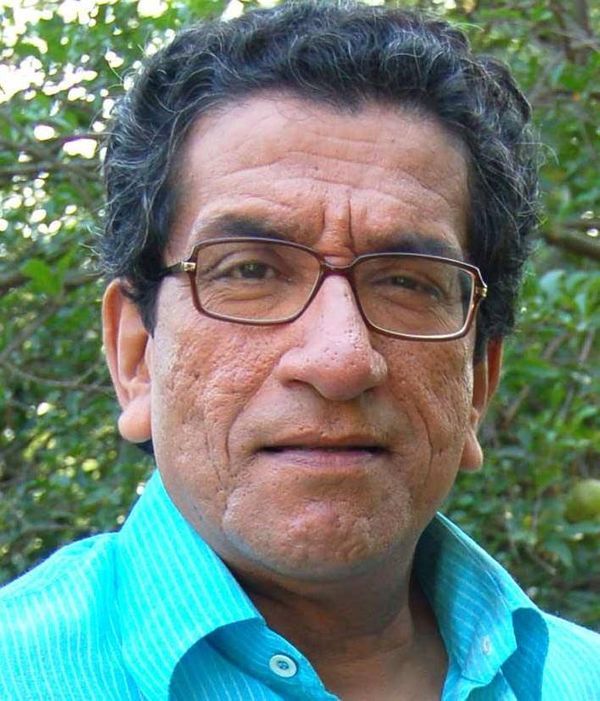 Sabyasachi Chakrabarty is a veteran Indian Bengali actor, who is popularly known for portraying iconic Bengali detective characters such as Feluda in Satyajit Ray's Feluda series and Kakababu in the Bengali film 'Ek Tukro Chand' (2001).
Wiki/Biography
Sabyasachi Chakrabarty (aka Sabyasachi Chakraborty) [1]ABP News was born on Saturday, 8 September 1956 (age 67 years; as of 2023) in Calcutta (now Kolkata), West Bengal, India. In 1975, he completed his schooling at Andrew's High School in Kolkata. He graduated with a bachelor's degree in Science from Hansraj College, University of Delhi. In 1978, he cleared his AMIE examination. When he was studying in college, he used to actively participate in theatre. In 1983, he became an active member of the Charbak theatre group in Calcutta.
Physical Appearance
Height (approx.): 6′ 2″
Hair Colour: Salt & Pepper
Eye Colour: Dark Brown
Family
He belongs to a Bengali-Hindu family.
Parents & Siblings
His father's name is Jagadish Chandra Chakrabarty and his mother's name is Monica Chakrabarty.
Wife & Children
On 8 March 1986, Sabyasachi got married to Mithu Chakrabarty, a Bengali television actress and theatre personality. They have two sons named Gaurav (elder) and Arjun, who are also actors in the Bengali entertainment industry. Gaurav got married to his longtime girlfriend, Ridhima Ghosh, who is a renowned Bengali actress. In an interview, while talking about Gaurav's relationship with his family, he said,
I do not feel pressurised by my parents. Neither does my younger brother Arjun. My father (Sabyasachi  Chakrabarty) is quiet but gives suggestions if asked. Maa is very encouraging and profuse in her appreciation. I did a bit of theatre in our home group Charkbak after graduation but working with my father made me wobbly in the knees."
Arjun Chakrabarty got married to Sreeja Sen. On 15 February 2018, they had a daughter named Avantika Chakrabarty.
Signature/Autograph
Career
Technical Director
Before becoming an actor, Sabyasachi was a technician. During an interview, he shared that,
I didn't want to be an actor. I was a technician. After I joined theatre, I realised I could design sets, audio. So, I had a lot of backstage work. I was the technical director of a production house, which used to produce content for TV and I used to check the camera, tripod. In the first serial, Bangla Golpo Bichitra, there was no boom man on a certain day." [2]The Times of India
Actor
Film
Bengali
In 1992, he made his Bengali debut with the film 'Antardhan' in which he played the role of Rohit, a police inspector.
In the 1996 Indian-Bengali detective series titled Feluda 30, directed by Satyajit Ray, the protagonist, Feluda, who is a private investigator, was performed by several actors including Soumitra Chatterjee and Shashi Kapoor. Sabyasachi Chakrabarty got to play this role from the film 'Baksho Rahashya' (1996) to 'Double Feluda' (2016).
He worked in many Bengali films including Ek Tukro Chand (2001), Waarish (2004), Sangram (2005), and Kolkatay Kohinoor (2019). In 2021, he appeared in Subhrajit Mitra's critically acclaimed film titled Avijatrik in which he played the role of Shankar, a middle-aged traveller.
Hindi
Apart from working in Bengali films, Sabyasachi has also appeared in many Hindi films including Ascharya Deepak (1990), Tarkash/Cell 3 (2000), and Parineeta (2005).
Television Film
In 2019, he made his television film debut with the Bengali film 'Jamai Elo Ghare' on ZEE5. He played the character of a father-in-law.
TV drama
When Sabyasachi returned to Calcutta, his paternal aunt's husband, Jochhon Dastidar, offered him a role in TV. In 1987, he made his television debut with the critically acclaimed Bengali television drama 'Tero Parbon,' which aired on the Kolkata Doordarshan channel. Sabyasachi played the lead role named Gora, which made him popular enough to become a household name in Bengal. He appeared in Bengali shows such as 'In Their Life' (2018), which aired on Addatimes, 'Sleeper Cell' (2021) on Mojoplex, and 'Search' (2022) on Klikk. In 2020, he appeared in the Hindi web series Lalbazaar alongside actor Ajay Devgn on Zee5.
Awards
Bengal Film Journalists' Association Awards (BFJA) 1996: Best Actor award for the film 'Kakababu Here Gelen'
Anandalok Awards 2002: Best Actor award for the Bengali film 'Ek Je Aachhe Kanya'
Anandalok Awards 2004: Best Actor for the Bengali film 'Bombaiyer Bombete'
BFJA 2005: Best Actor for the film 'Mahulbanir Sereng'
 Los Angeles Film Awards 2019: Best Actor for the film 'Anurup'
Facts/Trivia
His parents used to call him Benu.
Apart from acting, he keeps an utmost interest in nature and forests. In an interview in October 2022, while talking about his passion for wildlife photography, he said,


Yes, definitely! If I have any tour planned and someone approaches me for shooting, I tell them that it is not possible to give a date around that time as I have a tour planned… I won't do that film and will do some other film but my first love still remains. If the shooting date is given ahead, then definitely I won't go for a trip around that time but when the plan is already made, I don't do it… and elephants are my favourite wildlife! They are really nice."
Feluda is one of Sabyasachi's idols and favourite heroes from a young age. [3]

Deccan Herald
In an interview, Sabyasachi revealed that the most romantic thing he ever did was walk down a lonely mile on a cold rainy night in Delhi. [4]

The Daily Telegraph
In an interview, Sabyasachi Chakraborty admitted that he only likes to drink rum.
During an interview, Sabyasachi was asked by the interviewer if there was anything in life that he (Sabyasachi) had figured out. Sabyasachi said,


What ails the world?"

He answered himself and said,

Uneducated, undereducated and maleducated ideologies." [5]The Daily Telegraph
In an interview, he revealed that his favourite book was Indica: A Deep Natural History of the Indian Subcontinent by Pranay Lal.