S. L. Bhyrappa is an Indian novelist, philosopher, and screenwriter. The Government of India honoured him with the Padma Shri in 2016 and Padma Bhushan in 2023.
Wiki/Biography
Santeshivara Lingannaiah Bhyrappa or popularly known as S. L. Bhyrappa [1]S. L. Bhyrappa – Official Website was born on Thursday, 20 August 1931 (age 92 years; as of 2022) in Santeshivara, Hassan, Karnataka, India. He completed his schooling at the Nuggehalli Government Middle School, Hassan, Karnataka, Navodaya High School, Channarayapatna, and Sharada Vilas High School, Mysuru. He attended Mysore University to pursue a BA Honours in Philosophy. He pursued a Master of Arts (MA) degree in Philosophy (1958) at Mysore University and was a Gold Medalist. In 1963, he earned a PhD degree in Aesthetics from Maharaja Sayajirao University Of Baroda, and the title of his thesis was Satya Mattu Soundarya (Truth And Beauty).
Physical Appearance
Hair Colour: Salt and Pepper
Eye Colour: Black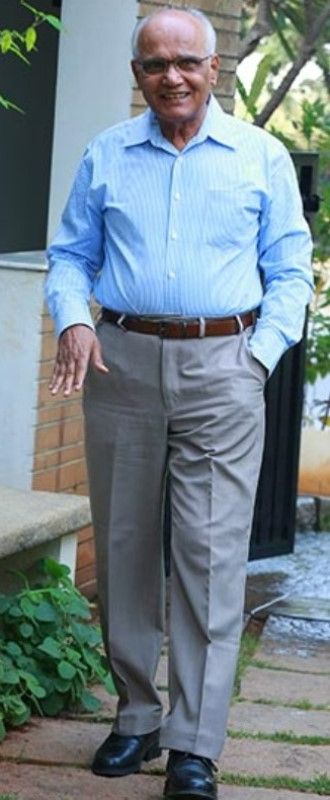 Family
He belongs to a traditional Hoysala Karnataka Brahmin family in Sante Shivara, Hassan, Karnataka, India.
Parents & Siblings
In his autobiography, he mentioned the strained relationship he had with his father and how he lost his mother, a brother, and a sister to the bubonic plague. S. L. Bhyrappa was in his childhood when his siblings died of the plague; his younger brother was just five years old when he passed away. His mother took care of the family and had a strong influence on his life. In an interview, he revealed that he inherited his interest in literature and creative conceptualization from his mother, who used to compose songs; she looked after the family and strongly influenced him.
Wife & Children
He got married in the same year as he joined Sri Kadasiddheshwar College, Hubli as a philosophy lecturer. His wife hails from Nonavinakere, Tumkur, Karnataka.
They have two sons; his eldest son, S. B. Ravishankar, worked at a bank in London, England and has a daughter and a son. His second son, S. B. Udayashankar, was into software and did marketing in Bengaluru, Karnataka; he has twin daughters and a son. After retiring from his job, S. L. Bhyrappa and his wife stayed in Mysuru, Karnataka.
Address
1007, Udayaravi Road, Kuvempunagar, Mysuru – 570 023, India [2]S. L. Bhyrappa – Official Website
Signature/Autograph
Career
Lecturer/Professor
S. L. Bhyrappa joined the Shri Kadasiddheshwar Arts College & H.S.Kotambri Science Institute on June 1958, as a lecturer in Logic and Psychology and worked there for two and half years. He then joined Sardar Patel University in Gujarat and was a faculty member for six years. S. L. Bhyrappa joined the National Council of Educational Research and Training (NCERT), New Delhi as a reader in the Philosophy of Education and stayed in Delhi for four and half years. He got transferred to the Regional Institute of Education (RIE) in Mysuru, Karnataka, and he worked at RIE for 20 years until he retired in 1991.
Novelist
In 1958, he made his debut with his novel titled Bheemakaya published by Sahitya Bhandara, Bengaluru. The plot revolves around the story of the life of a wrestler and the novel was reprinted seven times. S. L. Bhyrappa was an intermediate student when he authored Bheemakaya. In 1961, he penned Dharmashree, which depicts the life of an individual who was compelled to convert to Christianity to marry a Christian girl and his alienation from his cultural identity. According to S. L. Bhyrappa, Vamshavriksha (1965) recreated him as a novelist and he credited it as his first crucial venture into novel writing. He pointed out that Vamshavriksha was responsible for making him devote his life to literature.
Grihabhanga (1970) and Daatu (1973) are considered Indian classics, and the National Book Trust translated the novel into all fourteen major languages of India. In an interview, he revealed that Grihabhanga is the story of his family and village. Daatu (1973) revolved around the complex caste system that existed in our country and offers a vivid description of the socio-cultural atmosphere during 1970s India. Parva (1979) is a non-mythological retelling of the epic 'Mahabharata' and is considered by many as a modern classic. This is considered his magnum opus, and according to him, it is the history of ancient India. Parva was translated into various languages including Russian and Chinese.
In 1986, 'Sakshi' was published, and he labelled the work as a spiritual novel. Tantu (meaning 'cord' or 'links') (1993) depicts the tale of post-independence India till the period of Emergency in 1975; the story told through the perspective of a journalist had engirdled education, communal politics, business, political corruption and the destruction of traditional moral values of the period. In 1996, his autobiography 'Bhitti' (Canvas) was published; it was reprinted eleven times and was translated into Marathi, English and Hindi. His writing was influenced by Hindustani classical music, Mandra (2002) depicts the world of Hindustani classical music. In an interview, he revealed that he re-read the books related to music, and took a break from his writing when he had to portray a particular tone, he added that he had listened to the renderings of three different musicians and instrumental renderings of the tune.
Uttara Kaanda (2017) is the retelling of Ramayana from the perspective of Sita. This was S. L. Bhyrappa's last novel. He cited that his advanced age hindered him from getting any new ideas for writing another novel. [3]The Hindu In an interview, he revealed that he tried to depict the reaction of a real woman to the events mentioned in the Epic. He added that his intention when he wrote Uttara Kaanda were to focus on her feelings, misery and merriment, and not the thought of rewriting the Ramayana.
His works are known for their details on the subject, and he is renowned for his fight for the creative freedom of writers. S. L. Bhyrappa is renowned for applying social realism and spiritual dilemmas in his writings. His chosen language for expression is Kannada, particularly the dialect spoken in the Old Mysore region, and most of his novels are set in the same geography that he knew and understood well. S. L. Bhyrappa had been the bestselling novelist in Kannada for over four decades and also the translations of his novels became bestsellers in Marathi, Gujarati, Sanskrit, and Hindi.
S. L. Bhyrappa had made it a habit to travel and understand the places if his novels were set in a different geographical location other than Mysuru. He had to get himself a firsthand feel of the places, their people, and the culture. He adopted extensive research for each of his works and waited long periods without publishing them until he was convinced the materials were worthy of publication. He has penned 25 novels, including his autobiography (Bhitti), four volumes of literary criticism, books on philosophy, aesthetics, social issues, and culture, five collections of essays, and a few short stories.
Controversies
Is Dr S. L. Bhyrappa a Right Wing Supporter or a Humanist?
In an interview, while referring to the protests against the revision of textbooks in Karnataka (2022), S. L. Bhyrappa revealed that he was part of the National Syllabus Revision Committee under the presidentship of G. Parthasarathy during the tenure of former prime minister late Indira Gandhi in the late 1960s. He claimed they were asked to remove objectionable parts from the history texts that could harm the nation's integrity. S. L. Bhyrappa, who objected to this move and raised his disagreement, was dropped from the committee within 15 days and was replaced by a left-leaning historian. The revised NCERT book on Social Sciences was adopted without any complaints in the states ruled by the Indian National Congress. He alleged that the then Government hid the real history from the students. S. L. Bhyrappa pointed out that school textbooks should contain facts and not ideologies and they should not be altered to match any ideologies. [4]

Deccan Herald
His novel Avarana (2007) received heavy criticism from different spheres and many accused S. L. Bhyrappa of being a Hindu fundamentalist who wanted to divide the country based on history. In Avarana, he accused Tipu Sultan as a religious fanatic who could not stand Hindus in his court; this provoked the late Jnanpith winner Girish Karnad, who had portrayed the ruler of the Kingdom of Mysore as a secular ruler in his plays. U.R. Ananthamurthy lashed out at Avarana and attacked S. L. Bhyrappa for his Pro- Hindutva stand. S. L. Bhyrappa had always criticised religious conversions and it had been the theme of some of his novels. Avarana made a record of ten reprints in five months and was sold out before its release. In an interview, he said that Avarana was the end product of his quest for truth and that the critics should have gone through the references he had given before jumping to any conclusions. He added that he had no other ulterior motive behind writing the novel. [5]

The Hindu
In 2014, Jnanpith award recipient U.R. Ananthamurthy and Dr S. L. Bhyrappa had a series of disagreements following the announcement of Narendra Modi as the Prime Minister candidate of the Bharatiya Janata Party-led NDA alliance. Dr S. L. Bhyrappa criticised and called U. R. Ananthamurthy an opportunist when Ananthamurthy labelled Modi as a dictator and a threat to India's democratic nature. Dr S. L. Bhyrappa was vocal about his support for Modi as the Prime Minister candidate and accused U.R. Ananthamurthy took benefits from politicians, something he had never done.
S. L. Bhyrappa was vocal in his displeasure of Tipu Jayanti and argued that Jayantis are for remembering and celebrating saints and gods, not for cruel rulers like Tipu. He added that if the government was keen to celebrate and observe the birthday of a tyrant, the Hindus should question the decision through methods which do not obstruct the law and order. [6]

Organiser In an interview, he said that Tipu Sultan was never pro-Kannada as he had changed the names of many towns and cities, similar to enforcing a new culture. In 2022, he called out the decision to build a 100-ft statue of Tipu Sultan and questioned the need and intention to validate or glorify a cruel leader like him despite having enough proof. S. L. Bhyrappa released 'Tipu Nija Kanasugalu', authored by Rangayana director Addanda C Cariyappa in 2022 amid huge protests from different sections in Mysuru; the book received a temporary stay from a court in Karnataka because it hurt the sentiments of Muslim communities but later allowed the book to be made available in the market.
In 2022, while speaking at a literary function organised by the Akhil Bharatiya Sahitya Parishad, Maharashtra Pradesh and Thane's Samanvay Pratishtan in Thane, Maharashtra, S. L. Bhyrappa slammed secularists and accused them of being casteists in their approach, and criticised the Opposition parties for creating a negative mood in the country by constantly attacking the government. [7]

ThePrint He then said,


Abrogation of Article 370 was the best thing to have happened in the country. But the Opposition fails to acknowledge good things that are happening currently…" [8]Outlook
S. L. Bhyrappa was a known critic of the Nehruvian consensus and alleged that the former Prime Minister of India, Jawaharlal Nehru, was an advocate of communism and was inspired by the Communist movements that happened during his time at the University of Cambridge in Cambridge, England. He pointed out that there were 15 regional committees in the Congress Party during the time of Indian independence, and 12 committees preferred Sardar Vallabhbhai Patel over Jawaharlal Nehru to become the Prime Minister. S. L. Bhyrappa accused Nehru was appointed as the first Prime Minister of independent India with the influence of Mahatma Gandhi. [9]

Deccan Herald
In an interview, he spoke about the 'Idea of Bharat' and how it differed from the 'Idea of India' propagated by the liberals. He pointed out that the materialists who follow the Nehruvian idea of India do not consider Bharat as sacred and they have no value for the tradition, ancestors, and culture. He said that people who believe or follow the idea of Bharat respected the ancient traditions and cultures and saw them as sacred, and the idea of Bharat encompasses the duties of a civilian to his nation. According to him, to propagate the idea of Bharat, awareness should be made among the children and youth, followed by the removal of false information propagated through educational books in the country. He pointed out that this could be possible through private schools because if changes were to be made in the government syllabus, the communists and leftists would protest against the move. He also singled out the Rashtriya Swayamsevak Sangh (RSS) and their style of working through which they popularise the idea of Bharat. [10]

Organiser
Many of his books received sharp criticism for the poor depiction of women. In 2015, following S. L. Bhyrappa's appointment as the National Research Professor, famous women activists and writers lashed out against his works and pointed out that he had depicted educated and progressive women as low in character. [11]

The Hindu
In an interview, he pointed out that the relationship between Hindus and Muslims should not be based on false foundations but on solid truths. During a discussion related to the film 'The Kashmir Files' he said,


I haven't seen the movie yet. But I know the issue very well. I have seen how our first Prime Minister made blunders and created this mess," [12]The Times of India
In 2013, filmmaker Girish Karnad said that he made a mistake by directing two movies based on S. L. Bhyrappa's novels. Girish said that the aspirations of the novel and his temperament did not go together. S. L. Bhyrappa was an advocate of the anti-cow slaughter law and Girish Karnad opposed the implementation of the law. [13]

The Times of India [14]

Outlook
In an interview, he pointed out that the Ksahtra Guna in Hindus has been replaced by Ahimsa, and the practice of extreme Ahimsa cost them their valour. According to him, among the Hindu religious texts, it was the Bhagavad Gita that balanced Ahimsa and the need for Kshatra Tejas in Hindus. He propounded that the Hindus had become intellectually lazy and that they don't even try to interpret and understand their texts and implement what they learnt from them. [15]

Organiser
In response to the critics who labelled him as a right-winger supporter, anti-feminist, and Hindu fundamentalist. However, he discarded these and stated that he was not a right-wing supporter but a humanist. He cited his works Parva (1979) and Uttara Kaanda (2017) and pointed out that he had depicted Krishna in a more humanized way as opposed to his powerful stature in the Epic, and Lord Rama was criticised many times in Uttara Kaanda which is told from the perspective of Sita. He claimed that he wouldn't have done so if he was indeed a right-wing supporter as his critics had labelled him.
In 2023, after he was awarded the Padma Bhushan, S. L. Bhyrappa stated that he received the award because Narendra Modi was the country's prime minister, and if not he would not have received it. He also added that Modi should stay in power till 2029 and then someone who is nurtured by Modi should take over his duties as the prime minister. He also denied any political affiliations while he stated this and said,


I'm not praising Modi government for giving this award. I read a lot about politics even though I don't have any links with politics. I read a lot of history books. I'm happy now to have got this government." [16]The Times of India

His comments were criticised by the Bharatiya Janata Party's (BJP) MLC A. H. Vishwanath, who pointed out that S. L. Bhyrappa got the award because of his writings and not because of Modi. He added that Bhyrappa's comments had tarnished the dignity of the writer and the award. A. H. Vishwanath added that Bhyrappa is worthy of receiving the Jnanpith, but he needs to wait for it and should not try to appease the government. [17]The Times of India However, the BJP MLC found himself at odds with his fellow BJP leaders over his comments, and the Mysuru city's BJP spokesperson M. A. Mohan called out A. H. Vishwanath and said he twisted the words of Bhyrappa who praised Modi and used it to attack both Modi and S. L. Bhyrappa. M. A. Mohan also accused A. H. Vishwanath was trying to please the Congress leaders through his actions. [18]The Times of India A. H. Vishwanath later announced that he was to quit BJP and was planning to join the Indian National Congress (INC). [19]The Times of India
Awards, Honours, Achievements
1968: Kannada Sahitya Academy Award
1974: Best Literary Work of the Year Award – The Karnataka State Sahitya (Literary) Academy (for Daatu)
1975: Sahitya Akademi Award – Government of India
1985: The Karnataka Sahitya (Literary) Academy Award for Contribution to Literature.
1986: The Karnataka State Award for Total Contribution to Literature
1988: Granthaloka 'Best Literary Work of the Year Award' for Saakshi
1996: Samvatsar Puraskar – Bharatiya Bhasha Parishad (Calcutta) for 'Tantu'.
2000: Gorur (Ramaswami Iyengar) Award for Contribution to Literature
2000: S.R. Patil Award for Contribution to Literature
2002: Samanyajnana Award for Contribution to Literature
2005: Honorary D.Litt – Karnataka Government Open University, Mysore
2006: Pampa Prashasti (Karnataka State) Award
2007: Hedgewar Award (Calcutta)
2007: NTR National Award (Andhra Pradesh)
2007: Honorary D.Litt – Gulbarga University
2011: Saraswati Samman for the novel Mandra – K. K. Birla Foundation
2012: Vagvilasini Puraskar – Deenanath Memorial Foundation, Mumbai
2014: National Research Professor – Government of India
2014: Betageri Krishna Sharma Award
2015: Sahitya Akademi Fellowship – Government of India
2015: Bendre National Award
2016: Honorary Doctorate – Mysore University
2016: Mamoni Raisom Goswami National Literature Award – Asam Sahitya Sabha
2016: Padma Shri award – Government of India
2017: 'Ambikatanayadatta' National award – Da. Ra. Bendre National Memorial Trust, Dharwad
2017: Sri Krishnadevaraya Award – Telugu Vignana Samithi and Lalithakala Parishat
2020: Shivaram Karanth Award
2020: Honorary Doctorate – Central University Of Karnataka
2023: Padma Bhushan – Government of India
Facts/Trivia
Dr S. L. Bhyrappa was influenced by the works of writers such as A. N. Krishna Rao, Sharath Chandra, and Shivarama Karanth during his initial stages as a writer. In English, he had read the translations of Leo Tolstoy, and Crime and Punishment by Fyodor Dostoevsky. In an interview, he revealed that he was influenced by the Ceylonese metaphysician, Ananda Coomaraswamy, and Mysore Hiriyanna's 'Art Experience' made an impact on his perceptions.
In an interview, he revealed that he was also infected with Plague when he was a child like his brother and sister, but was cured. He shared that he had an emotional bond with a temple in his old village (Santeshivara); he mentioned a saint named 'Mahadevaiah' used to reside there and how his mother took Bhyrappa to the temple and placed him under the care of the saint when he was infected with the plague and had prayed for his recovery. He added that he was an adventurous kid who did not listen to his father. So his mother sent Bhyrappa with his uncle to educate and discipline him. He recalled how carefree and stubborn a child he was, but added that his uncle beat him mercilessly and how he was scared of his punishments.
The sudden demise of his siblings followed by the death of his mother deeply affected S. L. Bhyrappa in his childhood. His quest to decode the mystery of death and the advice of his lecturer Mr Yaamunacharya led him to pursue his studies in Philosophy. In his autobiography, he mentioned that the question of death always haunted him and that he wanted to find out more about death.
During the 1950s, Modernism known as Navya in Kannada emerged as a literary movement in Kannada Literature. The modern litterateurs gained prominence in Karnataka during this period and labelled his works as regressive and not progressive. In the preface of Dharmashree (1961), he revealed that he was a bit intrigued by western things for a small duration during his initial days and it was then he heard about Ananda Coomaraswamy and his works helped him change his confusion and strong admiration for Indian art and aesthetics was instilled in him. In an interview, he revealed that western literature was never a role model for his novels.
In an interview, Dr S. L. Bhyrappa admitted that he used to smoke during his school days but stopped the practice soon, and even stopped drinking tea and coffee and credited his strict diet as the reason for his health even in his nineties.
In an interview, he recalled that his mentor during his PhD days, Dr Jawdekar of Baroda University, was upset when S. L. Bhyrappa confessed to him that his interest was laid in creative writing and not philosophy; he then sent Dr Jawdekar a copy of his novel 'Vamsavriksha' (1965), the professor responded that his philosophy was not dead and encouraged him to continue writing and even gifted him a suit. Vamsavriksha was well-received in Karnataka and received the Kannada Sahitya Academy Award (Government of Karnataka).
In 2023, Dr S. L. Bhyrappa, in his letter sent to the organizers of the session titled 'Bharata Jannaniya Tanujate Jaya he Karnataka Mate' which took place as part of the 86th Akhila Bharata Kannada Sahitya Sammelana, said that Sanskrit was the mother of all Indian languages. He pointed out that linguists have highlighted that a significant amount of words in the four main South Indian languages, such as Kannada, Malayalam, Tamil, and Telugu have deep roots in Sanskrit. [20]

The Times of India
S. L. Bhyrappa, while addressing a session at the Jaipur Literature Festival in 2017, said that people should be allowed to be critical and question different religions and beliefs if it is done through logical arguments. He suggested that the laws that forbid offending the religious feelings of any community were constituted by the British and were misused by different governments. He urged that the government should scrap the law. [21]

The Indian Express
Sadvidya Educational Institutes honoured S. L. Bhyrappa on his 92nd birthday in association with the District Kannada Sahitya Parishat Kendra at the Vivekananda Auditorium in Sadvidya Educational Institutions campus, Mysore, Karnataka. In his speech, S. L. Bhyrappa revealed that it was his first-ever public birthday celebration, and added that he was born on the day of Guru Purnima, and his birthdate, as per the school and college records, is 20 August 1931 and he was not sure about his real date of birth.
In his autobiography, he mentioned that following his cousin's advice he took a year off while in school and wandered for a year with him. Bhyrappa's journey led him to Mumbai and worked there as a railway porter; he met a group of Sadhus while he was in Mumbai and joined them to seek spiritual solace and wandered with them for a few months before returning to Mysuru and resuming his education. He pointed out that his travels helped in developing the habit of reading in him.
Dr S. L. Bhyrappa came from extreme poverty and was forced to do different jobs to support himself. He worked as a gatekeeper at a village cinema hall, sold local wares at a flea market and worked as a supplier in a small hotel in Hubli, Karnataka. He had taught tuition to his juniors for money. In an interview, he revealed that he had begged for food when he was a high school student and how he and his friend had tried to enlist in the army. On their way to join the army, Bhyrappa met someone who offered him a job at a hotel in Ranebennuru, Haveri, Karnataka and went along with him.
His works cannot be slotted into any genre or category in contemporary literature; the themes of his novels vary from religion, epics, mythology, music, art, beauty, truth, ethics, and so. Dr S. L. Bhyrappa insists that all these different themes came with his urge to present philosophy. He is known for describing dwindling human emotions and experiences and creating characters deeply rooted in Indian sensibilities. His works were selected as part of the curriculum for undergraduate and postgraduate courses in the state of Karnataka, and about 20 PhD dissertations and M.Phil theses have been done based on his works. As of 2017, about 25 books have been released which were based on him, including literary criticism books.
In 2017, Central Sahitya Akademi commissioned P. Sheshadri to shoot a documentary on Dr S. L. Bhyrappa, and the title was 'The Doyen of Modern Kannada Novels'. The documentary looked at him purely as a novelist and at his works. In 2013, P. Sheshadri made a one-hour feature on Dr S. L. Bhyrappa for the Central Institute of Indian Languages (CIIL) Mysuru, Karnataka; it focused more on his personal life, narrating his struggle to become a writer, his childhood, and his education.
He wrote a story in his last year of high school titled Gatha Janma (Past Life). Later a collection of three of his short stories was published as a book titled Gathajanma Matteradu Kathegalu (1955). In an interview, he revealed that although he had penned a few short stories, his mind always lingered towards a broader canvas feasible only in novels, so he started writing novels.
In an interview, he pointed out that seed of thoughts sprouts into a novel and life experiences could be used in writing; he propounded that only the materials that a writer receives through imagination can be considered as novel art, and mentioned that he started working on his books when all these happened and let out that during the initial stages of writing the pace will be a bit slower, but after a point, it would pick up on its own and then it will be automatic. He also added that he never wrote any poems because they never suited his temperament.
In the documentary, The Doyen of Kannda Novels, Dr S. L. Bhyrappa pointed out that reading helps to sensitize experiential memories. He propounded that the perceptions such as reading a novel would lead to social empowerment, revolution and a change in the economy are nothing but blatant lies.
In an interview, when asked about the ban on the BBC documentary on the 2002 Gujarat riots, he pointed out that India should not have banned the documentary but should have acted by the Supreme Court judgement. He observed that the documentary was made to stain the country's image as India was leading the G20. [22]

The Times of India
For the research purpose of his novel 'Yaana,' he travelled to Antarctica when he was more than 75 years old. He did that to make sure his work would have that authenticity. Dr S. L. Bhyrappa has travelled to all seven continents in the world.
In an interview, he revealed that his writings were not done just for the sake of entertainment or story, but it was aimed at delving deep into crisis, to help the readers sense its labyrinth. His writings depict the fundamental emotions of human beings.
Starting from his first novel Bheemakaya (1958) to his last novel Uttara Kaanda (2017) all of his works were published by Sahitya Bhandara in Bengaluru, Karnataka.
In an interview, he said that writers should not become activists as it would confine them to a particular ideology, which restricts their creativity and would force them to produce works which resonate with the ideology they're supporting.
In 1972, Girish Karnad directed the Kannada film Vamshavruksha based on Bhyrappa's novel of the same name, and it was remade into Telugu in 1980 as Vamsa Vruksham. Tabbaliyu Neenade Magane (1977) by Girish Karnad was also based on the work of S. L. Bhyrappa. Mathadana (2001) directed by T. N. Seetharam was based on Bhyrappa's Matadana. Girish Kasaravalli's directorial Naayi Neralu (2006) was based on Bhyrappa's novel of the same name. All of these films received critical acclaim and accolades.