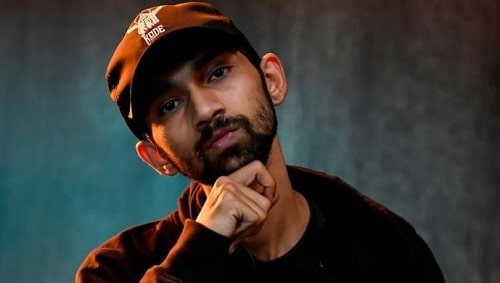 MC Kode is an Indian rapper who landed into a huge controversy after his rap battle video, which was released on YouTube on 12 June 2016, went viral in 2021.
Wiki/Biography
MC Kode aka Aditya Tiwari [1]OP India was born in New Delhi.
Physical Appearance
Height (approx.): 5′ 8″
Eye Colour: Black
Hair Colour: Black
Family & Caste
In one of his interview, he shared that he was born and brought up in a very financially and emotionally disturbed family and faced many financial difficulties in childhood.. [2]YouTube
Relationships
He is in a relationship with a girl, and in one of his Instagram's live video, he abused people who morphed his girlfriend's photo and posted negative comments on her social media account. [3]YouTube
Career
While he was in class 9, he did a rap battle for the first time. During recess time, he used to practice rapping with his friends. In an interview, talking about his school days, Kode said,
I was going against 12th graders and I was the first one to step out there with a stage name. Back then the scene was so young that I had to create battlers to battle with because there was barely anyone in the scene or a scene at all. Initially, people didn't take it seriously but now I have a shit ton of messages saying they're proud of me."
He has participated in more than eighty rap battles (as of 2021), and, soon, he became well-known in the world of rap battles. Some of his popular rap songs are 'Pareshan' (2020), 'Rasta' (2020), 'Doob' (2020), and 'Kheecho' (2021).
MC Kode is also the co-founder of Spit Dope Inc., a movement that organises battles to give underground hip hop a wider reach. During an interview, talking about his initial days as a rap battler, he said,
There was a time when we were amateurs, wearing baggy clothes and battling it out on the streets. Anyone could put up a status on the internet calling people for battles. So I was at this cypher in Hauz Khas and there I met Encore ABJ and this other rapper MC Snub who invited us for another cypher and then we thought that if we're meeting every week as is, why not do it under a name. That's when we started Spit Dope and anyone could be part of it. All of it happened very spontaneously. Plus it was so unrealistic that something that started in Brooklyn was happening in an Indian context. I feel like it still hasn't properly started because Spit Dope is not an entity, it's a movement. It started with four boys battling it out in parks and then us having an event in Bombay that sold out."
Apart from participating in rap battles, he has been judging and hosting rap battles across the nation. In an interview, he shared how rap battles have involved in the past few years. He said,
We've all hustled. In the early years, it was easier for me because I earned a lot through college competitions. I would win competitions and invest the money into the culture, in Spit Dope, to make it more efficient. I had a call centre job when it probably wasn't even legal for me to have it. Calm was working as a promoter in Hauz Khas, so all of us struggled to make ends meet." [4]OP India
Controversies
In one of his rap battles, he battled against BK, the son of a political leader in Tripura, in which he rapped some objectionable lines against the politician. Soon, he started receiving threat calls from various cities in India. In an interview, Kode said,
Someone found my college and called, seeking information. I then got two more police phone calls from the Northeast [of India] threatening me, before I got one from here [in New Delhi]." [5]WAMU 88.5
In 2021, his old rap battle video, which was originally released on 12 June 2016, on YouTube went viral. He received huge criticism and hatred from the netizens for using abusive and Hinduphobic words in the video. A few lines from his video were,
If you are a Hindu, I will f*ck your Gau, I will f*ck your holy cow…I will fu*king mast**bate on Mahabharata, Geeta Geeta."
Soon after the video went viral, he started getting threat calls and abusive comments. Later, he issued an apology video and post on his Instagram account in which he requested to delete all his videos and songs from the live streaming apps and YouTube. He then shared a cryptical post on his Instagram account in which he gave a hint of committing suicide, and since then, he went missing from his hometown, New Delhi.
Later, on Twitter, an image of a dead body went viral which the Twitter users claimed to be of MC Kode, and after further research, it was turned out to be fake. [6]The Free Press Journal After a week-long search, the Delhi police traced him in Madhya Pradesh's Jabalpur on 9 June 2021. According to Deputy Commissioner of Police (south) Atul Thakur, the rapper was found at his friend's house in Jabalpur where he reached on June 2 itself. [7]Hindustan Times
Facts/Trivia
To meet his financial expenses in school and college, he worked at a call centre from class 10 till his graduation.
In an interview, he shared that he was inspired to start rapping after watching the Hollywood film '8 Mile' (2002). He said,
The movie did inspire a lot of people, probably because at that time, you know the kind of music that was being made. There weren't a lot of artists in the country that had something meaningful to say. But that's the power of hip hop. That a middle-aged white dude rapping about his problems connected with a brown kid across the world is beautiful."
After his video controversy in 2021, he deleted all his Instagram's posts, and his YouTube channel was also deleted.
He has got a tattoo of '51' inked on the left side of his neck.
Kode considers Indian rapper 'Smoke' as one of the best battle rappers.
He has also taught rapping at the free school of hip hop 'The Dharavi Dream Project.' During an interview, he talked about the project. He said,
The first thing I like to do is sensitivity training. In India, it is easy to cross lines, we have to realise that we live in a country where there are a lot of thin-skinned people. We need to understand what kind of jokes and roasts we can or can't make."
In an interview, he shared why he kept his stage name MC Kode. He said,
I like to think my codes are more ethical than the average entertainer. To me, they are like survival instincts. I also did a lot of coding back in the day so I guess it came around from there but turned into this."