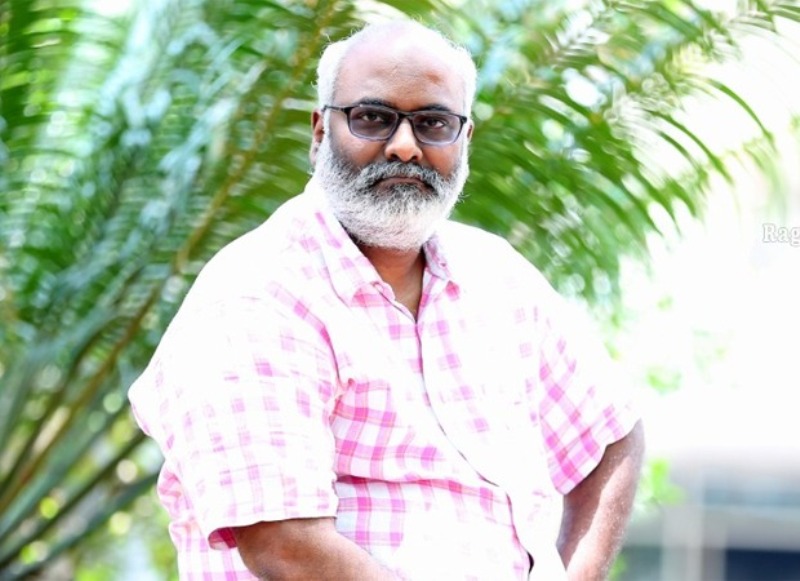 M. M. Keeravani is an Indian film composer, playback singer, and lyricist, who mainly works in the Telugu film industry, along with other languages including Hindi, Tamil, Kannada, and Malayalam. He gained immense popularity for composing the song Naatu Naatu for the 2022 Telugu film RRR, which earned the title of Best Original Song at the Golden Globe Award in 2023. He has also known for composing music for the pan-India film series Baahubali.
Wiki/Biography
Koduri Marakathamani Keeravani [1]The Times of India was born on Tuesday, 4 July 1961 (age 61 years; as of 2022) in Kovvur, Andhra Pradesh, India. His zodiac sign is Cancer. Since childhood, he was passionate about music and began learning music from Kavitapu Seethanna garu at 4.
He learned to play multiple instruments, including the violin and harmonium. He has trained in the Indian classical music Carnatic raga and is skilled in playing the violin in Carnatic and Hindustani styles. In an interview, he said,
From the beginning, I was interested in music. So, my father sent me to a music teacher and I learned music from a very young age."
Keeravani grew up in a Telugu joint family of his father and paternal uncle, Siva Shakthi Datta and V. Vijayendra Prasad, who aspired to become screenwriters and film directors. In 1968, the family moved to Hire Kotankal Village in Manvi (Raichur) Karnataka by purchasing seven acres of land that was closer to the temple town of Mantralayam, where Keeravani's cousin SS Rajamouli was born.
He spent his childhood listening to songs on the radio, drawing inspiration from the work of music director R. D. Burman. At 10, Keeravani began to travel with a band hailing from Kakinada, Andhra Pradesh. He would also give solo performances playing Laxmikant Pyarelal's Ek Pyar Ka Nagma Hai on the violin. He completed his intermediate studies in Kovvur after which his father's passion for films made the family move to Madras (now Chennai). Datta tried to venture into the Telugu cinema assisting a couple of directors for some time. He also started working on a film titled Pillanagrovi, but he had to stop midway due to financial crises.
Physical Appearance
Height (approx.): 5′ 9″
Hair Colour: Salt & Pepper
Eye Colour: Black
Family
Parents & Siblings
His father, Koduri Siva Shakthi Datta, is a lyricist, screenwriter, and painter who works in Telugu cinema. His mother's name is Bhanumathi; she passed away due to health-related issues in 2022. His brother, Kalyani Malik, is a music director and playback singer in Telugu cinema.
Wife & Children
His wife, M. M. Srivalli, works as a line producer in the Telugu film industry. Together, they have two sons, Kaala Bhairava, a singer, and Sri Simha, an actor.
Other Relatives
M. M. Keeravani's paternal uncle, V. Vijayendra Prasad, is an Indian screenwriter and film director who predominantly works in Telugu cinema. Vijayendra Prasad is the father of S. S. Rajamouli. Keeravani's cousin sister, M. M. Srilekha, is an Indian film playback singer and music composer, known for her works predominantly in Telugu cinema.
Religious Views
Kreem follows the spiritual leaders Swami Sivananda and Osho, even though their philosophies may be contradictory. [2]rediff.com In an interview, he said,
"Swami Sivananda says one must live with a goal. One must try to achieve it no matter how good or bad it is, while Osho says there is no goal — there is only the path. Live life and celebrate each moment of the path. I manage to live by both. We have good and bad within ourselves, so we can live with contradictory philosophies."
He is an ardent devotee of Sri Raghavendra Swamy and regularly visits the Raghavendra Math in Mantralayam. [3]Deccan Chronicle Rajamouli and Keeravani visited Guru Raghavendra Swamy to offer prayers after the huge success of Bahubali-II.
Caste
He belongs to the Kamma caste.
Career
To aid his financially unstable father, Keeravani started working as an assistant music director to noted Telugu composer K Chakravarthy and Malayalam composer C. Rajamani in 1987. In an interview, he talked about his work with Chakravarthy and said,
I do not remember exactly, because at that time he was doing ten films all at once! That was about the time of Yuddhabhumi, around 1987. I remember doing for the films like Collector Gaarabbaai and Bharatamlo Arjundu at that time. I worked with him for almost ten years. I then worked with Veturi gaaru for one year."
During the initial stages of his illustrious career, Keeravani faced a ton of struggles. He used to approach filmmakers and deliver his sample tunes in the form of cassettes looking for an opportunity to establish his career as a music composer. He also conducted an orchestra on a freelance basis to supplement his income. Keeravani's acquaintance with lyricist Veturi also turned out fruitful for him. He assisted Chakravarthy in various Telugu films such as Collector Gari Abbai (1987) and Bharatamlo Arjunudu (1987).
He had his major break in 1990 with the Telugu film Kalki. However, as the film never got released, so the soundtrack also went unnoticed. He first gained recognition as a composer with the 1990 film Manasu Mamatha, directed by T. S. B. K. Moulee. He caused a stir in Telugu cinema with Ram Gopal Varma's blockbuster film Kshana Kshanam (1991). All the songs of Kshana Kshanam, especially Jaamu Rathiri and Ammayi Muddu, became instant chartbusters. The film earned Keeravani his first Filmfare Award (South).
Other music credits other his belt include the Telugu films composed by him including Seetharamaiah Gari Manavaralu (1991), Gharana Mogudu (1992), Sundarakanda (1992), Allari Mogudu (1992), Aapadbandhavudu (1992), 'Matru Devo Bhava (1993 ), 'Major Chandrakanth (1993), Pelli Sandadi (1996), Pavitra Bandham (1996), Student No.1 (2001). His compositions in the Telugu devotional blockbuster film Annamayya (1997) were immensely appreciated; he won the National Award for Best Music Direction for the film. The music composer turned into a playback singer for the film Matru Devo Bhava (1993) in which he lent his voice to the song Raalipoyye Poovva. In the same year, he composed the Telugu dance number Chiraku Anuko, featuring NTR Jr in the Rajamouli film Simhadri (2003). Apparently, the song was inspired by the Eurodance track Cotton Eye Joe.
After establishing his name in the Telugu film industry, Keeravani ventured into Hindi cinema when he composed the Telugu-Hindi action-thriller film Criminal (1995), directed by Mahesh Bhatt. He struck stardom with Criminal's popular track Tu Mile Dil Khile. The song was inspired by the 1994 single 'Age of Loneliness' by the band Enigma. Keeravani and Bhatt's collaboration led to the composition of various popular Bollywood songs like Chup Tum Raho from Is Raat Ki Subah Nahin (1996), Gali Mein Aaj Chaand Nikla from Zakhm (1998), O Saathiya from Saaya (2003), Jaadu Hai Nasha Hai from Jism (2003), and Aa Bhi Jaa from Sur (2002).
Other Bollywood films he composed are Rog (2005), Dhokha (2007), and Special 26 (2013). Keeravani has composed the music for all the films directed by SS Rajamouli, including the pan-India film series Baahubali. Keeravani composed the Telugu as well as Hindi versions of the film. He also lent his voice to the songs 'Sivuni Aana' and 'Nippule Swasaga' in the film's Telugu version. Immensely appreciated, Sivuni Aana earned him a Nandi Award in the category of Best Male Playback Singer, while Baahubali fetched Keeravani numerous accolades in the category of Best Music Director. He is also the lyricist of the songs Oka praanam, Kannaa nidurinchara, and Dandaalayyaa featured in the Telugu version of Baahubali 2: The Conclusion. He composed the epic action drama pan-India film RRR 2022, featuring the crowd-puller song Naatu Naatu. In January 2023, Keeravani struck international stardom when he received the Golden Globe Award for Best Original Song for Naatu Naatu. He won the award beating the nominees Carolina by Taylor Swift, Hold My Hand by Lady Gaga, BloodPop and Benjamin Rice, and Lift Me Up by Tems, Rihanna, Ryan Coogler and Ludwig Goransson. In the Tamil film industry, he is known for composing Nee Pathi Naan Pathi (1991), Azhagan (1991), Vaaname Ellai (1992), and Jaathi Malli (1993). Azhagan earned him the Tamil Nadu State Film Award.
Controversies
Resorting to Obscene Language
In 2022, he attracted controversy via a tweet in which he responded to the Oscar-winning sound engineer Resul Pookutty, who had labelled the blockbuster film 'RRR' a "Gay Love Story" on Twitter. In response to a tweet on Pookutty, Keeravani referred to him as "P*OKUtty." Keeravani wrote,
Maybe I am bad at using uppercase and lowercase letters while typing letters but I respect every person's freedom of expression, including of Resul Pookutty."
Although the statement seemed like an ordinary one, netizens familiar with Telugu swear words connected the dots to realise that the word highlighted in the end was a form of a lewd comment on Pookutty. [4]The Times of India
Awards, Honours, Achievements
Academy Awards
2023 – Best Original Song award for 'Naatu Naatu' from "RRR"
Golden Globe Awards
2023 – Golden Globe Award for Best Original Song for Nattu Nattu
National Film Awards
For Best Music Director – Telugu
2017: Baahubali 2: The Conclusion
For Best Lyricist – Telugu
2017: Baahubali 2: The Conclusion
Nandi Awards
1992: Best Music Director for Rajeswari Kalyanam
1993: Best Music Director for Allari Priyudu
1995: Best Music Director for Pelli Sandadi
 2001: Best Male Playback Singer for the song Ekkado Putti from Student No.1
2002: Best Music Director for Okato Number Kurradu
2005: Best Music Director for Chatrapathi
2009: Best Music Director for Vengamamba
2010: Best Male Playback Singer for the song Ammayi Kitiki pakkana from Maryada Ramanna
2012: Best Music Director for Eega
2015: Best Music Director for Baahubali: The Beginning
2015: Best Male Playback Singer for the song Sivuni Aana from Baahubali: The Beginning
Others
1991: Tamil Nadu State Film Award for Best Music Director for Azhagan
2018: SIIMA Award for Best Music Director (Telugu) for Baahubali 2: The Conclusion
2023: Best Music Director (Telugu) Award for the film 'RRR' at the South Indian International Movie Awards (SIIMA), held at the Dubai World Trade Centre, UAE, in September
Favourites
Music Composer(s): K V Mahadevan, M S Viswanathan, S D Burman, R D Burman, Bhimsen Joshi, Kishori Amonkar
Hollywood Film(s): Fiddler on the Roof (1971), Phone Booth (2002), Coming to America (1988)
Bollywood Film: Munna Bhai M.B.B.S. (2003)
Facts/Trivia
He also goes by the names Maragathamani, MM Kreem, and Vedanarayana. [5]

The Times of India [6]

The Hans India He uses the pseudonym MM Keeravani for Telugu, Maragathamani for Tamil, and MM Kreem for Hindi films.
Once he was invited to interact with AISFM Students, where he revealed that he wanted to go to Japan and compose music for a Japanese film.
In an interview, he revealed that he is fond of all kinds of music except Qawwalis.
He was named by his father, Shiva Shakti Datta, after the rāgam in Carnatic music Keeravani, Datta's favourite raga. [7]

Deccan Chronicle
On 12 March 2023, while delivering his acceptance speech, which he re-wrote in the form of a Carpenters song, at the 95th Annual Academy Awards at Dolby Theatre after receiving the Academy Award for Best Original Song for 'Naatu Naatu' from "RRR," Keeravani said,


I grew up listening to The Carpenters and now here I am with the Oscars. There was only one wish on my mind, so was Rajamouli's and our families'… 'RRR' has to win… Pride of every Indian… must put me on the top of the world." [8]The Hindu