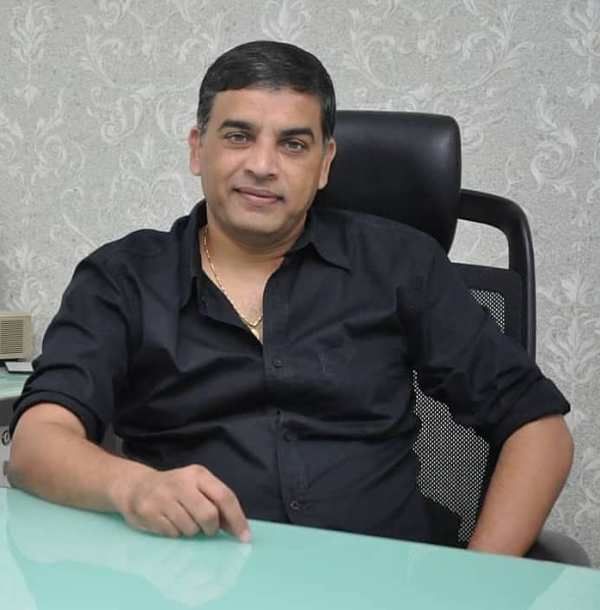 Dil Raju is an Indian producer and distributor who primarily works for Telugu cinema. In 2013, he was honoured with Nagi Reddy–Chakrapani National Award for his contributions to cinema.
Wiki

/Biography

Velamakucha Venkata Ramana Reddy was born on Thursday, 17 December 1970 (age 52 years; as of 2022) in Narsingpalli in Nizamabad district, Telangana. His zodiac sign is Sagittarius. Dil Raju did his secondary schooling at Mudakpally, Telangana and higher secondary schooling at Nizamabad. According to Raju, he was fascinated by films since 9th grade, In an interview, he talked about this and said,
I have been attracted to films since my 9th class. Those days they used show films on 16mm screen using VHS tapes in our village."
Physical Appearance
Height (approx.): 5′ 7″
Hair Colour: Black
Eye Colour: Black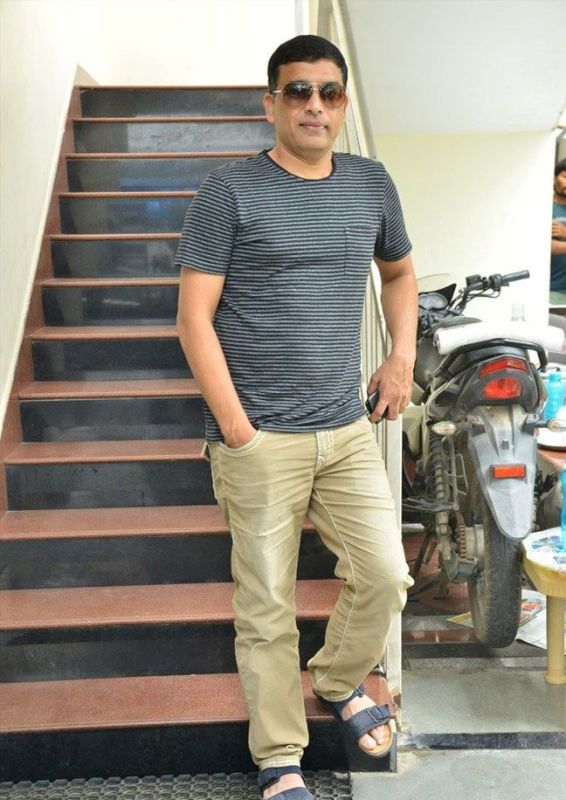 Family
Parents & Siblings
Dil Raju's father's name is Shyam Sundar Reddy. His mother, Prameelamma, is a homemaker.
He has two brothers named Vijay Simha Reddy and Narasimha Reddy.
Wife & Children
Dil Raju's first wife, Anitha Raju, was a partner in his production company. On 12 March 2017, Anitha died of cardiac arrest. In an interview, Raju talked about his wife's death and said that when his wife's died in 2017, he was away on a business trip in the United States. Raju said,
I suddenly got a call from my son in law when I was in America. He delivered me the news and I was just stunned and in silence for the next ten minutes. I could not understand anything around me… All the memories of good and bad times I spent with my wife flashed in front of my eyes," he told a media house in an interview.When I was near to my house, I was broken down completely. It is my daughter who took me to my wife's dead body."
Dil Raju's daughter from his first marriage, Hanshita Reddy, is a managing director at Sri Venkateswara Film Distributors. On 10 May 2020, Dil Raju got married for the second time to Tejaswani, a former air hostess at Rajiv Gandhi International Airport in Hyderabad.
The couple has a son named Anvy Reddy.
Other Relatives
Dil Raju's nephew Ashish Reddy is an actor. Dil Raju's son-in-law's name is Archith Reddy. He has a granddaughter named Ishika.
Relationships/Affairs
Reportedly, Dil Raju was dating Sheela Kaur and was in a live-in relationship with her; however, later, in an interview, Sheela squashed the rumours and termed the news as baseless reports. While discussing the same, Sheela said,
I spoke to him once when he had come for an audio function. I don't even have his number and I haven't seen him in a long time. I don't know why I'm being dragged into this." [1]International Business Times
Religion
Dil Raju follows Hinduism. [2]Chinnajeeyar
Caste
He belongs to the Reddy caste. [3]Zoom Digital
Career
Film Distributor
In the early 1990s, Dil Raju and his brothers ventured into the film distribution business and partnered with Venkata Lakshmi Films. Later, in 1996, they started their own film distribution company named Sri Harshita Films in Hyderabad; however, the south Indian films they distributed were unsuccessful at the box office following which they decided to shut the venture. In 1999, Dil Raju started Sri Venkateswara Film Distributors. The first film distributed by the company was Oke Okkadu (1999). The company distributed many Telugu films like Nuvvu Naaku Nachav (2001), Murari (2001), Kushi (2001), Aadi (2002), Athadu (2005), Chatrapati (2005), and Pokiri (2006).
Film Producer
Sri Venkateswara Creations
In 2003, Dil Raju started Sri Venkateswara Creations, a film production studio, and the first film was Dil (2003), directed by V. V. Vinayak. Later, he produced various Telugu films like Bommarillu (2006), Kotha Bangaru Lokam (2008), Rama Rama Krishna Krishna (2010), Brindavanam (2010), Shaadi Mubarak (2021), and F3, Fun and Frustration (2022).
Collaboration with Film Production Studio
Dil Raju has produced various Telugu films in collaboration with different production houses like Akasamantha (2009), Pilla Nuvvu Leni Jeevitam (2014), Sarileru Neekevvaru (2020), and Pagal (2021). He has also worked in many Hindi films like Jersey (2022), HIT: The First Case (2022), and F2 Remake (2022).
Dil Raju Productions
In December 2022, Dil Raju started his second production house named Dil Raju Productions. Dil Raju, during an interview, talked about his production house and introduced his daughter Hanshita Reddy and nephew Harshith Reddy as the producers for Dil Raju Productions. [4]Cinema Express
Controversies
Tamil actor Vijay is more significant actor than Ajith
In an interview, Dil Raju compared two south Indian actors, Vijay Thalapathy and Ajith Kumar, and said that Vijay Thalapathy was a bigger star than Ajith in Tamil Nadu. Dil Raju said,
Ajith sir's film will be released alongside mine in Tamil Nadu. It is well known that Vijay sir is Tamil Nadu's number one star. As a result, his film (Varisu) deserves to be seen on more screens than Thunivu. The state has 800 screens in total." He further stated "Both films are currently getting an equal number of screens. Because Vijay sir is a bigger star than Ajith, I'm literally begging for at least 50 more screens for my film." [5]The Economic Times
The remarks didn't go well with the fans of both actors following which the netizens started trolling Raju for his comment. Later, in an interview, Dil Raju talked about this and said that his statement was misunderstood. Further, he explained that during the conversation, he discussed several positive points of both the Tamil actors (Vijay Thalapathy and Ajith); however, a single statement sabotaged the whole interview. [6]Pinkvilla
Copyright Case against Dil Raju
In 2017, a copyright case was filed against Dil Raju at the Madhavpur Police Station in Hyderabad. According to Sources, the case was filed after Shyamala Rani, a novelist, filed a petition before the Miyapur court, Hyderabad, alleging that Dil Raju's film Mr Perfect (2017) was based on her novel Na Manasu Korindi Ninne. In an interview, Shyamala Rani talked about this and said,
While I was watching 'Mr Perfect' in 2013 on television, I found several dialogues and scenes were copied from my novel." [7]The News Minute
In an interview, a police officer of Madhavpur Police Official, Hyderabad talked about the case and said,
The complaint has been lodged on the name of Dil Raju aka Venkataramana Reddy under sections 120A, 415, 420 of the Copyright Act 63 under the IPC. Even director Dasaradh has has been named in the case."
Film Distributor Warangal Srinu Accused Dil Raju of blocking theatres
In an interview, Warangal Srinu accused Dil Raju of blocking theatres for Vijay's film Master. Srinu accused Raju of replacing the screening of his film 'Krack' with Vijay's film 'Master (2021).'  According to Srinu, Raju owns a large number of theatres in Nizam and Vishakapatnam due to which Raju was often accused by the film production departments and distributors of blocking theatres for the screening of his films. Warangal Srinu, while discussing the same in the interview, said,
He is not Dil Raju anymore, but 'Kill' Raju — killing the revenue of movies he doesn't own. The same producer had stated that dubbed movies cannot get a huge release in the Nizam area during festivals. Now, as he shares the revenue for Master, he has turned the situation in his own favour."
Awards
In 2006, he won the Best Feature Film Gold Award at the Nandi Awards for the Telugu film Bommarillu (2006).
In 2006, he won the Best Film Award for the Telugu film Bommarillu at the Filmfare Awards.
In 2008, he won Best Feature Film Bronze Award for the Telugu film Parugu (2008) at Nandi Awards.
In 2011, he won the Best Telugu Family Entertainer of the Year Award for the Telugu film Mr Perfect at Nagi Reddy Memorial Awards.
In 2016, Dil Raju won National Film Award for Best Popular Film Providing Wholesome Entertainment for the Telugu film Sathamanam Bhavati (2016).
In 2016, he won Best Home-viewing Feature Film Award for the film Seethamma Vakitlo Sirimalle Chettu at the Akkineni Awards.
In 2019, he won the Best Popular Film Providing Wholesome Entertainment Award for the Telugu film Maharshi (2019) at the National Film Award.
In 2019, he won Santosham D. Ramanaidu Smarakam Award at the Santosham Film Awards.
Facts/Trivia
Before venturing into the film industry, in 1985, Dil Raju used to run an automobile business with his brothers. He worked in the automobile business till 1991. In an interview, Dil Raju talked about this and said,


I shifted to Hyderabad during inter time. I started working in the automobile business started by my brothers in RP Road, Hyderabad. We used to deal with Tractor spare parts. Incidentally RP Road is famous for film distribution offices. The drivers and staff of those distribution offices used to come to our shop to do telephone calls. I also used to watch lots of films. I booked my ticket a week in advance for Kaliyuga Pandavulu release. I worked in automobile business from 1985 to 1991."

Dil Raju's second wife, Tejaswani, following her marriage with Dil Raju, changed her name from Tejaswini to Vyagha Reddy. According to sources, she changed her name due to astrology. [8]

The Times of India
In an interview, Dil Raju talked about his second marriage and said that his parents and daughter influenced him to marry Tejaswini, his second wife. Raju said,


I was 47 when my wife Anitha died. I am a complete family man and the loss of my life was a huge emotional setback for me. Wherever I used to be, I returned home by evening and allot my time to family. But the death of wife, things became quite complicated and uneasy at home. I was mourning her loss for a long time and couldn't get out of it. My daughter and her husband stayed in my house during that period. But there was something missing within me and my parents decided to get me married again. My daughter accepted it as well and my close friends too pushed me towards that decision. We started looking at a few options and I felt that Vaida is the correct one for me. I did not know her before."

Dil Raju, during an interview, talked about why he kept his son's name Anvy. Dil Raju said that he chose the name Anvy as a homage to his first wife, combining the first two letters of both of his wives' names, Anitha and Vyagha.
In an interview, an assistant director from Dil Raju's production house, when asked about his experience of working in the production house, said that he was not satisfied with his job. Further, the director explained that there were almost 50-60 assistant directors associated with Raju's production house; however, only 4-5 of them were elevated to the position of director. [9]

The Times of India
In 2019, The Income Tax Department conducted a raid at Dil Raju's production house after the release of his film Maharshi (2019). According to sources, the Income Tax Department's raid at the production house was part of the efforts to prevent tax evasion.
In 2020, Dil Raju adopted three orphans residing in Atmakuri village of Yadadri district, Telangana. Reportedly, the children's father passed away a few years ago, while their mother passed away in 2020 due to COVID-19 complications. In an interview, Raju talked about them and said that he would take care of them through his family's charitable trust. Raju said,


We are going through some hard times together and in such a scenario, every act of kindness is a ray of hope. I am extremely pleased to be able to do my little bit in taking the vision of a happy community forward. It was very recently that news of three young kids from Atmakur losing their mother just a few years after the passing away of their father, came to light. I am happy to welcome Manohar, Laysa and Yashwanth into my extended family today." [10]India Today

Dil Raju follows a non-vegetarian diet. [11]

YouTube – Celebrity Media