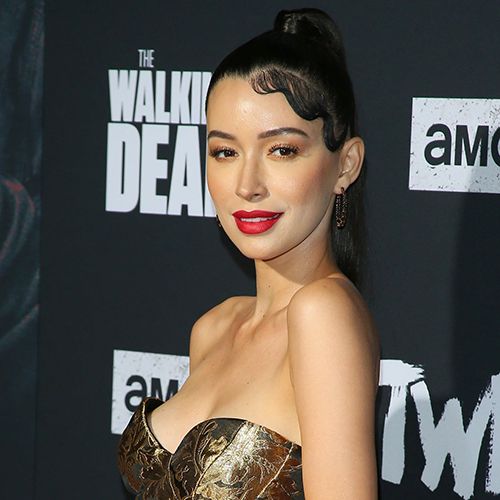 Christian Serratos is an American actress. She is known for her roles in the TV series 'The Walking Dead' (2014) and 'Selena: The Series' (2020), and film series 'Twilight.'
Wiki/Biography
Christian Serratos was born as 'Christian Marie Bernardi' on Friday, September 21, 1990 (age 30 years; as of 2020), in Pasadena, California. Her zodiac sign is Virgo.
She was raised in Burbank, California. She started training in figure skating at the age of three. According to her,
My coaches were talking about the Olympics and it was really crazy. Now, I just do it for fun now. Now when I want to relax, I just go to the rink and skate. I was at the rink every day for 10 years. I remember when I started they gave me a bucket to help walk on. I rejected the bucket."
Physical Appearance
Eye Color: Brown
Hair Color: Black
Family &
Ethnicity
She is of Italian, Mexican, and Irish descent. [2]LePhant Magazine – Web Archive
Parents & Siblings
Her mother, Alicia Serratos, is a jewelry designer, public relations, and marketing agent at ACSPR. Her mother also has a jewelry venture called 'Kisshy' with Christian.
Her father is a set construction worker.
Relationships & Children
In 2014, she began dating David Boyd, Danish-American singer and the lead vocalist of the band 'New Politics.'
In March 2017, she announced that David and she were expecting a child and in May 2017, she gave birth to a daughter, Wolfgang Serratos Boyd.
Career
Modeling & Television
At the age of 7, she signed with the Ford Modeling Agency and started her modeling career. Soon, she discovered the theatrical acting division of the agency and began acting at the age of eight. She loved acting so much that she stopped modeling altogether. In 2004, she made her television debut in the role of 'Suzie Crabgrass' with the American sitcom 'Ned's Declassified School Survival Guide' which aired on Nickelodeon.
She played minor roles in the American TV series: Zoey 101 ( 2005), 7th Heaven (2006), Hannah Montana (2007), American Horror Story (2011), and The Secret Life of the American Teenager (2011). She made her breakthrough with the role of 'Rosita Espinosa' in the TV series 'The Walking Dead' (2014).
She has also starred in the American TV series: The Robot Chicken (2019) and Selena: The Series (2020).
In Films
In 2004, she appeared in the American short film 'Mrs. Marshall' as 'Jilian Marshall.' In 2008, she made her film debut with the American romantic fantasy 'Twilight' as 'Angela Weber.' She reprised the role of 'Angela' in The Twilight Saga: New Moon (2009), The Twilight Saga: Eclipse (2010), The Twilight Saga: Breaking Dawn – Part 1 (2011), and The Twilight Saga: Breaking Dawn – Part 2 (2012).
She has also acted in the American films: 96 Minutes (2011), Pop Star (2013), and Flight 7500 (2014).
Awards & Achievements
Young Artist Awards for Best Performance in a Feature Film – Supporting Young Actress for 'Twilight' in 2009
Ranked at No. 65 on Maxim's "Hot 100" list for 2010
CinEuphoria Awards in 2020
Signature
Controversy
In 2017, she posted a picture of her breastfeeding her newborn on Instagram, where some gave her positive responses, some commenters lashed out at her. She then posted another photo of herself breastfeeding her young one with a pointed caption saying, [3]The Huffington Post
This is my body and my page. So I will post what I want, when I want. Those who disapprove can suck my left tit"
Favorite Things
Film(s): Tristan & Isolde (2006), A Little Princess (1995), Practical Magic (1998) and The House of Yes (1997), The Devil Wears Prada (2006)
Actress(s): Jayne Mansfield, Parker Posey, Jennifer Aniston, Diane Lane, Nicole Kidman
Actor(s): James Spader, Johnny Depp, Edward Norton, Johnny Depp, Will Smith, Robin Williams
Rock Band(s): Evanescence, Flyleaf, Bright Eyes
Travel Destination(s): Portland, Toronto, Australia, India
Restaurant(s): Aroma Café, Cheesecake Factory, Taco Bell
Fashion Designer(s): Yves Saint Laurent, Gianni Versace, Valentino, Marc Jacobs
Book: 'Paint It Black: A Novel' by Janet Fitch
Facts/Trivia
She likes surfing, writing music, screenplays, and watching movies in her spare time.
Her family members and close friends call her 'Kish' with love.
Christian is an animal activist. She has been involved with PETA since the age of thirteen. She has posed for many PETA campaigns promoting a vegan lifestyle. She also promotes a vegan lifestyle but is a vegetarian. [4]

Vegetarian Times
In 2011, she appeared in the American rock band 'The Black Keys' music video of "Howlin' for You".
She has two mini poodles named Johnny Cash and Gigi (named after the cat in the film Kiki's Delivery Service).
She is trained in martial arts such as Taekwondo and Hapkido.
In 2012, she partnered with her mother to start a jewelry brand called 'Kisshy,' which is named after her nickname, Kish.
She is fluent in English and Spanish. She also taught herself Persian because the language is a dominant tongue in the greater Los Angeles area.