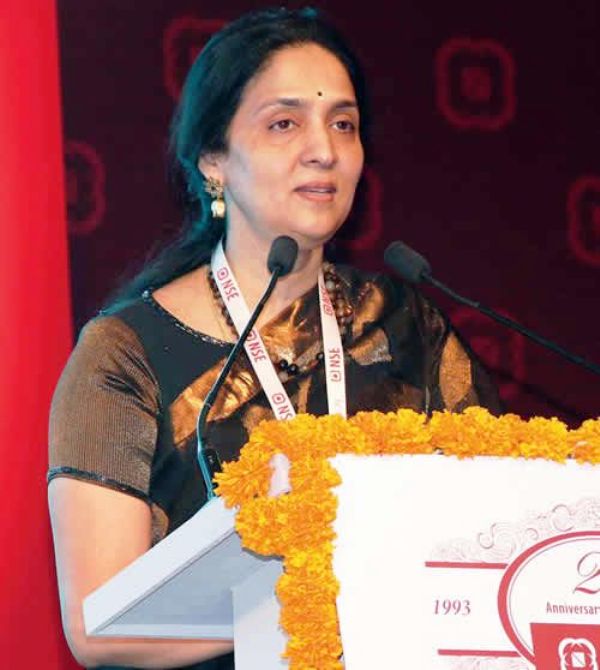 The first female (former) Managing Director and CEO of the National Stock Exchange of India (NSE) – India's biggest bourse, and the third woman to head an Exchange in the Asia-Pacific region, Chitra Ramkrishna is a well-known name in the Indian corporate sector. She is a trained chartered accountant and a business executive who has been honoured with several awards for her contribution to the industry in her over three-decades-long career. During her stint at the Exchange, Chitra was often called "Queen of the Bourse" by some media publications.
Wiki/Biography
Chitra Ramkrishna was born in 1963 (age 60 years; as of 2023) in Bombay (now Mumbai). She spent her childhood in Chennai before returning to Mumbai to pursue B.Com. at R.A. Podar College of Commerce and Economics. Chitra is a qualified Chartered Accountant from the Institute of Chartered Accountants of India (ICAI), Delhi, and she holds an F.C.A degree. She also holds a Bachelor of Laws degree by the Chartered Institute of Management Accountants, UK. [1]Hindustan Times [2]Auroras Journal of Management
Physical Appearance
Height (approx.): 5′ 7″
Hair Colour: Black
Family
Parents & Siblings
Her father is a Chartered Accountant.
Husband & Children
Chitra is married.
Caste
Chitra belongs to an upper-caste Brahmin family. [3]Dawn
Career
Positions Held
Managing Director and CEO of National Stock Exchange of India Ltd.
Joint Managing Director of National Stock Exchange of India Ltd.
Head of Listing and Deputy Managing Director of National Stock Exchange of India Ltd.
Member of Derivatives Panel of Securities and Exchange Board of India
Director of National Stock Exchange of India Ltd.
Chairperson of Malaviya National Institute of Technology, Jaipur
Promoter Director of Power Exchange India Limited
IDBI
Ms Ramkrishna's tryst with finance began in 1985 when she landed her first job at the Industrial Development Bank of India (IDBI). She set out as a chartered accountant and joined the Bank's Project Finance Division. At IDBI, Chitra was selected by the Indian government to become a part of the leadership team that drafted the legislation to set up the markets regulator Securities and Exchange Board of India (SEBI), operational in 1987. Three years later, she returned to IDBI's treasury desk before she was asked to join NSE's founding team. [4]Mint [5]BusinessLine
NSE
Chitra was among the NSE's founding team and has served the National Stock Exchange of India (NSE) for more than two decades, since its inception in 1992. After almost 20 years of its establishment, NSE welcomed its first female Managing Director and CEO Chitra Ramkrishna, on 1 April 2013. The CA was instrumental in ensuring NSE's explosive growth by undertaking some key initiatives like setting up a pan-India VSAT network, facilitating trading access to retail investors all across the country, building the infrastructure and legislative framework for India's first depositors, creating a secure technological stronghold, and ensuring continuous cost leadership. [6]Business Standard [7]Capital Finance International Recalling her early years at the bourse, Chitra said in an interview,
We were perceived by many as a bunch of outsiders who would never succeed. That in a way worked to our advantage as we had nothing to lose and were free to experiment."
Her efforts made NSE the world's largest exchange in cash market trades and helped it rank among one of the top three exchanges in the index and stock derivatives. In February 2000, Chitra initiated internet trading at NSE and took advantage of the "dot-com boom." [8]Forbes Under her watch, NSE reached more than 1,500 locations in India and earned a record profit of Rs. 860 crores in 2011. The exchange became a transparent market ecosystem that launched products to suit all types of investors. As the MD and CEO, Ms Ramkrishna also played a major role in attracting investors like NYSE, Goldman Sachs, Temasek, and  General Atlantic for NSE. [9]Auroras Journal of Management [10]Capital Finance International
'Queen of the Bourse' resigned from her position at NSE on 2 December 2016, citing 'personal reasons.' Her 3-year-long tenure, which was supposed to continue till March 2018, ended abruptly months before the launch of one of the largest IPOs in the market. [11]NDTV
Board and Other Memberships
Ms Ramkrishna's nearly three decades of industry experience provided her with the opportunity to become a part of several SEBI committees on different policy issues, which include the Secondary Market Advisory Committee and the Committee on Disclosures and Accounting Standards. She has remained a Member of Executive in the Committee of National Securities Depository Ltd. In 2008, she was also on the committee of financial sector reforms, which was then headed by Raghuram Rajan. Chitra has also remained an active member in many important committees like the CII (Confederation of Indian Industry), FICCI (Federation of Indian Chambers of Commerce and Industry) National Executive Committee and its Capital Markets Committee, and National Council on Financial Sector Development. In 2018, Chitra joined the Board of Maveric Systems as its Independent Director.  [12]Capital Finance International [13]Dataquest
Controversies
Controversial Resignation
Several reports speculated that Chitra Ramkrishna called it quits with the NSE in 2016 due to her differences with NSE's board of directors, while some others considered the controversial exit in October of Subramanian Anand, NSE's group operating officer who was hired by her, as the catalyst for Chitra's resignation. Reports stated that ongoing events in NSE and constant interference by the board members annoyed Chitra that created a rift between them, and prompted her to leave. Some insiders revealed that the CEO was under a lot of pressure over the past few months due to issues pertaining to NSE's functioning. [14]The Economic Times [15]Mint
Found Guilty in NSE Co-Location Case
On 4 July 2018, the former NSE MD Chitra Ramkrishna, along with 14 others, was issued show-cause notices by SEBI. Next year, the regulator directed NSE to pay a fine of Rs. 625 crore with 12 per cent per annum interest in the co-location case and barred the bourse from accessing the capital market in terms of IPO for six months. SEBI, in addition to it, also accused the two former MDs of NSE – Ravi Narain and Chitra Ramkrishna, guilty in the case, for which Ms Ramkrishna was asked to pay 25 per cent of her salary drawn in the financial year 2013-14, to the IPEF within 45 days. Chitra and Ravi were also probed in the matter, and both were prohibited for five years from associating with a listed company or a market infrastructure institution or any other market intermediary. [16]The Economic Times [17]Moneycontrol
Fined For High Compensation
In 2020, SEBI imposed a penalty of Rs. 50 lakh on the National Stock Exchange (NSE) for paying compensation of Rs. 23 crore to Ms. Ramkrishna during her last eight months at NSE, which was in addition to Rs. 44 crore for her three-year tenure. The Exchange was fined after the finance ministry picked up some irregularities and ordered SEBI to probe into the matter. NSE; however, later clarified that it had recovered the remuneration amount paid to the former MD and CEO. [18]Business Standard
Sharing Confidential information with an unidentified person
In February 2022, it was revealed that she shared some confidential information about the NSE with a faceless yogi living in the Himalayas. According to Chitra, the unidentified yogi had been guiding her on personal and professional fronts for the last twenty years. Later, SEBI termed her act as a "glaring breach of regulations" and fined her Rs. 30 million (£293,186; $396,975). The regulatory body also banned her for three years from working with any stock exchange or firm registered with the SEBI. [19]BBC Later, in a statement, SEBI said,
The sharing of financial and business plans of NSE… is a glaring, if not unimaginable, act that could shake the very foundations of the stock exchange."
I-T Department raids
On 17 February 2022, the Mumbai unit of the Income-Tax Department carried out searches on the premises of Chitra Ramkrishna. These searches were carried out by the department on suspicion of tax evasion following the penalities levied on her by the SEBI on 11 February 2022. According to the SEBI, she violated rules while appointing Anand Subramanian as the group operating officer and advisor to the then managing director of the National Stock Exchange. [20]The Hindu
Sent into the custody of the CBI
On 7 March 2022, a Delhi court ordered the CBI to take her into seven-day custody and probe her in the c0-location scam case. According to the agency, she was not cooperative during the investigation and misled the agency by giving wrong statements. [21]The Hindu
Chargesheet filed by the CBI
On 21 April 2022, the CBI filed a chargesheet against Chitra in the alleged co-location scam case; the move came after several rounds of questioning by the agency with Chitra. [22]The Hindu
Penalised by the SEBI in 'Dark Fibre' Case
On 28 June 2022, the SEBI issued an order in which the regulatory authority penalised Chitra Ramkrishna with a fine of Rs. 5 crore in the 'dark fibre' case. The SEBI also imposed a penalty of Rs. 7 crore on NSE and Rs. 5 crore on Ravi Narain. [23]The Hindu
Released on Bail
On 9 February 2023, she was released on bail by the Delhi High Court in a money laundering case in which she was alleged to have been involved in tapping the phone calls of NSE employees. [24]The Hindu
Awards, Honours, Achievements
Chitra was twice felicitated with 'Top 10 Women Business Leaders in India' by Forbes in 2011 and 2013.
In 2013, she was recognized as the Forbes' 'Women Leader of the Year.' In the same year, the business executive was named among the four Indians in the Fortune's list of '50 Most Powerful Women in Business.'
She received the CII EXIM Bank Business Excellence Award in 2014 at the 22nd National Quality Summit.
Chitra also received the 'Woman of the Year in the Business Leadership Awards' by the Forbes Magazine and was named the 'Second Most Powerful Businesswoman in India.'
She got featured in the list of 'Top 30 Women Achievers' by the Business Today Group for four successive years, and she also ranked 17th in the list of 'Top Global Women Business Leaders' by Fortune Magazine, USA.
Salary
According to reports, Chitra's approximate annual salary was Rs. 44 crores in 2013-2016, when she was serving as the MD and CEO of NSE. [25]Business Line
Facts/Trivia
The business executive is a fan of Carnatic music and loves to play the veena in her spare time.
Chitra belongs to a family of accountants, including her grandfather who was a Cost Accountant. When she was asked about her career choice in an interview, Chitra said, [26]

Mint


So it [CA] looked like a good profession to look at and so I took up commerce, quite liked what I was doing, so I went into CA."
Ms Ramkrishna was one of the five people personally chosen by the then IDBI Chairman, late S.S. Nadkarni. She was one of the members working to set up NSE and to make it a screen-based pan-Indian stock exchange. [27]

BusinessLine
Chitra achieved the feat of becoming the highest-paid executive among salaried women in India in the financial year 2015-2016 when she was serving as the CEO and MD at NSE. Her achievement took her ahead of the other top Indian female executives like Arundhati Bhattacharya, Shikha Sharma, and Chanda Kochhar. [28]

Business Standard
In November 2016, she became the chairperson of the World Federation of Exchanges at the annual meeting in Cartagena, Colombia.