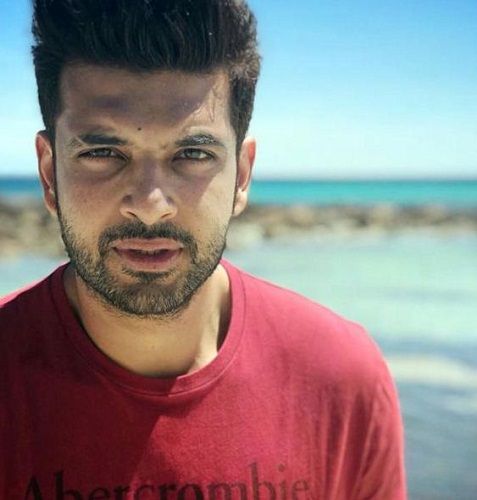 Karan Kundrra is an Indian actor and businessman. In 2009, he debuted in the Hindi TV serial 'Kitani Mohabbat Hai' in which he played the role of Arjun Punj and gained immense popularity with the serial.
Wiki/Biography
Karan Kundrra was born on Thursday, 11 October 1984 (age 38 years; as of 2022) in Jalandhar, Punjab. His zodiac sign is Libra.
He did his schooling at Mayo College, Ajmer, Rajasthan. He then attended Apeejay College of Fine Arts, Jalandhar, Punjab. Later, he pursued an MBA from Florida, USA. [1]Telegraph India [2]Pink Villa
Physical Appearance
Height (approx.): 6′ 1″
Weight (approx.): 75 kg
Hair Colour: Black
Eye Colour: Brown
Body Measurements (approx.): Chest 38″, Waist 32″, Biceps 14″
Family & Caste
He was born in a well-to-do Punjabi family. [3]YouTube
Parents & Siblings
His father, S. P. Kundra, owns a construction business in Punjab. His mother's name is Suneeta Kundra. He has three elder sisters- Poonam Malhotra, Meenu Kundra, and Madhu Kundra.
Relationships/Affairs
In 2009, Karan met the Indian actress Kritika Kamra during their debut show 'Kitani Mohabbat Hai.' Initially, they became friends and soon fell in love with each other. Their on-screen and off-screen Jodi became immensely popular, and their fans started calling themselves "Karnika fans." Later, due to some reasons, the duo broke up. [4]The Times of India During an interview, when Kritika was asked about her split with Karan Kundrra, she replied,
There is no definite reason for my split with Karan. There was no fight. Both of us got very busy with our new shows and this took a toll on our relationship. Sadly, we couldn't take care of our relationship. There was an emotional attachment, we were together 24/7, but he never proposed to me and I am glad he didn't. I am comfortable with all my exes and Karan is not the only one. See we started off as friends and ended up being friends. It's an adulterated kind of friendship that we have and that has remained between us."
In 2015, there were rumours that he got engaged to the Delhi-based stylist Aanchal Singh in a private ceremony. [5]India TV Later, there were rumours that he was dating the Mumbai-based model Swati Vasta. [6]India TV
He then started dating the Indian VJ and model Anusha Dandekar. Karan met Anusha at an airport and became friends with her. Soon, they fell in love with each other and started dating, and according to the sources, they were in a live-in relationship. They shared the news of their relationship through their Instagram account. Anusha even received many hate comments from the 'Karnika fans' (Karan and Kritika fans). In an interview, while talking about the trolls, Anusha said,
Trolls want us to break up because they love Kritika (his former girlfriend) and Karan together. They were in a TV show. They looked great. They were everybody's love."
Later, Karan and Anusha hosted a few TV shows and events together. Everything seemed to be going well between them until Anusha uploaded a post on her Instagram hinting towards her breakup with Karan in 2020. [7]News 18 She wrote,
That's the thing. If they were really the one. Then why do you spend so many nights overthinking? Why do you feel unsure about the relationship? Why do you keep having sleepless nights? 'You have watched me Love so openly… now please watch me LOVE myself till I'm so full that I can share it with someone again someday. My advice one last time, Love comes in many forms, just don't let it consume so much, that you lose you, let Love be respectful, kind and most importantly honest. I deserve it, you deserve it. The most important thing is understanding this because we accept the love we think we deserve. Thank you for always loving me the way you do my A team! I love you. Forever grateful for the good and the bad, all are lessons learnt. My love story now begins with me."
Later, while talking about the breakup, Anusha said,
Here it is, before the year ends… Yes I did a show called Love School, yes I was your Love Professor, yes everything I shared and the advice I gave has always been real and from my heart… yes I love hard, so hard… yes I don't leave till there is nothing left for me to try and fight for, yes even I'm human, yes even I lost myself and some of my self-respect, yes I've been cheated and lied to… yes I waited for an apology, which never came, yes I learnt I actually had to apologise and forgive myself… And yes I grew, have grown and will continue to grow from all of it and look at the positive.'
Karan Kundrra's take on the whole matter was,
I have remained silent out of respect for the relationship and I would like to keep it that way. At this point, I am also thinking about two families. I, too, can turn around and say a lot of things, but that's not me. What she shared was her perspective. Sometimes, I start laughing when I hear things. I don't know what can make someone so hateful towards another person. We shared a beautiful relationship for three and a half years. I have learnt a lot from Anusha, and I have a lot of respect for her and her family. How is it that these allegations are being levelled against me when there is a development on my professional front? Why hasn't any other person, who I have been in a relationship with, ever accused me of something as serious as this?"
He started dating Tejasswi Prakash after they contested together in Bigg Boss 15. [8]NDTV
Autograph
Career
As a Businessman
At the age of 17, he started an international call centre in Jalandhar, Punjab. He then started assisting his father in their construction business. On 14 February 2020, Karan, along with his ex-girlfriend Anusha, launched their clothing label 'Man Up! Woman Up!'
As an Actor
Television
While he was managing his International call centre in Jalandhar, he sent his photos on Facebook to the Indian producer Ekta Kapoor. She liked him and offered him the lead role in the Hindi TV serial 'Kitani Mohabbat Hai' (2009) as Arjun Punj alongside the Indian actress Kritika Kamra.
He then appeared in episodic TV series like 'Bayttaab Dil Kee Tamanna Hai' (2009) as Veeru and 'Aahat' (2010) as Harsha Khandeparkar. He also acted in the Hindi TV serials like 'Kitani Mohabbat Hai 2' (2010), 'Yeh Kahan Aa Gaye Hum' (2015), 'Dil Hi Toh Hai' (2018), and 'Yeh Rishta Kya Kehlata Hai' (2021).
Film
In 2012, he debuted as an actor in the Punjabi film 'Pure Punjabi' in which he played the role of Prem.
He acted in a few other Punjabi films like 'Jatt Romantic' (2013), 'Bade Changay Ne Mere Yaar Kaminey' (2014), and 'Control Bhaji Control' (2015). In an interview, when he was asked whether Punjabi films helped him in grooming for the Hindi films, he replied,
I don't think so. There is a huge difference between the both of them. Both of them cater to different kinds of audiences. It's no more like if you've won a beauty pageant, you will surely become an actress. Plus, both differ a lot in terms of budget, effort and bandwidth. So, I don't think it's fair to compare the both of them. I'm a Punjabi. So, I enjoy doing the films. It comes naturally to me. I don't see it as a trial for Bollywood, but take up those films for my satisfaction."
He made his Bollywood debut with the horror film 'Horror Story' (2013) as Neil. The film failed to do well at the box office, and during an interview, Karan openly talked about it. He said,
I don't have a godfather and no one has 'launched' me, so I've to choose wisely. Currently, I have two Hindi films in hand. As for Punjabi films, I act and co-produce them. I do them for fun and for a chance to stay in Punjab for a month or two while shooting. But I've taken a hiatus from them now."
Some of his other Bollywood films are 'Mubarakan' (2017), '1921' (2018), and 'Dolly Kitty Aur Woh Chamakte Sitare' (2020).
During an interview, he talked about starting his career in Bollywood. He said,
When Vikram sir had called me in 2012, I was doing a lot of TV. I had just got into the phase where people knew me and were looking at working with me. So, that time Vikram sir said to me that, 'I am making a small film. I am not directing it, and it is not going to be your launch. It is a psychological thriller about these young kids who get into a hotel and don't survive the night.' I immediately said yes because, for me, life is never a destination, it's a journey. You keep moving ahead and the sum of your experiences makes your life. Vikram sir had liked my work in Horror Story and when he was planning 1921 last year, he remembered me and my work. That worked in my favour and I bagged the film."
Web-Series
In 2020, he acted in the Hindi web-series 'It Happened in Calcutta' as Ronobir Chatterjee. The web-series was released on Zee5.
Other Works
In 2008, he became one of the finalists in the male beauty pageant 'Mr. India,' and in the contest, he won 'Mr. Style Statement' title. In 2010, he participated as a contestant in the TV dance show 'Zara Nachke Dikha.'
He participated as a player of the Kolkata Baabu Moshayes team in the first season of the celebrity cricket league 'Box Cricket League' in 2014. Karan has appeared as a gang leader in a few seasons of MTV Roadies such as 'MTV Roadies 12' (2015), 'MTV Roadies 14' (2016), and 'MTV Roadies 15' (2017). During an interview, he shared his experience while working in MTV Roadies. He said,
It was a fabulous and life wandering experience because everything I did was something I had never done before. From travelling to biking, doing adventurous and life endangering tasks. We faced many emotions as it is a reality show and people can react in any manner and being a gang leader, I had to face it. Apart from that I myself did a lot of new things which I never imagined to be physically possible."
He has been invited as a guest in various TV shows such as 'Bigg Boss 9' (2015), 'Comedy Nights Bachao' (2016), 'Ace of Space 1' (2018), and 'Ace of Space 2' (2019). Karan Kundrra has featured in a few Hindi music videos like 'Do Chaar Din' (2016) by Rahul Vaidya, 'Jiss Waqt Tera Chehra' (2021) by Amit Mishra, and 'Na Maar' (2021) by Afsana Khan.
He has hosted a few TV reality shows such as 'Gumrah: End of Innocence' (2012), 'MTV Splitsvilla 8' (2015), and 'Dating Aaj Kal' (2021).
In 2021, he participated as a contestant in the TV reality show 'Bigg Boss 15' along with other contestants like Pratik Sehajpal, Shamita Shetty, Umar Riaz, and Nishant Bhat.
View this post on Instagram
Controversies
In 2014, his ex-manager Sonia Singh accused him of defaming and mentally harassing her. She even filed a police complaint at Malad Police Station in Mumbai. [9]

Dainik Bhaskar In an interview, when Karan was asked about the matter, he said,


Sonia is like my sister. She never managed me, but treated me like a friend. We were good friends, but she started interfering in my personal life, which I do not like. After that I started keeping distance from her, but after a few days she threatened suicide. I was getting worried, I took help from my father and friends in this matter. They advised me to stay away from Sonia And complain against her. I did the same. In Jalandhar I filed a complaint against her and didn't talk to her for 6 months. She is doing such ludicrous acts just to get sympathy. As for me, I am fully cooperating with the police."
In 2015, while shooting for the Hindi TV serial 'Yeh Kahan Aa Gaye Hum,' there was a scene in which the Indian actress Saanvi Talwar had to slap Karan. She hit him quite hard, and Karan took it as an insult and slapped her back after the shooting of the scene was completed. [10]

The Times of India
In 2017, he landed into controversy while he was one of the gang leaders on the MTV reality show 'Roadies Rising' auditions. He slapped one of the male contestants after the contestant shared that he had hit his sister once. Later, in the next season of the show, he was replaced by the Indian VJ and host Nikhil Chinapa. [11]

Hindustan Times
Favourites
Music Genre(s): Punjabi, Hip-Hop, and R&B
Cartoon Character: Johnny Bravo
Cuisine(s): Chinese and South Indian
Food: Rajma Chawal, Chole Bathure
Exercise: Heavy Weight Lifting
Sport(s): Tennis and Badminton
Dessert(s): Cheese Cake and Gulab Jamun
Bike Collection
Car Collection
Assets & Properties
Karan Kundrra owns a sea-facing house in the 81 Aureate building in Bandra, Mumbai; the property was bought by him in May 2022. [13]India Today
Salary/Income
He charged Rs. 8 lakh for a week in Bigg Boss 15. [14]Miss Malini
Net Worth
His net worth is Rs. 4.12 crore as of 2019. [15]Forbes India
Facts/Trivia
Karan Kundrra has a few nicknames including Sunny, King K, and Princess. [16]

India Forums
During an interview, he shared his crazy fan moment, he said,


That happens now and then. When I was doing the show (Kitani Mohabbat Hai on NDTV Imagine), people would actually write letters using their blood! Such a handkerchief had actually come to the channel's office. I wouldn't do something like that for anybody in my life! Sometimes little girls come to my place. I make them sit, have lunch with me and then I drop them home because I don't know how they will go back. Since my shows have also been translated into the Arabic countries, I have fans from everywhere. It's funny, but I have even got marriage proposals from princesses in royal families in Egypt and Saudi Arabia!"
In 2016, through his social media account, he shared that he added an extra 'r' in his surname from (Karan Kundra to Karan Kundrra). [17]

The Times of India
He has been listed twice in 2018 and 2019 in the Top 100 Indian celebrities by Forbes India. [18]

Forbes India
He has walked the ramp in many ace fashion shows. He has also appeared as a judge in a few fashion shows.
He is often spotted drinking alcohol at parties and events.
Karan was one of the few guests who were invited at the wedding ceremony of the Indian actress Priyanka Chopra along with (Karan's ex-girlfriend) Anusha Dandekar in 2018.
Earlier, he got an offer to play the role of Mr. Bajaj in the Hindi TV serial 'Kasautii Zindagii Kay 2' (2018), but he could not play the role.
He is an avid animal lover, and he has a few pet dogs.
Karan has got a tattoo of "Fakira" inked on his left chest.
In an interview, when he was asked what was one thing that completed him, he replied,


It is my family. At the end of the day if I don't talk to my family, my sisters and my closest of friends I don't feel complete. Sometimes when I don't talk to my sisters, I know they are there for me and a simple good morning and good night message works."
In 2021, during the pornography case of Raj Kundra, Karan was brutally trolled by the netizens as he was mistaken as Raj Kundra because of their same surname. Later, he uploaded a video on his social media account clarifying that the person involved in the case was not him. [20]

The Times of India