Bomman is an Indian Mahout, who works with the Tamil Nadu Forest Department. He is known for featuring in the Oscar-winning short documentary film titled The Elephant Whisperers (2022).
Wiki/Biography
K. Bomman was born in 1971 (age 52 years; as of 2023) in Mudumalai, Nilgiris district, Tamil Nadu, India. [1]The New Indian Express
Physical Appearance
Height (approx.): 5′ 6″
Hair Colour: Salt and Pepper
Eye Colour: Dark Brown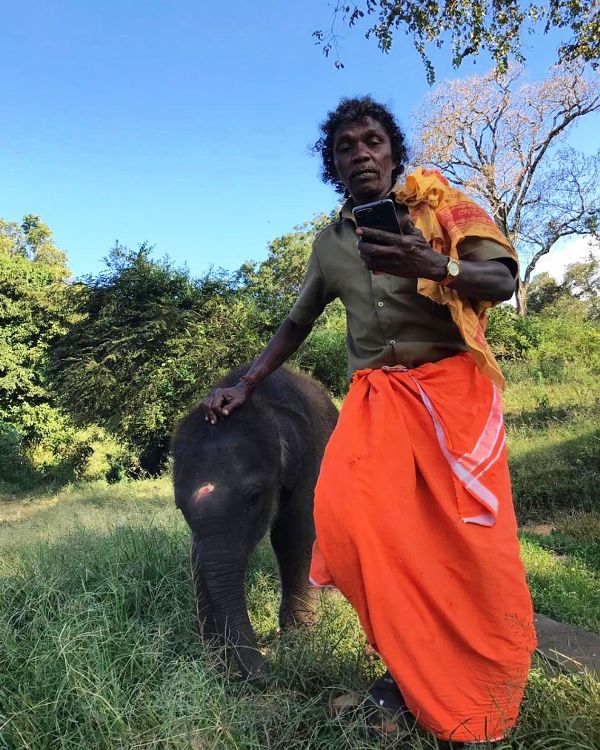 Family
Bomman was born into a Hindu family belonging to the Kattunayakan tribe in Tamil Nadu. [2]Hindustan Times
Parents & Siblings
His father, Kunjan, was a Mahout.
Wife & Children
His wife, Bellie Amma, is a Mahout and works in the Theppakadu Elephant Camp. They first met when the forest department temporarily hired Bellie as a caretaker for Raghu and Bommi, two elephant calves. They got married in the late 2000s.
He had a son and a daughter. His son died during the shooting of The Elephant Whisperers. His stepdaughter, whom Bellie had from her first husband, died in a local hospital after she set herself ablaze.
Religion
Bomman follows Hinduism. Apart from being a Mahout, he is also a temple priest and worships Ganesha. [3]NDTV
Address
He resides at Theppakadu Elephant Camp, Nilgiris district, Tamil Nadu-643223, India.
Career
Mahout
As a Mahout, he began working with the Tamil Nadu Forest Department in Theppakadu Elephant Camp at Mudumalai Tiger Reserve in 1984. There, he was tasked to find and rescue elephants in distress. In May 2017, he rescued and adopted Raghu, a 3-month-old elephant calf, after its mother died due to electrocution in the Mudumali Tiger Reserve. In June 2019, he rescued another elephant calf named Bommi (aka Ammu) after she was left behind by its herd in the Sathyamangalam Tiger Reserve (STR). Later, Bommi was brought to the Theppakadu Elephant Camp at Mudumalai Tiger Reserve, where the forest officials tried to reunite Bommi with her herd. However, their attempts were unsuccessful. Thereafter, S. Muralidharan, an activist, filed a litigation in the Madras High Court, seeking to stop the attempts of the forest department officials to reunite Bommi with its herd as it put Bommi's life in danger. In his litigation, Muralidharan also asked the court to order the forest department to place Bommi either at a zoo or in an elephant camp. On 24 October 2019, the High Court's judges M. Sathyanarayanan (since retired) and N. Seshasayee gave their decision in the favour of Muralidaharan and ordered the forest department to hand over the elephant calf to Bomman as he had the right experience to raise an elephant since he had raised Raghu as well.. The court asked Bomman to raise Bommi with "utmost care" and "in a safe manner." Initially, Raghu found it difficult to accept Bommi and often got jealous as Bomman and Bellie were diverting their attention to her. However, the Raghu accepted Bommi as a part of his family later.
In 2023, he was ordered by the Tamil Nadu Forest Department on the Madras High Court's directives to find two elephant calves that went missing in the Palacode forest at Dhrmapuri. In an interview, he said that he would like to adopt and raise the calves after finding them. Talking about it, he said,
These are the two elephant calves that were part of a herd. Their mothers were among the three elephants that had died after getting electrocuted, last week, in Dharmapuri. They went into the forest after being chased away by some men who were in an inebriated state. If I find them, I hope to get the chance to raise them."
The Elephant Whisperers
Bomman appeared in the 2022 short documentary film The Elephant Whisperers, produced by Guneet Monga and directed by Kartiki Gonsalves. The shooting for the documentary began in 2017, and it had Bomman, his wife, Bellie, and Raghu and Bommi, the two elephant calves the duo raised, in its cast. The shooting for the film ended in 2022 and was released on Netflix in the same year. In 2023, the film received an Oscar for Best Documentary Short Film. In an interview, Bomman said that he was very happy that the film received the Oscar. He further said that it was a big achievement for India. Talking about the film, he said,
It is a matter of pride for our country. The documentary makers just filmed me and the elephants as we normally are and captured our regular lives on a day-to-day basis. However, standing in front of the camera and talking was different as it was my first time. I am thankful to Kartiki madam and also to the elephants. I am happy that the award has brought pride to the entire nation and our forest department."
In April 2023, Prime Minister Narendra Modi visited the Theppakadu Elephant Camp, where he met Bomman, Bellie, Raghu, and Bommi.
On 9 May 2023, Bomman and Bellie and The Elephant Whisperers' director Kartiki Gonsalves paid a visit to M.A. Chidambaram Stadium at Chepauk in Chennai, where MS Dhoni presented them personalised jerseys.
Controversy
Legal notice to filmmaker Kartiki Gonsalves
In August 2023, Bomman and Bellie issued a legal notice to filmmaker Kartiki Gonsalves, demanding a 'gesture of goodwill' amounting to Rs. 2 crore. The legal notice was issued by Pravin Raj, a Chennai-based social activist who is also a practicing lawyer. In an interview, Raj talked about this and said,
Both Bomman and Bellie are disappointed with Gonsalves, who had promised them monetary help as well as help with the education of Bellie's granddaughter, while making the film. But she now refuses to give even a fraction of the enormous profits made by the film." [4]NDTV