Ashwin Kumar Lakshmikanthan is an Indian actor, who mainly works in the Tamil and Telugu film and television industries. The Times of India in its Chennai Times edition, named Ashwin as the "Most Desirable Man on Television 2020." [1]ETimes He is best known for the lead roles in the Tamil language drama television series, Rettai Vaal Kuruvi (2015) and Ninaikka Therintha Manamae (2017). He became a household name by participating in the Tamil cooking reality show Cooku with Comali (season 2) in 2021.
Wiki/Biography
Ashwin Kumar Lashmikanthan was born on Tuesday, 7 May 1991 (age 32 years; as of 2023) in Coimbatore, Tamil Nadu, India. His zodiac sign is Taurus.
He did his schooling at Carmel Garden Matriculation Higher Secondary School, Coimbatore and completed his graduation in Mechanical Engineering at Kumaraguru College of Technology (KCT), Coimbatore. After this, he completed a Master of Business Administration at PSG Institute of Management Coimbatore (PSGIM), Coimbatore. He developed his passion for acting career when he was in college.
Physical Appearance
Height (approx.): 5′ 11″
Weight (approx.): 70 kgs
Hair Colour: Black
Eye Colour: Dark Brown
Body Measurements (approx.): Chest: 42 inches, Waist: 32 inches, Biceps: 14 inches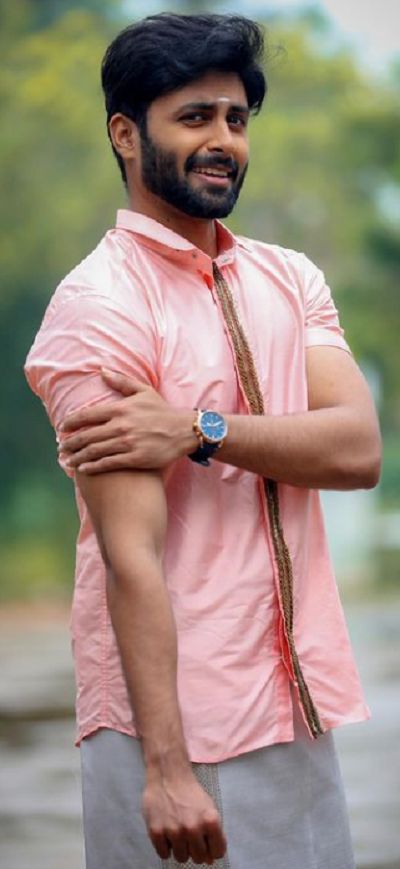 Family
Parents & Siblings
Ashwin's family lives in Coimbatore, Tamil Nadu. He has a sister.
Wife & Children
Ashwin Kuman Lakshmikanthan is unmarried.
Career
Film
Tamil
Ashwin made a debut in the Tamil film industry with a minor role in the film Kathai Thiraikathai Vasanam Iyakkam in 2014. However, his role in the film was trimmed. In 2015, he got another minor role in the film O Kadhal Kanmani. Till 2020, he was getting minor roles in films. In 2021, he made a debut as a lead role in the film Enna Solla Pogirai in which he played the role of Vikram.
After that in 2022, he got the opportunity to play the role of Sembi's lawyer in the film Sembi. Ashwin's performance as a lawyer was highly appreciated by critics and audiences. One of the critics from Sakshi Post (a daily Telugu language newspaper) appreciated the acting skills and performance of Aswin for the film Sembi. It said,
Ashwin Kumar as a lawyer keeps the audience on the edge of their seats in the second half with his brilliant show. He has made full use of the opportunity to prove his acting prowess."
Ashwin's wonderful performance in Sembi helped him grab another lead role in a romantic thriller untitled film directed by Arvindh Srinivasan for Zhen Studios. This announcement was made in February 2023. [2]ETimes
Telugu
Ashwin Kumar Lakshmikanthan made his Telugu debut by acting in an anthology film Meet Cute (2022). The film consists of five segments based on modern-day relationships. Ashwin played the lead role in the "Meet the Boy" segment of the film and his acting skills were highly appreciated in the film.
Short Films
He has appeared in several shorts films, 3 Santhipugal (2014), Bullet 350 CC (2014), Pradhi (2016), Idar (2017), 3 scenes of Love Story (2018), Blink (2019), Cindrella (2019), and Kadhal Ondru Kanden (2020).
Television
TV Serials
Tamil
In 2015, he made his television debut with a comedy television series Office (Season 2) on Star Vijay.
After this, he played the lead roles in the serials, Rettai Vaal Kuruvi (2015) and Ninaikka Therintha Manamae (2017) on Star Vijay.
Telugu
He debuted in the Telugu television industry by playing a lead role in "Raja Rani," (2016) a remake of the Tamil hit serial Saravanan Meenatchi telecasted on Star Maa.
Reality Shows
In 2021, he participated in a Tamil cooking reality show Cooku with Comali (season 2) telecasted on Star Vijay. He gained immense popularity on the show and became the second runner-up in the finale. He has also received the "Most Popular Male on Reality Television" award at Behindwoods Gold Icons 2021 for his amazing performance on the show. In an interview, he expressed his feelings about winning the Most Popular Male on Reality Television. He said,
Cook with Comali was a rebirth of sorts for me. I never wanted to be on television because I wanted to be an actor. I didn't have contacts nor did I come from an affluent family. I have faced a lot of insults, and rejections and have been pushed to the bottom but I didn't give up. I was hoping for that one chance. Wherever I went, the producer said they wanted fame and the director wanted money. I had neither. I felt a sense of achievement when I was given an award recently for Most Popular Person."
Web Series
He made a debut with the web series Thanthu Vitten Ennai (2020) in which he played the lead role of Vinay. The series was produced by Zee5.
He also played a role in the horror thriller web series Live Telecast (2021) on Disney+ Hotstar.
Music Videos
Ashwin Kumar Lakshmikanthan has appeared in a lead role in several music videos, Cloning Kadhal, Rhythm of Life (Sony Music), Kutty Pattas (Sony Music), Loner, Criminal Crush, Shades of Kadhal, Adhipoli (Think Music), Baby Nee Sugar, Yaathi Yaathi (Sony Music), and Vaadi Vaadi (Think Music). He had also given the voice-over for the music video "11:11 – Guru undu Bhayamillai."
Modelling
He has done modelling for various TV commercials and print media advertisements for various brands. He is also the brand ambassador of Zee Thirai, a Tamil-language pay television channel.
Controversies
Morphed Marriage Video
In 2021, Ashwin Kumar and his co-star Sivaangi Krishnakumar from the show Cooku with Comali Season 2 became the household favourites for their amazing performances on the show. But a YouTube channel morphed a marriage video claiming that the duo has got married. Both the stars took the help of their respective social media platforms to clarify that it was a morphed marriage video just to defame them. Ashwin further said that he is single and not in a relationship with any rumoured co-star. [3]ETimes
Dozing off during Narration of Scripts
During the audio launch event of the film Enna Solla Pogirai in December 2021, Ashwin gained the limelight for all negative reasons. He made a statement that he had listened to around 40 scripts and dozed off during their narration. The only story he liked was narrated to him by A. Hariharan, the writer of the film Enna Solla Pogirai. However, the statement failed to impress many Tamil directors who took to social media to express their thoughts. Many of them called Ashwin an "arrogant person with a full of attitude." The actor was trolled all over social media which prompted him to make a statement. He confessed that whatever he said was out of nervousness and had no intentions to hurt anyone. [4]News18 He said,
I hadn't prepared any speech and was completely distorted by the love my fans showered on me. I didn't intend to disrespect any of the directors, who narrated stories to me. I understand the emotions behind it. However, it was unintentional."
Ashwin ended the controversy with an apology but several memes, trolls, and comments was made calling him a "Sleeping Star." [5]News18
Causing Financial Loss to a Leading Tamil Director
In December 2021, a leading director from the Tamil film industry (name not disclosed) accused Ashwin Kumar Lakshmikanthan of causing him financial loss. The director said that Ashwin had made him book a five-star hotel to meet and finalise the script of the film but the actor didn't come. This had caused a huge financial loss to the director and his entire team who waited the entire day to meet the actor. [6]News18About this, the director said,
A production company asked me to meet Ashwin to finalise him for a film. Ashwin told me to book a room in the leading five-star hotel in Chennai. The production company booked the room in a hotel but he did not turn up. Ashwin's absence has caused dissatisfaction to me and others who went there at the hotel in the morning and waited for him. Then we inquired why he did not come, he told us that he was not in the mood to meet anyone that day."
Mocking an Experienced Filmmaker
In September 2022, Ashwin again came into the limelight for mocking an experienced filmmaker after he trolled Ashwin first. The director Arivazhagan trolled Ashwin Kumar in his web series "Tamil Rockerz." The trolling was made about Ashwin's statement about dozing off during the narration of 40 scripts that he made during the audio launch event of his debut film Enna Solla Pogirai in December 2021. In a scene from the web series Tamil Rockerz, a character says, "And he says he listened to 40 stories before choosing this" in front of a theatre premises and another character says "You said the same for the sleeping star movie." The scene that trolled Ashwin Kumar didn't go well with him and he took to his Instagram handle and made an official statement about the troll. [7]Chennai MemesHe said,
You are not Brain beauty (Arivazhagan) but Brainless beauty, hence proved. Hope you saw the reviews of your series. Shame on you, Believe in your own talent."
Not only this but Ashwin added a funny video of actor Vadivelu to make fun of the filmmaker Arivazhagan.
Awards, Honours, Achievements
Best Actor in Tamil, SMIFA Shorts (2019) for the film Blink
Trending Pair of the Year with Sivaangi Krishnakumar, Vijay Television Awards (2021)
Most Popular Male on Reality Television, Behindwood Gold Icons (2021), for participation in the cooking reality show Cooku with Comali 2
Chennai Times Most Desirable Man on Television 2020, The Times of India (2021)
He was listed among the Chennai Times' 30 Most Desirable Men 2020 in Kollywood by The Times of India (2021)
Favourites
Sports: Cricket, Football
Facts/Trivia
He is a fitness freak and goes to the gym to keep himself fit.
He is a music lover and loves to play guitar.
Ashwin considers R. Ravindran as his mentor for giving him the first opportunity in his acting career to play a lead role in the film Enna Solla Pogirai in 2021. R. Ravindran was the producer of the film. Not only this but R. Ravindran was also the producer of his blockbuster film Sembi. [11]

Instagram – Ashwin Kumar Lakshmikanthan In an interview, he expressed his regard for R. Ravindran. He said that he wanted to play the lead role in the film Ayodhi and even asked R. Ravindran if he could get the chance to act in the movie. But he was very happy after knowing that Sasi Kumar was supposed to play the lead role in the film. [12]

Chennai Memes He said,
It is a blessing for me to act in a single film, thanks to my producer, Ravi sir. He produced my first film with so much care and he is the producer of my second film as well. When he asked whether I'm willing to act in the film, I immediately nodded " Yes" after hearing the name of Prabhu Solomon sir. I asked only one question when I met Prabhu Solomon sir and that is whether he feels "ok" to cast me in it. It's a boon to do a character in his film"
Ashwin Kumar developed his passion for acting when he was in college. To pursue his dream, he left his hometown in Coimbatore and shifted to Kodambakkam. He had no prior experience or contacts with influential people to make a name in the film industry. He got the opportunity to play a small part in the film Kathai Thiraikathai Vasanam Iyakkam in 2014 but his role was trimmed from the film.
In 2015, he was called for an audition for Mani Ratnam's O Kadhal Kanmani. On reaching the sets, he was shocked to see more than 70 well-groomed male and female models trying their luck to get the role in the film. Ashwin couldn't make the first impression with Mani Ratnam and only managed to get a minor role as a background artist in O Kadhal Kanmani.
Once Ashwin Kumar approached Gautham Vasudev Menon for the audition but the filmmaker Gautham was a little miffed and annoyed by the way Ashwin directly landed in his office for giving the auditions. Later on, Ashwin was called by Gautham to play the role of a hero's friend. Unfortunately, two days before the shoot, Ashwin was informed about Gautham's decision to replace him with a familiar actor. [13]

The Hindu
After the success of his short film Kadhal Ondru Kanden in 2020, Ashwin was approached by a well-known filmmaker who wanted to cast Ashwin in his film but as a supporting actor. The filmmaker further said that he cannot afford to cast Ashwin in a lead role unless he doubles up as a co-producer or has some sort of similar fame in the industry. [14]

The Hindu On hearing this, Ashwin was completely shattered. He said,
That really broke me. At the end of the day, I realised I cannot make it on my own, even if I have the talent. I kept thinking, what more should I prove to this industry? How much more should I sacrifice? This is something beyond depression. Not getting an opportunity is one thing, but living in denial is another. You don't know whom you should take out all the anger…on the producer? Director? Or assistants? Ultimately, you end up taking it on yourself."
In an interview, Ashwin said that he turned to cooking only for survival reasons. He had no money and was dependent upon his friend for shelter. [15]

The Hindu He was facing a lot of struggle and rejection at that time. He had no idea that one day his survival skill would help him to become the second runner-up for a cooking reality show Cooku with Comali 2 Season 2. He said,
I took the responsibility to cook while my friend used to do the dishes. You can even cook but dish-washing is the most difficult part."
In an interview in 2021, he expressed his desire to open a restaurant and start a sports academy in future.
In an interview in May 2021, he shared about the things that turn him on and off in a woman. He said that he gets attracted to the eyes and likes women who are bold and independent. But a lack of understanding turns him off from any woman. [16]

Instagram – Ashwin Kumar Lakshmikanthan