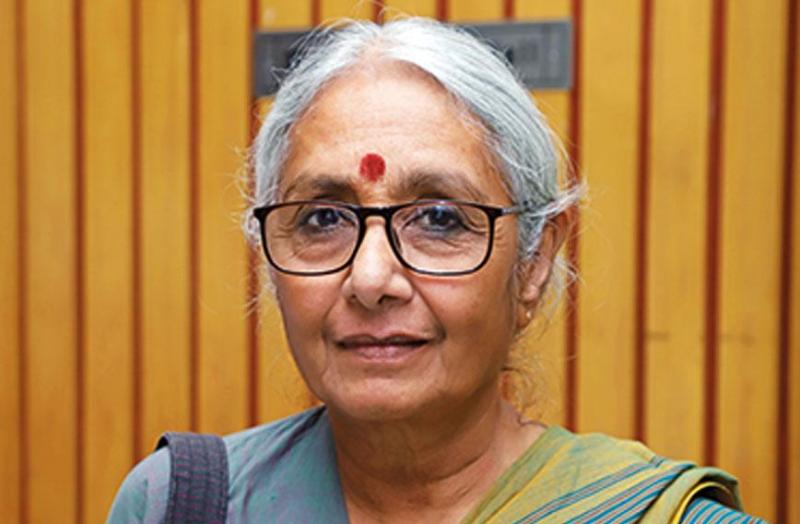 Aruna Roy is an Indian RTI and social activist, and founder of the Indian political organisation 'Workers and Peasants Strength Union.' She was conferred with the prestigious Ramon Magsaysay Award for community leadership in 2000. In 2008, she became the president of the National Federation of Indian Women, which is the Communist Party of India's women's wing.
Wiki/Biography
Aruna Roy was born on Sunday, 26 May 1946 (age 77 years; as of 2023) in Madras Presidency, British India (now Chennai, Tamil Nadu, India). She attended different schools including a conservative convent school of Jesus and Mary in Madras, the Aurobindo Ashram in Pondicherry, Bharatiya Vidya Bhavan in New Delhi, and Kalakshetra, a famous art school in Adayar, Madras. When she was enrolled at Kalakshetra, she learnt art, Bharata Natyam, and Indian Carnatic classical music. In 1962, she pursued a bachelor's degree in English Literature at Indraprastha College for Women in New Delhi. In 1965, Aruna graduated with a post-graduation degree from the University of Delhi.
Physical Appearance
Hair Colour: Grey
Eye Colour: Black
Family
She belongs to a Tamil-brahmin family.
Parents & Siblings
Aruna's father, Elupai Doraiswami Jayaram, was a lawyer. He belonged to a family of social and political activists. E. D. Jayaram studied at Rabindranath Tagore's Shantiniketan Ashram in Bengal. He also participated in the Indian independence movement. He became a civil servant and initiated his career as a librarian in the law department of the Government of India and eventually retired as the Legal Advisor for the Council of Scientific and Industrial Research. Later, Jayaram worked as a film and music critic who published reviews in various newspapers. When Aruna's mother, Hema, was studying in school, she was a great student. She played the Veena and performed for many musical events. On the other hand, she excelled in academics also. Aruna Roy is the eldest sibling of two sisters and a brother. Her sisters' names are Nayanika Krishna and Manya Jayaram Lindsay. Her sister Manya moved to the UK in 1977 where she studied indigenous people in the United States of America and Australia. She also studied the transgender community in India. In January 2020, she passed away in Hitchin, U.K., after suffering from her prolonged battle with cancer. [1]The Hindu
Husband & Children
In 1970, she got married to Sanjit Bunker Roy, an Indian social activist and founder of Barefoot College in Rajasthan (established in 1972). Bunker Roy was born on 30 June 1945. He was a national-level squash champion. In 1986, he was honoured with Padma Shri by the then President Giani Zail Singh.
Post their marriage, the couple decided to never have children so that they could pursue their passions.
Religion/Religious Views
Aruna's parents had different religious beliefs. Her father was an atheist, and her mother Hema was a theist; however, Aruna and her siblings were raised to have diverse thinking and beliefs. The socio-political activist has been celebrating all the festivals with her family since childhood. Being an admirer of Mahatma Gandhi, Aruna often quotes him and says,
God has no religion."
Career
In 1968, at the age of 21, she became an Indian Administrative Service officer; however, in 1974, she resigned from the designation and joined the Social Work and Research Centre, which was a rural-development organization in Tilonia, Rajasthan. In an interview, Aruna talked about her seven years of experience as an IAS officer and said,
There is no situation when one doesn't learn, but what my IAS years taught me was what I didn't want to do. I also learned about the notion of power and arrogance that comes with a government job."
Later, she taught 19th-century literature at the University of Delhi for a year. In 1990, she moved to Devdungri, Rajasthan, and co-founded 'The workers and Peasants Strength Union' (Mazdoor Kisan Shakti Sangathan), which is an organization committed to empowering workers and peasants, with other social activists like Nikhil Dey and Shankar Singh. [2]The Wall Street Journal Over the years, MKSS became one of the foremost civil rights movements in India and resulted in the enactment of the Right To Information Act in 2005.
Literary works
Academic books
In 1974, Aruna wrote her first academic book titled 'Realistic Motif in the Ideology of Tagore,' which is based on Rabindranath Tagore, as the title suggests. She published several academic books including "Tagore's Concept of Love " (1976), "Schools and Communities: An Experience in Rural India" (1980), and "Determining destinies: building transparency and accountability through citizen involvement" (2015).
Non-fiction books
In 2018, Aruna penned a book titled 'The RTI Story: Power to the People,' which tells the story of how ordinary people, if come together, can prevail against great odds to make democracy more noteworthy.
Aruna is the co-author of the book 'We the People: Establishing Rights and Deepening Democracy,' which was published in 2020. The other co-authors of this book are Nikhil Dey and Rakshita Swamy (a public policy practitioner).
Awards & Achievements
1991: Times Fellowships Award for her work for rural workers' rights
2000: Ramon Magsaysay Award for Community Leadership
2010: Lal Bahadur Shastri National Award for her excellence in Public Administration, Academia, and Management
2011: listed one of the hundred most influential people in the world by Time magazine
2017: listed one of the 11 Human Rights Activists whose life mission is to provide others with a dignified life by The Times of India
2019: Dr. Paulos Mar Gregorios award
Facts/Trivia
Since childhood, Aruna was an insatiable reader who preferred to read books rather than play with her friends.
When Aruna appeared for her interview at Indraprastha College, the sixteen-year-old told the panel about the books that she had read and the panel was having a hard time grasping how could someone read the books that were written by the greatest writers of all time at such a tender age.
Aruna and her family were bilingual and spoke different languages such as Tamil, English, French, and Hindi.
In her book, while talking about the influence of Mahatma Gandhi, Aruna said,


I have lived with Gandhi all my life. He was a living memory when I was born. Gandhi was everywhere when I was young and in a sense he is today."
At a young age, Aruna had read about The Renaissance, Aesop's fables, Baba Yaga the Russian Witch, and the Panchatantra folk stories.
Aruna considers her teachers Sheila Uttamsingh and Rathi Bartholomew, who introduced her to literature and Shakespeare, as her two role models.
In 1968, when Aruna became an IAS officer, she was one of the ten Indian women who had qualified for the Civil Services Examination.
In 1990, when she moved to Tilonia, Rajasthan, she faced many difficulties adjusting to the village women because of their conservative approaches. Aruna was very broad-minded since childhood and the women disregarded her ideas about what they considered was "taboo." Later, she met an old woman named Dhani Bhua who helped her in getting adjusted to village life following which she became familiar with it. Later, she started socializing with women, advising them on important issues such as birth control.
Aruna Roy was a member of the Sonia Gandhi-led National Advisory Council (NAC) until she resigned in 2013. [3]

India Today In 2022, she marched alongside Rahul Gandhi and hundreds of people, supporting Bharat Jodo Yatra, which is a mass movement started by the Indian National Congress.