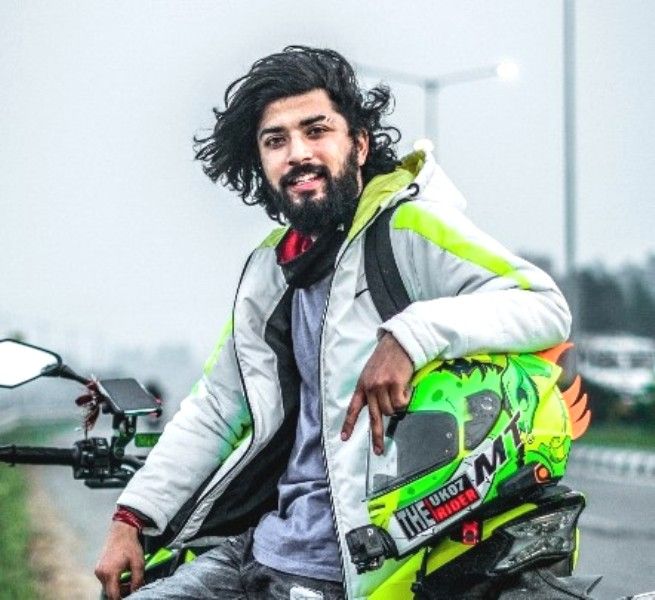 Anurag Dobhal who is popularly known as 'Babu Bhaiya' and 'The UK7 Rider,' is an Indian moto vlogger and social media influencer. He has participated as a contestant in the reality TV show Bigg Boss's 17th season.
Wiki/Biography
Anurag Dobhal was born on Wednesday, 18 September 1996 (age 25 years; as of 2023) in Dehradun, Uttarakhand. His zodiac sign is Virgo. His nickname is Anu. [1]YouTube – The UK07 Rider In 2014, he completed his school education at Shri Guru Ram Rai Public School Bhaniyawala, Dehradun. He pursued a Bachelor of Commerce degree at D.A.V. College Dehradun, Uttarakhand. [2]Facebook – Anurag Dobhal Later, he pursued a Master of Arts degree in Economics and then a Bachelor of Education degree in Dehradun. [3]YouTube – RealHit
Physical Appearance
Height (approx.): 5′ 7″
Weight (approx.): 60 kg
Hair Colour: Black
Eye Colour: Black
Family
He belongs to a Brahmin family.
Parents & Siblings
His father's name is Jagdamba Prasad Dobhal and his mother's is Kalaa Dobhal. His father is a retired mathematics teacher from a government school in Uttarakhand who took various initiatives to make education fun for his students. For his work, he was awarded the state-level Best Teacher Award in 2009 and the President's Award in 2010. Anurag's mother is a homemaker. [4]NDTV
Anurag has a younger brother named Atul Dobhal; he is a lyricist and rapper.
Wife
Anurag is unmarried.
Relationships/Affairs
Anurag was in a relationship with Savya KC, a moto vlogger from Nepal. They were about to get married when they faced a controversy, resulting in their parting ways. Post-separation, Anurag suffered from intense depression and thoughts of ending his life. He took a break from all social media platforms and sought solace in spiritual places like Haridwar and Rishikesh to restore his mental balance. [5]YouTube – Josh Talks
Anurag started dating Ritika Chauhan in 2022. There is not much information about her profession.
Religion/Religious Views
He follows Hinduism. He is a great devotee of Lord Hanuman. [6]YouTube – THE SAMRAT SHOW
Caste
Anurag belongs to the Brahmin caste.
Career
Teacher
Anurag's father was a teacher so he dreamt of becoming a teacher like him which is why he pursued a B.Ed degree. He is particularly skilled in Economics, Accounts, and Business Studies so he offered private tuition to the students and charged each student Rs. 300 per month. He also taught at a local school part-time. At that time, he used to teach students at home in the morning, then took three lectures at a school, and then attended his college classes in the evening. As a teacher, he used to earn Rs. 20,000 per month. However, this income was reduced to one-third (Rs. 7000 per month) during the COVID-19 pandemic. [7]The Logical Indian
Moto Vlogger
He started his YouTube journey when he was 20 years old, but he always prioritized his studies. He needed to save money to buy a superbike. He started teaching students; while teaching and pursuing his own bachelor's degree, he used to upload only 3 videos per month. He saved Rs. 1 lakh after teaching at school and providing private tuition, and his mother contributed Rs. 96,000 to buy a KTM RC 200 bike in 2018.
After the COVID-19 pandemic, he lost his teaching job so he turned his complete focus towards YouTube. He started uploading 3 vlogs a week. He had saved Rs. 4-5 lakhs by April 2020 so he put his desire to buy the super bike Kawasaki ZX10R which cost Rs. 9 lakh at that time. Anurag's father took a loan of Rs. 5 lakh to get him that bike. Anurag named this bike Echo.
He traveled all over India on his bike and shot videos of many places including Leh, Rajasthan, Himachal Pradesh, Meghalaya, and Assam. He became famous during his visit to the Pakistan-Kartarpur Corridor as he was the first motor vlogger who visited the place.
Contestant in Bigg Boss 2023
He participated in the TV reality show Bigg Boss season 17 as a contestant and was allotted the brain house; the show aired on Colors TV and streamed on JioCinema.
In the show, Dobhal later accused Bigg Boss of favoritism towards certain contestants, citing special treatment for Ankita Lokhande and Vicky Jain, and extra sleep privileges for Isha Malviya and Ankita Lokhande. Bigg Boss responded by asserting that they had initially made it clear about having favourites and non-favourites in the show. They further mentioned that Dobhal hadn't auditioned but requested to join the show. Bigg Boss further revealed that the show coordinators approached his family before Ankita and Vicky's, but they declined to visit. In response to these revelations, Dobhal announced his decision to leave the show and requested Bigg Boss to open the door. He agreed to pay a Rs. 2 crore penalty for leaving the show in the mid-season. [8]The Times of India
Controversies
Misbehaved With Her Ex-Girlfriend
Anurag hit the headlines when his ex-girlfriend, Savya KC, accused him of betrayal and dishonesty. She claimed on social media that Anurag had met with her opponents who were disparaging her and had asked for the presents he had given her back. This led to a backlash from Anurag's fans who criticized him for his treatment of a woman. In response to the controversy, Anurag released a video explaining his side of the story, alleging that Savya had wronged him, twisted the truth for publicity, and insulted his parents. [9]YouTube – RealHit
Lack of Empathy
Anurag frequently faces criticism from people including his fans who think of him as arrogant. It's reported that he regularly showcases his wealth, influence, and rich lifestyle. There have been instances where he declined to interact with his fans and was accused of inappropriate behavior towards them. [10]YouTube – RealHit
Awards, Honours, Achievements
Regional Influencer of the Year Award at InfluenceX 2023 – East
Femina Mamaearth Beautiful Indian Award 2023
Bike Collection
Anurag is passionate about bikes and has a big collection of them. He has modified all of his bikes.
He owns a KTM RC.
He owns a  BMW S 1000R.
He owns a BMW R1250
He owns a Kawasaki Ninja H2.
He owns a Kawasaki Z900.
He owns a Suzuki Hayabusa.
He owns a Ducati Panigale V4.
He owns a Kawasaki ZX-10R.
Car Collection
Anurag has cars including brands such as Mustang and Lamborghini.
He owns a Toyota Fortuner GS
He owns a Toyota Supra
He owns a Toyota Hilux
He owns a Kia Sonet SUV
He owns a Ford Mustang GT
He owns a Lamborghini Sián FKP 37
He owns a Mahindra Thar
Tattoos
Anurag is a tattoo lover and he has many tattoos on his body including on his chest and forearms.
A tattoo of a goat inked on his throat.
A tattoo of the Illuminati inked on his right forearm.
A tattoo of an eye of Ra, the word 'Karma,' and his nickname, 'The UK07 Rider,' is inked on his left forearm.
A tattoo of a goat is inked on the upper side of his right palm and flowers are on the forearm.
A tattoo of his mother's name, Kala, in Hindi, is inked in the middle of his chest.
He also inked tattoos on his fingers.
Income
In an interview, he revealed that he earns Rs. 18-20 lakh per month including all sources of his income which majorly includes social media and brand endorsement. [11]YouTube – THE SAMRAT SHOW
Net Worth
Anurag's net worth is Rs. 21-24 crore per annum. [12]YouTube – THE SAMRAT SHOW
Favorites
Facts/Trivia
When he was just 6 years old, he was diagnosed with a brain tumor. Following a period of treatment and regular medication, he overcame the disease at the age of 14. He ate cabbage in his childhood which had some bacteria that directly went into his brain and caused a tumor. He also suffered from asthma in his childhood.
Anurag belongs to a lower-middle-class family. His dad was a teacher at a government school in Dudhli, Uttarakhand, and earned Rs. 1200 every month. Out of this, they spend Rs. 800 on Anurag's medical bills.
He secured an outstanding 95% mark in his 12th standard exams. He wanted to own a KTM 200 bike. However, his father's financial constraints made it impossible to fulfill his wish. Anurag decided to earn money on his own and began working part-time as a tutor to collect the money for the bike himself.
Anurag doesn't have a biological sister but he regards Bhavya Chauhan as a sibling. Their bond is further strengthened by the numerous bike adventures they've gone together.
He is not only famous in India but in Nepal and Bhutan too he has a vast fan following.
He is a friend of Big Boss OTT 2 winner Elvish Yadav. About his friendship with him, in an interview, he said,


I firmly adhere to the principle of not forming relationships based solely on financial gain. It might come as a surprise, but Elvish extended his support to me even before he became acquainted with me personally. Back then, his actions were not driven by profit motives. During his stint inside the Bigg Boss house, my support for him was not fueled by any profit-oriented agenda, and this remains true now." Anurag Dobhal with Elvish Yadav Anurag Dobhal with Elvish Yadav."
He is engaged in numerous philanthropic projects, which include contributing to orphanages and providing medical aid to the disadvantaged. He gifted an E-rickshaw to a woman, enabling her to provide for her family, and gave a KTM bike to a boy.
He calls his fans Brosena and Sistersena.
In May 2018, he made a record of covering 630 km of distance while riding from Dehradun to Delhi and then back to Dehradun.
Anurag loves pet animals and he has two dogs named Sandy and Julie.
He occasionally consumes alcohol.
He has earned millions of subscribers on his YouTube channel, The UK07 Rider for which he was honored with the YouTube Gold and Silver button.