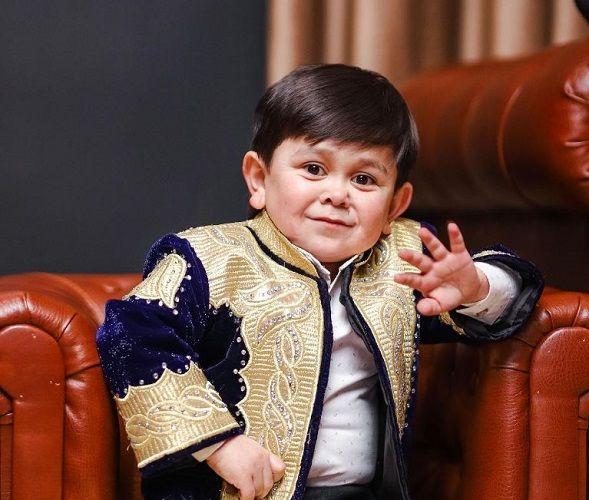 Abdu Rozik is a Tajik singer, musician, blogger, and boxer. He holds the record for being the world's smallest singer. [1]India Today
Wiki/Biography
Abdu Rozik aka Savriqul Muhammadroziqi [2]Abdu Rozik Official Website was born on Tuesday, 23 September 2003 (age 19 years; as of 2022) in Gishdarva, Panjakent District, Tajikistan. His zodiac sign is Libra. He did his schooling up to class 10. Later, he started learning to read and write. [3]Abdu Rozik Official Website At a very young age, he started working as a singer on the streets of Gishdarva.
In 2019, when he was singing on the streets of Gishdarva, he was supported by the Tajik blogger-rapper Baron (Behruz), who convinced Abdu's father to allow him to make a career in singing. Abdu's father gave him permission, and later, Abdu shifted to Dubai along with Baron. Initially, Baron used to help Abdu financially.
Physical Appearance
[4]Abdu Rozik Official Website Height: 3' 1"
Weight (approx.): 18 kg
Hair Colour: Brown
Eye Colour: Brown
Family
Parents & Siblings
His father's name is Savriqul Muhammad, and his mother's name is Rooh Afza. His parents are gardeners. Abdu Rozik has two sisters and two brothers.
Relationships/Affairs
In an interview, he shared that he was once in a relationship with a girl.
Religion
Abdu Rozik follows Islam. [5]Instagram- Abdu Rozik
Rare Disease
In childhood, he was detected with rickets, a growth hormone deficiency. Due to his family's poor financial condition, they could not afford appropriate medical treatment for his disease, which resulted in his stunted physical growth. In an interview, when asked if his medical condition affected his self-esteem, Abdu replied,
Not really. I know a lot of people who have no job, no good family, and no money. I've had my fair share of struggles, too, but I am happy with where I've reached now. I shared the stage with the biggest composer in the world; what more do I want in my career? I'd like to inspire people who have a similar condition. I believe everyone is special in some way."
Career
Singer
Abdu has lent his voice to various Tajikistani songs like "Ohi Dili Zor" (2019), "Chaki Chaki Boron" (2020), and "Modar" (2021).
In an interview, he shared how he started singing. He said,
I learnt the songs by listening to them on cassettes. Whenever I was stressed, I used to hum and sing to distract myself. Eventually, singing became a passion. I lived in a village, and so, I used to sing at the bazaars. My social media page still has those videos from when I started," he shares and adds, "I knew about the latest songs only after I moved to Dubai."
His songs are available on the YouTube channel Abdu Rozik. The lyrics of most of his songs are based on the struggles he faced in his life.
MMA Fighter
Abdu has also participated in a few MMA fights with kids and dwarf players. In May 2021, the Russian TikToker and MMA fighter Hasbulla (who is also suffering from the same disease) challenged him for an MMA fight. As soon as their MMA match was announced, it created hype on social media, but the Russian Dwarf Athletic Association (RDAA) did not approve it and termed it unethical. During an interview, when Hasbulla was asked about the fight, he said,
Abdu Rozik? He's a bum. A singer. This fight doesn't even make sense, fighting with a singer would be a shame for me."
Gained Popularity in India
In 2021, he uploaded a video of him singing the Hindi song 'Enna Sona' by Arijit Singh from the film 'OK Jaanu' (2017). He was invited to attend the IIFA (2022) award ceremony which was held in Abu Dhabi, UAE. During the event, he sang the Hindi song "Ek Ladki Ko Dekha Toh Aisa Laga" from the film '1942: A Love Story' (1994). He dedicated the song to Salman Khan, who was also present at the event. After the event, Salman Khan met him and hugged him.
View this post on Instagram
Abdu was then invited to India to attend A. R. Rahman's daughter Khatija Rahman's wedding reception. In an interview, while talking about it, Abdu said,
Ameen (Rahman's son and musician) knew the work I was doing and reached out to me. We continued to keep in touch, and then, we first met in Dubai. We became good friends and later, I met AR Rahmanji. I played the piano and we all had an impromptu jam session. That was my first meeting with him."
He has also performed live with the renowned Indian singer A. R. Rahman. In an interview, while talking about the same, he said,
I sang Mustafa Mustafa along with him on stage. It was such an honour to perform with an Oscar-winning composer, who is known globally for his music. I was definitely nervous when singing his lines. But he was sweet enough to let me sing fully. To share the stage with one of my favourite musicians was a dream-come-true moment for me."
In 2022, he participated in the Hindi reality TV show 'Bigg Boss' season 16. During an interview, he talked about participating in the show. He said,
I am excited and nervous but I can't wait to embark on the next chapter of my life with Bigg Boss 16. Being short and small used to be such a hindrance as people always underestimated my aptitude. People always bad-mouthed me as being the unfortunate child of God and mocked me for my disability throughout my childhood, but now look where I have reached today."
In 2022, he was roped in the Hindi film 'Kisi Ka Bhai Kisi Ki Jaan' starring Salman Khan.
Controversy
Slammed for sharing a video on social media
In July 2023, he faced severe criticism from the netizens after posting a video on social media, showing him emerging from a blanket where a man and a woman were sleeping, implying involvement in a threesome. [6]Pinkvilla
Car Collection
Net Worth
As of 2022, his net worth is USD 250k. [8]Facebook – Pinkvilla
Facts/Trivia
Abdu Rozik is a popular social media influencer and has met many world-famous celebrities.
He is well versed in playing the musical keyboard.
In his leisure time, he loves swimming and travelling.
Abdu Rozik is an avid animal lover.
In an interview, when he was asked about getting trolled on social media for his appearance, he said,


I am not spared, either. But see, all fingers are not the same. Just like that, we can't expect everyone to be the same. I've reached a point where negative comments don't affect me anymore."
Abdu is sponsored by the UAE company IFCM.
At the age of 17, he received the Golden Visa, and he is the first person in his country to have a Golden Visa by UAE. The UAE government has promoted him as a UAE resident.
In 2021, the President of Aiba – International Boxing Association personally invited him to the opening ceremony of the World Boxing Championship in Serbia.
He did his professional training in boxing under the British World Boxing Champion fighter Amir Khan.
In 2021, the Spanish football league (La Liga) in association with Puma selected him to present the official design of the match ball.
In 2022, he received the official Barcelona FC Jersey no. 10.
He is popular on social media, and as of June 2022, he has around 2.7 million followers on his Instagram account.
Abdu has won many awards including the Celebrity Influencer of the Year award.
The president of the World Boxing Council Mauricio Sulaimán has given him the World Boxing Council belt.
Abdu, along with the Indian comedian JustSul, has been featured on the magazine cover of HT Brunch.
He can speak the Tajik and Farsi languages, and as of 2022, he is also learning to speak the Russian language.
In an interview, while talking about his stay in Chennai in 2022, he said,


I love it here. People in India are so warm and loving. I am glad that they recognised me; some even took pictures with me. I went to the beach, swam in the ocean, and enjoyed eating masala dosa."