Simar Dugal was a model-turned-designer, dubbed as 'India's first supermodel.' She was an Indian model who broke the stereotypes by walking the ramp after getting married and bearing a child. After quitting modelling, she started her own label 'Simar Dugal'. With her stunning heritage-inspired designs, she carved a niche for herself in the Indian fashion business. Her designs were worn by various Bollywood celebrities. The Indian fashion industry remembers her eternal beauty, and her charismatic ethnic designs.
Wiki/Biography
Simar Dugal was born on Monday, 20 May 1968 (age 52 years; at the time of death). She grew up in Amritsar in Punjab, India, along with her friend Ritu Kumar, a famous Indian fashion designer. Simar belonged to a conservative family that did not support her desire to pursue a career in modelling. Eventually, the family moved to New Delhi. Simar studied at Jesus and Mary College, University of Delhi.
Physical Appearance
Height (approx.): 5′ 8″
Hair Colour: Dark Brown
Eye Colour: Black
Family & Caste/Ethnicity
She belonged to a Sikh family from Amritsar. [1]The Daily Guardian
Parents & Siblings
Simar Dugal's father died at a very young age. Simar Dugal's mother, Rita Sawhney is a landscape photographer. Simar's brother's name is Parmeet Singh Sawhney. Simar's widowed mother brought up her two kids with much resilience.
Relationships, Husband & Children
Simar Dugal was married at a very young age of just 19 or 20 to Premjit Dugal, CEO of Quest Merchants. Simar had a son with Premjit, Arjan Singh Dugal, who is a menswear designer. They got divorced, and later, Simar began to date Rajeet Nabha, Managing Director at Arzai Capital. [2]The Daily Guardian
Career
As a Model
Simar Dugal started her modelling career only after marriage and motherhood. Although her first assignment was a rather naive shoot at a Ritu Kumar showroom, it was the picture shot by the famous designer Suneet Varma, which gave her the first professional break. The glorious picture was also featured in his book titled 'Suneet Varma' published by Niyogi Publishers.
It was around 1993-94 when Dugal made her debut at the ramp. She did her first ramp show at the Crafts Museum in Delhi, choreographed by Mehr Jesia, an Indian supermodel. Afterwards, Dugal went on to become one of the most prominent faces in the Indian fashion industry. Besides Ritu Kumar, she also worked with Tarun Tahiliani around 1995. She walked many ramps as the bride. Later, Dugal also modelled for Kumar's book 'The Costumes and Textiles of Royal India', and 'Tree of Life designs'.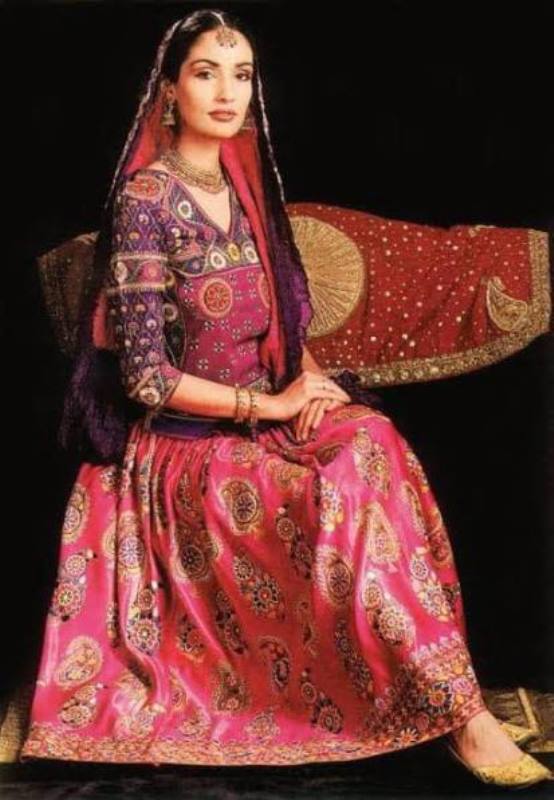 As a Designer
Later, Dugal quit modelling and began to design and manufacture garments for the Indian market and leatherwear for exports. She started her own label 'Simar Dugal'. Her stunning pieces were heritage-inspired with a hint of sparkle. Her designs were worn by several Bollywood celebrities, such as Malaika Arora, Kareena Kapoor Khan, Athiya Shetty, Shilpa Shetty and many more.

Death
Simar Dugal died on Wednesday, 12 August 2020, at her mother's house in Delhi. She fought a long battle with cancer, spreading from her pancreas to her liver. A dear friend, who met her two days before she passed away, said [3]The Daily Guardian
I met her as she sat on a wheelchair, in a kaftan, waif-like but beautiful. There was not a blemish on that porcelain skin."
Her last design collection that she worked on was 'Chakori Collection'

Facts/Trivia
Dugal was known for breaking stereotypes and walking the ramp even after getting married and bearing a child.
Dugal was a keen golf player. It was during her late teenage days when the famous designer Suneet Varma discovered the astonishing model at the Delhi Golf Club and was left amazed by her beauty. In an interview with The Times of India, Suneet said,


"I met Simar when she was 17, at the Delhi Golf Club and I remember just being stunned by her beauty and her equally beautiful mother.

Despite being tall, slim framed, and having well-etched features herself, Simar did not believe in the conventional idea of beauty. When asked "What makes a woman beautiful?", she replied,


Physical appearance is not enough. Beauty is in-depth. It is the whole personality which makes a person stand out. Look at Chandralekha (the dancer) and Shabana Azmi, for instance. They probably don't fit into the conventional ideas that people have about beauty, but I think they are stunning.'

While mourning the death of Simar Dugal, Ritu Kumar said,


For me her passing away, seems as if an era of fashion in India has also gone, perhaps not ever to come back again in quite the same way.