Vidyullekha Raman, also known as Vidyu Lekha Raman Suresh [1]IMDb or Vidyu Raman, [2]Instagram is a South Indian film actress, Comedian, and Theatre Artist who is popularly known for her good comic timing.
Wiki/Biography
Vidyullekha Raman was born on Monday, 4 November 1991 (age 29 years; as of 2020) in Chennai, Tamil Nadu. She did her schooling at Vidya Mandir Senior Secondary School and M.CT.M Chidambaram Chettyar International School Mylapore, Chennai. According to Vidyu, she was an introvert during her school days; however, she gradually transformed into an extrovert; moreover, she was not good at mathematics, but she worked hard to gain confidence over the subject. She was also the cultural secretary and in-charge of extra-curricular activities in school due to which she developed more interest in theatres. Later, she graduated with a Degree in Visual Communication from M.O.P. Vaishnav College in Chennai. [3]Telugu 360
Physical Appearance
Height (approx.): 5′ 4″
Weight (approx.): 65 kg
Eye Colour: Black
Hair Colour: Black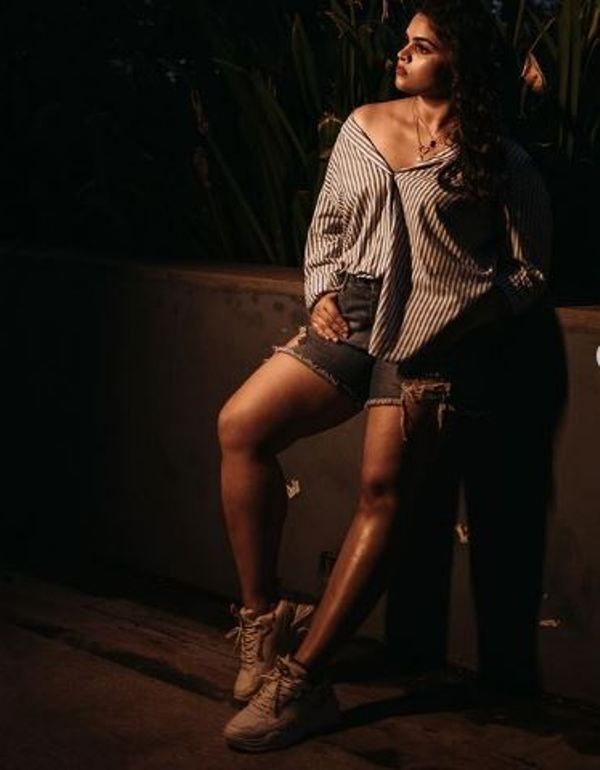 Family & Caste
Parents & Siblings
Vidyullekha's father's name is Mohan Raman who is a South Indian actor and writer.
Relationships & Husband 
 She got engaged to Sanjay Watwani, a Chennai- based entrepreneur and dietician, during the COVID-19 pandemic on 26 August 2020 (Wednesday). The ceremony took place in Chennai with family and close friends. Later, Vidyu shared a picture of her Roka in their traditional outfits on social media and wrote,
We got Roka-Ed! @lowcard.india & I had our Roka Ceremony (formal announcement) on 26.08.20 in an intimate manner with close family around us. It was our lil' ray of sunshine & we couldn't be more grateful for the love we received. We wore masks & removed them for the pictures (before anyone asks!) Thank you all so much for showering us with your best wishes! The best is yet to come."
Career
Film
She made her acting debut with the Tamil film Neethaane En Ponvasantham (2012) in which she played the role of 'Jenny.'
She made her Telugu debut with the film Yeto Vellipoyindhi Manasu (2012) in which she again played the role of 'Jenny.' The venture was simultaneously shot in Tamil as 'Neethaane En Ponvasantham.'
She made her Kannada debut with the movie Raambo 2 (2018) in which she played the role of 'Sheela.'
Vidyu is well-known for her other films such as Power Pandi (2017), Malini 22 Palayamkottai (2014) etc.
Awards
• Nandi Award for Best Female Comedian for the Telugu film Run Raja Run (2014)
• SIIMA Award (nominated for)  Best Comedian for the Tamil film Theeya Velai Seiyyanum Kumaru (2013)
•  Vijay Award (nominated for) Best Supporting Actress for the Tamil film Neethaane En Ponvasantham (2012)
Facts/Trivia
Vidyullekha Raman performed in theatres for seven years and also worked as a backstage artist and a costume designer in the play Swami & Friends in the year 2010.
It was Vidyu's teenage desire to become a comedy actress.
She has sung Tamil-Telugu bilingual Malani 22 Palayamkottai" as she is well versed in both Tamil and Telugu.
Vidyu's cousin sister Gitanjali is married to the Tamil film director Selvaraghavan.
It wasn't easy for Vidyullekha to establish herself in the entertainment industry as during the initial days of her acting career, she was body-shamed and had to face a lot of criticism for her body weight; this led her to follow a strict fitness regimen and in 2020, during the COVID-19 pandemic, her major physical transformation took place. According to Vidyullekha, her resolution was not a result of self-hate rather it was a step towards self-care. In January 2020, Vidyu weighed up to 77 kg and by the end of June 2020, she had lost almost 9 kg of her body weight, and she weighed 68 kg. In an interview, while talking about this physical transformation, she said,


20+ KGS DOWN – 86.5 kg to 65.3 kgs. It's been a long & winding road. Filled with sweat and tears. When I look at the pic on the left it's surreal that I ever looked like that. That I let myself get to being THAT unhealthy"

Reportedly, while she was following her fitness regimen, she had to undergo an immediate gall stone surgery in mid-January 2020 as a lump of stone in her gall bladder was causing her ill health. Sadly, due to a major infection in the gall bladder, it had to be removed completely. After the surgery, when she recovered, she again started focusing on her fitness regimen. In 2020, she followed naturopathy, Ayurveda, and yoga, but later, she shifted to keto and put herself on a low carb diet.
Vidyu's physical transformation somehow weakened her career as a comedian as she was threatened by many filmmakers that she would not get any comedy roles in the industry if she had lost her body weight. According to her, this determines the mentality prevailing in the industry. While talking about this in an interview, she said,


I was told that I won't get the roles I get today if I dropped weight. It points to a culture where the casting happens based on appearance and not based on one's talent. When you hear it, you tend to develop an insecure feeling. I don't know what the remedy is but I hope women continue to prove that talent speaks more than body measurements."

Although Vidyullekha has worked in various film industries, she believes that the Telugu industry has offered her multiple opportunities and recognised her talent more than any other film industry; moreover, people also believe that she pays more attention to the Telugu industry.
In 2016, Vidyu Raman went on a trip to Vienna with her friends where her money and passport were robbed by some snatchers in the lobby of her hotel. Two strangers distracted her and snatched her bag, which consisted of money and passport in it. Later, she posted the series of the incident on social media.


 So I was not allowed to see the CCTV footage in the five-star hotel but the Austrian police saw it. A man who entered distracted me for a second. He asked me how to get to an address and by the time I said I don't know. His friend came from behind and took it. Shocked. Hope embassy helps."

She also shared the incident with Prime minister Narendra Modi and the then External Affairs Minister of India Sushma Swaraj on Twitter,

My bag has been stolen with passport, cards and currency in my hotel lobby. Need to contact the Indian embassy asap in Vienna. A big thanks to everyone who gave me info and helped me out. The Indian Embassy in Vienna has issued a temporary travel permit to travel."