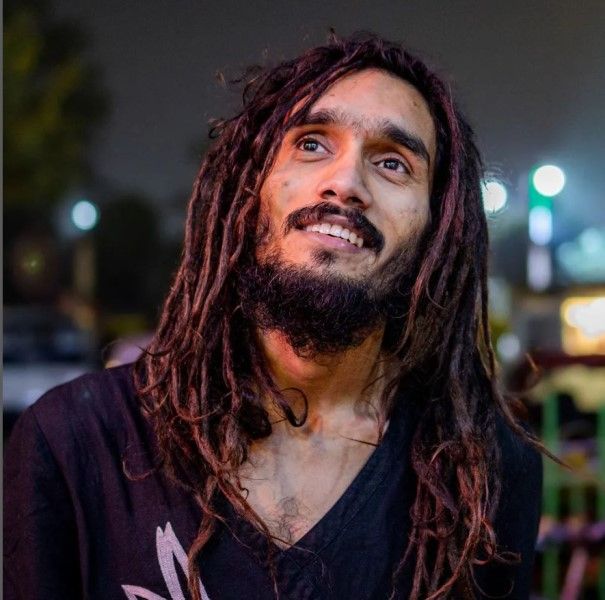 Varun Dagar is an Indian artist. He is a busker at Connaught Palace, New Delhi. He came into the limelight after participating in Sony Entertainment Television India's Best Dancer Season 2 (2021).
Wiki/Biography
Varun Dagar was born on Friday, 19 November 1999 (age 23 years; as of 2022) in Palwal, Haryana. His zodiac sign is Scorpio. Fascinated by dance since childhood, Varun often performed in various cultural functions in his school. Varun, during an interview, said that initially, his parents and relatives were sceptical about his dance career. Varun, when he was 21, decided to run away from his home in Haryana to New Delhi to pursue a full-time dance career.
Physical Appearance
Height (approx.): 5′ 10″
Hair Colour: Black
Eye Colour: Black
Family
Parents & Siblings
There is not much information available about Varun Dagar's family.
Wife
Varun Dagar is unmarried.
Career
In 2017, Varun Dagar began his career by participating in various theatrical productions. He has participated in various dancing competitions in Delhi like Stage Vibe and Manch. In 2021, he won the show World of Dance held in Chennai.
He is also a dancer, choreographer and artistic director at The Taal Dance Academy. He also worked as a choreographer at the Brooklyn Academy of Dance. In October 2021, he participated in Sony TV's reality show India's Best Dancer; however, he was not selected. In an interview, Geeta Kapoor, who is also one of the judges in India's Best Dancer", a dance reality show on Sony TV along with Sonali Bendre and Terence Lewis, talked about Varun Dagar's participation and talked about why he was not selected in the reality show. She said that the reality show had criteria for pairing a participant with a choreographer; however, owing to Varun Dagar's unique dance form, they couldn't find a choreographer for him.
Controversy
Assaulted by Delhi Police
In April 2023, Varun Dagar was assaulted by Delhi Police and a couple of parking managers after his performance in Connaught Place. The performer, on Tuesday, shared a video in which he was seen taken away by an unidentified man to a group of men who were seen wearing police uniforms. Varun was dragged and appeared to be beaten up in the video. On Instagram, Varun Dagar shared a video clip of the incident along with the caption,
When the police came to move me from my spot in B Block, they were joined by the parking managers of the block. People questioned the police when the brawl began. Amid all this, I was packing my things when the parking managers came to me and caught me by my collar. He abused me and dragged me out."
He explained that he was dragged out of the spot and was manhandled. He claimed that a police officer 'pulled his hair' and hit h with his elbow before dragging him to the police van. He claimed he was abused throughout the way. When he asked the reason for being beaten up, the police gave no clarity. Instead said that they will tell him the reason once they reach the police station. At the time of sharing the post, Varun said he was unaware of the reason behind his ill-treatment.
Facts/Trivia
In 2022, industrialist Anand Mahindra shared a video on Twitter of Varun Dagar performing at Connaught Palace, New Delhi. Anand Mahindra captioned the video,


Dance on, Varun. We're all part of the dance of life. Let no one curb your freedom to express yourself and your art. You embody the spirit with which we all hope to dance into the New Year."
Dance on, Varun. We're all part of the dance of life. Let no one curb your freedom to express yourself & your art. You embody the spirit with which we all hope to dance into the New Year. (@jaytweetshah we should get him to perform at our Delhi events) https://t.co/9VSP1A2Nbl

— anand mahindra (@anandmahindra) January 3, 2022
In 2022, Varun Dagar was beaten up and abused by policemen on the streets of Delhi. On Instagram. Varun Dagar shared a video filmed by a woman; in the video, a cop was about to arrest Varun and the girl stopped him and asked the cop to show papers that state busking is illegal. Varun Dagar posted the video with the caption,


Delhi police came and snatched my belongings from my hand. I didn't let them take my stuff because I wasn't performing at that time. They treated me as if I had committed a crime. They were rude to me. I understand they will not allow me to do busking, but it is not illegal either. I haven't done anything wrong. I'm not doing anything unlawful on the streets; I'm simply performing. Now you tell me what to do."

Varun Dagar often shares his dance videos on various social media platforms. He has more than 445K followers on Instagram. He also runs a self-titled YouTube channel in which he often shares his dance videos; he has more than 75K followers on YouTube.
Besides dancing, Varun Dagar is interested in singing. He often shares his singing videos on social media. In 2022, he wrote, composed, and lent his voice to his music album Baware Saware; the video garnered more than 75k views on YouTube. [1]

YouTube – Varun Dagar