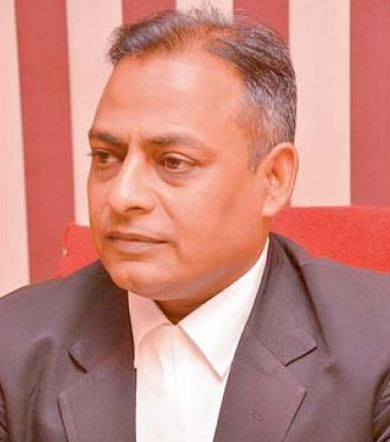 Poonam Chand Solanki is an Indian advocate, who practices at the Rajasthan High Court, Jodhpur. He served as the counsel of the 16-year-old girl who was raped by the self-styled godman Asaram, winning the conviction against Asaram Bapu in a Jodhpur trial court on 25 April 2018; Asaram Bapu was convicted under section 376 of the Indian Penal Code (IPC) and the Protection of Children from Sexual Offences Act (POCSO).
Wiki/Biography
Poonam Chand Solanki, also known as P. C. Solanki [1]Firstpost, was born in 1973 (age 50 years; as of 2023) in Jodhpur City, Rajasthan, India. He did his schooling at a Central School (now known as K.V. No.1 Air Force School, Jodhpur). He attended Jai Narayan Vyas University (JNVU), Jodhpur, to pursue B.Com and LL.M. [2]Poonam Chand Solanki – Facebook Following his post-graduation in law, Poonam Chand joined the Bar Council of Rajasthan in 1996. Although Poonam Chand Solanki belonged to a financially weak family, his parents ensured that all their children receive good education.
Physical Appearance
Height (approx.): 5′ 8″
Hair Colour: Salt & Pepper (dyed black)
Eye Colour: Black
Family
Parents & Siblings
Poonam Chand Solanki's father, Shiv Ram Solanki (Kheraj Ram Solanki), is a former railway mechanic. His mother's name is Aichuki Devi. He has three sisters.
Wife & Children
Poonam Chand Solanki is married and has a son.
Religion
He follows Hinduism.
Caste
He belongs to a Darzi (tailor) family. [3]Deccan Chronicle
Career
Associated with the Bar Council of Rajasthan in 1996, Poonam Chand Solanki began practising law at a sessions court in Jodhpur, Rajasthan. After fighting several ordinary cases, the first big moment came in his life in 2002, when he filed a PIL in the Rajasthan High Court against the immersion of idols of Lord Ganesha, which were made up of Plaster of Paris, in Gulab Sagar near the historic Ghantaghar. In the petition, he argued that the immersion of the idols polluted the water, which resulted in the death of thousands of fish in Gulab Sagar. On the hearing of the petition, the Rajasthan High Court imposed a ban on the immersion of idols in the lake. Poonam Chand received several threats from the Shiv Sena and other Hindu outfits in this matter. Having a two-decades-long career in advocacy, Solanki has fought several battles in various courtrooms, ranging from the trial court to the sessions court, high court, and the Supreme Court.
The Asaram Bapu Rape Case
On 29 November 2013, a case was registered against Asaram Bapu in the Rajasthan High Court, Jodhpur, for raping a minor girl from Chindwara in Madhya Pradesh. Apparently, the parents of the minor girl had a deep faith in the self-styled godman Asaram Bapu. Apparently, once one of Asaram's disciples told the parents of the girl that she was possessed by an evil spirit and that to have her exorcised, they should go to Asaram. When the minor girl's parents took her to Asaram for the cure, he raped her. Unhappy with the initial progress in the case, the girl's parents approached Poonam Chand Solanki in January 2014 to take up the case. In an interview, while talking about the same, Solanki said,
They requested me to take on the case but said they did not have any money to pay my fee. That did not matter to me at all. After hearing them out, I became determined to get justice. Fighting cases is my livelihood but there comes a time in life when a cause becomes more important than need. I fought this case for justice and truth."
As the case proceeded, Solanki was lured with crores of rupees. However, he remained unaffected. He even received several death threats. However, nothing could wave him from his resolve to ensure justice for the minor girl. As many as nine key prosecution witnesses were attacked, three were shot dead, and one went missing after being stabbed outside the court. Everyone who stood against Asaram – victim, investigating police officers, prosecution lawyers or judges – received threats. In a media conversation, while talking about being unaffected by Asaram's threats, Poonam Chand said,
Yes, threats were there. They wanted to allure me. Everything was there but nothing affected me because I was simply focusing upon the matter… Those people used to come, several people used to say, used to do. Now, what figure someone may say. But in fact, I was not concerned with all that. I was simply concerned with the matter and just to proceed in consonance with provisions of law."
As the only prosecution lawyer, he fought against several high-profile lawyers who defended Asaram Bapu. Among the legal stalwarts who defended Asaram were Ram Jethmalani, Salman Khurshid, Subramanian Swamy, and KTS Tulsi. In an interview, while talking about the same, Solanki said,
Yes, of course, Ram Jethmalani ji appeared to argue Asaram's bail application under section 4(39) CrPC before Honourable High Court, Subramaniam Swamy appeared for arguing his bail application before Trial Court under section 4(39), then KTS Tulsi appeared before Trial Court challenging the amendment of Special PP on the ground that his name is not notified in the gazette…"
During the proceedings of the case, Jethmalani withdrew himself from the case when Solanki pointed him to section 27 of the POCSO ACT. Apparently, Jethmalani had objected to the medical examination of the rape victim before the FIR was registered. However, he was left speechless when Solanki argued that either Jethmalani had not gone through the POCSO Act or had overlooked section 27. Following Jethmalani's exit from the case, Subramanian Swamy took up the case; Although Swamy was not a lawyer, he was allowed to argue cases in the court by Supreme Court and High Courts. When Swamy bragged about unearthing many scams and leading many governments, Solanki stopped him by citing the HS Rastogi case. Solanki argued in the court that as per the Supreme Court rulings in the HS Rastogi case, Asaram had not provided any prior information to the court that Swamy would be pleading his bail application. Further, he said,
What if the court rejected the bail application and Asaram claimed the next day that he had not authorised Swamy to argue his bail petition?"
Soon, Asaram was brought from jail and an application was submitted to the court. Much to the dismay of Swamy, Asaram's bail plea was rejected by the court. Swamy, who earlier boasted that he had not lost a single bail petition in his life, left the case abruptly and he never returned to the case despite promising Asaram that he would come back. During one of the hearings of the case, Solanki called the bluff of the former union minister Salman Khursheed who sought bail for Asaram on the grounds of a serious illness. However, Solanki persuaded the court to ascertain the medical condition of Asaram by constituting a medical board. The board debunked Asaram's lie and his bail petition was rejected by the court. The final verdict of the case was passed on 25 April 2018 in favour of the minor girl, pleading Asaram and two of his associates, Shilpi, the warden of the Gurukul, and Sharad, the director of Gurukul, guilty in the case.
Facts/Trivia
In his leisure time, Poonam Chand loves to write books. He has written various law books. He is also passionate about teaching.
Solanki considers the former Chief Justice of Jharkhand High Court Bhagwati Prasad Sharma his mentor.
In an interview, Poonam Chand shared that the family of the minor girl (victim of the Asaram Bapu Rape Case) had approached him after several lawyers demanded a hefty amount to take up their case, and when Solanki learned about the family's financial condition, he agreed to fight it for free. He said,


I didn't charge a single penny as fees to fight the case. So far as expenses part is concerned, that was given to me… I went to Delhi eight times. So, whatever charges were related to that, I gave that details to them. I had to go to Supreme Court on short notice. In High Court, whatever clerk charge was there, of taking certified copies, In trial Court too, there were many certified copies, it was almost 7000 – 8000. All that money was there. Otherwise, by way of fees, I didn't charge a single penny."

On 23 May 2023, a courtroom drama Hindi film titled Sirf Ek Bandaa Kaafi Hai was released on Zee5, which was based on the Asaram Bapu Rape Case. Manoj Bajpayee portrayed the role of Poonam Chand Solanki in the film. The film was helmed by Apoorv Singh Karki and penned by Deepak Kingrani. In an interview, while talking about playing the character of Poonam Chand Solanki in the film Sirf Ek Bandaa Kaafi Hai, Manoj Bajpayee said,


Portraying the role of P.C Solanki in 'Sirf Ek Bandaa Kaafi Hai' has been an incredible experience as it is the inspiring story of an ordinary man who fought an extraordinary case against all odds for truth and justice. With the trailer out today, I hope that it appeals to the viewers and compels them to witness this story of victory and what all it took for P.C Solanki to achieve what he did."