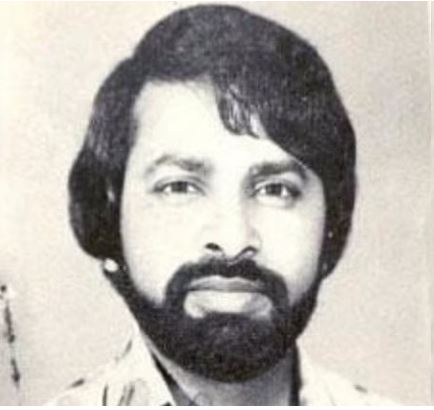 Gopalakrishna Kurup, [1]The Indian Express alias Sukumara Kurup, is an Indian fugitive who is known for the infamous Chacko murder. He is one of the most-wanted criminals in the Indian state of Kerala. Kurup has been absconding from police custody since 1984.
Wiki/Biography
Sukumara Kurup was born in 1946 (age 75 years; as of 2021) in Cheriyanad, Chengannur, Alappuzha, Kerala. He was drawn to adventure from an early age. He did a pre-degree course (equivalent to class 12) and then joined the Indian Air Force as an airman. [2]The Indian Express
Physical Appearance
Height (approx.): 5′ 8″
Hair Colour: Salt & Pepper
Eye Colour: Black
Family
Sukumara was born into a middle-class Malayali family. [3]The Quint His family belongs to the Nair community in Kerala. [4]The Indian Express
Parents & Siblings
Not much is known about his parents and siblings.
Wife & Children
Sukumara Kurup saw a girl named Sarasamma at a relative's place in Mumbai and fell in love with her. At that time, Sarasamma's mother was a domestic help at Kurup's Cheriyanad home. While Kurup was in the IAF, Sarasamma joined a nursing course in Mumbai. The duo met each other a few times and began dating. Soon, Kurup's parents got to know about the affair and sent a few letters to Sarasamma, ordering her to end their relationship. However, Kurup was madly in love with her, and while he prepared to move to Abu Dhabi, he married Sarasamma in a secret ceremony at a temple in Matunga, against the wishes of his family. In Abu Dhabi, Sarasamma worked as a nurse at a private hospital. The couple has two sons. Their younger son is named Sunit Pillai. After Kurup was accused of Chacko's murder, his wife lost her job and his family was ostracised by the community.
Career
Sukumara began his career as an airman with the Indian Air Force. He worked there briefly and failed to return to his unit after a long leave at home. Kurup was thus marked a renegade. He then bribed a head-constable in the special branch of the police to forge a report stating 'Gopalakrishna Kurup,' the airman had died. He asked the constable to send the report to the IAF in order to close the 'deserter' inquiry on him. Kurup then changed his identity and applied for a passport with the name 'Sukumara Pillai.' Subsequently, he migrated to the Gulf. In Abu Dhabi, Kurup started working as an executive with a marine petroleum company.
Attaining a Superior Social and Economic Status
Kurup's job in Abu Dhabi brought him a steady income. Soon, he became friends with a bunch of people and started spending lavishly on parties. He often helped his friends in moments of crisis, irrespective of how close they were to him. Kurup usually carried suitcases filled with gifts for his friends and family members during his visits to Kerala during vacations. Shortly, he gained a superior social and economic status, insisting on paying liquor bills for his friends throughout his stay in Kerala. Kurup started taking great pride in it. Once, during his staycation in Kerala, Kurup bought a plot of land at Ambalapuzha to build a house. He even purchased an Ambassador car for his leisure trips. His habit of spending amply resulted in a weak bank balance. Despite earning a handsome salary of Rs. 60,000 a month (both Kurup and his wife's earnings put together), they hardly saved a penny. In 1984, during his stay in Kerala, there was news of companies in the Gulf, planning to lay off their existing workforce and hire new workers at low wages. At that time, his house was under construction and he was in need of money.
The Desire to Mint Money Quickly
Accustomed to a luxury lifestyle, Kurup started thinking of ways to get huge sums of money quickly. One night, he accidentally came upon a financial embezzlement case that took place in Germany; the perpetrator faked his death and his nominee collected the money.
The Financial Misappropriation Case Story
The story of the incident that took place in Germany was that a man killed a person who held a physical resemblance to him by putting him in the driver seat of a car and setting the car to fire in order to make it appear as an accident, and then claiming the insurance amount for his life.
The Infamous Chacko Murder
On 21 January 1984, Kurup, along with his brother-in-law Bhaskara Pillai (his wife's sister's husband), his driver Ponnappan, and his close aide Shanu, killed a man named Chacko (who bore a resemblance to Kurup) in order to fake his own death and thereby claim a life insurance amount of Rs. 8 lakh. At that time, Chacko was married for less than a year, and his wife Santhamma was pregnant with their first child. Apparently, Sukumara fled abroad after the incident. However, two of his co-accused, his driver Ponnappan, and his brother-in-law Bhaskara Pillai, were sentenced to life-term imprisonment. His friend Shahu was made an approver and later released. The case was one of the longest-standing cases in the judicial history of Kerala was closed in 1996 after 12 years of search.
Executing the Plan
Impressed by the plan (Germany Financial Misappropriation case), Kurup presented the idea to his friend Shahu during a round of drinks. Later, he convinced his brother-in-law, Bhaskara Pillai, and his driver Ponnappan, to be a part of his bizarre plan to claim the insurance money by faking his own death. The princely sum at stake was Rs 8 lakh.
Soon after everyone gave their acceptance to his plan, Kurup asked Pillai to arrange a second-hand car for its execution. His brother-in-law bought a second-hand Ambassador car for Rs. 8000. Initially, he planned to get an unclaimed dead body (that looked familiar to him) for the operation as one of the relatives of Pillai worked at the Alappuzha Medical College. He even thought of scavenging a dead body from a cemetery. When all their efforts to source a dead body went in vain, Sukumara suggested a murder. On the night of 21 January 1984, all four of them met at the Kalpakavadi Hotel at Karuvatta. After having their dinner and helping themselves with a few rounds of liquor, they went hunting for a victim. While Kurup trooped into the Ambassador car (KLQ-7831), all the others boarded a car with the number plate KLY-5959.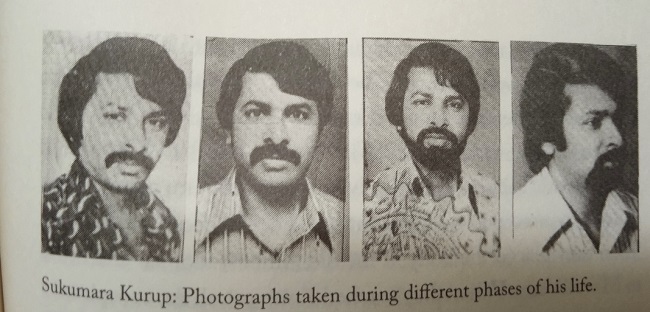 The four of them rode through the highway (about 25 km) but could not find their prey. Later, as they approached the Hari movie theatre, they saw Chacko, a film representative, coming out of the theatre (after assessing the ticket collections at the theatre) and asking for a lift. Chacko asked,
Are you going towards Alappuzha?"
Kurup's driver replied,
Come on in."
Although they had been travelling in the opposite direction, they changed it to offer Chacko a ride. As soon as the car moved towards Alappuzha, Pillai offered Chacko a glass of brandy laced with ether. However, Chacko declined it. Pillai offered him the drink once again, and when Chacko declined it the second time, Pillai shouted,
Drink it."
Out of fear, Chacko swallowed it quickly, became unconscious, and fell into their laps within seconds.
Thereafter, Pillai and Shahu strangled Chacko to death using a towel. They then took Chacko's body to Smita Bhavan, Kurup's wife's native place in Cheriyanadu, where they undressed him and scorched his face to distort his identity. They removed his rings and other belongings and dressed him up in Sukumar's clothes. The four of them later loaded Chacko's body in the Ambassador car and moved towards the paddy field at Thannimukkam. On reaching the venue, they placed Chacko's body in the driving seat, poured petrol over, and set the car on fire.
The Probe
On 22 January 1984, at around 5 am, a passer-by called the Mavelikkara police station and informed them about the burning car on the road. Inside the car was a charred body of a man. On hearing the news, circle inspector M. Haridas and his team members reached the place of crime. During their preliminary investigations, the police believed that the man inside the car was Sukumara Kurup. However, the post-mortem report revealed that the person was not Kurup. Further, the cause of death became doubtful as there was no trace of charcoal in the dead body's respiratory system despite being burnt by fire. When the police closely inspected the area of the crime, tiny clues pointing to some false play began to stack up. The police officers found a matchbox, a pair of footwear, and a rubber glove with strands of hair in it around the car. There were also footprints in the mud indicating that someone has flown from the spot.
Describing the incident in an interview, Haridas (Deputy Superintendent of Police who handled the case) said,
I reached the spot of the crime by 5.30 that morning. I suspected foul play from the very beginning as I noticed a matchbox, a hand glove, and stains of petrol in the area. I found out that the car belonged to one Sukumara Kurup, an expatriate. But in the investigation that followed, we found that the body was not that of Kurup."
Further, the forensic team revealed that there was a stench of poison found in the stomach of the dead man. The police finally concluded that the person was first killed and then planted in the car. During the investigation, the police grew suspicious of Kurup's family as they did not behave the way a bereaved family does. They then placed policemen in casual clothes outside Kurup's house to keep a watch on his family and it came out that the family had a grand meat meal just two days after Sukumara's death, which was quite unusual.
On the other hand, Chacko's absence from his home led his brother to file a missing person complaint at the Mavelikkara police station. Initially, his wife Santhamma did not take Chacko's absence seriously as her husband often stayed away from his home for days due to the nature of his work. However, she grew suspicious when she read about the murder in the newspaper.  Although the body of Chacko got completely burnt, his wife Santhamma reportedly identified him by the underwear that he was wearing (the only piece of clothing on Chacko's body that was not completely destroyed).
Equipped with the identification of Chacko (being the dead man), police soon connected the clues and came to the conclusion that Kurup had faked his death for money. Even though the police managed to arrest the other three accused (his driver Ponnappan, his brother-in-law Bhaskara Pillai, and his friend Shahu) in the case, Kurup had a narrow escape.
It is believed that Kurup flew from Aluva to Chennai, and then to Bhutan. He later went to the Andamans. He then moved to Bhopal. Police did search him in all those spots but could not catch him. Four undercover policemen, who were a part of the special investigation team (SIT)in the case were also deployed in his neighbourhood for eight years but yielded no results.
Conspiracy Theories
Since Kurup went missing after the Chacko murder case, several theories about Kurup's life have been doing the rounds. While some believe that he had become a monk in Nepal, others say that he had fled for the Gulf from Nepal. It is also believed that Sukumara converted to Islam and is living in a mosque in the interior of Saudi Arabia.
In 1990, a Malayali nurse, working at a hospital in Ranchi, claimed to have treated Sukumara during his run. She told the police officers that Kurup is not likely to live long as he suffered from severe cardiac issues. A man named Joseph insists that he was very ill and must be dead by now. In an interview, he said,
Kurup was spotted at the district hospital, Dhanbad, Bihar, in 1989. He was admitted with severe cardiac issues. The name given was P.S. Joshi, and he was 50. A Malayali nurse, who had her suspicions, asked him about his original home; he vanished the very next day with his medical records. The same person has been sighted in nine states including Odisha, West Bengal, and Assam. He was last spotted in Narayanpur (currently in Chhattisgarh) in January 1990. He vanished from there, too. Doctors told us that he would not survive for more than a week as his condition was that critical."
Facts/Trivia
Sukumara, with his criminal act, has inspired many Malayalam films like NH47 (1984) and Pinneyum (2016).
In 2021, a Malayalam mystery crime-thriller titled 'Kurup' was released. The film was based on the life of Sukumara and the aftermath of the Chacko murder case. The Indian actor Dulquer Salmaan played the eponymous role in the film. The film was slammed with a legal notice by Chacko's son, Jithin, who complained that his father's killer should not be glorified as a hero. [8]

Outlook