Archana Nag is an Indian businesswoman who was arrested by the Odisha police on 6 October 2022 for allegedly extorting money from rich and influential people such as politicians, businessmen, and film producers by blackmailing and threatening them with photos and videos of their intimate moments.
Wiki/Biography
Archana Nag Chand [1]Archana Nag Chand – Facebook was born on 27 February in Kenduguda village in Lanjigarh locality, Kalahandi, Odisha, India. [2]Times Now Her zodiac sign is Pisces. Archana attended Capital High School Unit-3 in Bhubaneswar. Some media sources claimed that Archana pursued her graduation in integrated law at the Utkal University in Bhubaneswar, but as per some media sources, it was not confirmed whether she completed her degree or not. [3]The Times of India
Physical Appearance
Height (approx.): 5′ 3″
Hair Colour: Black
Eye Colour:  Black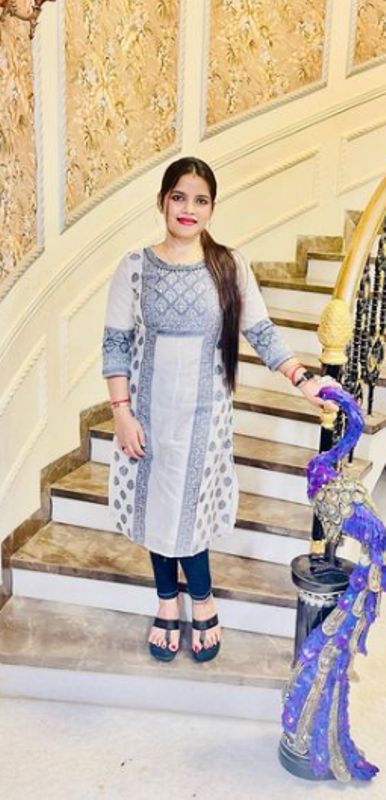 Family
Parents & Siblings
Archana's father, Surendra Nath Nag, served as the president of the Niyamgiri Land Losers' Association (NLLA) in Lanjigarh, Bhubaneswar.
Husband & Children
In 2018, Archana got married to Jagabandhu Chand, who belongs to Jaleswar in Balasore.
In Jaleswar, Jagabandhu worked at his father's grocery store, and he later shifted to Bhubaneswar to work at a hotel. In 2018, he came in contact with Archana, while she was working at a beauty parlour, and they later got married to each other in the same year. The couple has a son.
Other Relatives
Religion
Archana Nag follows Hinduism.
Address
Archana resides in Satya Vihar in Bhubaneswar.
The rags-to-riches story
Background
Archana Nag hailed from a poor family in the Kalahandi district, a place which was once a centre of extreme poverty and starvation deaths. [4]The Print In 2015, she shifted to Bhubaneswar, where she, reportedly, started working  with a private security company. After working there for a few days, she joined a beauty parlour in Baramunda, Bhubaneswar.
The honey-trapping plan
After getting married to Jagabandhu Chand, Archana, along with her husband, allegedly ran a sex racket while working in the beauty parlour. Her husband, Jagabandhu, operated a used car showroom, and he addressed himself as the supporter of a political party to get along with several influential persons like politicians, builders, businessmen, filmmakers, and others. As per sources, Archana introduced herself as a lawyer, and she particularly made connections with rich and influential people of Odisha and allegedly provided them with the opportunity to get physically involved with other women. Reportedly, she was accused of supplying women as per the need of the interested party in return for a lump sum of money. To extort money from the concerned party, Archana used to shoot and capture their intimate moments and later blackmailed them. As per sources, Archana allegedly involved 15 girls, who used to work as per the instructions given by her to trap the powerful personalities of Bhubaneswar in the sex racket. [5]Argus News She extorted crores of rupees from several rich and powerful personalities in the state by threatening to release photos and videos of their intimate moments. Within a few months of their marriage, the couple amassed assets, jewellery, and cars worth crores. Archana was appointed as the director of Additya Prestige Agro Private Limited on 9 January 2021 and Golden Empress Private Limited on 29 June 2022. Soon, she became the owner of ABC motors, a pre-owned car showroom in Rasulgarh, Bhubaneshwar and Aditya Villa Production House in Sundarpada, Bhubaneswar. However, her plan of honey-trapping backfired when the Odia film producer Akshay Parija lodged a complaint against her of threatening and blackmailing him.
Landed in trouble
On 6 October 2022, Archana was arrested on the basis of the complaint lodged by a woman on 2 October 2022 at the Khandagiri police station, and she was accused of blackmailing rich and powerful personalities of the state by trapping them in a sex racket. The victim alleged that Archana used her in trapping several people in the sex racket including the Odia film producer Akshay Parija. The complainant claimed that Archana and her husband invited her to a party in 2019, added sedatives to her drink, and clicked her indecent pictures. They threatened and forced her to be a part of their sex trade. She revealed that Archana used to threaten various political party members, businessmen, and other prominent personalities with offensive pictures and videos and extorted huge amounts of money from them. In April 2022, Archana asked the victim to chat with Akshay, and she was forced to initiate a physical relationship with him. On the other hand, Akshay Parija filed an FIR against Archana Nag at Nayapalli police station, alleging that Archana blackmailed him with his objectionable private photos with a woman. Akshay claimed that Archana called him at a hotel, intoxicated him with a drink, and captured his intimate photos following which she demanded 3 crores from him and even threatened to leak his pictures and videos. While addressing the press reporters, Akshay said,
Archana struck a deal with me at a city-based posh hotel and demanded Rs 3 crore from me. She threatened to kill me by cutting me into pieces if I did not oblige." [6]Odisha Bytes
During a press meet, the deputy commissioner of police Prateek Singh, revealed the honey-trapping plan of Archana and said,
 A case was registered against Archana Nag on October 2 at Khandagiri police station. The case 496/22 has been registered against her under 387, 420 and 506 IT Act. Her modus operandi was she first very cunningly developed friendship with the victims. She then called them to her house and got intimate with them. She then recorded intimate videos through secret cameras and later blackmailed the victims, some of whom were from influential backgrounds." [7]News18
Police arrested her under sections 341, 328, 324, 354C, 370, 386/387/388, 389, 419/420, 465, 506, 120B of IPC and section 66E, 67 of the IT Act. While Archana was taken to the court by police, she addressed the press reporters and said,
I will tell everything at the right time. I will tell everything, but please wait for the right time. Police investigation will reveal everything. But, I request media to not spread fake news about me without any proof." [8]Odisha TV
Police arrested her husband, Jagabandhu Chand, on 22 October 2022 in connection with the blackmailing and extortion case.
The untold story of revenge
In 2022, a social activist, Lingaraj Azad, who is known to Archana Nag's family revealed that Archana had a problematic childhood as she was gang-raped by four men when she was a teenager. According to him, Archana's father was ousted from his own ancestral property by some builders, who wanted to initiate the construction as per their project. Her father, along with other villagers, led several protests against the projects' construction. In response to the protests led by Archana's father, a few anti-social elements namely Raju, Surya Narayan aka Landu, and Karan Kumar Pradhan allegedly kidnapped her and gang-raped her. A case was registered against them at Lanjigarh police station on 4 October 2008, but the matter was reportedly suppressed using money and political influence. According to Lingaraj, to move on from the trauma that she faced in her teenage, Archana left her native village without informing her family and never went back. In 2022, Lingaraj shared a post in favour of Archana Nag on his Facebook handle and wrote,
Truth must come to the fore and perhaps Archana's mental agony forced her to become what she is today. Her gangrape reminds me of the story of much-debated bandit queen Phoolan Devi from Uttar Pradesh. So-called dignitaries of the erstwhile society had remained silent when this minor gangrape survivor had to face the trauma. She is said to be giving sleepless nights to a number of luminaries in Odisha, these days. But, who are actually at fault? 'Good' or 'bad' are never absolute terms; rather, those should be interpreted in a very relative sense. Public figures directly or indirectly associated with Archana must be brought within the purview of probe. The accused woman should not be blamed alone for all that has recently happened." [9]Sambad
Car Collection
Archana owns a BMW X3, Ford Endeavor, Mahindra Thar, and Toyota Fortuner car.
Assets/Properties
According to some sources, Archana, along with her husband, Jagabandhu Chand, has amassed property worth Rs 30 crores since 2018. [10]Times Now Archana owns a luxurious three-storey bungalow worth Rs 3 crore in Satya Vihar and a farmhouse at Nakhara in Bhubaneswar. [11]Kalinga TV
Facts/Trivia