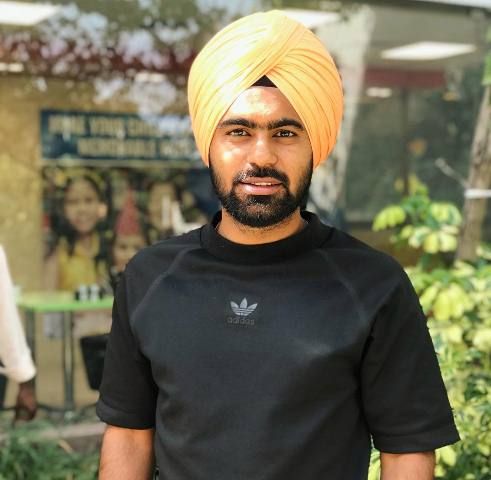 Simranjeet Singh is an Indian field hockey player playing midfielder for the Indian national team. He is known for being a member of the Indian field hockey team who won a bronze medal in the Tokyo Olympics 2020.
Wiki/Biography
Simranjeet Singh was born on Friday, 27 December 1996 (age 25 years; as of 2021) in Majhola, Pilibhit district, Uttar Pradesh. His zodiac sign is Capricorn.
He did his elementary schooling in Majhola, Pilibhit district, Uttar Pradesh, and remaining schooling in Punjab. He was interested in hockey since childhood. Seeing his passion for hockey, his elder paternal uncle took him to their home in Batala, Punjab. He learned the basics of field hockey in Patiala. He was trained in field hockey at Surjit Hockey Academy, Jalandhar. [1]The Tribune
Physical Appearance
[2]Hockey Men's World Cup Height: 5′ 7″
Eye Color: Black
Hair Color: Black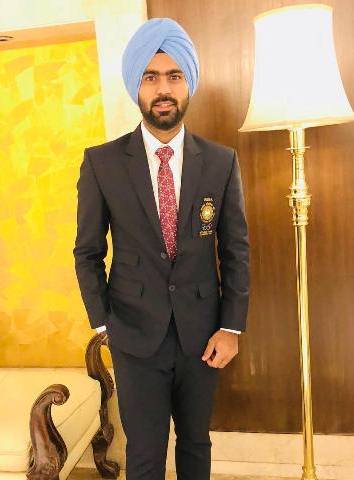 Family
Parents & Siblings
He hails from a family with a history in field hockey. His father, Iqbal Singh, is a farmer and former field hockey player. Not much is known about his mother. He has two brothers Arsh Singh and Satinder Chahal (field hockey player).
Other Relatives
One of his uncles, Rashpal Singh, was a field hockey player, and his cousin Gurjat Singh is an Indian field hockey player who plays as a forward.
Career
Jersey Number: 10
Coaches
Sultan Azlan Shah Cup (M)
He was a part of the 2018 Sultan Azlan Shah Cup in which the Indian team came fifth after losing to Ireland. He again participated in the 2019 Sultan Azlan Shah Cup as a part of the Indian team, which won the tournament after defeating the South Korean team by 2-4.
International Hockey Federation
In 2016, he participated in the Men's FIH Hockey Junior World Cup (formerly Hockey Junior World Cup), held in Lucknow (India), as a part of the Indian squad, which won by 2-1 against Belgium. He played alongside his cousin Gurjat Singh who became the Man of the Match.
Simranjeet was a part of the Indian team competing in the 2018–19 Men's FIH Series Finals held in Bhubaneswar, India. In the tournament, India competed against South Africa in the finals and won, bagging a gold medal.
He was then selected to be a part of the 2020–21 Men's FIH Pro League in which the Indian team came in fourth place, and Belgium was named the Champions.
Asian Games, Commonwealth Games & Olympics
Simranjeet then became a part of the Indian field hockey team competing in the 2018 Asian Games – Men's tournament held in Jakarta, Indonesia. The Indian team reached the semi-finals but lost to Malaysia, winning the bronze medal.
He participated in the 2018 Commonwealth Games, held in Gold Coast (Australia), as a part of the Indian team in the matches on 7, 8, 10, and 11 April 2018. In the tournament, India secured fourth place after losing the Bronze Medal match against England. Simranjeet was a part of the Indian team competing in the 2020 Summer Olympics, held in Tokyo, Japan, and the Olympics were postponed to 2021 due to the COVID-19 pandemic. Simranjeet was included in the Indian field hockey team for the Olympics after the International Olympic Committee decided to let the alternate athletes in team events due to COVID-19. According to a source,
Varun and Simranjeet have been added to the 16-member side. Now it is an 18-member side. Though they are additional, both of them are up for selection in every match as per IOC's special guidelines for Tokyo 2020."
The Indian team advanced to the semi-finals and lost to Belgium by 2-5. India then competed against Germany for the Bronze Medal match and won by 4-5; Simranjeet played as forward and scored two goals (17th and 34th minutes). It was India's first field hockey medal at the Olympics since 1980, almost after 41 years.
Others
Simranpreet started his journey as a professional field hockey player when he became a part of the Indian team at the 2014 Sultan of Johor Cup in which India defeated Great Britain by 2-1 to win the trophy. He was then part of the Indian team competing in the 2015 Breda Invitational U21 Matches and 2016 4 Nations Invitational (Valencia): Junior Men. He then played in the Indian team at two 2018 4 Nations Invitational Tournament (M), one held in Hamilton and the other in Tauranga, and India won in both of them. Simranjeet was a part of the Indian team participating in the Men's Rabobank Hockey Champions Trophy 2018, held in Brenda. The Indian team faced defeat in the finals playing against Australia.
Simranjeet then played in the 2018 Men's Hockey Champions Trophy, which was held in Brenda, Netherlands, from 23 June to 1 July 2018. The Indian team reached the finals but lost to Australia by 3-1, bagging a silver medal. He has also played for the Punjab & Sind Bank and Petroleum Sports Promotion Board (PSPB). He has a total of 52 caps for the Indian team. [3]Hockey India He is also a part of Rachi Rays, one of the teams in the Hockey India League (HIL). In the 2017 HIL, he was named Coal India Goal of the Match and was awarded Rs. 50,000.
Favourites
Field Hockey Player(s): Balbir Singh Sr., Sardar Singh
Song: Struggle Everyday by Akon
Facts/Trivia
His family belongs to Chahal Kalan village in Batala in the Gurdaspur district of Punjab State.
Although he is a midfielder in field hockey, he sometimes played as linkman and forward.
Simranjeet has endorsed the brand Rakshak Hockey, which makes hockey sticks.
In 2014, he won the Hockey India Annual Award for his contribution towards promoting field hockey nationally and internationally.
While talking about his dream to play, his experience, and India's win in the Olympics in an interview, he said,


It was my dream and it will be an unforgettable experience. When I went to sleep last night, I was dreaming about making these goals and today I was able to fulfil my dreams and this is a very proud moment for us to help India lead in this game. Today we have made 1.3 billion Indians proud by finishing on the podium. This is a lifetime experience and we will try and continue this on to other tournaments."
He is well versed in three languages Hindi, English, and Punjabi.