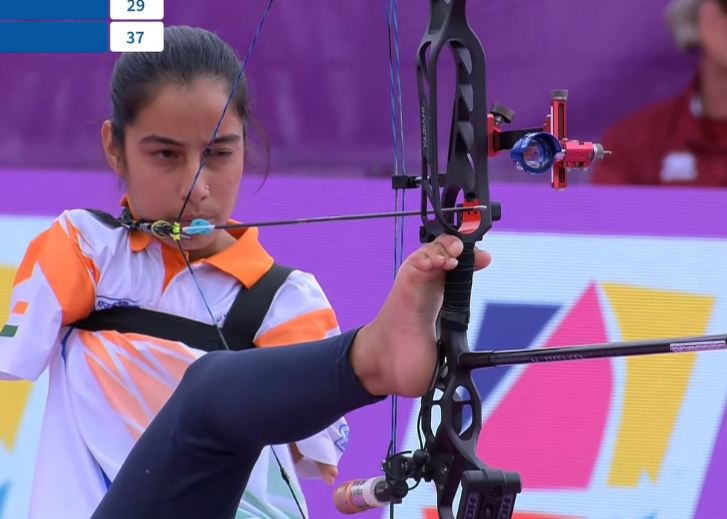 Sheetal Devi is an Indian para-athlete, who competes in archery at national and international levels. In 2023, she created history by becoming the first female armless archer to reach the world finals in archery.
Wiki/Biography
Sheetal Devi was born in 2007 (age 16 years; as of 2023) in the remote village of Loi Dhar in the Kishtwar district of Jammu and Kashmir. She grew up in a family that lacked access to basic amenities. In 2022, she was studying in class 10. [1]Herald Goa She loved going to school since childhood but was afraid that she could study like other children due to her disability. However, with the support of her family and friends, Sheetal did well in her studies. In 2022, coach Kuldeep Vedwan came to know about Sheetal Devi through an army personnel. Vedwan, soon asked Sheetal to join Vaishno Devi Shrine Board Archery Academy, Katra, where he trained her in archery. A special bow was prepared for her, which she had to shoot not with her hands but with her feet and chest. Within six months, Sheetal mastered it and achieved great proficiency, and started taking part in competitions. Acknowledging her talent, the army took the responsibility of sponsoring her education. Simultaneously, the army also made significant efforts to arrange medical assistance and provide her with prosthetic limbs.
Physical Appearance
Height (approx.): 5′ 3″
Hair Colour: Brown
Eye Colour: Brown
Family
Parents & Siblings
Sheetal Devi's father is a farmer. Her mother is a goatherd. She has a younger sister, Shivani.
Career
Sheetal Devi started her career as an athlete in November 2022 with the Junior National Archery Championship, where she had to compete with able-bodied athletes. Subsequently, she participated in Khelo India Nationals and Women's Khelo India Games, where she performed well.
She made her international debut in May 2023 at a para tournament in the Czech Republic, where she clinched two silver medals and a bronze. Two months later, Sheetal participated in Para Archery Championship 2023. On the first day of the championship, she secured the fourth position in the compound women's qualifying round, scoring just eight points less than her fellow countrywoman, Sarita. Remarkably, the duo also managed to set a new world record in the doubles event. In the semifinal, the amateur athlete outperformed her compatriot Sarita, securing her spot in the final showdown with a convincing scoreline of 137-133. Sheetal is the first female armless archer to reach the world finals.
Medals & Achievements
A Silver in Khelo India Nationals
A Bronze in Women's Khelo India Games
Two Silver medals and a bronze medal at a Para Tournament in the Czech Republic
Secured first position at the Para Asian Games trials
Facts/Trivia
Sheetal was born without hands at birth.
Sheetal emulates the renowned archer Matt Stutzman by gripping her bow with the assistance of her foot.
In 2022, when Sheetal started archery, she became the world's first female archer without hands. However, in 2023 there are a total of six archers without hands in the world.
In July 2023, Sheetal held the world rank 18 in Compound Women Open.
Until July 2023, her Qualification best score in Compound Women was 682.
In an interview, while talking about Sheeta, her coach Kuldeep Vedwan said,


She came over eight months ago to the academy and started practising. She was born without arms and her ability was obvious to everyone. Her dedication to the sport can be realised by the fact that she comes to practice early in the morning and then leaves for school. She returns to practice after classes. When there is a holiday, she starts at 7 am, breaks for lunch and then finishes at 5 pm. Sheetal is a para athlete but she is competing with normal athletes. There is a selection process which is conducted for a tournament which she participated in and she did very well."
In an interview, Sheetal revealed that she initially desired to have prosthetics to lead a normal life and pursue a teaching career. However, her life took a remarkable turn when she crossed paths with Preethi Rai, the founder of an NGO called 'Being You' in Bengaluru. Preethi was the one who identified Sheetal's inner strength and encouraged her to explore archery as a potential career choice. Initially hesitant, Sheetal eventually made the decision to join the academy and embark on her journey in the sport.
In 2023, Sheetal was the only armless archer who competed at the World Para Championships.
In a media conversation, coach Abhilasha from the Shrine Board Academy shared the challenges they faced while introducing Sheetal to archery. She said that upon witnessing other para-archers in the academy, Sheetal was inspired and keen to pursue the sport. The academy arranged a special bow for her, and remarkably, within just six months, she mastered archery. Sheetal even started participating alongside regular archers, not just para-archers. Teaching archery to Sheetal, especially the technique of shooting arrows without hands, proved to be a difficult task for her coaches. To assist her, Kuldeep and Abhilasha showed Sheetal videos of Matt Stutzman, a renowned armless archer from the USA, which greatly aided her progress. Matt himself visited the academy, met Sheetal, and provided valuable suggestions for modifying her bow. With a Paralympic medal-winning background, Matt scored 685 points, while Sheetal excelled with 689 points in her achievements at the academy.