Varinder Singh (1947-2022) was an Indian field hockey player. He was known for being an integral part of some memorable victories achieved by the Indian Men's Hockey team in the 1970s. In 1975, he was a part of the Hockey World Cup-winning Indian squad. On 28 June 2022, he breathed his last at a hospital in Jalandhar, Punjab.
Wiki/Biography
Varinder Singh was born on Friday, 16 May 1947 (age 75 years; as of 2022) in Village Dhannowali, Jalandhar, Punjab (then-British Raj), India. His zodiac sign is Taurus. Inclined toward sports from a young age, Varinder started receiving training in hockey at a young age.
Physical Appearance
Height (approx.): 5′ 3″
Weight (approx.): 60 Kg
Hair Colour: Salt & Pepper
Eye Colour: Brown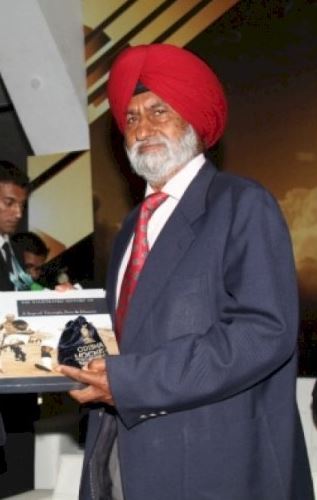 Family
He belonged to a Sikh family. Not much is known about his parents & siblings.
Career
Domestic Hockey
Varinder Singh was recruited in the Indian Railways Hockey team in the 1960s. During his tenure with the railways, he played with the likes of Balbir Singh Randhawa and 1964 Olympics gold medallist Harbinder Singh.
In many national and other big tournaments, he was pitted against a Punjab team's Harcharan Singh, a 1972 Munich Olympics bronze medallist. He was also made to play against 1968 Mexico Olympics bronze medallist Balbir Singh Kular of the Services team. During an interview, Harcharan while remembering his duels with Varinder at the domestic level, said,
Varinder would become one of India's best right-halves and I would be considered one of India's best left-in wingers. During the Nationals and tournaments like the Nehru Gold Cup, it would be a duel between us."
International Hockey
Varinder started his international hockey career in 1972 with the Munich Olympics, where he represented India; he was selected for the Olympics as a reserve for Kular. He was a part of many memorable victories of the Indian squad in the 1970s. He played for team India during the 1974 and 1978 Asian Games. The Indian Men's Hockey Team won silver medals in both the games. A two times Olympic player, Varinder represented India at the 1975 Montreal Olympics (hockey) and 1972 Summer Olympics. In 1975, he was an integral part of the only world-cup-winning Indian hockey team; The India men's hockey team defeated the arch rival Pakistan by 2-1 in the finals of the 1975 Hockey World Cup in Kuala Lumpur, Malaysia.
During the World Cup Varinder played a crucial role in India's 3-1 win over Germany in the pool stage, a must-win game.
Hockey Coach
Post his retirement from the Indian men's hockey team, Varinder worked with a few hockey training institutes as a coach. He was associated with the Punjab and Sind Bank hockey team as a coach for more than eight years. From 2008 to 2021, he worked as the hockey coach at the Punjab Sports Department. In 2021, Varinder joined Lyallpur Khalsa College for Women, Jalandhar, as a hockey coach. He was also training the students of Round Glass Hockey Academy, Jalandhar.
Death
Varinder Singh died on 28 June 2022 at a hospital in Jalandhar. He was aged 75 years. His sudden demise left the entire Indian Hockey Federation in a deep shock. Mourning the death of Varinder Sing during a press release, the Indian Hockey Federation said,
Varinder Singh's achievements will be remembered by the hockey fraternity worldwide."
Hockey India also expressed its grief through a tweet that reads,
In light of the tragic passing of the great Hockey player Shri Varinder Singh, we pray to the Almighty to grant the departed person's soul eternal rest and to provide the family members the fortitude to endure this irreparable loss."
Mouring the death of the hockey coach, Avtar Singh, coach at the Surjit Hockey Academy, Jalandhar, during a media conversation said,
It's a huge loss for Indian hockey as well Punjab hockey. Varinder Singh was one of the best right-half in the country along with Krishnamurty Perumal in the 1970's and after he retired, he made sure that he remained in touch with the sport through coaching. After coaching Punjab and Sind Bank hockey team for more than eight years, he worked as a coach with the Punjab Sports department since 2008 and had joined a private academy last year."
His students and co-workers fondly remember him as a humbled, down to earth, puntual, and a good human being. Reminiscing his death, Kulbir Saini, office secretary of Hockey Punjab, said,
I have not seen anyone so punctual like him. Whenever he would train young players, I would often sit, observe and learn from him. When he was around, I would prefer just looking at the style of teaching."
His funeral took place at his native village Dhannowali in Jalandhar on 28 June 2022. Moments before his last rites were performed, budding Indian hockey players paid a tribute to him by raising their hockey sticks at cremation ground.
Medals
Olympic Games
Bronze Medal at 1972 Summer Olympics in Munich
Hockey World Cup
Silver Medal at 1973 Men's Hockey World Cup in Amsterdam
Gold Medal at 1975 Men's Hockey World Cup in Kuala Lumpur
Asian Games
Silver Medal at 1974 Asian Games in Tehran
Silver Medal at 1978 Asian Games in Bangkok
Facts/Trivia
Varinder Singh was considered one of the best right-half hockey players in India during the 1970s.
In 2007, the then-President of India Pratibha Patil honoured him with the prestigious Dhyan Chand Lifetime Achievement Award for his contribution to the Indian hockey.
During an interview, while sharing an interesting anecdote, Iqbal Singh Sandhu, sports whistle blower, said,


Once there was a match between Indian hockey team and Australia. As Varinder was short in height, he heard Australian players commenting on his height that he was a 'tiny man'. After this, he started the game and dodged the ball for several minutes which made them (Australian players) go crazy. The players then said that he was a 'dangerous man'. Varinder Singh himself told us this."
A few days before his death, he used to travel a distance of 8 km on his scooter to train the hockey students. Talking about it in a media conversation, Jasdeep Kaur, a national-level hockey player who was being trained by Singh, said,


How could someone his age come to train on his scooter covering a distance of 8 km amid this sweltering heat without a break? He would come 15 minutes early than the actual training time. This is the one life lesson I think I will always follow."
Apparently, he trained the Tokyo Olympics player Gurjit Kaur. Gurjit had scored many goals at the Olympics.
In an interview, while sharing how he used to motivate his students, one of his students said,


Kade vi eh nahee kehna, ki main thak gayi, nai te kal vi usi mann naal aaoge (After the completion of the practice session, you should not say that I am tired, because it will impact your mood and you will come next time with the same mindset. Always say I am fit, I enjoy the practice and I will do it tomorrow again, only then you will be able to excel."