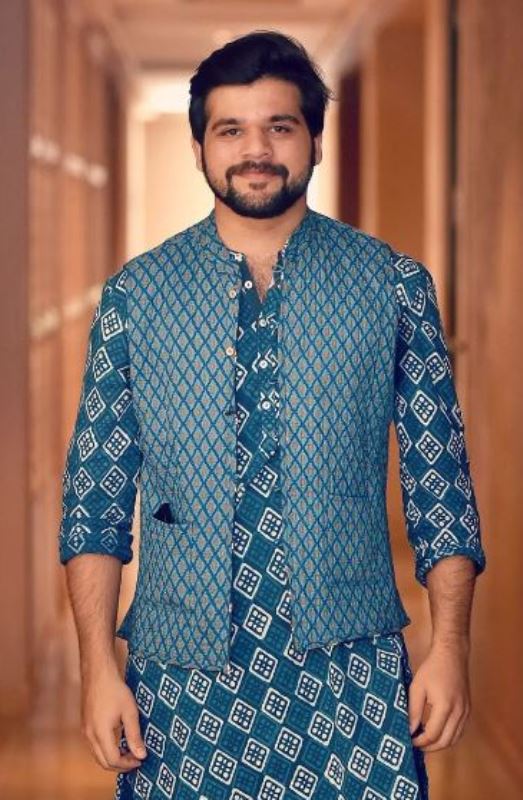 Kshitish Date is an Indian actor, director, and writer. He works prominently in the Marathi entertainment industry. He is known for playing the character of Eknath Shinde in the 2022 biographical drama film 'Dharmaveer' directed by Pravin Tarde. In 2018, he played the role of a farmer-turned-criminal, Ganya, alongside Om Bhutkar in the crime drama film 'Mulshi Pattern.'
Wiki/Biography
Kshitish Date was born on 18 October in Pune, Maharashtra. His zodiac sign is Libra. He went to Panditrao Agashe School, Pune. He pursued an MA in Visual Communication at Sir Parshurambhau College in Pune. [1]The Indian Express
Physical Appearance
Height (approx.): 5′ 10″
Weight (approx.): 65 kg
Hair Colour: Black
Eye Colour: Dark brown
Family
Kshitish Date belongs to a Marathi family in Pune, Maharashtra.
Parents & Siblings
His father, Girish Date, is a professor at the Maharashtra Institute of Technology (MIT), Pune. His mother, Rohini Date, is a homemaker.
Wife & Children
Kshitish Date is married to his best friend, Rucha Apte, who is also an actor. Kshitish and Rucha got married on 25 April 2021 during the lockdown due to the COVID-19. On 27 April 2021, he shared some information on Instagram regarding his wedding ceremony. Both of them asked each other two days before the wedding,
Shall we do it now or should we postpone it ??"
After discussing this for 2 days, they decided to get married to each other in April 2021 as there was no sign that the pandemic would end soon. According to Kshitish Date, only 16 guests attended their wedding ceremony, though 25 people were allowed to attend the ceremony amid the COVID-19 restrictions.
Relationships/Affairs
Kshitish and Rucha dated each other for many years before getting married in 2021.
Career
Actor
Theatre
He has worked in experimental theatre and has been part of Grips Theatre and many other theatres. In 2017, he performed in a play titled 'Adhure' written and directed by Swanand Barve. He was cast opposite Anuradha Athlkekar in a lead role.
Short Film
In 2012, Kshitish worked on his first Marathi feature film, 'Dhuka,' in which he was cast as Harshu. In the 2015 short film '…And Buddha Smiled!' he lent his voice as an office peon in the film. 'Bappache Gharich Visarjan Surakshit Visarjan' is a 2020 drama short film in which he played the character of Satish Dubhashi alongside Sachin Khedekar, Shruti Marathe, and Om Bhutkar.
Television
In 2016, he made his TV debut with the Marathi comedy-drama series 'Bun Maska.' 'Ti Fulrani' is a drama TV show released in 2018 in which he played the character of Anay. In 2018, he appeared in a drama series titled 'Devashappath.' In the following year, he was cast to play the role of Bapurao in the biographical action TV series 'Gondya Ala Re' in which he was cast alongside Parth Ketkar and Shalva Kinjawadekar. In the 2020 comedy TV mini-series 'High Time,' he appeared as Bipin.
Films
He began his acting career by playing a cameo role in the 2017 film 'Zindagi Virat' directed by Sumit Sanghamitra. In the same year, he was cast in a drama film, 'Maza BhirBhira.' In the 2019 biographical film 'Bhai – Vyakti Ki Valli 2,' which was directed by Mahesh Manjrekar, he was cast as Satish Dubhashi. In 2022, he acted in a biopic based on the life of late Shiv Sena leader Anand Dighe titled 'Dharmaveer.' He played the role of Eknath Shinde alongside Prasad Oak.
Director
In 2017, he directed a Hindi play, 'Item.' In an interview, Kshitish shared some insights about the play. Regarding the creation of the play, he said,
"Item reflects how we treat women. Media through its reach and impact has been altering our idea of gender, sex and its power structures, setting bizarre physical standards for us to follow. We desperately wanted to tell this story through this character Sapna Shetty (essayed by Deepti Kachare), an under-skilled dancer who is chosen by a filmmaker to be the heroine for his film. She eventually becomes a superstar in B grade film industry. Over the years, she exposes her body for performances and gradually starts believing that she is a great actor and that her fans adore her acting skills. So deeply ingrained this is in Sapna that while making a comeback after a setback, she declares that her return is no less than that of Amitabh Bachchan." [2]The Hindu
On being asked about using a bed as a metaphor in the play 'Item,' he said,
In the play, the camera, plots, the story and its sub text, dim lights, dirty props, polished chairs, men and women, all revolve around the bed. It becomes the central character. In B grade film industry, there is barely any storyline and logical dialogues with the final aim being to show a man and a woman in bed." [3]The Hindu
On 27 October 2018, his play, 'Item,' was shown at the Old World Theatre Festival held at India Habitat Centre in New Delhi. [4]The Indian Express
Awards
His play, Item, won an award for Best Play at the 13th Mahindra Excellence in Theatre Awards (META) in 2018.
Car Collection
He has a Tata Punch SUV car, which he bought in 2022.
Facts/Trivia
His play 'Item' won an Award for Best Play in 2018 along with another play 'Nona' directed by Jino Joseph. This was the first time in the history of Mahindra Excellence in Theatre Awards that two plays received the award for Best Play. [5]

Business Standard
Kshitish Date's play 'Item' shined at the 13th META Awards when it bagged the Best Actor in Lead Role (Male) Award for Sainath Ganuwad's great job at portraying L. Rakesh, the on-stage narrator of the play. [6]

Business Standard