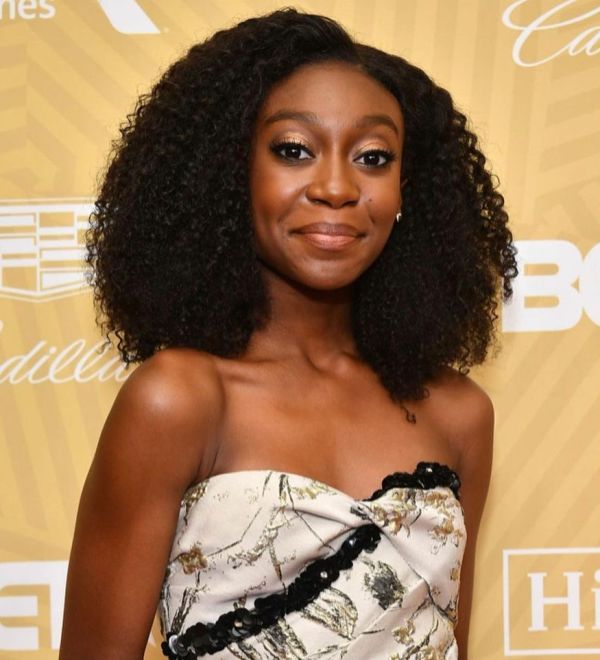 Shahadi Wright Joseph is an American dancer, singer, and actor who is well known for starring inthe American film Us (2019) and the web series Them (2021).
Wiki/Biography
Shahadi Wright Joseph was born on Friday, April 29, 2005 (age 16 years; as of 2021), and she hails from Brooklyn in New York, U.S. Her zodiac sign is Taurus.
At the age of just two, she began dancing at Purelements: An Evolution in Dance, a Brooklyn-based dance studio founded by her father, Kevin Joseph, in 2006. Shahadi grew up learning various dance forms like classical ballet, hip hop, modern dance, Jazz, and West African and Caribbean dance. During her childhood, she was an active member of the Asase Yaa Cultural Arts Foundation, a Brooklyn-based non-profit organization dedicated to the promotion of cultural performing arts.
Physical Appearance
Height (approx.): 5′ 3″
Hair Color: Black
Eye Color: Black
Family & Ethnicity
Shahadi's father, Kevin Joseph, is the owner and operator of the dance studio Purelements: An Evolution in Dance. Her paternal grandmother, Sylvia Joseph, immigrated to the US from Trinidad, an island near Venezuela. Shahadi inherited her melodious voice from her grandfather, who was an opera singer.
Her mother, Dina Wright Joseph, is a professional dancer who attended the Alvin Ailey American Dance Center and Martha Graham School. Thereafter, for the next 12 years, Dina extensively toured around the world with Forces of Nature Dance Theater Company. After her tour and numerous television appearances, Dina became a dance teacher-cum-program manager at Purelements.
Her elder sister's name is Sundari Wright Joseph. Just like her otherfamily members, Sundari is also a professional dancer who later started swimming competitively.
Career
Theater
Shahadi Wright Joseph ventured into the entertainment industry at the age of eight when she auditioned for the Broadway show 'The Lion King' (2014) and secured the role of young Nala. The play was based on the 1994 Walt Disney Animation Studios' feature film of the same name. The narrative follows Simba, the lion son of Mufasa and Sarabi, who is destined to rule the Pride Lands as a king.
At the age of ten, she appeared in another film-to-Broadway production 'School of Rock,' which was nominated for the Tony Award in 2016. She starred as Madison/Matthew, a background dancer who was usually spotted dancing near the drumset in the play.
Television
In 2016, she made her television debut with NBC's special 'Hairspray Live!' in which she played the role of Little Inez Stubbs. Set in 1962 Baltimore, the film follows a teenager named Tracey whose dream comes true when she secures an opportunity to appear on a local TV program, 'The Corny Collins Show.'
In 2018, she made an appearance in the 1969 American educational children's television series 'Sesame Street.'
Music
In 2016, she released her debut album 'Love for the Holidays' on iTunes on Thanksgiving day 2016, consisting of three songs.
In 2019, she released her debut single "Skin I'm In," which premiered exclusively via Billboard. While talking about her song in an interview with Billboard, she said,
'Skin I'm In' is an anthem to remind us all to love ourselves on our best and worst days….Daily challenges are unavoidable but can be taken in stride when we choose to say, 'I am enough."
In 2020, she sang as well as wrote the song "Wallpaper," produced by IMMPAAC. Other musical credits under her belt include the songs "I Just Can't Wait to Be King" and "Danger" (Young Simba & Young Nala interlude), featured in the film 'The Lion King' (2019).
Film
In 2019, she rose to prominence with the American horror film 'Us' in which she played the role of Zora Wilson, daughter of Adelaide Wilson (the protagonist). The film follows a family's beach vacation that turns to chaos when their doppelgangers appear and begin to terrorize them. In the film, Shahadi also plays the role of Umbrae, Zora Wilson's sadistic red-jumpsuit-wearing doppelganger.
Immensely appreciated, the film's debut was the best opening for an original horror film in history, bringing in $70.25 million during its opening weekend. In 2020, Hollywood Critics Association awarded Shahadi the title of "Next Generation of Hollywood" for her performance in the 'Us.' Her breakthrough performance in the film earned nominations for numerous awards like Saturn Awards (2019), Critics' Choice Awards (2020), and Black Reel Awards, (2020).
Voiceover
She lent her voice in the 2019 revival of the American musical drama film 'The Lion King' for the character of young Nala, the lioness heroine and love interest of the central character, Simba.
OTT/Web Series
In 2021, she made her digital debut with the American horror anthology series 'Them' in which she played the role of Ruby Lee Emory, the elder daughter of Lucky and Henry Emory. The series centers around a Black family that moves to an all-white Los Angeles neighborhood, where their idyllic home slowly transforms into an epicenter of evil forces.
Favorites
Film(s): The Shining (1980), The Babadook (2014), Get Out (2017), Jigsaw (2017)
Horror movie Character(s): Chucky, Annabelle
Singer: Jorja Smith, Ariana Grande, Erykah Badu, Solange, Willow Smith
Dance Form: Ballet, Modern and Western Caribbean Dance
Professional Dancer: Misty Copeland
Food: Macaroni Pie, Lasagna
Fashion Icon: Billie Eilish
Facts/Trivia
She is a craft enthusiast who once sold her homemade knit hats and scarves throughout the theater when she was starring in the Tony-nominated theatrical production 'School of Rock' (2016). In an interview, while describing her hobbies, she said,


I love to knit and I'm learning to play the Ukulele."

She was introduced to racial discrimination when she was accused of stealing while shooting for a project. While describing the incident in an interview, she said,


I was introduced to discrimination while on the set of one of my earlier projects where I was accused of stealing. It was actually said as a joke, so it was more confusing for me until I understood the racial undertones involved."

Later, it was discovered that the item was misplaced by the accuser, and consequently, the production released him from the project.
In an interview with Popsugar, she revealed that she spent her early teenagehood prank-calling her crushes. She said,


At age 13, I spent a majority of my free time prank-calling the boys I had crushes on and tricking out my MySpace page with an array of bathroom mirror selfies."

While mentioning her must-have while shooting on the set, she said,


My must-have on set is fresh fruit."

She learned Spanish in eighth grade.
She was included in the Forbes 30 Under 30 list of 2021 in Hollywood and Entertainment.