Sarwat Gilani is a well established Pakistani television and film actress. Sarwat, a free-spirited and outspoken woman, is best known for her performance as Sila Ahmed in the television drama 'Azar Ki Ayegi Baraat' and as Sara Khan in the web series 'Churails.'
Wiki/Biography
Sarwat Gilani, also known as Syeda Sarwat Gilani [1]Facebook-Sarwat Gilani, was born on Wednesday, 22 December 1982 (age 38 years; as of 2020) in Peshawar, Pakistan. Her zodiac sign is Capricorn. She attended a local school in Karachi for completing her primary and secondary education. She got herself enrolled at the Indus Valley School of Arts and Architecture to pursue her higher education.
Physical Appearance
Height (approx.): 5′ 4″
Weight (approx.): 50 Kg
Figure Measurements (approx.): 34-25-35
Eye Colour: Brown
Hair Colour: Brown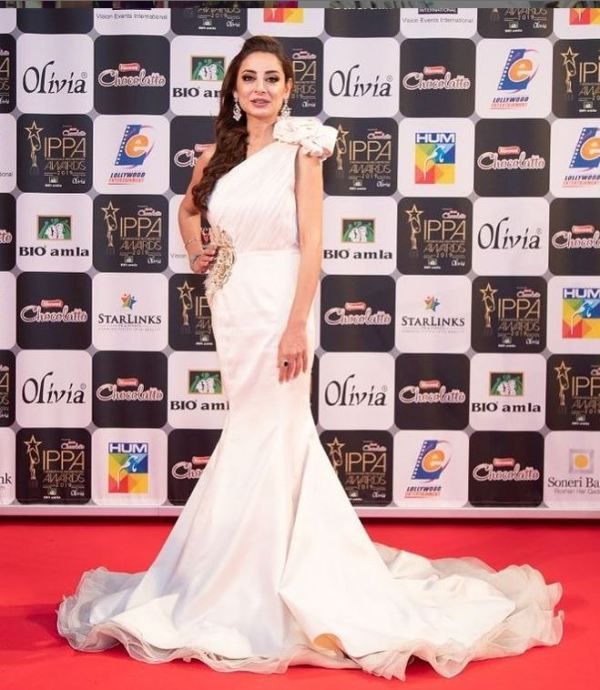 Family
Sarwat Gilani belongs to a Pashtun Muslim family of Peshawar, Pakistan.
Parents & Siblings
Sarwat Gilani's father was is a retired Pakistani Army Official and her mother is a homemaker.
Husband & Children
In 2005, Sarwat Gilani got married to Omer Saleem at the age of 23. The couple did not share a great bonding post-marriage and later got divorced in 2008.
On 14 August 2014, Sarwat Gilani got married to Fahad Mirza, a Pakistani actor and Cosmetic Surgeon. Sarwat and Fahad have two sons, Rohan Mohammad Mirza and Araiz Muhammad Mirza.
Ethnicity
Sarwat Gilani has her royal roots from India. Her maternal grandfather was the Nawab of the princely state of Manavadar, which included 70 villages in India. Junagarh and Manavadar were two princely states in Gujarat ruled by the Muslim Babi dynasty in British India. Junagarh belonged to the brother of her maternal grandfather and Manavadar was her maternal grandfather's state. Both the brothers chose to come to Pakistan at the time of Partition. [2]YouTube-The Current
Career
Television
Sarwat Gilani stepped into the acting world in 2005 with the drama serial 'Dil Ki Madham Boliyan' that aired on TV One. Initially, Sarwat appeared in some supporting roles in drama serials Hotel, Kaisi Ha, Sila, Tere Jaane Ke Baad, and Kuch Dil Ne Kaha. In 2009, Sarwat got to play a lead role in Mehreen Jabbar direct drama serial 'Malaal.' She played the character of Mahi, a young girl who lived in the USA, opposite Faisal Rehman. Sarwat impressed the audience with her performance in the show and gained opportunities to work in some commercially successful shows. In the same year, she appeared on screen as Sila Ahmed in the drama serial 'Azar Ki Ayegi Baraat.' She got the opportunity to work at Sila by chance when the director of the 'Azar Ki Ayegi Baraat,' Marina Khan, spotted her backstage of an audion set and insisted she give it a try. Sarwat was there to pick up her sister post her audition.
Sarwat Gilani got the breakthrough for her career with GEO TV's drama serial 'Ishq Ki Inteha.' Sarwat portrayed the character of Bakhtawa and gained huge popularity for it. Later, she appeared in a number of popular television serials including 'Meri Zaat Zarra-e-Benishan,' 'Kaisi Hain Doorian,' 'Meray Dard Ko Jo Zuban Miley,' 'Aahista Aahista,' and many more.
In 2013, Sarwat Gilani gave her first performance in a negative role in the love triangle drama 'Dil-e-Muztar' in which she appeared in the role of Zoya and received huge critical acclaim for it. He also received a nomination at the Hum Award for Best Negative Character in 2013 for her performance in the show. Thereafter, appeared in a number of popular Urdu television drama shows including 'Koi Nahi Apna' as Alveera, 'Aahista Aahista' as Sila Ahmad, 'Seeta Bagri' as Seeta, 'Zaakham' as Tehreem, 'Mann Pyasa' as Arib, 'Pujaran' as Madiha, 'Yeh Ishq Hai' as Samaira, 'Khasara' as Linta, and 'Naulakha' as Tehreem.
Film
Sarwat Gilani made her filmy debut in 2015 with the comedy blockbuster 'Jawani Phir Nahi Ani.' She played the character of Gul, a Pashtun woman, and gained huge popularity for it. Her performance in the film also earned her a nomination at the Lux Style Awards for Best Supporting Actress 2015. Later, in 2018, she became part of the film 'Jawani Phir Nahi Ani 2.' Sarwat has also featured in various telefilms including Aur Tum Say?, Dil Mera Dhadkan Teri, and Ek Tha Raja Ek Thi Rani.
In 2020, Sarwat Gilani became part of the most controversial web series ever made in Pakistan 'Churails.' The web series featured Sarwat Gilani alongside Mehar Bano, Yasra Rizvi, and Nimra Bucha in the main lead. 'Churails' grabbed the headlines for showcasing women in a way that is not appropriate account to the audience in Pakistan. The web series shows a group of women with bold personalities, drinking alcohol, smoking cigars, and wearing so-called non-acceptable clothes, who runs a secret detective agency that works to expose the city's unfaithful, elite husbands. Sarwat played the character of Sara, a lawyer that gave her career up to be the 'perfect wife.' Soon after the official teaser of 'Churails' was released in June 2021, it started receiving huge criticism from the audience in Pakistan. The cast of 'Churails' received huge backlash and their social media accounts were flooded with hate comments. Later, the government's regulatory bodies in Pakistan banned the broadcasting of the series in Pakistan, resulting in which the makers of the series decided to partner up with ZEE5, an Indian streaming platform, to release 'Churails' worldwide.
Sarwat Gilani has worked as a voice-over artist for the Sharmeen Obaid-Chinoy directed 3D computer-animated family film '3 Bahadur: The Revenge of Baba Balaam' and  '3 Bahadur: Rise of the Warriors.' The 3 Bahadur trilogy is considered to be the most popular and commercially successful animated film ever made in Pakistan.
Awards & Honours
Nominated at Hum Award for "Best Negative Character" for the Pakistani drama serial Dil E Muztar 2013
Nominated at Lux Style Awards for "Best Supporting Actress" for the Pakistani comedy film Jawani Phir Nahi Ani 2015
Sarwat Gilani was honoured by the Logistics Navy Pakistan with a Navy shied for her contribution to Special Olympics Pakistan.
Favourites
Director(s): Haisam Hussain, Mehreen Jabbar
Film(s): Moor (2015), Manto (2018)
Travel Destination: Italy
Facts/Trivia
Her hobbies include painting and cooking.
Sarwat Gilani, in an interview, revealed that her maternal family was not convinced by her thought of acting but she gave her best to work consistently and decently which later made them realise that it was the right path for her. She said,


I convinced them by being consistent at being decent. For me, convincing my maternal grandmother, my mother and her family was very hard. So I thought if I do well, and constantly do well, they will someday be convinced on their own. And I think, I did that."
Sarwat Gilani is the brand ambassador for the Special Olympics Pakistan (SOP), an organisation that deals with a number of children with intellectual disabilities and second phase physical disabilities. The specially-abled children are provided with training in the regional sector and then moved to the national level before going to the international arena. During a media interaction, Sarwat Gilani claimed that she feels honoured to be a part of the organization, and she said,


I feel privileged to be able to give back to my country and its people in whatever capacity I can. Our kids are very talented and most deserving of the medals they earn on a worldwide platform. Their courage and the will to do better each year is a promise we would like to help them keep."
Sarwat Gilani is a dog lover. She also has a pet dog named Leo at her home.
Sarwat Gilani was ranked 21st in the Eastern Eye's Top 50 Asian Celebrities of the World 2020 list.
Sarwat Gilani has been a cover girl for a number of renowned magazines in Pakistan.
Sarwat Gilani has walked the runway for a number of renowned fashion designers in Pakistan.
In January 2020, Sarwat Gilani's husband, Fahad Mirza, shared a picture of him kissing his wife on his Instagram account. The picture went viral over the internet in no time and the celebrity couple received huge backlash for posting such intimate pictures.

Sarwat addressed the criticism by posting a picture with the caption-

To all the haters in this world! STOP FOLLOWING ME IF YOU HATE ME SO MUCH. You can't bully me, I'm too bloody strong for your minute imagination! Grow up and get a life! Stop being so jealous of other people's success, the love in their lives and the happiness they have because unlike you, they have worked bloody hard for it."

During an interview, when asked about posting the picture on her social media account, she said,

We were in Rome and that's the reason we got a bit romantic and captured that picture, even Fahad asked me 10 times before posting it on social media and I refused. When he asked me for the eleventh time I was so annoyed of him asking about it, again and again, that's why I told him to post it."
Sarwat Gilani grabbed the headlines after she and her husband posted pictures with Karan Johar on their social media accounts. The couple ran into Karan at the Italian airport and didn't let the chance to have a word with him.
On 20 May 2020, Sarwat Gilani posted an animated picture of a missile and slingshot condemning the airstrikes done by Israel on Gaza. She captioned the picture as


Stop killing innocent men, women, and children in the name of democracy. Palestine is not for sale."