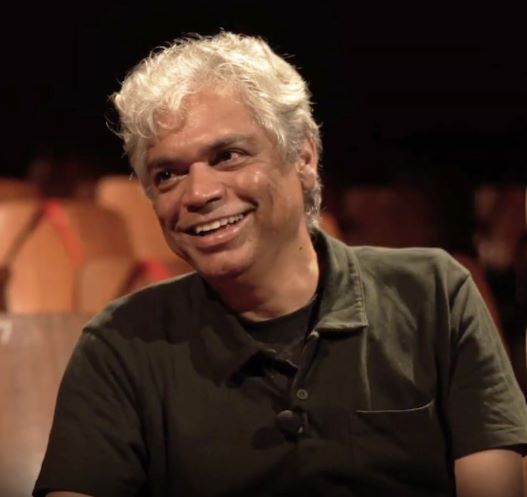 Prakash Belawadi is an Indian actor and theatre artist. He is also an acclaimed media personality. Prakash Belawadi is a well-known Indian activist and teacher. He has been working as a mentor at the BISFF (Bengaluru International Short Film Festival) since 2010. In 2022, he was a part of the film 'The Kashmir Files,' which was based on the exodus and genocide of Kashmiri Pandits in 1990.
Wiki/Biography
Prakash Belawadi was born in 1970 (age 52 years; as of 2022) in Bangalore, Karnataka, India. He completed his elementary school education at Mahila Seva Samaja, Higher school education at National High School. [1]Social Village He then completed his Pre-University Course at National College, Bangalore. Later, he went to the University Visvesvaraya College of Engineering in 1983 to pursue a degree in mechanical engineering. [2]UVCV
Physical Appearance
Height (approx.): 6′
Hair Colour: Grey
Eye Colour: Black
Family
Parents & Siblings
His father's name is Belavadi Nanjundaiah Narayan, and his mother's name is Bhargavi Narayan. Both of them were theatre artists and Kannada film actors.
He has two sisters named Sudha Belawadi and Sujata Belawadi. Sudha is a theatre artist, and Sujata is a teacher and yoga exponent.
He has a brother named Pradeep Belawadi, who is a theatre artist and an engineer.
His niece Samyukta Hornad is a theatre artist and acts in Kannada, Tamil, and Telugu films.
Wife & Children
He is married to Chandrika Belawadi.
The couple has two daughters named Meghana Belawadi and Teju Belawadi. Both of them are actresses.
Career
Film
Prakash Belawadi started working in films in 1976, and his first project was a Kannada film titled 'Bangaravayatu' in which he played the character of Shambhu.
Later, he worked in many Hindi, Telugu, Malayalam, and Tamil films including Madras Cafe (Hindi) as Bala in 2013, Airlift (Hindi) as George Kutty in 2016, Aatagara (Tamil) as Dr Chetan Bhagawat in 2015, Solo (Malayalam) as Vishnu in 2017, Katha Sangama (Kannada) as Sathya Murthy in 2019, The Tashkent Files (Hindi) as GK Anantha Suresh in 2019, and 100 (Kannada) as Sadanand in 2021. In 2022, Prakash Belawadi was cast in the film 'The Kashmir Files' in which he played the character of Dr Mahesh Kumar.
Teacher
At Sweden, Istanbul, and Turkey universities, Prakash Belawadi is a faculty member for film courses.
Television
The television serial Garva was written and directed by Prakash Belawadi in 2001, and this serial is rated at first position among the Kannada serials.
'Citizens for Bengaluru' Organisation
An active citizen platform named 'Citizens for Bengaluru' was co-founded by Prakash Belawadi in 2017. This organisation raises its voice for the welfare of the citizens by challenging government policies. An ecology festival named 'Rotary Avani' is often organised by Prakash Belawadi every year from 22 April to 5 June to create environmental awareness among the citizens of the state. Its major working areas focus on saving the five elements – Earth, Water, Fire, Air, and Sky along with the support of the government, industry, business, and citizens to save the ecosystem of urban areas.
Politics
Prakash Belawadi, as a candidate of the Loksatta Party (LSP) from the Sunkenahalli constituency, contested the Bruhat Bengaluru Mahanagara Palike (BBMP) elections in 2010.
Web Series
Prakash Belawadi started appearing on various OTT platforms in 2018 as an actor. His first web series was Smoke in which he played the role of Bhau.
Prakash Belawadi then appeared in the web series High, which was streamed on MX Player, and in this series, he played the character of Dr Shridhar Roy in 2020. In 2021, he appeared as Dr Mani Subramaniam in Amazon Prime Video's web series the Mumbai Diaries 26/11. In the Kannada web series 'Politician Nograj,' in 2022, Prakash Belawadi played the character of Krishna Gundu Bala (KGB), and this web series was streamed on Voot Select.
Awards
In 2003, the movie 'Stumble,' written and directed by Prakash, won the National Award for Best Film in the English language. In the same year, Prakash Belawadi was honoured with the 'Pratibha Bhushan' by the Government of Karnataka for his contribution to culture.
In 2011–12, Prakash Belawadi won the Karnataka Nataka Academy Award for his contribution to English and Kannada language theatre.
In 2015, Prakash Belawadi was honoured with the 'Pride of Karnataka' award by the Bangalore Round Table. In the same year, he was conferred with the 'Varshada Kannadiga' award in the field of entertainment, and this award was conferred to Prakash Belawadi by News 18 Kannada.
In 2019, Prakash Belawadi was the recipient of the Helpmann Award, Australia for Best Actor, Male in the play Counting and Cracking, Belvoir St. Theatre, Sydney.
Controversy
Prakash Belawadi shared an inflammatory theory on his Facebook page in May 2021. In his post, he stated that the Muslims in West Bengal were responsible for the post-poll violence. He also connoted the Muslims as 'the others.' The 2002 Gujarat Pogrom was also mentioned by Prakash Belawadi in the same post. Indirectly, his post supported the Sangh Parivar's rivalry against the minorities. The Right-wingers and BJP supporters in Karnataka and all across India widely shared his post. Reportedly, in the same year, Prakash Belawadi organised a theatre show titled Parva, which was based on a novel written by Bhairappa, and this theatre show involved the amount of Rs. 1 crore, which was granted to him by the government. [3]Gauri Lankesh News
Facts/Trivia
Prakash Belawadi was born and brought up in a family of theatre artists. His parents were renowned Kannada theatre artists and had also appeared in several Kannada, Tamil, and Malayalam films. His father, Belavadi Nanjundaiah Narayan, was active in the South Indian entertainment industry from 1929 to 2003. Apart from being a theatre artist, Belavadi Nanjundaiah Narayan was also a trained makeup artist, who was popular with the name Makeup Nani.
Various renowned online events and conferences like TEDx often invite Prakash Belawadi to deliver motivational speeches to their audience.
Several noted institutions in India and many other countries of the world regularly invite Prakash Belawadi as a guest speaker for their seminars, conferences, and festivals. The Beyond Bollywood conference at the Gothenburg International Film Festival was attended by Prakash Belawadi in 2010. He was a guest speaker at the Performing Arts Market conference in Seoul in 2011. The 50th Theatertreffen – an annual theatre festival meet in Berlin was attended by Prakash Belawadi as a guest speaker. The seminar and exhibition, 'Nature – A Good Idea' at Trollhättan, Sweden, in 2014, was attended by Prakash Belawadi.
In March 2022, soon after the release of the film 'The Kashmir Files,' Prakash Belawadi said in an interview with a media house that he was not aware of the pain that the Kashmiri Pandits felt when they were forced to leave Kashmir in 1990. He further added that he came to know about the horrors of the exodus only after reading the script of the film written by Vivek Agnihotri. [4]

Outlook India He said,


I am privileged to be part of 'The Kashmir Files'. When I was sent the script for reading by Vivek Agnihotri, I was shocked because until then I did not have details of the horrors and exodus of Kashmiri pandits from the state of Jammu and Kashmir in 1990s."

According to Prakash Belawadi, he was working as a journalist in 1990 when the Kashmiri Pandits were facing the brutal genocide, and he said that he was feeling guilty about not raising the issue as a journalist at that time. Prakash Belawadi said,

I feel mortified, I also feel guilty as I was a journalist at that time and prided myself as someone equipped with the contemporary events, but I see it was not the case. I feel it's correct for me to apologise to the community for being a part of this indifference for a long period."