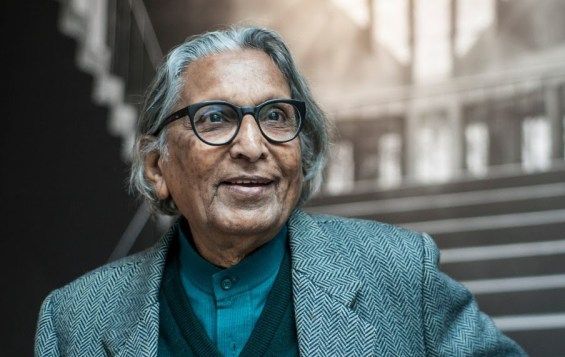 Balkrishna Doshi is an Indian architect who is famous for his architectural works in India.
Wiki/Biography
Balkrishna Vithaldas Doshi [1]WrightWood was born on Friday, 26 August 1927 (age 94 years; as of 2021) in Pune. His hometown is Ahmedabad. His zodiac sign is Virgo. He pursued a degree in architect at Fergusson College, Pune, J. J. School of Architecture, Mumbai, and Polytechnic of North London.
Physical Appearance
Height (approx.): 5′ 9″
Weight (approx.): 70 kg
Hair Colour: Salt and Pepper
Eye Colour: Black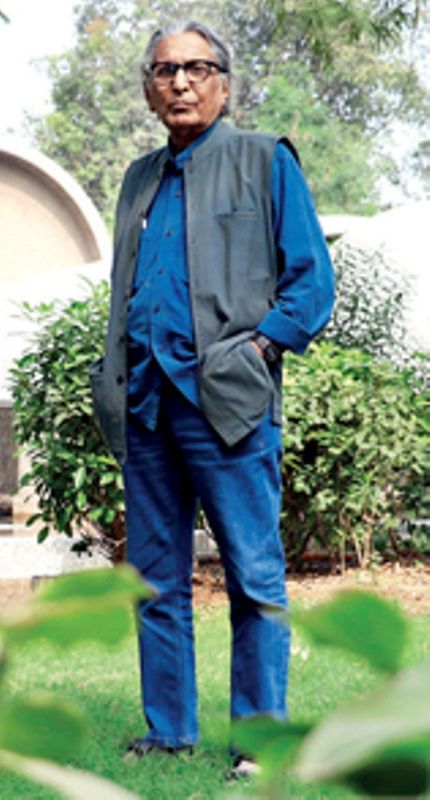 Family
Parents & Siblings
Doshi's father's name was Vithaldas Doshi, and his mother's name was Radha.
Wife & Children
He got married to Kamala Parikh.
They have three daughters Tejal, Radhika, and Maneesha.
Religion/Religious Views
He follows Hinduism. [2]WrightWood
Signature/Autograph
Career
Architecture
He started his career in 1951 by assisting Le Corbusier who was working to design the city of Chandigarh.
Later, he worked with the team of Le Corbusier to design of High Court and Governor's Palace in Chandigarh. He also worked on the design of the Mill Owners' Association building and Shodhan House in Ahmedabad, Gujarat. He was also a supervisor of the designs of Villa Sarabhai, Villa Shodhan, and Sanskar Kendra. In 1956, he started his own practice VastuShilpa that is now known as Vastushilpa Consultants.
In 1959, he joined Japanese architect Yoshikatsu Tsuboi for an international competition for the Toronto City Hall in Canada. In 1961, along with American architect Louis Kahn, he designed the Indian Institute of Management in Ahmedabad.
In 1970, he made a design of the Dal Lake Area in Srinagar, and in 1972, laid out a design for the Gulmarg−Tangmarg area in Jammu and Kashmir. In 1973, he got a contract to design the Indian Institute of Management, Bangalore.
In 1976, he found a non-profit organization Vastushilpa Foundation for Studies and Research. In 1980, he found his own studio, Sangath. In 1992, he was chosen to design the Bharat Diamond Bourse in Mumbai.
In 2016, he delivered a TED Talk at TEDx Talk at the Nirmala University, Ahmedabad.
In 2015, he appeared in the Tamil film 'O Kadhal Kanmani,' and in 2017 in the Bollywood movie 'Ok Jaanu.'
Teaching 
He has delivered various lectures in many countries that include the UK, USA, Eurpe, New York.
He has been the founder Director of the School of Architecture, Ahmedabad (1962–72), first founder Director of the School of Planning (1972–79), first founder Dean of the Centre for Environmental Planning and Technology (1972–81), founder member of the Visual Arts Centre, Ahmedabad and first founder Director of the Kanoria Centre for Arts, Ahmedabad.
Awards
1976: Padma Shri by the Government of India
1993–1995: 6th Aga Khan Award for Architecture for Aranya Community Housing
2007: Global Award for Sustainable Architecture
2011: France's highest honour for arts, the Officer of the Order of Arts and Letters
2017: Dhirubhai Thakar Savyasachi Saraswat Award
2018: Pritzker Architecture Prize
2020: Padma Bhushan by the Government of India 
2022: Royal Gold Medal for Architecture for the year 2022 by the Government of the United Kingdom
Honorary doctorate from the University of Pennsylvania.
In 1954, he was appointed as an associate member of the Royal Institute of British Architects (RIBA).
In 1993, JK Cement Ltd., India named him the Architect of the Year.
Facts/Trivia
Doshi started getting attracted to architecture, buildings, and sculptors when he used to visit his grandfather's house at the age of eight. His grandfather had his own furniture shop.
When Doshi was 11, he tried a fire trick at home and burnt his leg due to the failure of the trick. He did not get a treatment done for it and he had a slight limp on his leg.
In an interview, he said that he liked studying in open places than a closed classroom.
When he was in school, his art teacher Venekatesh Patil insisted he pursues architecture at Bombay. He then took admission at J. J. School of Architecture, Mumbai. In an interview, he revealed that he was not good at speaking English, and he felt bad when all his classmates in college spoke in English.
In 1951, he went to London to give an exam for the Royal Institute of British Architects (RIBA). There he met a member of the Le Corbusier's team. They offered Doshi to work with them, but he would not be paid for it. He accepted the offer and shifted to Paris for sometime. Later, he came back to India and worked on the designs of the High Court and the Governor's Palace in Chandigarh.
He saw his wife for the first time in 1955, and got married to her. His marriage was not accepted by his parents due to the religious difference.
In 1957, he met famous architects like Mies van der Rohe, Josep Lluís Sert, Charles and Ray Eames, Friedrich Kiesler when he got a Graham Foundation's International Fellowship.
In an interview, he said that in 1959, when he took part in the international competition for the Toronto City Hall, he learnt the relationship between architecture and structural systems.
In 1961, he was offered to design the Indian Institute of Management in Ahmedabad, to which he suggested the name of American architect Louis Kahn. They worked together on the project.
His article 'Main Structure Concept. A Role for the Individual in City Planning,' which he wrote with American architect Christopher Alexander got published in a magazine in 1964. In 1967, the Japanese architecture magazine Kenchiku Bunka published his article "Architecture for Time and Change – A System."
In 1992, to complete the project  Bharat Diamond Bourse in Mumbai, he opened a new branch of his office in Mumbai.
His institute Vastushilpa Foundation for Studies and Research in Environment Design became a shelter for people who got affected by the earthquake in Gujarat in 2001.
A documentary based on the achievements and struggle of Doshi's life was released on YouTube in 2008. The film was directed by Premjit Ramachandran.
In 2014, Doshi's first work 'Celebrating Habitat: The Real, the Virtual and the Imaginary' was exhibited at the National Gallery of Modern Art in New Delhi. His work was exhibited by architect Khushnu Panthaki Hoof.
In 2018, he became the first Indian to win the Pritzker Architecture Prize and the 45th Pritzker Prize Laureate. The jury of the show said,


With an understanding and appreciation of the deep traditions of India's architecture, he united prefabrication and local craft and developed a vocabulary in harmony with the history, culture, local traditions and the changing times of his home country India."

He was congratulated by Prime Minister Narendra Modi for winning the award.
Congratulations to renowned architect Balkrishna Doshi for winning the prestigious Pritzker Architecture Prize. This honour is a fitting recognition of his outstanding work, which has spanned decades and made a notable contribution to society. https://t.co/vhKGegfeCv

— Narendra Modi (@narendramodi) March 7, 2018
In an interview, Doshi said that he was inspired by the Indian monuments and the work of European and American architects.
In an interview, he talked about his emotions when he got elected for the award. He said,


I am pleasantly surprised and deeply humbled to receive the Royal Gold Medal from the Queen of England. The news of this award brought back memories of my time working with Le Corbusier in 1953 when he had just received the news of getting the Royal Gold Medal. I vividly recollect his excitement to receive this honour from Her Majesty. He said to me metaphorically, 'I wonder how big and heavy this medal will be.' Today, six decades later, I feel truly overwhelmed to be bestowed with the same award as my guru, Le Corbusier – honouring my six decades of practice."