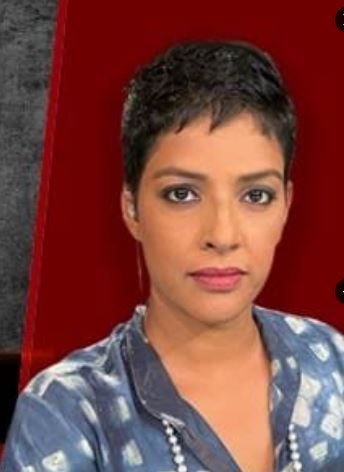 Sarah Jacob is an Indian journalist and news editor. She is known for hosting 'We The People,' a flagship primetime show of NDTV 24×7. Sarah resigned from her position at NDTV on 22 May 2023 after working at the channel for around 22 years.
Wiki/Biography
Sarah Jacob, also known as Priya Sarah Jacob [1]Eternal Mewar News, was born on Wednesday, 8 August 1984 (age 39 years; as of 2023) in Kerala. Her zodiac sign is Leo. She grew up in various cosmopolitan cities across India as her father was an army personnel. Sarah did her schooling at St. Mary's School, Delhi, from 1995 to 1999. Although her grandmother wanted her to become a doctor, Sarah pursued her class 11 and class 12 in Humanities as she was very much into reading books. When Sarah was pursuing her class 12, Lady Shri Ram College for Women introduced a new program in journalism. Sarah appeared for the entrance exam for the program and was one of the 18 students who were chosen for the program. Sarah graduated in journalism at Lady Shri Ram College for Women, Delhi, from 1999 to 2002. Soon, she bagged a job at NDTV. Meanwhile, she pursued a Post Graduate Diploma in Social Communications Media (2002-2003). In 2005, she graduated on a full scholarship from New York University with a Master of Science in Broadcast and Documentary Journalism. While pursuing her post-graduation, Sarah was awarded Sidney Gross Award for Enterprising Journalism. [2]Sarah Jacob – LinkedIn
Physical Appearance
Height (approx.): 5′ 5″
Hair Colour: Black
Eye Colour: Black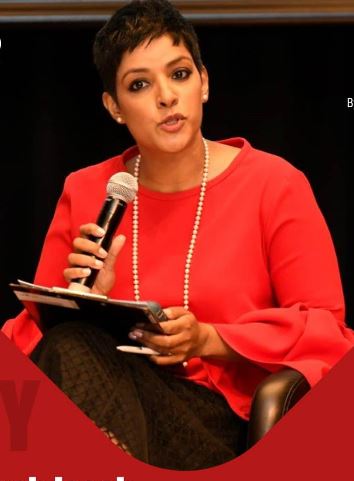 Family
Sarah Jacob belongs to a Malayali family. [3]TEDx Talks
Parents & Siblings
Sarah Jacob's father was an Indian army personnel. She has a sister. Sarah's grandfather also served in the Indian army.
Husband & Children
Sarah Jacob got married to Pavan Ahluwalia, the founder and managing director of Laburnum Capital, on 28 March 2013 after dating him for a few years. Together, the couple has two daughters.
Other Relatives
Sarah's father-in-law, Montek Singh Ahluwalia, is a former Deputy Chairman of the Planning Commission of India. Her mother-in-law, Isher Judge Ahluwalia, is an Indian economist.
Religion
Sarah Jacob follows Christianity (Syrian Christian). [4]Twitter – Shan Kamaraj [5]TEDx Talks
Career
Sarah Jacob started her career as a news reporter and anchor at NDTV, New Delhi, in June 2003. Initially, she covered areas like health, crime, and education.
She worked there till January 2004 and then relocated to New York to pursue her post-graduation. In June 2005, Sarah joined NDTV as a US Bureau Chief in New York, United States. While working in the United States, Sarah covered the Presidential elections twice, first in 2008 and then in 2012. She is one of India's first journalists to visit Guantánamo Bay, Cuba, working as an anchor for the show Inside Guantanamo, a half-hour program on the politics behind the Guantanamo Bay detention facilities. Jacob also covered the Oscars from the red carpet. Sarah also reported on a wide range of stories from the Indo- US nuclear deal and US Open, to the G-20 summit.
In 2010, Jacob was certified as the White House travelling press accompanying President Obama and reported on his first state visit to India. Sarah also interviewed many popular personalities like Bill Gates, Salman Rushdie, and Evan Williams. She worked as a US correspondent till June 2013 and then returned to India, where she started working as a senior editor and anchor with NDTV. As an anchor, Sarah Jacob hosted the prime-time shows Crime And The City and [email protected] with Sarah Jacob.
Jacob reported extensively on health and the environment. She also worked as a news reporter for the series titled Save India's Coast as a part of which she travelled across the entire coastline of India, reporting on the environmental destruction taking place along it. Thereafter, she worked as an anchor and producer of the weekly show 'We The People,' a flagship program of the New Delhi Television (NDTV). The show was an audience-based program which discussed the most pertinent social and political issues of the day. Sarah often welcomed primary stakeholders to the show and seat them face-to-face with members of civil society to discuss a particular issue in its entirety. As a producer and host of the show, she looked upon all the aspects of the show ranging from the concept development to the final packaging of the show. In January 2020, she opted for part-time work with NDTV.
Resignation from NDTV
On 22 May 2023, Sarah Jacob resigned from her position at NDTV after presenting a program which projected PM Narendra Modi as a great messiah for women. Her resignation came amidst widespread criticism of her news bulletin in which she praised PM Narendra Modi for being respectful towards women. Soon, after the news bulletin, a clip went viral on social media which showed Sarah anchoring a news story and read- how Modi respects women. Many called it an agenda-driven news bulletin.
Announcing her decision to leave NDTV, Sarah Jacob tweeted,
Last night, I resigned from NDTV. To Dr (Prannoy) Roy and Radhika Roy, Thank you for building what was one of India's great media institutions."
Further, describing her journey with NDTV as fantastic, she wrote,
It has been a fantastic ride from 2001 to 2023 at NDTV in various capacities. From being a reporter to having my own show has been rewarding and I am forever grateful for all that NDTV gave me and continues to offer. To be in the middle of the most spectacular years of the Indian TV news industry boom, that too at NDTV, which has set the standard of excellence for the industry, has been a magical career thus far."
Apparently, in an internal communication to the NDTV team, she described the organisation as
amazing newsroom filled with the most creative and driven reporters."
She also added that working with the best has been an honour for her. Sarah became the ninth noted journalist and senior editor to resign from the channel following its takeover by the Adani Group in December 2022. Ravish Kumar left the channel soon after the Adani Group acquired NDTV. Subsequently, NDTV's group president, Suparna Singh, chief strategy officer, Arijit Chatterjee, and chief technology and product officer, Kawaljit Singh Bedi also quit the channel. Thereafter, Sreenivasan Jain and Nidhi Razdan also stepped down. Apparently, it was the only job that Sarah held since the beginning.
Facts/Trivia
Sarah Jacob loves reading books in her leisure time.
Sarah is skilled in journalism, broadcasting, live television, interviewing, storytelling, and editing.
Jacob appeared as a guest speaker in TEDx Talks 2020.
She resides with her family in New Delhi.