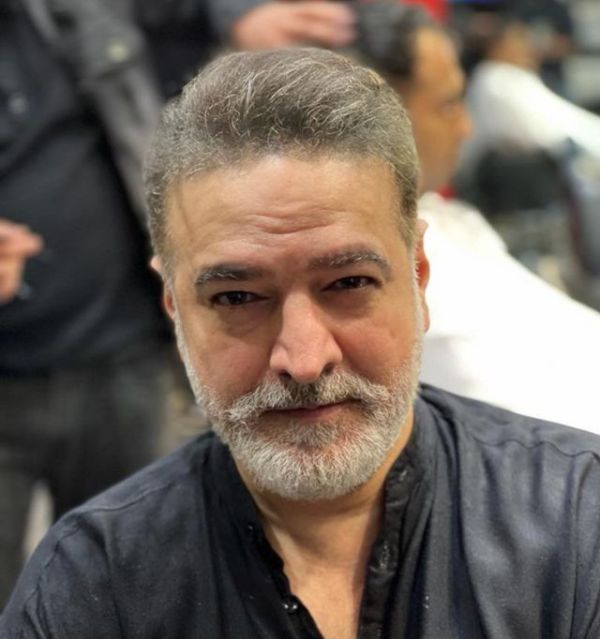 Ravi Behl is an Indian actor and producer who is known for being the co-producer and judge of the popular dance competition television series 'Boogie Woogie' (1996-2014). He gained significant recognition from his appearances in films like 'Narsimha' (1991) and 'Agni Sakshi' (1996). Ravi hit the headlines in 2023 following his comeback as an actor after a break of more than 20 years.
Wiki/Biography
Ravi Behl was born on Tuesday, 10 May 1966 (age 57 years; as of 2023) in Mumbai, India. His zodiac sign is Taurus.
Ravi studied at Saint Theresa's High School in Mumbai. He graduated from Shrimati Mithibai Motiram Kundnani College of Commerce & Economics, commonly known as M. M. K. College. [1]Tabassum Talkies – YouTube
Physical Appearance
Height (approx.): 5′ 7″
Hair Colour: Grey
Eye Colour: Black
Family
Ravi Behl belongs to a Punjabi Hindu family. [2]Tabassum Talkies – YouTube
Parents & Siblings
His father, Sham Behl, was a film producer; he passed away when Ravi Behl was 11 years old. His mother, Savita Behl, was a homemaker; she died in 2023.
Ravi Behl has two sisters named, Geeta Behl, and Gitanjali Behl, and a brother named Raj Behl. Geeta Behl was an actor; she passed away in 2021 due to Coronavirus disease.
Wife & Children
Ravi Behl is unmarried and has no children.
Other Relatives
Indian film director Ramesh Behl is Ravi's uncle, while filmmaker Goldie Behl is his first cousin.
Relationships/Affairs
Ravi Behl, in an interview, disclosed that he was involved in a long-distance relationship, which unfortunately did not end well. The fallout of this relationship left him with a certain degree of confusion about relationships in general. It led him to question and doubt the potential success of any future relationships. [3]The Times of India While talking about this in the interview, Ravi said,
After my failed relationship I used to feel confused. What if the next relationship doesn't work? That's not the way one should think. I had become like Majnu."
Career
Actor
Film
Ravi Behl made his acting debut with the film 'Morchha' (1980) as a child artist; he played the role of 'Chhotu' in the film.
In 1986, he appeared as Vijay in an action thriller film titled 'Avinash.' Ravi played the role of 'Ravi Rastogi' in the 1991 action drama film 'Narsimha.'
Ravi Behl appeared in many other films including 'Dalaal' (1993), 'Agni Sakshi' (1996), 'Ghulam-E-Mustafa' (1997), and 'Salaam Bacche' (2007).
Television
Hindi
Ravi Behl appeared in an Indian dance competition television series titled 'Boogie Woogie' from 1996 to 2014 as a judge; Ravi Behl co-produced the show as well.
English
In 1994, Ravi made episodic appearances in a British television series titled 'The Far Pavilions' as Prince Nandu.
Web Series
Ravi Behl made his digital debut with the crime drama thriller streaming television series 'Breathe: Into the Shadows' Season 2 (2022) in which he appeared as Neel Behl; the series premiered on Amazon Prime Video. In 2023, Ravi played the role of 'Jaiveer Singh' in a crime thriller series titled 'The Night Manager.' It is a remake of the British television series 'The Night Manager' (2016), which is adapted from the British-Irish writer John Le Carre's novel bearing the same title.
Singer
Apart from working as an actor, Ravi Behl has worked as a singer. He lent his voice to songs such as 'Ladkiyan' (1998), 'Jab Koi Tha' (1998), 'Bol Bol Sach Bol' (1998), and 'Har Pal' (2000); Ravi also appeared in the music videos for these songs.
Facts/Trivia
As a child, Ravi Behl was captivated by the American martial artist Bruce Lee. His fascination led him to take karate lessons from a boy named Suresh, who held a black belt in karate. In an interview, Ravi recounted a memory from those days when he had saved up money specifically to buy a nunchaku from a boy who lived in his building.
Behl, in an interview, shared an interesting story about how his passion for karate and nunchaku led to his big break in Hindi cinema with the film 'Morchha' (1980). Veteran cinematographer Ravikant Nagaich had noticed Ravi's skills while visiting Behl's house to meet his father. He saw Ravi practising karate and performing tricks with his nunchaku. One day, Nagaich asked Ravi's mother, Savita, if she would consider letting Ravi appear in a film, as he had observed Ravi frequently practising with his nunchaku in front of the mirror.
Ravi Behl exhibited a keen interest in dancing from a young age. He participated in numerous dance competitions and secured notable positions. While talking about this, in an interview, he shared that his childhood friends, actor Jaaved Jaffrey and television director Naved Jaffrey, were also dance enthusiasts. It was their shared passion for dance that led them to conceive the idea of starting a dance show, a concept that was entirely novel in India at that time. Ravi Behl, in the interview, said,


Jaaved was a John Travolta kind of guy. I was more like Michael Jackson. We were passionate about music and dance."

In an interview, Ravi opened up about how he started earning a living at the age of 11 following the demise of his father. He confessed that he felt his childhood was not as it should have been, which partly motivated his decision to take a 10-year break after his stint on the show 'Boogie Woogie.' [4]

The Times of India
Behl once talked about landing a role in the British television series 'The Far Pavilions' (1994), in an interview. He revealed that the person chosen for the part fell ill, which led to Behl being offered the role. During the shoot, American film director Steven Spielberg happened to visit the set to meet Amy Irving, the lead actress in 'The Far Pavilions,' while scouting locations for 'Indiana Jones and the Temple of Doom.' Amy Irving was so impressed by Behl that she introduced him to Spielberg, saying, 'you have to meet this Indian actor.' [5]

The Times of India
Ravi Behl talked about his comeback as an actor, in an interview, which he decided upon during the Covid-19 lockdown. He added that he became lazy during lockdown to such an extent that he decided not to shave his beard, which ultimately helped him get a unique look that somewhere helped him get a role in the web series 'The Night Manager' (2023).