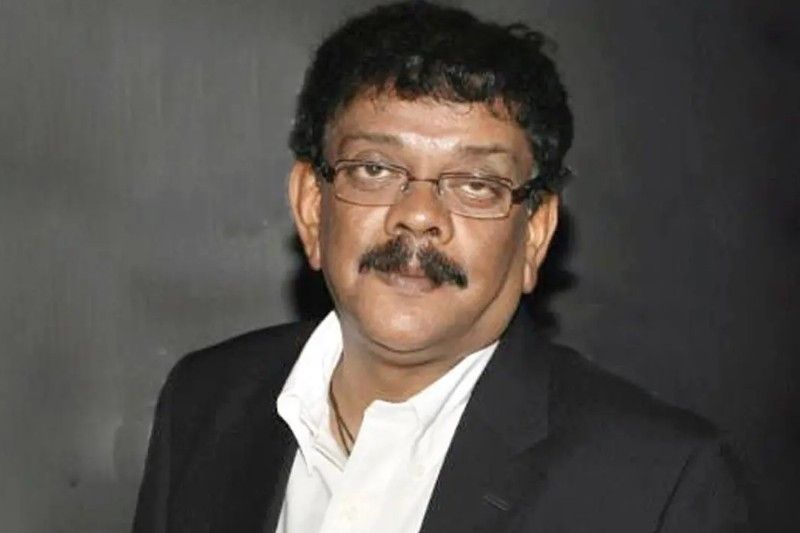 Priyadarshan is an Indian film producer, director, and screenwriter who works in Malayalam and Hindi films. He has also worked in various Tamil and Telugu films. He is the first Indian director who introduced colour grading, quality dubbing, and clear sound dubbing in his Malayalam films. He is best known for his comedy films like 'Hera Pheri' (2000), 'Hungama' (2003), and 'Garam Masala' (2005). He received the "Padma Shri" from the President of India in 2012 for his significant contribution to Indian Cinema.
Wiki/Biography
Priyadarshan aka Priyadarshan Soman Nair [1]Priyadarshan's Official Website was born on Wednesday, 30 January 1957 (age 66 years; as of 2023) in Thiruvananthapuram, Kerala, India. His zodiac sign is Aquarius.
He did his schooling at Government Model Boys Higher Secondary School, Thycaud, Thiruvananthapuram. After that, he did his master's in Philosophy at University College, Thiruvananthapuram. [2]Priyadarshan's Official Website During his teenage years, he was a passionate reader of books. In college, he wrote short plays and skits for All India Radio (AIR).
Physical Appearance
Height (approx.): 5'8″
Hair Colour: Black
Eye Colour: Black
Family
Parents & Siblings
His father's name is Poojappura Soman Nair, and his mother's name is Rajamma Nair. His father worked as a librarian at the University of Kerala.
Wife & Children
Priyadarshan married Lissy in 1990 and has two children named Kalyani Priyadarshan and Siddharth Priyadarshan. He met his wife on the sets of his second Malayalam film. The couple has collaborated on 12 films. His wife filed for divorce in 2014, and the couple got divorced in 2016. [3]The Times of India
Career
Screenplay Writer
Priyadarshan started his career as a writer for the Malayalam film 'Thiranottam' in 1978.
Malayalam
Some of the Malayalam-language films whose scripts were written by Priyadarshan include
(1982), Engane Nee Marakkum (1983), Vanitha Police (1984), and Thenmavin Kompath (1994).
Tamil
Priyadarshan wrote Tamil-language films that include Gopura Vasalile (1991), Snegithiye (2000), Kanchivaram (2008), Nimir (2018), and Sometimes (2018).
Telugu
He is the screenplay writer of the Telugu-language film named Nirnayam in the year 1991.
Hindi
Priyadarshan made his writing debut with the Hindi-language film Gardish in 1993. However, some other Hindi films written by him include Garam Masala (2005), Kyon Ki (2005), Bhagam Bhag (2006), Malamaal Weekly (2006), and De Dana Dan (2009).
Film Director
Malayalam
Priyadarshan made his debut as a director with the Malayalam film Poochakkoru Mookkuthi (1984). Later, he directed the Malayalam film Odaruthammava Aalariyam in the same year. He directed some other Malayalam films including Parayanumvayya Parayathirikkanumvayya (1985), Mazha Peyyunnu Maddalam Kottunnu (1986), Dheem Tharikida Thom (1986), Vellanakalude Nadu (1988), and Kilukkam (1991).
Tamil
Priyadarshan made his debut as a director in the Tamil film industry with the film Gopura Vasalile (1991). Later, he directed some other Tamil films that include Snegithiye (2000), Lesa Lesa (2003), Nimir (2018), and Sometimes (2018).
Telugu
Priyadarshan started his career as a director with the Telugu film Nirnayam in 1991. Later, he directed the Telugu film Gandeevam in 1994.
Hindi
Priyadarshan made his debut in Bollywood as a director with the film Muskurahat in 1992. This film is a remake of his Malayalam film 'Kilukkam.' Some other Hindi-language films directed by him include Gardish (1993), Virasat (1997), Doli Saja Ke Rakhna (1998), Hera Pheri (2000), and Garam Masala (2005).
Film Producer
Priyadarshan produced a Tamil-language comedy film 'Poi Solla Porom' in the year 2008.
Advertisement
Priyadarshan directed some of the advertisement films as well; some of his famous commercials are for Coca-Cola, American Express, Nokia, Parker Pens, and Max New York Life Insurance.
Web Series
Director
In 2020, Priyadarshan directed a web series called 'Forbidden Love' that was streamed on ZEE5. In 2021, he directed a Tamil-language web series called 'Navarasa' which was streamed on Netflix.
Creative Director
In 1996, Priyadarshan served as the Creative Director of the Miss World Pageant, which was televised in approximately 151 countries. He also conducted interaction workshops for film students at various events such as the Toronto Film Festival, Dubai Film Festival, Revathi Kala Mandir Film Institute, International Film Festival of Kerala, and International Film Festival of India-Goa. Additionally, Priyadarshan held the position of Honorary Chairman at Janam TV channel, a renowned Indian Cultural News and Entertainment Television channel in Kerala.
Author
Priyadarshan personally wrote the scripts for several of his films, including Kilukkam (1991), Kanchivaram (2008), and Thenmavin Kompath (1994), which were later published as books. One of these books, titled HitukaludeRajakumaran, explores Priyadarshan's life and movies, and it was published by DC Books. Another book, Ormakilukkam, contains memoirs of Priyadarshan and shares intriguing incidents from both his real and reel life.
Other Work
The Kerala Government, under the Ministry of Culture, appointed him as the Chairman of the Kerala State Chalachitra Academy from 2011 to 2014. The Kerala Government selected him to serve as the Director of the International Film Festival of Kerala from 2011 to 2014. He was chosen to be the columnist for Malayala Manorama newspaper for international cricket matches held in Kerala. Afterwards, he was designated as the Chairperson of the Committee of Ceremonies for the 35th National Games that took place in Kerala in 2015. From July 2014 to March 2019, he held the position of Director at 'Rising Star,' the world's largest organization dedicated to eradicating leprosy. He was appointed as the Central Jury Chairperson of the 64th National Awards in 2016. Priyadarshan took on the role of chairperson in 2019 for the Feature Films Jury at the 50th International Film Festival of India (IFFI), which falls under the Ministry of Information & Broadcasting.
Controversies
Allegations About Plagiarism 
Throughout his film career, Priyadarshan faced allegations of copying scripts and stories from numerous films. He was accused of drawing inspiration from both Hindi and Hollywood movies. Reports indicated that his Malayalam-language film 'Thalavattam' bore resemblances to the Oscar-winning film 'One Flew Over the Cuckoo's Nest.' Similarly, 'Vandanam' appeared to mirror the film 'Stakeout,' and 'Kakkakuyil' seemed like the film 'A Fish Called Wanda.' In the case of his Hindi-language film 'Garam Masala,' it was said to be inspired by 'Boeing Boeing.' Priyadarshan defended himself by claiming that nearly 99% of films nowadays are copied and influenced by other works. [4]Hindustan Times
Criticised for His Comments
On 28 May 2013, Priyadarshan received criticism for stating that the Malayalam film industry is in a bad state and lacks a minister to handle it. He made this statement at the annual state film award event, which was organized by the Kerala State Chalachitra Academy. The Chief Minister Oommen Chandy was also present at that event. After K. B. Ganesh Kumar stepped down as the state minister for cinema due to domestic violence allegations made by his wife, Chief Minister Oommen Chandy took over the responsibilities. During the event, Priyadarshan made a statement criticizing the chief minister's handling of the cinema department. This angered Kerala government Chief Whip P. C. George, who suggested that Priyadarshan should resign as chairman for disrespecting the chief minister. P. C. George expressed relief for not attending the meeting, claiming that Priyadarshan would have faced consequences if he had been there. In the speech, Priyadarshan mentioned that the film industry would appreciate having a minister like Ganesh or someone similar appointed by the chief minister. This comment upset the politicians, including K. Muraleedharan, who stated that the decision on the ministerial appointment rests with the Congress-led United Democratic Front, not Priyadarshan. [5]Deccan Herald
Case Filed for Copyright Violation
A film producer named Machindra Chate filed a case against Priyadarshan for copyright violations. A local court granted bail for arresting him. He was accused of copying someone else's work without permission. The court said he must get proper permission from another court before April 20. The police had filed a case under sections 468, 406, 471, 420, 34 of the Indian Penal Code (IPC) and Sections 63 and 68 (a) of the copyright act against Priyadarshan and seven others, including actor Suniel Shetty, based on a complaint by film producer Machindra Chate. He claimed that Priyadarshan and others stole parts of his film 'Bindhast' and used them in the movie 'Bhagam Bhag' without permission or rights. [6]DNA
Awards & Honours
Kerala State Film Awards
1994: Best film with Popular Appeal and Aesthetic Value for the Malayalam film Thenmavin Kompath
1995: Award for Second Best film for the Malayalam film Kaalapaani
Kerala Film Critics Association Awards
1991: Award for Best Popular Film for the Malayalam film Kilukkam
2016: Award for Best Film for the Malayalam film Oppam
2016: Award for Best Director for the Malayalam film Oppam
National Film Awards
2007: Director of the Best Feature Film for the Tamil film Kanchivaram
2007: Director of the Best Feature Film for the Tamil film Kanchivaram
2019: Director of the Best Feature Film for the epic historical action film Marakkar: Lion of the Arabian Sea
Filmfare Awards South
2009: Award for the Best Director for the Tamil film Kanchivaram
Filmfare Awards
1997: Award for Best Film (Critics) for the Hindi film Virasat
Civilian Awards
2012: Padma Shri Award for his contribution to Indian Cinema by the President of India
Other Awards
2008: Special Honour Jury Award for contributions to Indian Cinema
2008: Special Jury Award for the Tamil film Sometimes
2010: Jaihind Rajat Mudra Award
2016: Asiavision Award for Best Director for the Malayalam film Oppam
2019: Kishore Kumar Award by the Government of Madhya Pradesh
2022: Honorary degree from Hindustan Institute of Technology and Science
2013: Excellence Award by Hindustan University, Chennai
Car Collection
Priyadarshan owns a green-coloured Fiat car.
Facts/Trivia
At one time, he used to drink alcohol excessively and smoke cigarettes frequently. However, the actor Nana Patekar assisted him in giving up these harmful habits. [8]

BangaloreMirror
Priyadarshan lacked interest in directing films before. He used to play cricket very much, but an injury to his left eye led him to quit playing cricket and lose all aspirations in the field.
In an interview with The Hindu, his daughter candidly discussed her parents' divorce. She acknowledged that the divorce had an impact on the entire family. Nevertheless, she commended her parents for ensuring that their separation did not negatively affect their children. She further mentioned that her parents have now found peace and happiness.
Priyadarshan has a pet dog named Thio.
Priyadarshan faced criticism when he was mocked for having a meal with his pet dog. In an interview, he mentioned that he enjoyed a quiet Onasadya with his pet dog named Theo. [9]

The Times of India
After his divorce, he became depressed. He later said in an interview that during the time of depression, he realized the importance of family over luxury, hence he sold his cars. He said,


During those times of depression (after the divorce), I sold my cars one by one after realising that family is more important than luxury." [10]The News Minute
At MBIFL 2023, Priyadarshan stated that the Malayalam film industry is doing really well right now. He along with director Sathyan Anthikad talked about movies, their own work, and how the film industry is changing in a session called "Oottipattana Preveshnam." The session was led by actor Siddique. Priyadarshan mentioned that he always wanted to be a director and shared some things about the movies he makes. He also said that there was a gap in Malayalam cinema because actor Jagathy Sreekumar was not active. Now, with the popularity of online streaming platforms, people all over the country are enjoying Malayalam movies and appreciating the good quality of the content. [11]

Mathrubhumi