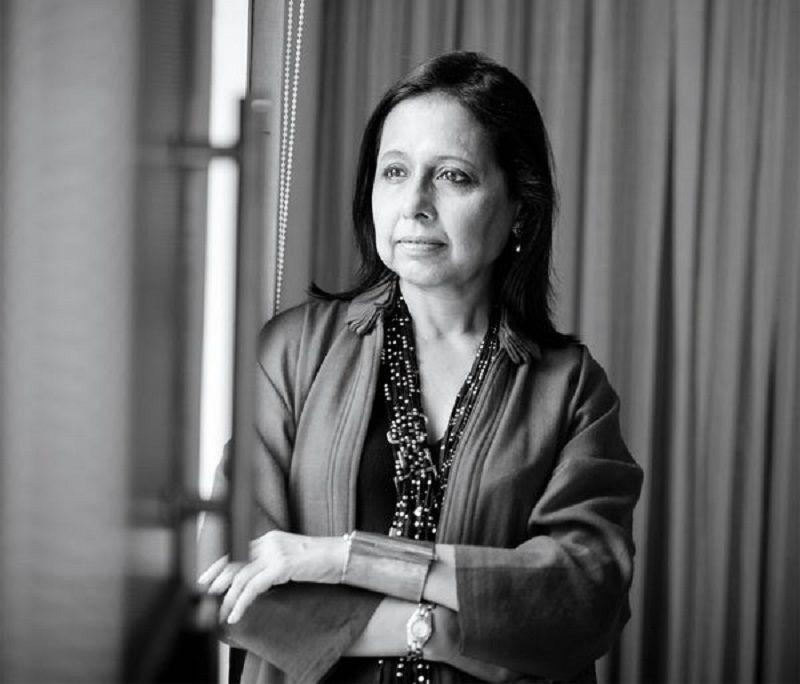 Anju Modi is an Indian costume designer and one of the founding members of the Fashion Design Council Of India (FDCI), who had designed costumes for movies Bajirao Mastani and Ramleela.
Wiki/Biography
Anju Modi was born on Saturday, 13 March 1954 ( age 68 years, as of 2022) in Ranchi. Her zodiac sign is Pisces. She did her schooling at Loreto Convent School, Ranchi and then went to Ranchi Women's College. [1]The Telegraph
Physical Appearance
Height (approx.): 5′ 5″
Hair Colour: Black
Eye Colour: Black

Family
Parents 
Her father's name is Atmaram Modi. He was an Upper Bazaar businessman. [2]The Telegraph
Husband & Children
Anju's husband name is Naresh Kumar Modi. Anju Modi said in an interview that "My Husband is no more, I started working only after his death." Also, after some time of her marriage, she was separated from her wedding home. Anju Modi is now settled in New Delhi, with her children. She has a son Ankur Modi, and a daughter-in-law, Priyanka Modi. Ankur Modi has done agricultural engineering and got trained under his mother. His wife, Priyanka Modi, studied at the London School of Fashion and worked with a French company for two to three years. They started their designer label AMPM in 2002. They opened their first exclusive store at Crescent Mall, Delhi in 2007-2008. Now, they have 30 stores all over India. When they were asked about the struggles they faced, Ankur said,
 The main challenge in the journey was to come up from five stores to 30 stores."
Priyanka Modi shared her views on working with her mother-in-law. She said,
Of course working with my mother-in-law was an option but I wanted to start something of my own and also, she is a couturier and she is always into heavy dreamy garments and I always wanted to start a label which speaks of simplicity." [3]Entrepreneur
Career
Anju Modi started her career in the early 1990s. In an interview she said,
I was separated from my wedding home and had to do earn. I didn't know anything apart from my passion for textiles."
She started her textiles journey from her brother's place in Bangalore. From Bangalore, she used to travel to the weaving and crafts markets of Tamil Nadu, Andhra Pradesh, and Kerala. She once smiled and mentioned,
From Madras, I would take the beach road and head to Kerala in a taxi. It was a joyous road trip. My passion for textiles took me to Coimbatore and Salem in Tamil Nadu and interiors in Andhra Pradesh, where I observed Pochmpally ikats, Venkatagiri and Mangalagiri weaves, Kalahasti kalamkari, Gadwal and Narayanpet saris."
An Insight to Anju Modi's Collection
With the start of her career in the 1990s, she first tried her hands on the blended fabric. The fabric was made of real silver thread. The fabric was crafted in the textiles of Varanasi. After witnessing the great success of blended fabric in Varanasi, Anju started her new project of special tie and dye technique from Rajasthan called Bandhani and worked on it from 1993 to 1995. This technique includes geometrical prints and neutral colours, imparted to the traditional textile. From 1995 to 1999, she explored more crafts and textiles in Rajasthan. She taught local artisans, how to apply their crafts in innovative ways. She also encouraged the use of the Kota Doria fabrics, Sanganeri block printing techniques, and Bagru textile crafts. Then in the early 2000s, she showed her modern techniques of weaving Chanderi. For this, she crafted a new range of Rich Khadi through the development of a new slub-yarn technique. In 2016, she developed special fabrics in Banaras, for Neelambar 2016 collection. The fabric was a blend of traditional knowledge with the touch of modernity. It features structural silhouettes with design details of spires and steeples. Her other craft Sunehri Kothi is a collection inspired by Rajasthan, having stones embellishments along with gold and silverwork. In 2018, she created a collection, A Maiden's Prayer, that showcased the blend of victorian beauty and Anju's signature traditional work. For the 2019 spring-summer collection her work, Masakali, was inspired by the architecture of the pink city. Then comes her Parnika, all-white collection, serene, sombre, and stylish, metamorphosed by ethereal prints.
Anju Modi on Designing for Sanjay Leela Bhansali
Anju Modi designed costumes for films, "Goliyo ki Rasleela-Ramleela" and "Bajirao Mastani", directed by Sanjay Leela Bhansali. When an interviewer asked Anju that how was it working with Mr Bhansali again, she said,
Mr. Bhansali is a delight to work with. He knows exactly what he wants and is very specific about it, but at the same time he lets you experiment a bit. He is very creative and we discussed the details in depth, but after that he left it to me execute." [4]The Economic Times
She shared her experience of designing costumes for his movies and said,
Designing for both the movies was a wonderful experience. Only the director and the stars were same, the story and the experience were very different. In "Ram Leela" the characters were from a Gujarati village. In "Bajirao", Ranveer's character is that of a king from the Maratha region while Mastani (Deepika) is a Muslim daughter of a Hindu king."
While sharing her experiences from the film RamLeela, she said,
The team wanted lehengas with a lot of ghera that wouldn't look bulky at Deepika Padukone's waist. I sourced a few 100-year-old lehengas, restored and used them. I also visited a cottage in Bhuj to learn from the women how to cut a lehenga to add 50 metres flare without making it appear bulky. We got gauze-like thin muslin fabric woven and then worked on the design so that the lehengas wouldn't be heavy." [5]The Hindu
In an interview, she revealed that she travelled and researched a lot while designing costumes for the movie, Bajirao Mastani. She further added,
The characters are from the 18th-century royal heritage Maratha region. So, correspondingly, the costumes had to reflect the culture of those times. Mastani has Persian roots. I researched a lot when designing costumes for her. I visited many museums and read up about Persia, its culture, traditions and people. From Rumi and Kahlil Gibran to architecture, colours and motifs, everything inspired the costumes." [6]The Economic Times
For Kashibai and Bajirao, she wanted to explore the Maharashtrian culture.
I have all done the South, Benares, and Calcutta, but there was nothing on the Marathas. Their is a very different philosophy. It's all about power play. Their turbans and the navvari saris are all very aristocratic, not fragile. The pride of the wife Kashibai is expressed through her clothing, the nath, the flower motifs in the hair, the tautness of the hips via the nine-yard sari. Although, Bajirao was seen wearing angrakhas, but the story also includes his personal life, so what he wears to bed concerns me more. We had to imagine how he is at home." [7]The Indian Express
Anju Modi says, Design has no Language
Anju Modi had to travel a lot in search of designs and crafts of different states. She once said that language was not a barrier for me.
Design has no language. I just had to say kumkum colour or show a mango leaf and they would tell me how to arrive at those dyes. That period helped me imbibe skill sets and work tirelessly. Even now I can work through the night."[8]The Hindu
Would Love to Work on Films Based on History
Anju Modi, after working with Sanjay Leela Bhansali in two films, said that I would love to work on films rooted in history.
More than the filmmaker, actor or movie, it is the characters that draw me in. Since my body of work, even as a designer, has always been focused on historical characters, rooted in our history or mythologies, I love working with a filmmaker taking on these kinds of subjects. It is most challenging, yet extremely gratifying. Working with Mr. Bhansali for 'Bajirao Mastani' was an exhilarating experience, but also an all-consuming one. I immersed myself in the entire process, and it translated beautifully on the screen. I would love to recreate that again with Mr. Bhansali when the right project and opportunity arises." [9]The Indian EXPRESS
On completion of 25 years in Fashion Industry
In 2015, Anju Modi completed 25 years in the fashion industry. When an interviewer asked, how she felt on completion of 25 years, she replied,
I thoroughly enjoyed the journey. There are always uphills and downhills but it's a matter of taking it in your stride and checking what is it that will keep you motivated to have the courage to go beyond any difficulty. And once you have done it, it gives you a sense of satisfaction, content and achievement that as a person I am learning and evolving. Compassion and passion for art and culture of our country including reading and music keep me going and empower me."
Anju Modi Stores in India
Anju Modi owns four stores in PAN India.
1.  Anju Modi Design Studio ( Noida ), F-26, Sector-08, Noida-201301
2.  Anju Modi @ Art Livings ( Delhi ), B-66, Pocket B, Okhla, Industrial Area, New Delhi-110020
3.  Anju Modi Store, D – 32, Defence Colony, New Delhi
4.  Anju Modi, Plot No, 8-2-601/P15, M&S Heighs, Road No 10, Banjara Hills, Hyderabad – 500034, The Panchavati Corporative Housing Society.
Controversies
The controversy started when the internet was flooded with pictures, showing similarities between the designs of Anju Modi and Reynu Taandan. On a Monday, when Reynu presented her collection at the digital India Couture Week, pictures of two of her designs, an Anarkali and a sharara set with gold print and embroidery, created a buzz on online fashion portals. Many claimed that the designs looked similar to the designs of Anju Modi's 2015 collection. Anju noticed the same when one of her assistants sent her a social media post that had pictures of her 2015 collection, and Reynu's design from the recent collection next to each other, highlighting the similarity between the two. On this Anju said,
 It was undeniable. After I saw the post, I could recall that design was from my 2015 collection titled 'Kashish' and the gold pattern on the anarkali was used in many of our designs back then. It was hurtful, as I think that this is the time when every designer should be responsible and try to support one another. I was disappointed and I spoke to Reynu. She apologised, and told her that it was an unintentional error. She said that the two pieces will be removed from her collection and that she was unaware of the similarity."
When Reynu came to know that the entire social media is talking about the similarities in the designs, she herself called Anju and said,
I found out that my printer has used this motif earlier and it was developed by my fellow designer Anju Modi. He supplied it to us wrongfully, claiming that it was created for us. Though it was unintentional, I apologised to my dear friend Anju ji and she has been gracious enough to resolve this issue. I am also removing the dresses from my collection."[10]The Times Of India
Awards
Won
In 2012, she was given PCJ Excellence Award and ELLE Style Award
In 2014, Apsara Award for Best Costume Design for the film Goliyo ki Rasleela-Ramleela
In 2014, IBN Live Movie Award for Best Costume Design for the film Goliyo ki Rasleela-Ramleela
In 2014, Screen Weekly Award for Best Costume Design for the film Goliyo ki Rasleela-Ramleela
In 2014, Excellence in Fashion' Award by Indian Council for UN Relations
In 2016, Filmfare Award for best costume design for the film Bajirao Mastani
Nominated
In 2008, Marie Claire nominated her for 'Best Craft Revival'
In 2010, Marie Claire nominated her for 'Best Indian Designer'
In 2014, Filmfare award for best costume design for the film Goliyo ki Rasleela-Ramleela
In 2016, Asian Film Award for Best Best Costume Design for the film Bajirao Mastani
Facts/Trivia
In an interview, Anju Modi said that the use of khadi should be promoted as it has a very beautiful and comfortable texture. She also asserted, "Swadeshi Bano", "Swadeshi Peheno."
She once said, whatever inspires me, get translated into my garments.
Anju Modi, when asked about her passion for textiles, said, "Textile, not just fashion, it's my Forte."
Anju Modi once shared her philosophy of designing and said,


 It is my design philosophy to revive the old tradition and present it to you in my own way."
When Anju Modi was in Chennai for a show, she praised Chennai people by saying,


I connected well with the audience. I feel that people in Chennai are not into showing off but are practical and intelligent, and know exactly what they want. They're not pretentious and don't like something over the top because they put comfort first. I believe everyone should look themselves instead of letting their appearance scream from the rooftop, this is why I connect with city audience very well." [11]DT NEXT
She had visited almost every state of the country in the thirst of the traditional outfits, which is evident from her statement,


I don't think I haven't visited any state in the country from Bhuj's bandhani and Damadhka prints in Gujarat to Assam's muga silks."
She always wanted to create garments of the forgotten traditions, without any worries of saleable factor.
When Anju was working on the costumes of Sanjay Leela Bhansali's Ramleela, she said,


Ghagras are in my DNA. I am from Rajasthan and I understand the comfort of a lehenga more than a sari." [12]The IndianExpress
Sanjay Leela Bhansali approached Anju Modi for his film Padmaavat, but she denied to work on the project as she wanted a break to relax.
In 2006, she was one of the designers, along with Rohit Bal Manish Aurora and Rajesh Pratap Singh, who was selected for Heyers Fashion Festival in Paris, organized by the Paris fashion week.
She is an international designer, who supplies her costumes for her NRI clients and the International market, in Jeddah, Kuwait, Bahrain, Dubai, London, California, San Francisco, Miami, Singapore and Hong Kong.
In 2006, Anju was invited to present her collection at the Miami Fashion Week.
In 2009, she was requested by the Department of Tourism to show her collection during their international event, India Calling at the Hollywood Bowl, in Los Angeles.
In 2010, she was requested to present her collection at the Handloom Week, an initiative by the Ministry of Textiles.
Anju Modi, in an interview, said that she adore Ranveer Singh a lot.


 I love Ranveer. He is a dynamic person with a quirky sense of style. He had long hair in "Ram Leela" and in "Bajirao" he didn't shy away from getting his head tonsured. He carried off both the looks with élan." [13]The Economic Times
Anju Modi once said that designing costumes for Ram-Leela was a landmark in my career.
Whenever she feels tired or bored, she used to do photography. In an interview, she said,


 I love photography and nature. So whenever I get time, I pick my camera up and go for a trek."
She once told that she love designing costumes for brides.
When asked that why white colour dominates her collection, she said,


White is a positive colour that indicates a tranquil mood and a peaceful state of mind. White is my weakness and I felt it is the best colour to express an artist's self."
She revealed in an interview that 99 per cent of the fabric used by her is purely handloom and in the variety of Chanderi, silk, and tussar minus the fanfare and glitter of other fabric options. Even the shoelaces are made from rags that are not discarded by laborious artisans of our country.
She considered weavers and craftspeople her Gurus and said in an interview,


I lived in their homes, woke up in the morning and learnt to put the kolam (muggu) and got familiar with indigenous weaves, from Kanchi silks to Kodali Karuppur saris."
For the festive season of 2021, Anju Modi tied up with BIBA to design a new Enchanted Forest collection, which includes metallic and floral prints, high-end hand embroidery and meticulously done zari work on fine fabrics such as silk, chanderi, velvet, and modal.